If you're looking for the best keyboards to complement your rig, keyboard reviews become necessary. 
You'll need the best option with excellent switches underneath and components that ooze quality. Keyboards are lovely peripherals you can use for a variety of purposes, including for games.
This article will walk you through some significant features and functions of the best keyboards and give you a sneak peek of what the ideal model can do for you. Read on! 
Best Keyboards: The Perfect Typing Feel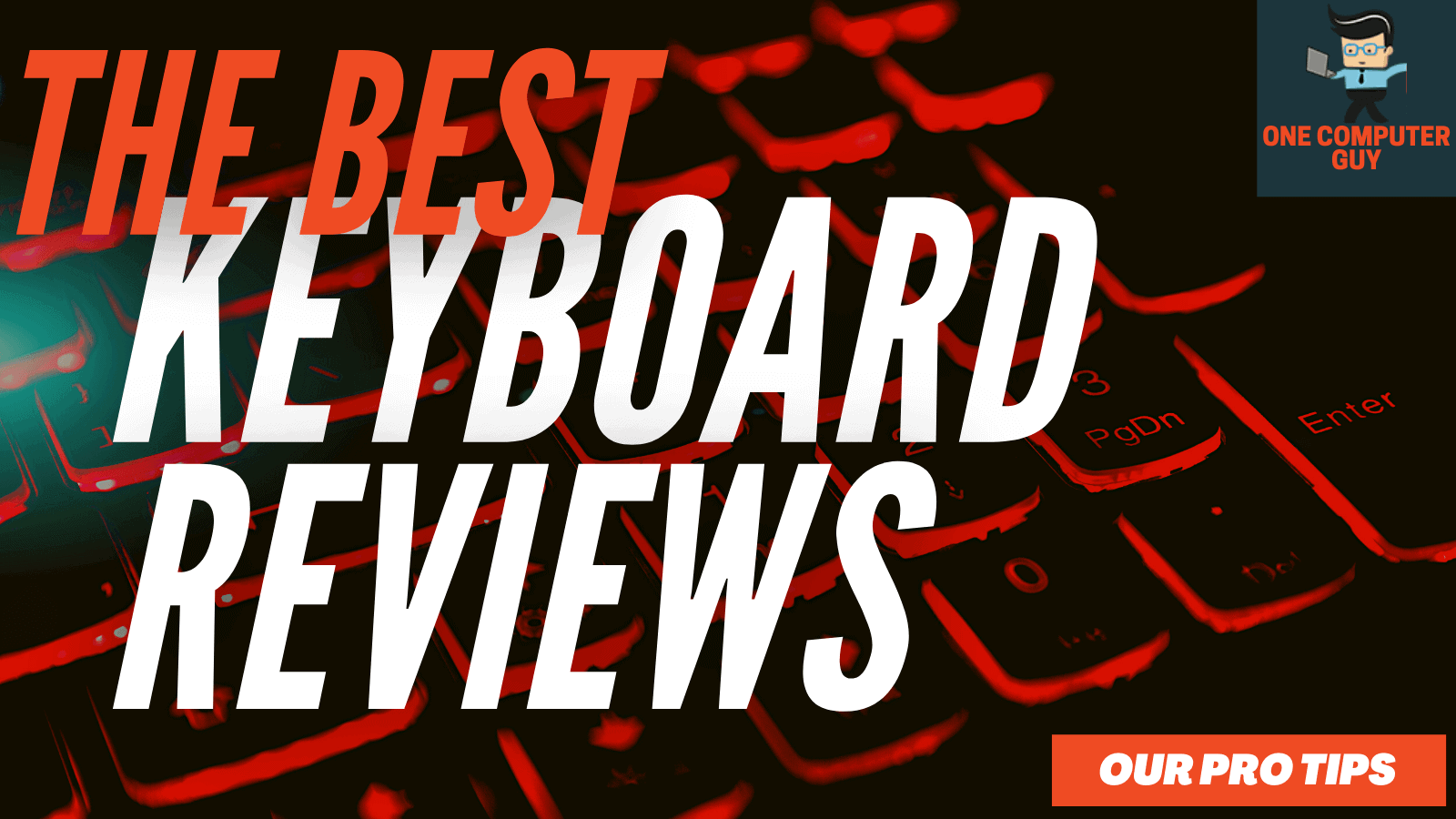 Like many devices and peripherals before it, keyboards have so many brands behind them. From these brands, users and enthusiasts get to choose from thousands of models out there. 
Connectivity
When using a wired keyboard, the easiest way to connect your PC is through a standard USB port. These are common, especially on non-gaming, plug-and-play keyboards that have no additional software to install. Essentially, plugging in the keyboard cable is all the setup you'll need. 
Like the Anne Pro 2, Gaming keyboards are quite the exception and will typically work as soon as you plug them in. However, they come with their software to adjust features like RGB lighting and the assignment of macro keys. 
Further, you have some gaming models which are much cheaper and lack some software but operate key backlighting and macros/shortcuts through hardware.
Source of Power
Other than transferring your keystrokes to the computer, a USB connection also powers the keyboard. That means you don't have to worry about batteries. Some premium gaming models have many customizable buttons and lights but come with two USB cables. One of such cords is for power delivery and the other for the data connection. As a result, it will occupy two available USB ports. 
Top-Quality Wireless Options
A wireless keyboard will give you more freedom and less cable clutter on your desk. Wireless models transmit data through two primary means: RF connection to a tiny USB dongle or via a Bluetooth connection. 
Most wireless modes with USB dongles will transmit over a 2.4GHz wireless frequency for cordless phones and Wi-Fi routers. The signal offers more stable connectivity than Bluetooth. In some models like the Razer Cynosa Pro, USB dongles can connect to more than one device. 
That means you can use the single adapter for your wireless keyboard and your wireless mouse if both are the same brand and support the same scheme. For games like League of Legends, that could come in handy. 
Lights and the Best Models
Some keyboards come with glowing, glowing blue lights (customizable) under each key. Besides, backlighting is now a common feature of top-rated keyboards. However, if you love LED lights, be prepared to change batteries or recharge frequently.
Layout and Quality Ergonomics
If you're going for the best boards, you should know that not all keyboards are created equal. Most mainstream and gaming models will give you a 10-key numeric pad. Laptops frequently lack this feature, which is necessary for anyone who needs to tally numbers or enter data into a spreadsheet. 
Tenkeyless Options
These models slice off the numeric pad in the interest of space savings. Such models also keep your typing and mousing hands closer together. Tenkeyless keyboards are popular now, so if you're looking for gaming options, you'll find many of them in the market. 
Keypad: Yay or Nay?
You still have more distinctions on keyboards like the placement of the directional-arrow, Page Up and Down, and Home and End keys. Besides, many current keyboards have basic media-file-control features, including volume, play, pause, and track-change controls. 
These are typically dedicated media buttons appearing above the numeric pad. They can also be built into the top row of Function (Fn) keys as shared-key shortcuts. 
Keys and Switches: The Keyboard Basics
One aspect of keyboard design that's very important but not often mentioned is the type of switches used for individual keys. Some users don't care about specific mechanisms beneath the keys, but such components make a difference. 
There are three primary types of keyboard switches – silicone dome switches, scissor switches, and mechanical switches.
Many budget keyboards use silicone-dome switches, which use two dimpled layers of the silicone membrane. The membranes form a grid of rubber bubbles or domes as they spring back in the switch for each key. You'll find that the springiness of the silicone rubber has a soft and mushy feel as you press each key. 
This switch type requires you to "bottom out" with each keystroke. That means pressing the key to the bottom of the key well to type a letter.
Scissor-switch keyboards will give users a shallow typing feel, but they are generally more durable than rubber-dome switches alone. Again, with them, you have to "bottom out" with each keystroke and ensure you hit the bottom of the key very well before you can type a letter. Besides that, silicone dome switches lose their springiness and responsiveness over time.
Mechanical Options
A typical gaming keyboard "just clicks" mainly because such boards carry mechanical switches. The two switch options above have been left in the shade by mechanical keyboards, thanks to a more intricate setting. That's why they have a spring-loaded sliding key post under every key. 
Many variations are available, with each tweaked to provide a slightly different feel or sound. Generally, mechanical switches offer better tactile feedback while typing or gaming, and many emit the "clickety-clack" sound associated with typing. Consequently, such boards offer sturdy switch mechanisms, and springs are significantly longer-lasting, too. 
These mechanical switches make up a mechanical keyboard that registers each keystroke with a much shorter travel distance, making them suitable for touch typists. However, mechanical keyboards are more expensive to get than other switch options on the market. Some of these mechanical keyboards come equipped with waterproof capabilities for users looking to prevent damage from water or coffee spills. 
Even though a mechanical keyboard offers more features like hot-swappable features, the fact is that such models often require a lot more vertical space than silicone dome switches. That means the keyboards tend to be thicker. Also, it makes it very difficult to find them on shallower, low-profile keyboards. 
Top Switches
Formerly, many mainstream mechanical keyboards made use of switches from Cherry Industrial. That's why you have such switches coming in various-feel MX Red, Blue, Brown, and Black Brown varieties. While these "colors" have their unique click feel and acoustic aspect, you'll get more pressure characteristics from combinations like red and brown. 
The Pretenders
While Cherry switches are still viral, clones or spin-offs of the original Cherry colors for parts of a computer keyboard, that's why you get comparisons like Gateron vs. Cherry switches. 
Customization Options
Recently, the trend with many brands is to churn our models that are perfect gaming companions. Sure, you still get the necessary QWERTY layout of keys for everyday typing. However, typing isn't your primary concern unless you fancy an office keyboard. Gaming models are for competitive use, and they emphasize different things.
Models for gaming like the Durgod Hades 68 keyboard have maximum specialization and control. Plus, they're optimized for specific gameplay styles and built to exacting standards of responsiveness and durability. Then there's also the question of gamer aesthetic, with designs that impress and intimidate accompanied with dramatic color schemes.
Keyboard Lights
There's hardly a premium gaming model that doesn't feature high-grade mechanical key switches and sculpted keycaps. The best part is such keyboards offer many customizable features, such as programmable macro keys and textured WASD keys. 
With some models, you can tweak the color and intensity of the backlighting so that it's easy to find certain keys faster or personalize the look of your keyboard. 
On less expensive boards, the backlight coloration tends to be just one hue. If you have the budget for it, you get programmable RGB lighting as you go up the market. Sometimes the options you get are customizable by zone and assignable by each key (so-called "per-key RGB").
Premium Features for Premium Models
Anti-ghosting is an essential feature, particularly if you're a gamer with fast actions or do a lot of typing. The best keyboards will allow multiple keystrokes to hit at the same time to be registered simultaneously. You won't get that even on some standard keyboards. 
Other extras include audio connections on the keyboard, which means that you can connect peripherals to a desktop PC that comes equipped with ports that are not easily accessible. 
Getting the Best Keyboard for You
Getting the best option with a review like this is more manageable. Also, keyboards comparison helps. If you prefer the look and feel only mechanical switches can provide, you can get one. Others will favor those that are slim and stealthy.
For gamers, the priorities are actuation and the tactile feel that mechanical keyboards bring. More traditional home and office users lean towards practicality. You can always try out membrane keyboards if you can tolerate the sounds of mechanical keyboards. 
Conclusion
So which keyboard should you buy? Well, as we mentioned, the keyboard market is vast, but there's a lot you can look forward to with top-quality options on the market. 
We are sure the options highlighted here will come in handy for you, whether you are looking to get the best compact keyboard for your home or business use, or you are just in need of a large keyboard that will accommodate your big hands. Whatever you need, whether that's gaming, surfing the web, or streaming, there's always a keyboard for you.
List Of All Keyboard Articles