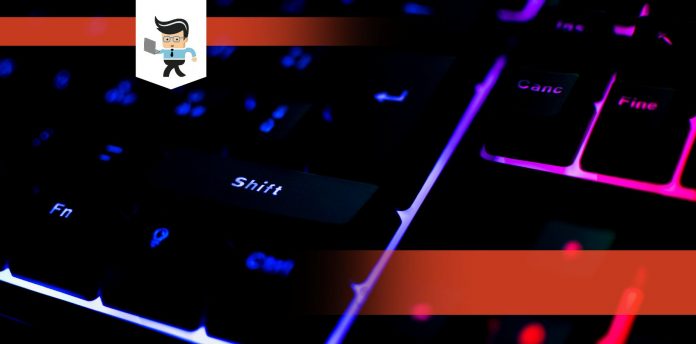 Standing tall as one of ObinsLab's best creations of all time, the Anne Pro 2 is a solid mechanical keyboard that will come in handy for every gamer.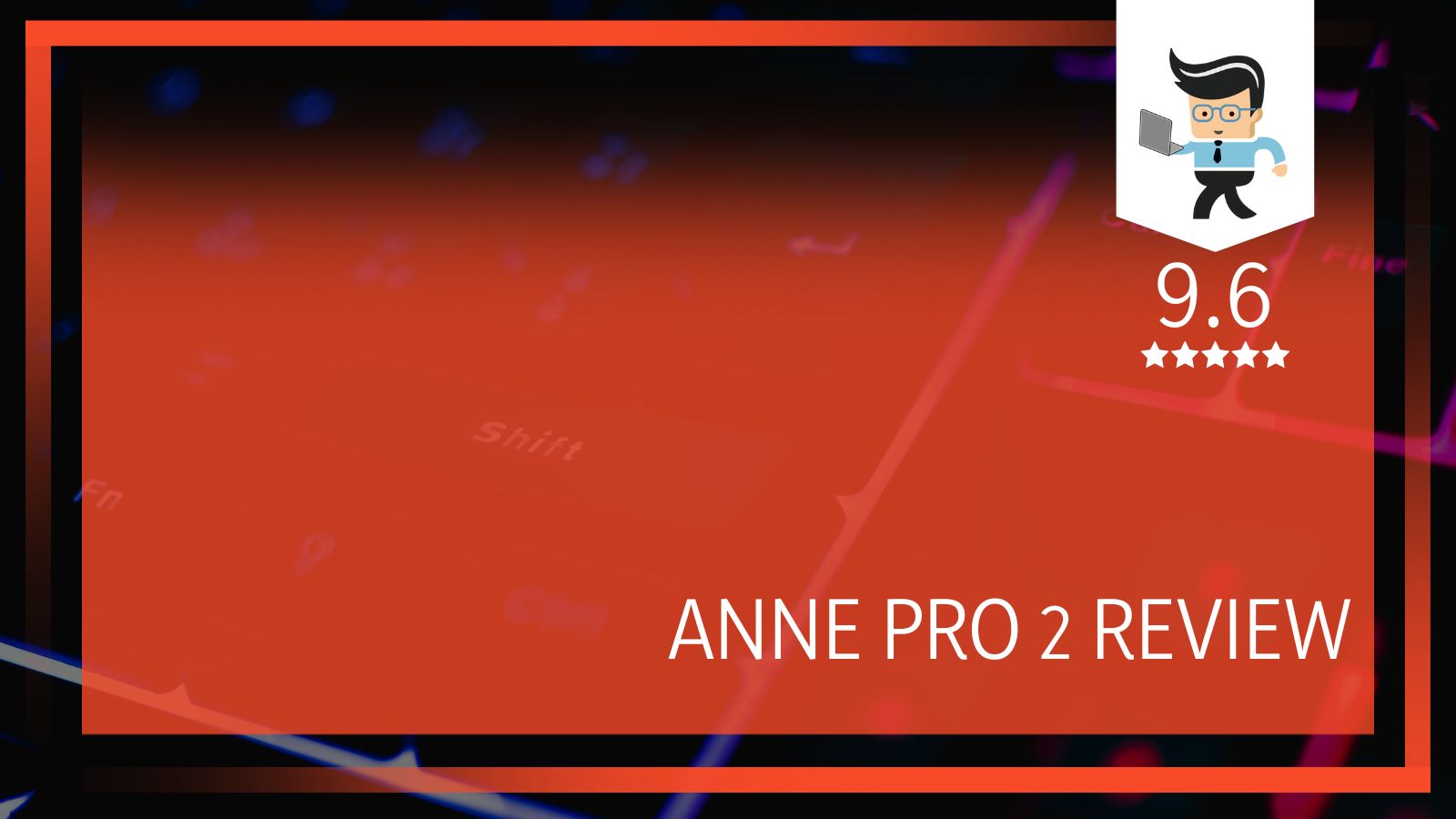 Unlike many 60% keyboards, it manages to squeeze in a wide range of valuable keys in a small form factor layout without sacrificing functionality. Notably, it has a fancy, stunning look and a compact design that will meet the demands of most gamers and avid typists.
As we continue, we will shed more light on the features and performance of this keyboard and let you decide whether it is worth your money or not.
Anne Pro 2 Top Pros and Cons at a Glance
PROS
Quality build and elegant in design
Customizable RGB theme
Wireless Bluetooth support
USB Cable support and dual-function keys
Decent 1900mAh capacity battery
Full RGB backlit key mapping
CONS
Bluetooth connection may sometimes be slow
No number pad included
Key customization may lead to delays
Fairly expensive
Good Enough for You?
Some things to consider before settling for a keyboard include its features, functionalities, and performance. The Anne Pro 2 mechanical gaming keyboard proves, once again, that you can have it all with a compact keyboard in a small form factor.
It has a lot of desirable features and comes with valuable keys that will make for a remarkable gaming experience. Many mechanical keyboards exist with so many options, but this keyboard will surpass your expectations within a short time.

Specifically, the Anne Pro 2 keyboard is minimal and compact in design. Still, it boasts a few high-end attributes that are not common with most mechanical keyboards within the same price range.
Does the Anne Pro 2 keyboard come with a wireless connection? Is the Anne Pro 2 waterproof? These are some of the questions that will run through the minds of most gamers when they hear about Anne Pro 2.
As we proceed, we will answer all these questions and others that are bothering you. Read on!
General Overview
Made by Obins, the Anne Pro 2 mechanical keyboard can conveniently sit in your catalog of best gaming keyboards. At a decent price point, it comes with a solid build and design which can easily compete with some top-rated mechanical keyboards on the market.
The keyboard measures 11.18 x 3.82 x 1.57 in inches and weighs 1.4 pounds, which means it is comparatively light in weight. It complements its sleek design with larger keys for a solid physical presence.
The Anne Pro 2 Mechanical keyboard's firmware also affords you the opportunity to customize your keyboard and allow new features and functionalities. You can completely reprogram the layout to your requirements.
You can also customize the keyboard theme with the aid of the keyboard's software, which is, by the way, easy to understand. The keyboard also allows you to set the MACRO feature on all the keys. However, only experienced users will find this feature very convenient.
You can also reprogram the keyboard's lighting using ObinsLab Starter. You can individually address the RGB backlights and create dynamic lighting effects using the same ObinsLab Starter. There appears to be no limit with the lighting customization as you can create and save profiles for lighting effects and load them onto the keyboard using the software.
You can program and save as many as 16 macros to the memory of the keyboard and activate them without computer software.
When it comes to 60% keyboards, not everyone will gain a lot from it as you tend to lose essential keys that may hamper your productivity. Sometimes you lose not only frequently used direction keys but also the NUMPAD keys in place of the small form factor.
In the Anne Pro 2, you'll find something amazing which makes it pretty easy to switch to the small form factor layout.
If you were wondering what is in the Anne Pro 2 mechanical keyboard box, it comes in an elegant looking white box. The design is beautiful and compact, with all parts neatly arranged and packed.
While there is nothing extraordinary about this, overall, it looks great and will put a smile of eagerness on your face.
Nothing beats the satisfaction of your new product accompanied by genuine accessories. Straight out of the box, the Anne Pro 2 comes with the following:
1x Obins Anne Pro 2 60% Bluetooth 4.0, Type C USB RGB mechanical keyboard.
1x Anne Pro 2 quick start guide
1x C-Type USB cable
1x keycap puller
1x set of blank keycap pieces (8×1.25u; 1x1u/2.75u/2.25u)
I would like to add that each of these accessories is a necessary component and will prove useful one way or another. If you prefer not to use the Bluetooth connection, a USB cable is included, and the set of extra keycap pieces will undoubtedly be helpful in the future.
The keycap puller may appear nothing spectacular, but if you are the type who likes to keep your hands busy with fixes, it will come in handy. The C-type USB will be your preferred choice, given the C-type USB is now a popular standard for charging, and the keyboard will obviously load faster with it.
Overall, the accessories are quite expected and commonplace, but the keyboard features will give you an exceptional experience. If you don't know where to start from after unboxing, the Anne 2 Pro Quick Start guide should get you going.
Full Features
– Design and Performance
The Anne Pro 2 keyboard is available in two models: the Anne Pro 2 white and the Anne Pro 2 black. You will love either design, as the backlight and RGB themes of both models are even more reason ObinsLab deserves excellent credit.
You can change the keys' colors if you want with the help of the Anne Pro 2 software that comes with the keyboard. That means you will hardly get bored with the keyboard's design because you can make it look new again at will.
You will find this keyboard surpassing your expectations with its fancy design and beautiful looks. Its 365g weight makes it lightweight with a non-flex rigid body. Its RGB theme and key customization give it a standout look.
Looking at the backside of the keyboard, you will see the Type C USB port. Flipping on the opposite side will reveal the keyboard's front profile. On the side, the bottom housing profile can be published, showing its slant and ergonomic shape and base angled shape, too. The keycaps housing is top quality and uses the OEM profile, making for its clean looks.
The housing bezel is also slim, giving it an aesthetic look. Thanks to its chamfered edges and four visible slender rubber feet, the keyboard will sit firmly on any surface.
The front layout is standard with beautiful fonts. Because this is a 60% keyboard, it comes with 61 keys without a Numpad and the dedicated arrow keys. However, replacing the keycaps is not a challenge because of its ANSI standard layout.
If you have a taste for variety, the colorful PBT keycaps will enable you to modify the keyboard to your liking.
Overall, the Anne Pro 2 mechanical gaming keyboard will make the right choice for your overall gaming.
– RGB Theme
Key customization is just one phase of the Anne Pro 2 features you'll love, but not as much as the RGB lighting customizations. Its outstanding customizable RGB appearance sets it apart.
Unlike most mechanical keyboards, this keyboard has just 11 color modes. but you'll enjoy its static, breathing, and rainbow color effects. The lighting modes are as follows:
Six static color modes
One static multicolor mode
Breathing color effect
Rainbow mode
Gradual breathing mode and
Reactive color mode
The Anne Pro 2 lighting effects can produce over 16 million color schemes, thanks to its RGB real lighting feature. Also, the color transition is very steady and smooth.
Even though LEDs are located on the button side of the switch, the lighting effects are nonetheless impressive.
– Keycaps and Switch
The Anne Pro 2 keycaps are made up of flexible and smooth PBT double keycaps. The twofold keycap's molding covers the entire keycap with an overall thickness of about 1.2mm. You should, however, not expect it to shine as much as the ABS keycaps.
Anne Pro 2 keyboard features brown tactile switches and the Gateron switch, which is almost identical to the Cherry MX Browns.
– Anne Pro 2 Layers
With the Anne Pro 2 software, you can exploit the various layers of the keyboard to make up for the missing keys that make up a complete keyboard. The mechanical keyboard's top layer contains the main functions keys, while the second layer contains the FN1.
With this key, you can switch between the arrow keys and toggle between the function keys and the individual keys, e.g., delete, insert, print screen, and more.
The FN2 layer helps to toggle the Bluetooth connectivity as well as the various lighting styles. The WASD and individual keys can also be toggled and customized depending on your taste.
The TAP layer is the last and will allow you to modify the Anne Pro 2 to the 60% layout. You can make the FN1, FN2, precise control, and shift functions to perform the arrow keys' function by tapping them without altering their primary duties.
– Bluetooth Functionality
The Anne Pro 2 is Bluetooth 4.0 enabled, which allows it to connect to a maximum of four devices. It supports both Mac and Linux OS and ensures a seamless connection with your smartphones and tablets.
To pair with a machine, just press the FN key together with any number between 1 and 4 for 5 seconds. The pairing will be successful once the key starts to blink. You can switch between multiple paired devices by merely pressing the FN with the corresponding device number.
– Typing and Gaming Experience
The Anne Pro 2 allows a multiple keys function. This function, however, is only useful in wired mode and not in Bluetooth mode.
For typing, the keyboard is smooth and produces an excellent overall typing experience.
For gaming, Anne Pro 2 will undoubtedly meet your expectations. Its NKRO feature allows multiple essential functions without conflicts. It is, however, not present in wireless mode.
The Anne Pro 2 battery life is about eight or nine hours, thanks to its in-built 1900mAh Li-ion battery. With the LEDs turned off, the battery expectancy will undoubtedly increase.
If you are wondering how to note when the Anne battery is empty or full, it comes with a battery level indicator. This function can be accessed on the software and the keyboard when you press the FN2 and eight keys.
Also, the keyboard comes with a power saver feature which allows the mechanical keyboard to turn off automatically when not in use.
– ObinsLab Starter Software
The Anne Pro 2 setup is simple and straight to the point with the Keyboard's ObinsLab Starter Software. The software oversees and controls every function, including the tap functionality, macro, and magic FN feature.
You can also change Bluetooth pairing settings whenever you have some connectivity problems. If you feel like changing any function on the keyboard, you can do so in the layout tab. You can change a key's function to a different one depending on your preference.
The light tab allows you to modify the various light patterns to your preference. The "Macro tab" will enable you to change macro recordings.
If you love this keyboard but don't want to miss out on a QMK-compatible keyboard's flexibility, you have nothing to worry about. The Anne Pro 2 mechanical keyboard comes with a remap functionality, which will enable you to remap any "key" function to what you want using the ObinsLab starter.
The tap key functionality allows you to change the way keys behave when you tap or hold them. The right Shift key, FN1 key, FN2 key, and Right control keys perform the arrow functions when drawn.
You can also remap the FN1 and FN2 keys to your preference, performing two functions that are also customizable using the ObinsLab Starter.
The Caps Lock key can also be "remapped" to perform the "Magic" function, mirroring the FN1 and FN2 keys' behavior. Hence, it is possible to perform specific tasks with ease without removing your hands from the home keys.
For example, the "Magic" function key enables the WASD keys to play the arrow keys' functions. It is useful in gaming if you want to change the directional buttons to your left hand.
You can carry out any function with the ObinsLab software, and with constant updates, these features can only get better. With the ObinsLab starter, you can update the keyboard's firmware without stress.
All you need to do is press the update option after plugging the USB cable into the keyboard, and you are good to go.

Conclusion
In conclusion, the Anne Pro 2 mechanical gaming keyboard may not be our first-choice 60% keyboard, but it has everything it takes to deliver great performance and remarkable functionalities for any user.
From its intuitive ObinsLab starter software to its high-performing Gateron switches and elegant design, it is still a decent option for gaming on your PC.
Sacrificing some functions for a compact design that will conserve a lot of desk space may not impress some users, but the software offers outstanding customization features and allows you to reprogram every key to macros. It is not a bad choice at all.