Our printer reviews will surely go a long way to help you make the right choice for your home or business needs, as we have carefully put each product to the test before we arrive at our conclusions. 
When you want an option to help you get those files out, a printer that's easy to set up and performs various functions will help you get a lot done. Moreover, there are many options available to different kinds of users. Whatever the case, this article will give you a balanced review of the best printers that your money can buy. Read on! 
Best Printers: Here Are Some of the Best Your Money Can Buy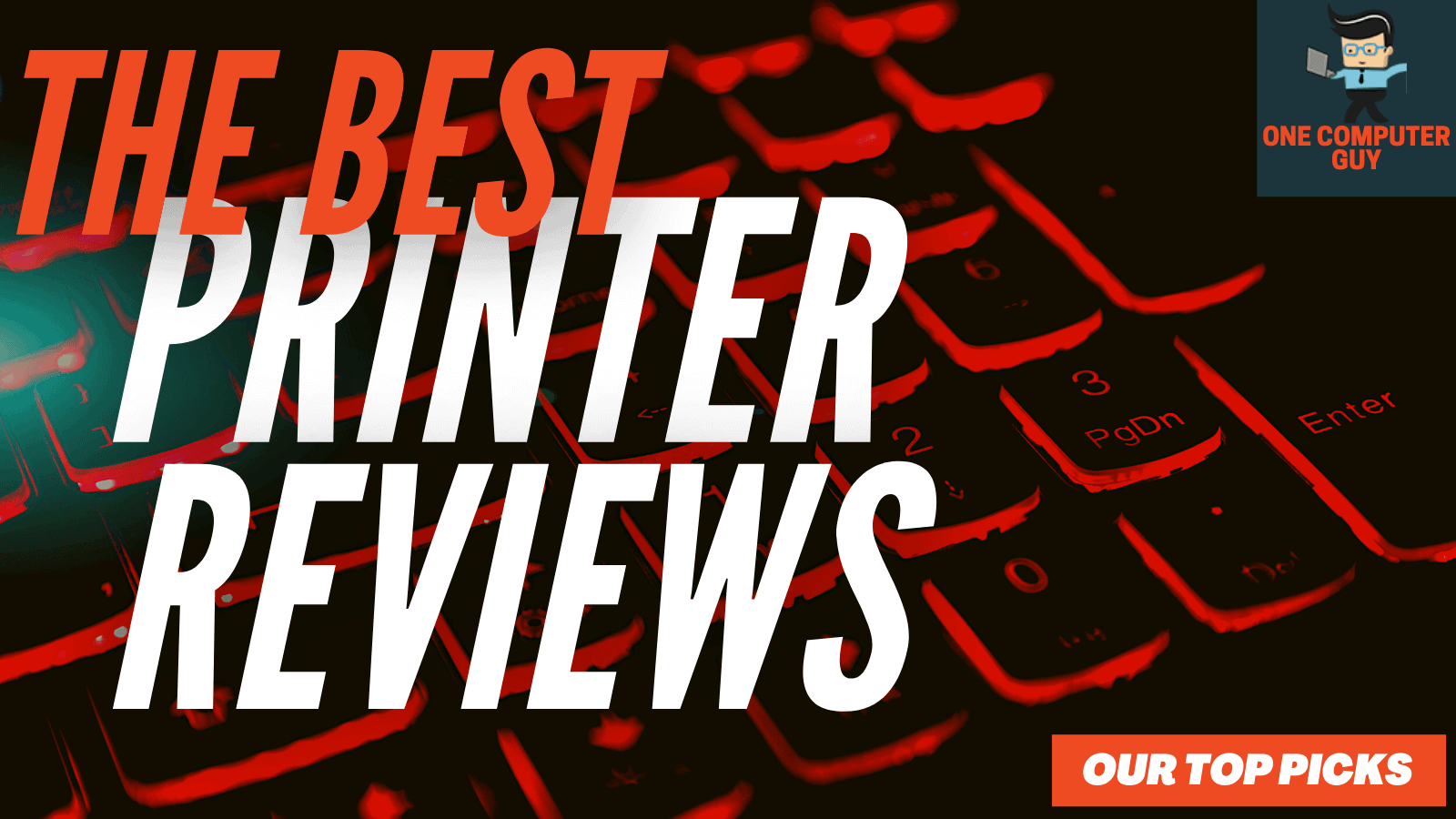 Picking the best among a significant number of printers sounds like a chore, as there is a lot to sort through, particularly if you need a feature-filled printer. 
For example, you can choose an all-in-one printer for a home office or a sleek portable unit that can slip into a laptop bag. 
Perhaps you want to print out a couple of snapshots from your last family gathering. Whether you want to stick to basic document printing or get a more advantageous option that handles copies, scans, and faxes, too, you can always find the right printer.
The printers here cover more than just the popular standard print/scan/copy combination units. Apart from all-in-one inkjets, there are laser printers, photo printers, and even portable models suitable for different uses and purposes. 
For reviews on printers, there are basics to watch out for, including print quality and speed, cost of printing, and the volume the printer is built to handle per month. 
In a bid to help you find the perfect printer for you, we have highlighted some of these things to guide your decision-making process if you are looking to make the right choice. Check them out below:
Some of the Best Options to Consider
HP Officejet Pro 9015
As always, HP comes up. With a versatile Officejet Pro 9015 model that packs a multifunctional capability. It's the go-to machine for many users despite its small appearance. The handy features will give you a good printing experience.
What's more, it has an excellent cost-per-page ratio for both color and black, and white printing is. Overall, you get a print time for photographs and color documents and an automatic document feeder. However, there's only one input source. 
HP Officejet Pro 8710
This printer offers many useful features. To that end, if you're all about printing essential documents or photos, know that this printer will deliver. This HP Officejet Pro 8710 printer is capable of auto 2-sided printing while instant ink is available. Besides, you'll appreciate the Quiet Mode featured here. However, you have to get used to the complex user interface. 
With Built-In Scanning Options
Canon Color imageCLASS MF733Cdw
This printer is a standout option if you want something reliable as far as printer ratings go. It can perform a variety of tasks and work excellently for long periods without significant problems. 
This Canon color is perfect for those who prefer a dedicated all-in-one (AIO) printer. You get to experience excellent print quality, easy setup, and energy-efficient performances. Just get ready for the loud sounds and bulky build. 
Device Comparisons
Printer comparisons are necessary if you must get the best one to work with. Here's a little review and comparison of some of the best printers out there:
1. Canon Ivy vs. HP Sprocket
When you're faced with the Canon Ivy and HP Sprocket, it isn't easy picking a winner. Both of them are superb mini photo printers and boast identical features. 
For the Canon, you can print on the go from social media and smartphone snapshots. It also carries Bluetooth technology and Zero ink technology (ZINK). One downside is that you won't always get the perfect image quality. 
The HP Sprocket, it's also one of the highest-ranked mini photo printers on the market, and it has a pack of ten 3×2 ZINK photo papers. 
Also, it's part of wireless printers that let you print borderless quality snapshots on the go. You can fit the tiny prints in your wallet or purse. It's easy to load and comes with a wrist strap. However, you must use a mobile device to operate it. 
2. Epson 3620 vs. 3640
The Epson 3640 vs. 3620 printers offer a sterner test to select the best. That's because both of these printers contain incredible features. 
The 3620 is affordable, easy to set up, and fits well in a small home or office. But get ready to have that loud sound that comes with typical printers. It's also a wireless all-in-one model that spots out high-quality images and documents. 
For the Epson 3640, you have very smooth and unique features, including excellent connectivity. You can connect to it using Ethernet or Wi-Fi because this printer is wireless and uses wireless direct. What this means is that you can also print from your smartphone or tablet. You won't get that option on many home printers. 
On the Epson 3640, you also have a printer that works with Amazon Alexa for voice commands. That makes printing a lot more fun and easy. 
3. HP 8720 vs. 8740. Battle of the OfficeJet
The comparison between the HP 8720 vs. 8740 isn't an easy one. Firstly, they're both well-equipped with modern parts and capabilities. 
For the former, you get a friendly user interface and good graphics quality. It also combines with the Alexa device so that you get voice control. Although you have to make do with some poor text quality, it has an extensive touchscreen control. We have also to mention that it takes up a significant amount of space. 
AIO Models
Further, the Officejet Pro 8720 is one of the best all-in-one color inkjet printers. There's a combination of photo printer, scanner, fax machine, and copier, and you get a smooth performer with a large touch screen control panel. 
As such, you can enjoy making a host of changes without hassle. The screen comes off as simple so that you can easily toggle through the functions and apps. Setting it up is just as straightforward. 
When you compare printers, printing from and scanning to a USB key is a major factor. Some advantages of this printer include printing through the cloud or your mobile and removable devices without sacrificing the print quality. Be mindful, though, the ink will not survive more than 300 pages per month, while the text can smudge if wet. 
Elitist
The Officejet Pro 8740 is one of the elite inkjet multifunction performers out there. It bridges the gap between business laser printers, home inkjet printers, and office printer, which you can put that down to a high level of speed and paper handling. 
Printer Security
Some users question whether a printer should have security features much like other devices. Well, don't overlook this part, especially if you run a business. That's because hackers and fraudulent individuals can gain access to a network through the printer. 
Also, sensitive documents in the paper tray can be seen by prying eyes. 
To have a more secure printer, keep the firmware updated, as it often repairs vulnerabilities. Moreover, it would be best if you kept any printer hard drives encrypted. Many manufacturers like HP often give users administrative tools to help IT departments ensure printer security.
Questions You Might Have
What is the best printer for home use?
The kind of printer you get for your home will depend on what you want to print with it. If you want a printer for lots of text-based pages, a laser printer will do the trick. On the other hand, if color documents or photos are on your plan, it'll make sense to use an inkjet. 
If you want to do several functions like scanning or copying, you should look to an all-in-one or multifunction printer. That way, you've got all you need in one place. Also, AIOs don't cost as much as others. 
Should I buy a refurbished printer?
Clearly, this is a tricky proposition, especially if you're getting your first printer. Sure, printing technology doesn't update often and mostly means buying a printer that's a few years old won't lead to sacrificing any groundbreaking technology. But you should note that buying a refurbished printer means that ink or toner has already run its course through the printer. 
That means you have no idea what's going on inside or what you may have to change or fine-tune. 
In any case, if you must buy a refurbished or used printer, make sure it has been re-certified by the manufacturer. Try to get a good warranty or return period. Lastly, buy from a trustworthy source. 
Conclusion
Which Printer to Buy? After reading such a review of printers, this is the question on everyone's lips. There are key parameters to help you settle on one, especially with the options reviewed here. 
Get one that fits your printing requirements, as features like scanning and wireless connections may also matter to you. 
When you've figured out the number of pages to print and the cost per page on some models, you'll have an idea of what works for you. Whatever the case, you can always do better with the number of excellent printers we have in this article.
List Of All Printer Articles