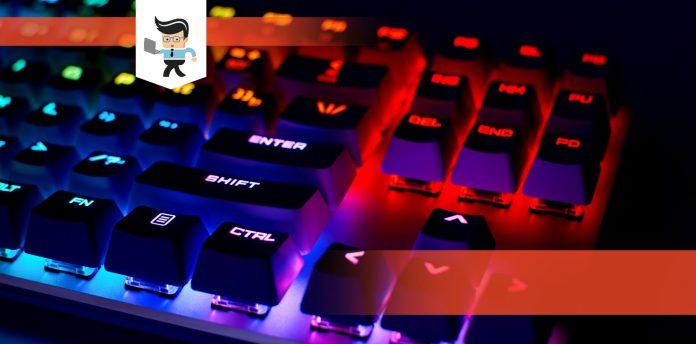 A Southpaw extended 65 keyboard breaks the mold in many ways. That is because many computer keyboards on the market are designed with the numeric keypad on the right side of the keyboard.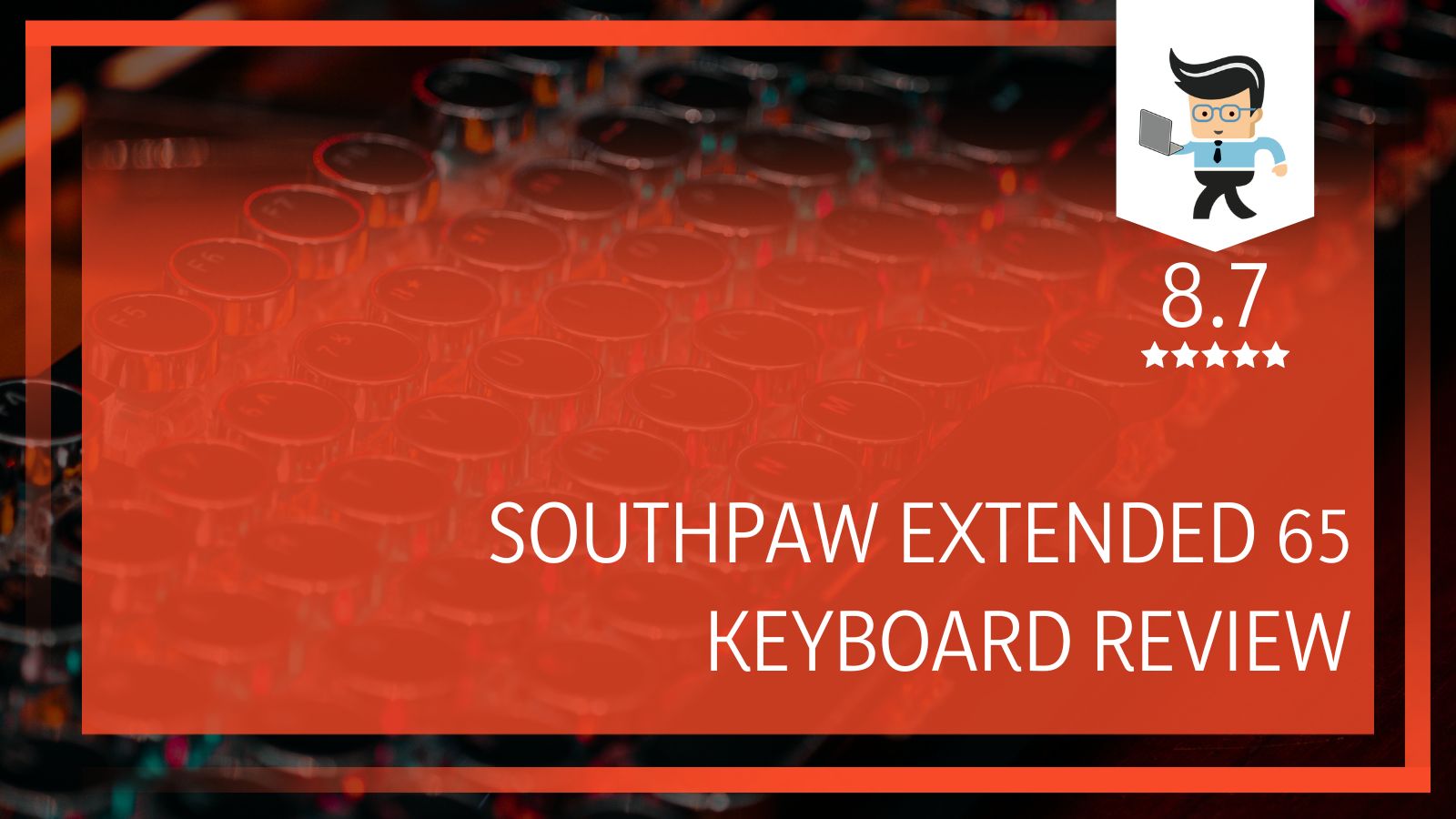 For left-handed people, this is not the ideal ergonomic setup, as they may find it increasingly difficult to quickly access these keys while typing or gaming. For this reason, left-handed keyboards like the Southpaw extended 65 were created.
Read on to learn how this particular keyboard can be beneficial across different applications.
Specifications Table
| | |
| --- | --- |
| Southpaw Specifications | |
| Form factor | 65% |
| Switches | Cherry MX, Clones |
| Keycap | PBT |
| Layout | PCB mounted |
Southpaw Extended 65 Review: In-Depth Analysis
Southpaw Extended 65 Key Criteria
PROS
Ergonomic design
Compatible with every mechanical switch
Durable
Suitable for left-handers
CONS
Takes getting used to
The SouthPaw extended keyboard happens to be one of the first of its kind. In line with that, it is a keyboard with a left-hand NUM-PAD, providing an ergonomic design and usability for the keyboard user.
Similarly, it was designed by KP and Xiudi over a period of several months and has become something of a fixture in the mechanical keyboard community. It's a unit that is designed for lefties, but it can also be an ergonomic solution for right-handed people too.
This keyboard is ALPS and MX Compatible. As such, you can decide what you would like when picking your components. Also, it is driven by TMK Firmware, and you can select to buy the keyboard un-constructed or get to build the keyboard to fit your needs.
The Southpaw is one of the best left-handed mechanical keyboards for those of you that don't mind buying a little more for all the ergonomic and productivity benefits that mechanical switches carry.
By having the keypad and arrow buttons to the left side of the keyboard, users can operate the mouse on the right side closer to shoulder width. As a result, there's reduced overreaching on the right side. Further, it also eases shoulder pain while working.
The material for the keycaps is PBT plastic, which is a strong material that won't wear off. The mechanical keys are great for typists and gamers. That is because they require little force to press and readily bounce back. It also has a low actuation force set at 45g.
Bottom Line
This 65% keyboard with a left-hand number pad is designed for maximum workspace fluidity. Again, the centered alphanumerics and a full number pad do not carry the compromise of pushing the mouse outwards.
There's also full ISO support with flexible layout options that include a left-handed arrow cluster, split backspace, and a full Numpad. It will appeal to users who want a minimalist but serious keyboard.
Southpaw Extended Components
Layouts
There are PCB mounted stabs here. For those who may have alps concerns, you can try inserting your PCB mounted cherry stabs that work with alps keycaps.
Ergonomics
The Southpaw extended 65 specs boasts ergonomic benefits. Its keys assume a slightly raised center, and each is slightly angled. What this means is that when you can comfortably place your elbows slightly wider, with your fingers angled towards the center.
Further, there is a selection of shortcut keys that run across the top of the keyboard. They let you access your Internet browser, perform a search, or adjust your volume even without using the mouse. As a result, your hands are constantly on your keyboard, minimizing distraction.
At the right-hand side of the keyboard, you have something a bit thinner than you'd expect. There indicators such as home and page up, page down, and delete all in a line above the full-size cursor keys. Then there's also the handy LED indicators for Caps, Scroll, and Num lock on the right-hand side of the keyboard.
Low Force Keys
This type of keyboard will require less energy to depress and activate. When you note the hundreds of thousands of keypresses made each year, the actuation force can make a big difference.
Further, the lower the actuation force is, the lighter the touch you need to type. Low force keys often have an actuation force of 35g to 45g compared to 50 to 60g on standard keyboards. This one features a 45g actuation to keep you happy.
There's also tenting on this keyboard. As such, unlike flat keyboards that put the hands at a pronated position, keyboards with a latent inclination help to keep the wrists at a neutral position while typing.
That way, there's a reduced risk of musculoskeletal disorders (MSDs). When you want to get a left-handed keyboard, find one with an adjustable tenting feature. That is because your optimal tenting angle will depend on your individual physiology.
Layout
There's an "A" shaped layout here, and this feature positions the keys at a slanted "A" layout. That means matching your natural forearm angle when typing or doing some other function to limit the impact of ulnar deviation and combat Repetitive Strain Injury (RSI).
Mechanical Keys
Many recent keyboards use rubber membranes that provide little tactile feedback. As a result, it's harder to estimate how much force you need to apply to get any response. On the flip side, mechanical switches offer much better tactile feedback. You'll observe this either by sound or resistance.
Aside from being more robust, a southpaw extended 65 mechanical keyboard is less difficult to use or handle since you wouldn't have to press all the way down to get a response.
Typing Feel
Typing on this Southpaw keyboard feels like a dream thanks to its brass plate and PCB materials. As such, it offers an exceptional experience with many parts combining to give you the ideal performance.
With the brass plate serving well to make bottoming out seamless, you'd have a consistent time doing any task on the keyboard.
Sound
The sound can be compared to those of the best out there. For example, with a combination of brass plates and cases, you get to have a nice, warm, and clacky bottom out.
However, with a hard plate of brass, you'll get a material much better than steel and aluminum for the kind of sound you desire.
Brass makes the insides of the keyboard great. In addition, when it's paired with PBT plastic like on other sets, it produces an assured sound that's much like a combination of different but great noises. That is the case when you're hitting the keys constantly. As a result, users who are keen on using it for typing will love how the sounds add up.
Switches and PCB
Southpaw extended 65 switches sit nicely on a good switch plate. Here, they're warp-free and have a perfect switch hole sizing should you want to retool them. The keyboard here can handle a lot of switch types, including original Cherry MX switches and equally good quality clones.
The PCB is very simple to work since it is PCB-mounted. Also, the Cherry switches will go in firmly with little room not to get damaged. All in all, this is a well-designed keyboard with PCB holes fit for Cherry switch stems and clones.
You will love it, especially if you make use of Cherry exclusively. However, using other switch brands like Gateron will expose you to some slight issues when it comes to fitting in the switches.
The fact is that the PCB is the most important component of your keyboard. That is because it sets the tone as per the size and features the keyboard comes with. What this means is that it is important to pick one with the right PCB for you.
However, you can customize how your PCB stays inside the case. That helps to let the switches communicate with your computer without hitches.
When your press reaches the switches underneath, the metal plates touch and a message is sent to the computer to confirm that the press is registered. To help you, note that there are about three well-known kinds of PCBs to look out for: standard, hot-swappable, and through-hole.
Frequently Asked Questions
Why use a left-handed keyboard?
Well, the fact is it is great for entering numbers and using a mouse at the same time. When you enter data into a table or spreadsheet, you also have easy access to the tab key, which is usually far away from the number pad.
Further, having the number pad on the left also provides the same comfortable ergonomics that a tenkeyless without a Numpad keyboard provides. That means it's possible to keep your mouse directly ahead of you instead of off to the right-hand side. Indeed, that is a much more comfortable position.
Conclusion
The Southpaw Extended keyboard is an excellent option without mincing words. The overall quality is top-notch. We recommend this keyboard for enthusiasts who love great designs and matching components.
It is quite disappointing to learn that this keyboard will take some getting used to in terms of the left-handed layout. However, understanding it would open you up to cool performances and experiences.
Whether you want a customized feel or not, you can put it to several functions and still have a great time doing what you love best.