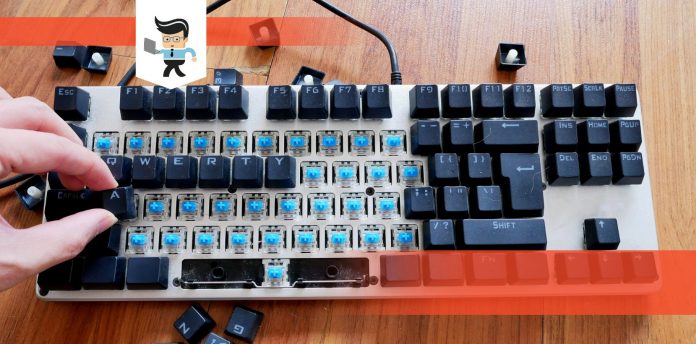 If you're a keyboard or general gaming enthusiast, you'd see why the beauty of the GMK Mizu stands out. Not only does it make a lot of sense to have, but the fact is that GMK is a trendy and practical brand.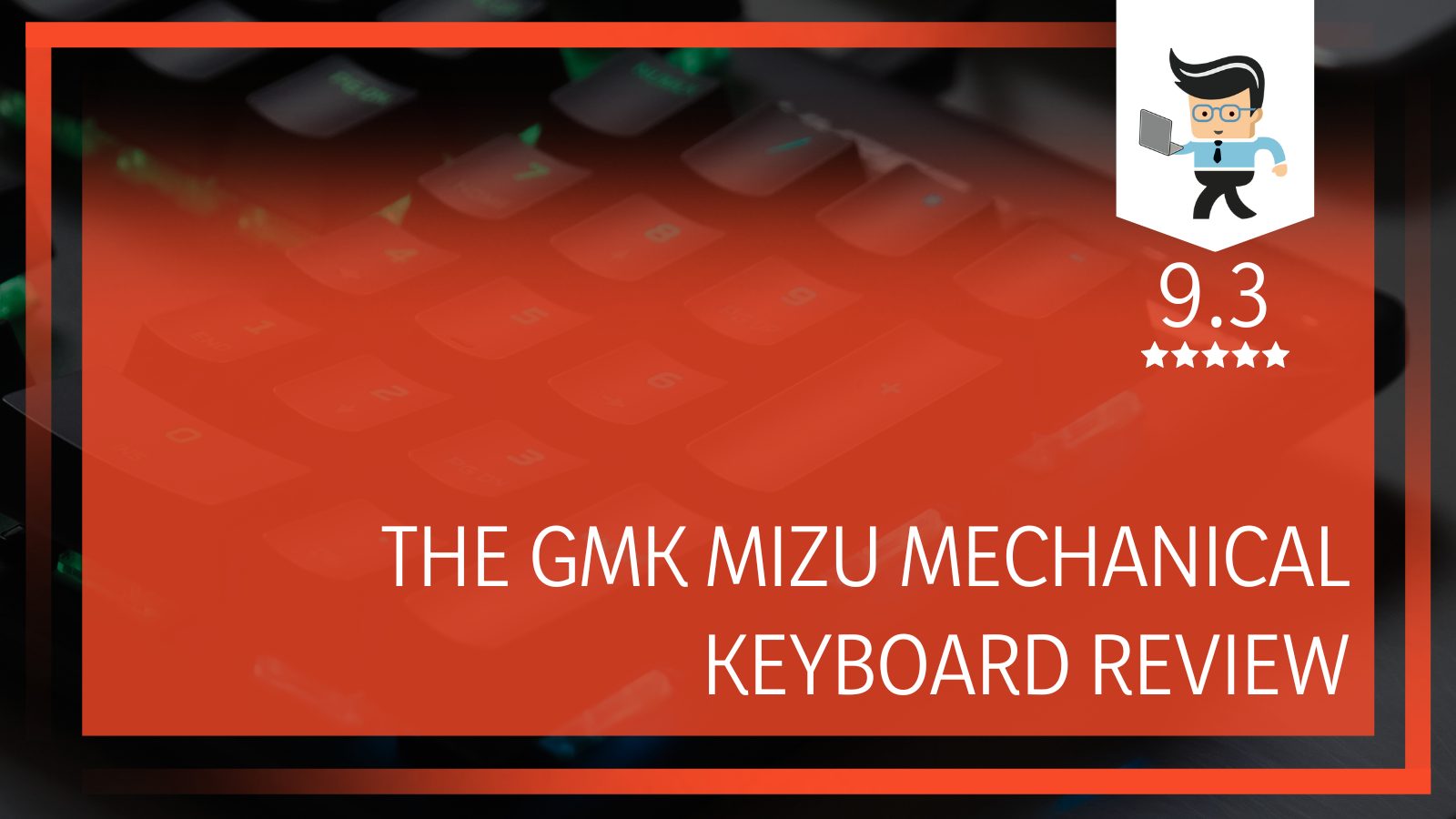 For this reason, it has come a long way with features that shade other keyboards. Here, our review team will highlight the key features and capabilities of the Mizu.
Read on to find out what we think about its quality and advantages.
GMK Mizu Mechanical Keyboard Specifications Table
| | |
| --- | --- |
| Mizu Specifications |   |
| Brand | GMK |
| Profile | Cherry |
| Legends | Doubleshot injected |
| Keycaps | ABS |
| Sound | Medium-high |
| Switches | Cherry MX and clones |
| Lights | Backlit |
GMK Mizu Review: In-Depth Analysis
PROS
Beautiful layout
Well-styled with custom features
Smooth
Use multiple mechanical switches
A keyboard is so much more than just a convenient tool that you punch daily, trying to get some work done. You could also use playing games. Whatever the case, you deserve to use the best one, which should come with pairings to give you the best performances.
That is because a keyboard is very much a statement piece that speaks much about you like the outfit you wear—as such, getting the most special keycap set and other custom tools are essential.
Do you love using one of those plastic, grime-encrusted, membrane boards that come with your PC? Well, you can ditch it for something worth a lot more and probably carries more capabilities. To that end, we suggest the Mizu Keyboard help you get it right the second time of asking.
Many users are huge fans of Avatar: The Last Airbender. This particular keyboard comes with features like the sea and the roiling of the deep blue waters. Like others yet, you might like a jamón ham-inspired keyboard.
Well, the Mizu's colors come drawn from those of the Water Tribes. Besides, Mizu means water in Japanese. The set's novelties, including a handful of keycaps with stylized key legends pay homage to them.
"The Last Airbender" theme and "The Legend of Korra" style here contains Naga the polar bear dog, Moon and Ocean spirits Tui and La. Also, Aang's blue arrow tattoo and eyes are perfect here. Further, one of the blue arrow keys has glow-in-the-dark legends. If you're familiar with the story, it references Aang when he enters his Avatar State.
The Mizu kits are adjustable while sub legends have a more modern look, much like other GMKs. Thanks to their sharp and box-like shapes. A beautiful layout also adds some flair to the keyboard, especially with a moderate space bar, and ABS-inspired keycaps offer durability.
Using ABS here by no means makes the Mizu look like less than its PBT counterparts. By the way, using the sets here will prove popular right through any of the sizes.
The GMK Mizu color is not the only positive here. What you alps have in your hands is a Cherry profile keyboard. All GMKs, including the Mizu, is inspired by the Cherry board custom-made for Reuters.
In line with that, they come with a classic feel and appeal. However, they're still mechanical keyboards and will accept the Cherry MX switches and other high-quality clones. Further, users can get ready for a right blend of versatility and smoothness from the Mizu keyboard.
Bottom Line
The Mizu features include a mix of colors that make you feel at sea. Then there's also the quality functional base you can use. This keyboard is also a full-sculpted Cherry profile packed with enduring legends.
As such, there's a consistent feel all through. It is an easy choice for users who want some versatility in performing tasks like coding, typing, and playing games.
Main Components of the Mizu Mechanical Keyboard
Keyboard Layout
This keyboard is just like all other GMK keyboards. As such, the support for the layout is excellent. In addition, the base kits offer a lot of versatility should you want to make a couple of adjustments to the board.
Not all keyboards have this flexibility, no matter what you pay for them. Also, even with a 40s kit sub legends state, you have a lot to look forward to quality even across the entire layout.
The keys on the keyboard are enough. That is the case, should you want a typical TKL or other sizes. Your money won't go to waste, seeing that it's a high-quality and durable set.
However, that's the least you should expect from a keyboard that boasts excellent keycap compatibility. Like all GMKs, it's an important aspect to consider so that you can make some aftermarket adjustments to your Mizu in the future.
This keyboard also carries modifiers to help you get the aesthetic symmetry GMK has. There's also no odd look on this board. Others may have some odd-shaped spacebar, but this one doesn't. Further, it doesn't use a center-stem. As such, there's an off-center stem available.
In all, for the layout, we think that it's a great mechanical keyboard that will catch the eye. The keyboard layout has the kind of support only top brands offer with kits built to add variety and quality replacements.
There's nothing to stop you from enjoying this bit of history and Japanese culture. Then again, who wouldn't like the comfortable feel and smooth nature of the keypresses?
Keycaps
As far as the keycaps present are concerned, this is another top feature of the Mizu GMK. They stand out and have a thickness measuring up to 1.5mm. That makes them quite sturdy and in for the long term.
You will also notice a lot of strength, comfort, and reassuring appeal, especially with the light underneath. The standard thickness can be compared to that on top-end keyboards out there like the Topre.
The keyboard has a uniform finish in terms of size and sculpture. Other than that, the colors and symbols used are quite different. They all add to five off a gentle glow of the lights, as well as add beauty.
Some of the keys stand out with uniform shape while others fit their application. A good example is the Arrow keys. There's hardly anything wrong in terms of quality. Also, the backlit features keep your space Illuminated in the dark. That way, you can use the keyboard round the clock.
Like all GMKs with nice textures across the boards, the GMK Mizu mechanical keyboard boasts a nice feel. Further, the keys here have minimal edges, unlike the GMK Bento. Again, you'll get the right amount of friction to accommodate your keypresses.
Not all parts of a keyboard come perfect. However, the edges here and unique blend of colors make it a top choice.
Sound
On our table above, we mark the sound of Mizu as medium-high, which is very good. Sure, what's in use here is ABS plastic on the keycaps. However, they're of the best quality and will not affect the sound given off here.
Also, this GMK follows suit with other similar keyboards. They have a satisfying thock, smooth texture, and lasting designs. That makes them one of the best mechanical keyboards for enthusiasts everywhere. You can rank them as top-sounding keycaps in a long list of quality products.
Using this keyboard can I'll also give off some soft vibes while you get busy. Also, you don't have to bottom out to get a feel or little sound in terms of feedback.
Even though PBT plastics have many admirers, the ABS used here more than compensates for any imagined issues. Also, the sounds here have nothing to do with the materials in question.
In all, we think the sound level and tone are good enough, considering many mechanical keyboards sound louder than it.
Legends
Legends are also significant. When selecting keysets, you'd want to consider them so that you know what you're getting. What you can do is think of the application you want the GMK to perform. If you type a lot of documents, consider enduring legends.
Well, the legends on the Mizu GMK mechanical keyboard will meet your expectations. It offers excellent consistency coupled with the fact that they are Doubleshot in design.
The caps here also have midline heights like some other GMKs. Also, the kits on the sub legends can be adjusted to suit your needs.
Typing on the Mizu Keyboard
It's a pleasant experience typing on any Cherry profile keyboard. It is comfortable and functional to use. This particular GMK has a great layout so that when you're typing or preparing documents, you don't tire out quickly.
What's more, the profile will keep you steady and going on for more extended periods. Again, the shape of the keys will only add to the speed and accuracy you achieve.
Keyboard Keycaps Quality
This keyboard's intending user must understand that GMK always creates new keycaps with unique designs to match. As such, you get to do a lot of work without stress.
Further, the keycaps aren't as available, so if you miss a sale, you can no longer order the keycaps from GMK. You'd have to get in line for another sale to roll around or buy these keycaps from the aftermarket.
In line with the above, it is evident that this keyboard's quality makes it much in demand. No one will appreciate a keyboard with subpar materials. That's just a disaster waiting to happen and will ultimately mean losing your hard-earned money.
The GMK Mizu specs, including a tremendous ABS-based quality plastic, have overall comfort that's also thick enough. This quality means your keyboard won't take to warping like PBT plastics.
Availability
The value attached to GMK keycaps comes from the exclusivity of the Cherry profile design they possess. Also, each group's uniqueness and the fact that people are willing to pay so much for them make them relatively unavailable.
However, if you get them and don't like their design or features, you can often resell them for a price that's equal to or more expensive than the price you bought them.
They are available on group buys like mechgroupbuys. With that site, you get to learn about what's on the market not just from GMK, but other keyboards also. Aftermarkets also provide valuable options considering you can get new GMK keycap sets or kits.
You can get such keyboards are online markets like Amazon, although you have to be very quick since they are scarce.
Frequently Asked Questions
What is GMK?
GMK electronic design GmbH is otherwise known as GMK. It is a German electronics company built to construct mechanical keyboards and custom peripherals.
Further, GMK produces high-quality Doubleshot ABS keycaps for a mechanical keyboard like the Mizu. Their keyboards are known to have a satisfying thock and lasting design.
Are GMK keycaps worth it?
Yes. There's no doubt that these keycaps and keyboards are expensive, but you have to consider their features and capabilities. Besides, keyboards like the Mizu are colorful and boast a lot of actions.
Further, the keycaps come made of suitable materials like ABS and PBT plastics. They also sport switches underneath the caps that will give you a good experience. These switches can be any of the best, including the Cherry MX lineup and quality clones like the Kailh.
Also, GMKs will give users a premium versatility and fit a raft of applications, including playing games and typing. It is easy to gain more precision and speed with them, so they're worth it.
Conclusion
A keyboard that will serve you well over a long time is an essential requirement. As such, we do recommend this keyboard for a lot of applications. Sure, GMK doesn't come cheap, but with the performances you get, there's no reason you shouldn't buy one.
From the stated pros and cons, you won't regret your decision. The satisfying feel, sound, cool Avatar custom design will add prestige to your Mizu Keyboard. Overall, GMK is a brand many keyboard fans won't have an issue paying to get.