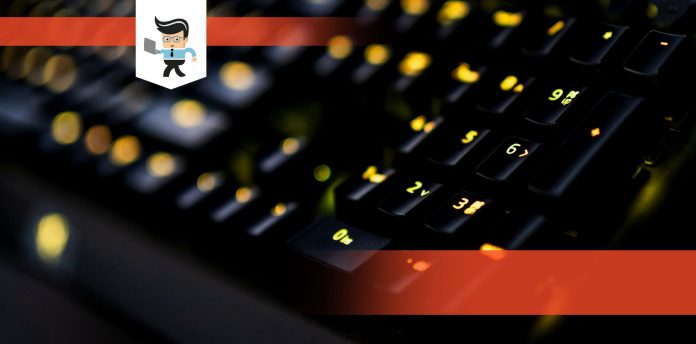 Are you trying to purchase a mechanical keyboard, and you're torn between the Corsair K70 vs. K95?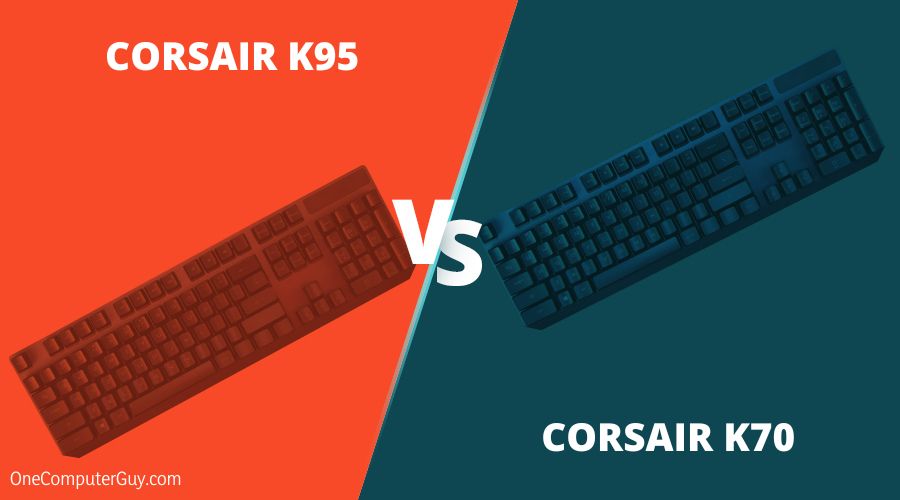 A lot of people find it challenging to choose between these top keyboards that Corsair offers because they share a lot of similarities and a few distinctive features. Not to worry, we have a review of these features in this article, and with the details, you should find it easier to make your choices.
Corsair Keyboard Comparison Table
| | | |
| --- | --- | --- |
| Properties | Corsair K95 | Corsair K70 |
| Number of keys | 122 keys | 104 keys |
| Dimension | 18. 3 × 6.7 × 1.4 inches | 17. 24 × 6.53 × 1.53 inches |
| Weight | 2.92 pounds | 2.76 pounds |
| Lighting | Each key emits multicolor backlighting. | You can switch between three lighting colors. |
Corsair K95 vs. Corsair K70 Keyboard: Which is Best for You?
Enjoying a great gaming experience requires that you have the best gaming keyboards in your possession, which gives you the liberty of playing games with ease.
In choosing the best game keyboards, our choices depend on both the features of these keyboards and their prices. Corsair is known to provide a wide range of mechanical keyboards with several unique features that improve the efficiency of games.
Also, some people who desire macro keyboards can use these keyboards for several other tasks. Currently, the K95 mechanical keyboard and the K70 macro model are at the top of the list, and many people are keen to know which is more efficient.
Having worked with these top-of-the-line Corsair keyboards, we are going to provide you with first-hand information about both mechanical keyboards.
Pros:
• Wrist rest (reversible)
• Various options for customization
• Profile storage of up to 8MB
• Long-lasting aluminum frame
Cons:
• Lacks audio pass-through
• Challenges associated with programming functions
This K95 is a unique keyboard which measures 1.4 inches in height, 6.7 inches wide, and a length of 18.3 inches and has white backlighting, which makes it shine brightly.
The keyboard weighs 2.92 pounds and has a protective frame made of aluminum. This keyboard happens to be the most massive keyboard amongst all Corsair keyboards currently available. This mechanical keyboard comes with the Cherry MX Red key switches and 18 extra switches for macro playback.
If you need some additional keys, this keyboard comes with extra keys that allow you to spell and perform other tasks. The wrist rest the K95 keyboard has comes with screws that keep it fixed in place; hence, it does not fall off easily.
Fully supporting three different memory blanks, you can easily make changes to the macro bank and replace them with the specific ones for your games.
The Corsair K95 keyboard also allows you to save your macros and key bindings within the keyboard's memory. Therefore, users have the opportunity to save their already set up macros profile to the mechanical keyboard.
Hence, you can easily take your keyboard wherever you need it, and you won't have to install the software anew. The unique aesthetic of this keyboard is quite attractive, as the keys and the Corsair logo on the keyboard emit RGB lights. These keys light up individually, and you have the option of setting the level of brightness you desire.

The fully programmable keyboard comes with software, the Corsair iCUE, which enables users to set up the mechanical keyboard based on their choice and needs. The stability the keys offer and the spacing between the cores help to minimize typing errors.
There are dedicated keys for media options and those serving as controls for the volumes. Although the cables that connect the keyboard are not detachable, they are quite long, measuring 7.2 ft. long. These cords also come with two USB plugs.
These keyboards are fully compatible with both Windows and macOS software. There is no noise from typing with this keyboard, mainly due to the linear switches.
Unlike the previous versions of Corsair keyboards, this model has many improved features, which would increase the efficiency of your tasks. Therefore, it is worthwhile to purchase the Corsair K95 keyboard.
Pros:
• Colorful RGB backlight
• Presence of CHERRY MX Switches
• Durable Aluminium frame
• Detachable wrist rest
Cons:
• The software can be quite challenging for beginners
• Absence of dedicated macro keys
This unique keyboard from Corsair has 108 buttons alongside another eight buttons built-in, such as the media control button, windows lock button, off/on backlight button, etc.
Also, the keys can be used simultaneously without any hitches. It comes with a stout and braided Y-cable to prevent the cord from tangling. The keyboard's Cherry MX switches are available in brown, red, and blue.
The Corsair K70 keyboard weighs 2.65 pounds and has a dimension of 17. 24 × 6.53 × 1.53 inches. The lightweight aluminium frame protects the keyboard from harsh conditions and makes it last longer. It follows the basic layout and allows users to program the keys based on their needs.
The Corsair iCUE software controls this keyboard and provides several customizable options. At the top center of the keyboard is the Corsair logo, which also emits RGB light.

Users can also store their profiles on the keyboard, and it comes with three line storages for these profiles. Hence, you would be able to store up to three different profiles and alternate them whenever you want.
There are some keys to various multimedia controls and those for the volume up/down. Furthermore, the keyboards have a detachable wrist rest (attached with some plastic tabs) and extra keycaps for protecting the keys. Keycap pullers are also available. The default keys have plastic keycaps, but they differ from the extra keycaps.
Corsair K95 vs. Corsair K70 Mechanical Keyboards: Head-to-Head Comparison
The main difference between K95 and K70 is, Corsair K95 layout includes an extra six keys with LED backlighting, while Corsair K70 comes with an enormous variety of macro switches in a smaller frame.
Are you looking for a better mechanical keyboard between the two top Corsair mechanical keyboards?
Both K95 and K70 are unique and provide users with various benefits. Therefore, it can be quite challenging to decide to make a choice. However, here is a comparison of both keyboards.
– Features
When it comes to the features both keyboards possess, you can hardly differentiate them, as both work with the Corsair iCUE software. They also have programmable keys and come with a maximum of three profile storages.
While both keyboards share a lot of features, the K95 has some added features, including the 8MB sized profile storage. Also, the keys on both Corsair keyboards are slightly different from each other. Specifically, the K95 mechanical keyboards have some extra keys on the left.
– Switches
Both keyboards come with the Cherry MX Switches, including the Cherry MX Speed switches. However, the Corsair K70 has an enormous variety of macro switches, as they also come in Cherry MX Blue, Cherry MX Red, and Cherry MX Brown.
On the other hand, the K95 keyboard only comes in Cherry MX Brown and Cherry MX speed. Having a wide variety of the Cherry MX Speed switches can be beneficial for gamers as well as for regular typing.
– Layout
The layout of both keyboards has some similar features, as well as some other distinctive features. When it comes to mechanical keyboards, most persons might love the idea of having some extra keys that would assist them in creating their macros.
Since both the Corsair K70 and K95 are programmable, the iCUE software these keyboards use allows users to make changes according to their needs.
However, with the Corsair K70 keyboards, you must make do with just the standard layout, as they do not come with additional keys. The Corsair K95 layout includes an extra six keys on the left part of the keyboard that are entirely programmable. You can assume that the K95 is the "K70 keyboard with an additional eighteen G-keys".
– Lighting
The backlighting feature of both keyboards is unique, as they both come with the RGB lighting. However, the K95 Corsair keyboards also have LCD lighting. The K95 keypads still possess a light strip at the top of the Corsair logo right there on the keyboard. The LED backlighting improves the K95 keyboard lighting.
– Design
The Corsair K95 and K70 have great aesthetics, which makes them quite attractive. They both have a unique aluminum frame, which is quite durable. They also come with some great keycaps, with K9 having keycaps with double-shot PBT.
However, while making your choices, you must note the difference between K70 and K95, especially in the design aspect. The K95 keyboard has a dimension of 1.4 inches in height, 6.7 inches wide, and a length of 18.3 inches. Not only is this keyboard large, but it weighs more (2.92 pounds) than the K70 keyboard, making it steadier.
Some people might find the full size of the K95 keyboard to be quite large whenever they attach the wrist rest. Hence, you might want to opt for the K70 mechanical keyboards, which measures smaller at 17.24 × 6.53 × 1.53 Inches.
The cords connecting the K70 keyboard are less likely to tangle as they come braided, unlike the cable connecting the K95 keyboard.
Frequently Asked Questions
1. What are the differences between the Corsair K95 and K70 keyboards?
Although both Corsair keyboards possess a lot of similarities, there are some distinct features between both keyboards. These include the extra six keys that come with the K90 model and their varying sizes. Specifically, K95 has a dimension of 18.3 × 6.7 × 1.4 inches while K70 measures 17.24 × 6.53 × 1.53 inches. Other notable differences between these keyboards are the 8MB storage available in the K95 (K70 lacks this storage) and the weight. Precisely, K95 is a bit heavier, as it weighs more than its K70 counterpart.
2. Is K70 resistant to water?
No. Despite the sturdy nature of the K70 keyboard and its durable aluminum frame, the design of Corsair K70 does not make it resistant to water.
3. Why should I purchase the Corsair K95 keyboard?
Several features should make you consider the purchase of the K95 keyboard. Some of these features include its durability (comes with an aluminum frame), the iCUE software, and the keycaps' high visibility. Also, the Corsair K95 keyboard comes with the Cherry MX Speed Switches that will guarantee faster typing at all times.
Final Thoughts
Choosing a suitable keyboard between the top Corsair keyboards can be quite challenging, as these keyboards are very efficient and have great features. However, there are some differentiating features you can consider while making your decision.
Sure, you can't go wrong with either of the two keyboards, but if you are looking to get the most features, the Corsair K95 is your best bet. The K95 mechanical keyboard stands out with a wide array of features, including a USB port and support for multiple RGB lighting profiles.