Getting a Summit1g chair is an excellent step in the right direction. As an aspiring pro gamer and streamer, it makes sense to learn from the best. This review helps you understand why you should follow Summit1g's example and learn more about his gaming and streaming rig.
Summit1g Chair Top Specs at a Glance
| | |
| --- | --- |
| Specs | Hero Chair |
| Brand | Noblechairs |
| Material | PU, Faux leather |
| Maximum weight | 330 lbs |
| Color | Doom Edition |
| Frame | Robust steel |
| Armrests | 4D |
| Recline | 135-degrees |
What Chair Does Summit1g Use?
Pros
• Adjustable back support
• Easy to build
• Classy design
• Working ergonomics
Cons
• Tough areas
• Heavy
A gaming chair is one of the essential parts of any rig out there. That's why getting the wrong one can cause you problems in the long run. For pro gamers, a chair represents excellent value in terms of what they want to achieve. It's a base of operations to get you going.
In line with that, you need the best, and if you don't have one, you can imitate Summit1g by getting the Noblechairs Hero. It's a stylish, durable, and efficient chair to help you relax and game without hassles. Here are some ways where the Summit1g chair stands out from the rest.
Multi-Use
This gaming chair is a perfect tool to have both for gaming and in the office. It was developed in cooperation with Esports professionals who know exactly how a gamer behaves. As such, it's one of the best gaming chairs, thanks to wonderful ergonomics.
For example, you get extra lumbar support that gives your back and spine adequate protection.
The Doom Edition comes inspired by the iconic Doom series. You'll notice the upholstery smartly puts together a high-quality PU imitation leather. You can't miss the numerous logos and details embroidered on parts of the chairs.
Top-Quality Materials
Premium materials are promising signs from the best chairs. The summit1g gaming chair carries such materials. The Noblechairs Hero always packs either high-quality leather or vegan PU-leather for its covering. Also, the Hero combines a breathable cold foam upholstery with a solid steel frame. What do you get? The ideal chair for all seasons.
Smart Chair
The chair doesn't just take up space or have standard specs typical to gaming chairs. To that end, there's an enlarged seat area and backrest. That way, users like you have plenty of room to maneuver.
The chair can carry a maximum weight of 330 lbs. Not bad, considering the chair and base is designed with solid steel. If you're on the big side of life, you'll love the extra space.
Comfort and Adjustments
Like all premium gaming chairs, you have a lot to look forward to. However, we must point out that the Hero has a very stiff or rigid feel. You can put that down to the lack of enough padding or cushioning. As such, when you sit for long hours, you can get a little bit exhausted.

You can make adjustments, though. The chair's reclining feature allows you to stay relaxed. That way, you get some back support and protection.
If your focus is on support features for your head and back while gaming, you'll get it in spades on the Noblechairs Hero.
What Other Accessories Does Summit1g Use?
Summit1g uses the Finalmouse Ultralight Sunset mouse. We all know just how vital a mouse is to your setup when playing competitive games. If you have thoughts about buying a mouse, you're going to want something with a low response time overall and the best sensor to stay in touch with.
The mouse has a unique honeycomb design and a bright orange glow. That design makes it stand out even with a lightweight construction and plastic rubber texture. However, it is this lightweight feel that gives you an edge while gaming.
The Finalmouse Ultralight also complements the incredible Summit1g chair by giving off four different DPI settings that allow you to move the cursor rapidly and accurately while gaming. Notably, you can switch between these settings and settle on your preferred option (400, 800, 1,600, 3,200).
The standard buttons known to mouses are available here. They include traditional left and right mouse buttons, a scroll wheel, and two buttons on the side. As a user, you can map and personalize these buttons.
Keyboard
If you're a keen PC gamer, a keyboard comes across as a vital part of your rig. It's a piece of equipment you can't do without. For the most part, many of the keyboards used in gaming today are mechanical variations. They provide user feedback upon key press.
For Summit1g, unlocking new levels while gaming goes beyond the gaming chair only. That is why he uses the Corsair K-70 RGB Rapidfire keyboard.
As a top gamer, you'd want a low response time with anyone so that there are no delays in input and performances. Well, this keyboard has both and makes gaming pleasure and gives you a competitive edge. Besides that, it has a swift response time.
The keyboard has superb looks. That's not all because there is customizable RGB lighting present under the keys as well. Users will also enjoy a detachable hand rest that can be removed or detached at will.
Like Summit1g, you can make your choice of any of the colors or models. All you have to do is ensure that the one you settle for comes with low action points.
What Monitor Does Summit1g Use?
Monitors give you a live feed into the events you're maneuvering via your keyboard, mouse, or console. As such, they are essential parts of a gaming rig. They're also crucial for streaming because you have to see what you're doing.
In line with that, Summit1g uses the ASUS VG248QE monitor, which he considers equally as crucial as the Summit1g gaming chair. You may have a high-quality keyboard and mouse, but the Asus here balances things out. A good monitor such as this comes with unique features to give you the best performance. Here are some of the top features that make the Summit1g monitor stands out:
Refresh Rate
If you're trying to get the best out of any monitor, it must have a reasonable refresh rate. The best is often pegged at a high 144 Hz refresh rate. This 24-inch ASUS is a full HD monitor with a 144 Hz refresh rate and a one millisecond response time.
Highly Customizable
The monitor comes with a great and flexible design. As such, there's a stand that can tilt, swivel, or pivot. It's also a height-adjustable chair, which means it's a model that can suit many people's gaming setup.
The monitor boasts all the regular video connection ports while there are inbuilt speaks, too. To get the best out of a monitor with a high refresh rate, ensure your hardware runs at a high refresh rate.
What Webcam Does Summit1g Use?
When you get the ideal twitch streamer chair, what you want next is the best Webcam. There's simply no serious streaming setup without a Webcam. For this reason, Summit1g makes use of the Logitech C922 Webcam.
A webcam helps you engage better with your audience. For a gamer and streamer like Summit1g, getting a top-quality webcam can let his audience feel his reaction to live events. Viewers can watch him showcase his dexterous gaming skills online.
Here are some of the reasons why the Logitech C922 Webcam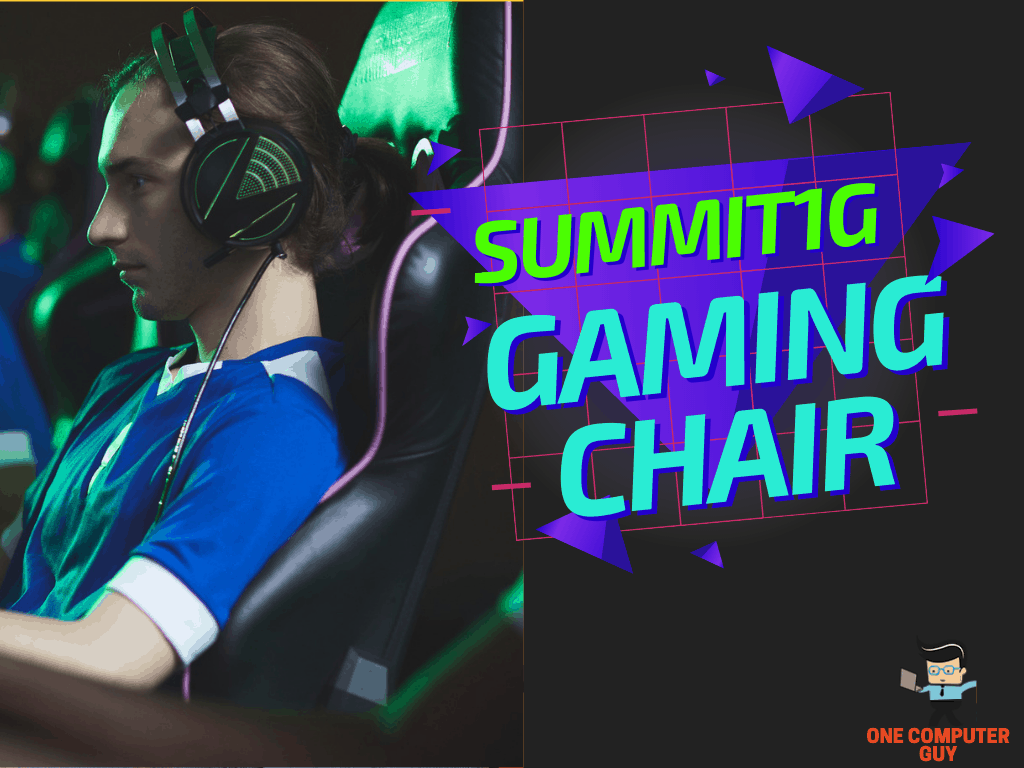 Fantastic Camera Quality
The Logitech C922 comes across as industry-standard, especially for the streaming community. As such, it packs a 1080p 60fps camera which allows for crystal clear videos. There's also an inbuilt light correction feature. That means this camera comes suitable for most setups, regardless of lighting.
Customizable Options
The C922, like other top-quality webcams, has customizable background replacement should you chose to use the feature. What's more, there are other features like the microphone attached to this Webcam, allowing your audience to hear you.
What CPU Does Summit1g Use?
Many times, a CPU is described as the heart of a computer. That's because, without one, you're not getting anything done. That includes gaming and other regular features a CPU can perform.
Summit1g uses the Intel Core I9-9900K CPU. It's a good one and promotes quality graphics. With a CPU, you want a system that can respond to new information within seconds of receiving the instructions.
This CPU has a base clock speed of 3.6 GHz. Having a CPU of this caliber means that your computer can handle any gaming you chose to do. It doesn't matter how CPU-intensive the process is. Perhaps Summit1g chose it for this reason.
There are some games you can play using it, but the best and most engaging ones often have heavy capacities. For example, games like VALORANT, CS: GO, League of Legends, and World of Warcraft will run more smoothly with this kind of CPU.
Whatever the case, it's essential to have a CPU like this one which can last long and take anything you throw at it.
What Microphone Does Summit1g Use?
A microphone takes your experiences to another level. It's a great way to interface with your viewers. Also, you get to explain certain things to them. The fact is, people want to pick up what you're saying, especially if you're a personality like Summit1g.
Summit uses an Audio – Technica AT2035 microphone. This microphone is a high-quality voice audio instrument and is essential for any streamer to communicate with their viewers.
Streamers and gamers observe that there are many USB microphones out there. However, the Technica AT2035 microphone will give you crystal clear audio to your viewers over other options.
What Headset Does Summit1g Use?
Whether you are gaming or going through some streaming motion, the sound is an important aspect to consider. The absence of sound makes the whole process less entertaining. That's why you need to be able to hear audio cues in-game or while streaming. What it does is assist you with gameplay and other activities.
Another thing a headset gives you is communication with your team. For this reason and more, Summit uses the Audio Technica ATH-ADG1X headset.
This headset packs comfortable and soft ear pads. You can listen to audio content for a long time without getting tired. As such, the Audio Technica will help you achieve a more extended gaming session.
It comes equipped with advanced 53-millimeter drivers, which provide users with accurate sound reproduction whenever they are gaming. The headset also comes with an excellent microphone attached to it. Even though Summit has a dedicated microphone, users who desire clear in-game audio without a dedicated microphone will find it extremely useful.

FAQ
What is the Summit1g Chair?
The Summit1g Chair is a gaming chair used by the popular Twitch streamer Jaryd "Summit1g" Lazar. It is known for its comfortable design and build quality that supports extended gaming sessions.
What features make the Summit1g Chair suitable for gaming?
The Summit1g Chair stands out with its ergonomic design, excellent back support, adjustable armrests, and customizable reclining features. The chair is designed to provide optimum comfort and support to the user, reducing strain during long gaming sessions. It's also made with durable materials to ensure it lasts for years.
Where can I purchase the Summit1g Chair?
The Summit1g Chair can be purchased from the manufacturer's official website or authorized online retailers. Be sure to buy from trusted sources to ensure the product's authenticity.
Conclusion
The Noblechairs Hero comes across as a bulky but stylish gaming chair that's relatively easy to build. However, you will need some help or direction while setting it up. It's safe to know that it gives your back support. It has an innovative design and cool ergonomic features that perfectly complement the other components that make up the Summit1g gaming setup.
Overall, the Summit1g chair is solid and has a firm seat with a maximum weight capacity. It can stand up to just about anything thrown at it without sacrificing durability and ease of use. We recommend it to anyone looking to get the best comfort and top performance while working or gaming.