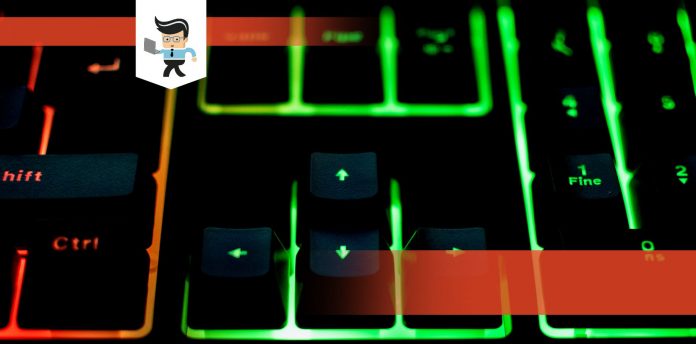 The Glorious GMMK mechanical keyboards came to light in the latter part of 2016. Ever since then, they have claimed a spot among the most-popular hot-swappable keyboards for budget users.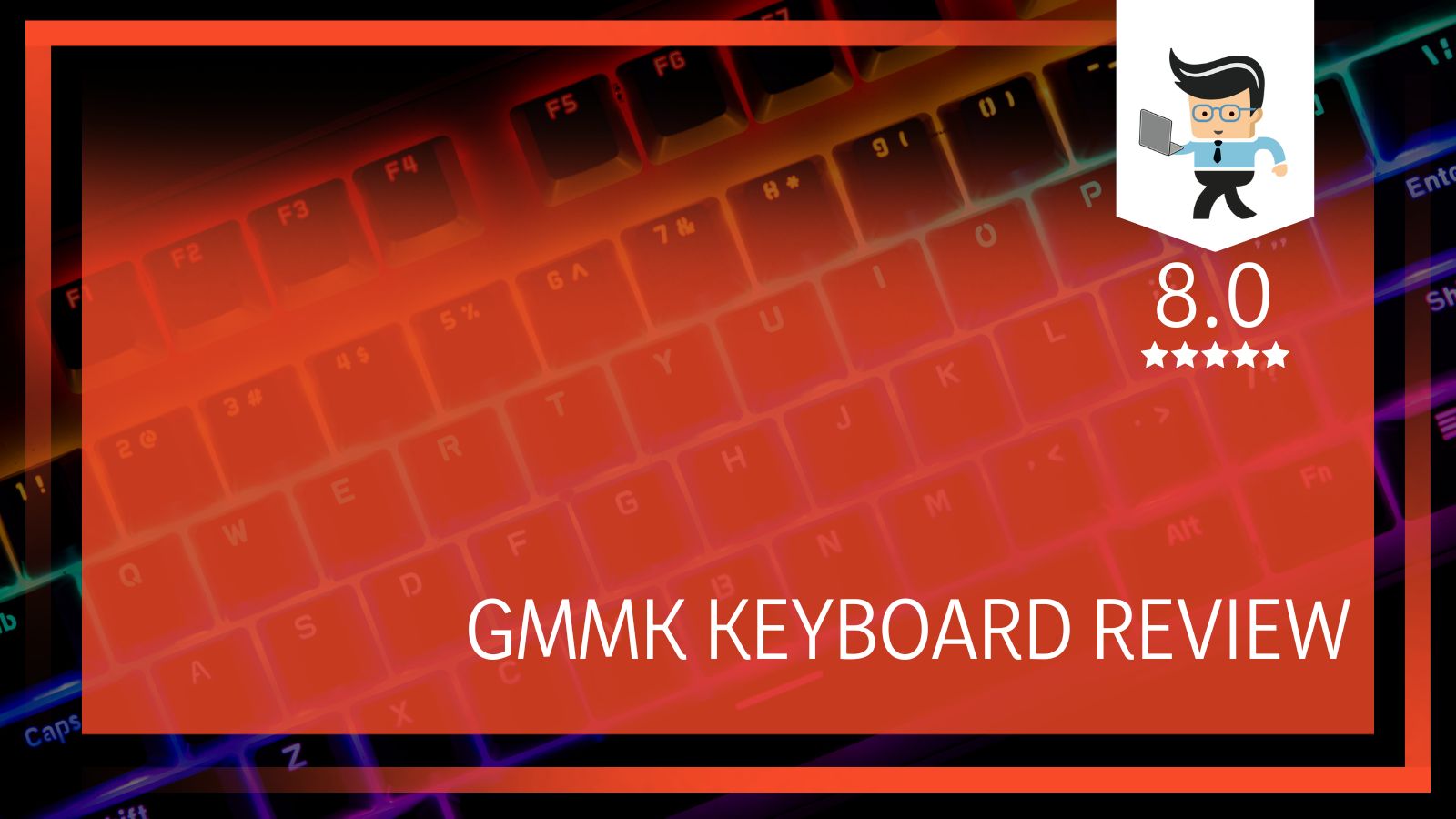 The keyboard is available in a wide range of sizes and layouts, with its modular design and hot-swappable capability standing out among other features.
In this article, we will focus mainly on the full-size model and bring you to terms with its top features and performance level while typing or gaming. This, we believe, will help expand your knowledge about the device and allow you to make an informed decision whenever you want to make the purchase.
GMMK Keyboard Specifications Table
| | |
| --- | --- |
| Size and Dimension | 17.32 x 5.08 x 1.41 inches |
| Weight | 2.1lbs |
| Layout | Standard QWERTY 104 key layout |
| Key Switch | Gateron Brown |
| Backlighting | RGB LED per-key backlighting |
| Macro-Programmable Capability | Yes |
| N-Key Rollover Feature | Yes |
| USB Connector | Yes |
1. Glorious GMMK Review: In-Depth Analysis
PROS
Solid design and build quality
Fantastic modular design
Great RGB backlighting
Offers support different types of switches
CONS
Lacks wireless/Bluetooth connectivity option
Non-ergonomic design
Usually, the GMMK has three major keyboard variants in their inventory. These variants, which include the full-size keyboard and a GMMK TKL model, can be purchased either in its pre-built form, or you can choose to customize your preferred model to suit your taste.
Usually, all GMMK keyboard models come equipped with similar features and functionalities. As a result, this review article will also be valid in most cases across all variants. Usually, you will get a detachable USB connector with both the TKL and GMMK compact 60% variants, which is something that is not available on the full-size variant.
We have the full-size model here, which means the connector here is non-detachable. However, the board's USB connector cable can stretch up to six feet, which should be long enough to cover your desk space.
In addition, the GMMK's hot-swappable capability implies your experience with each variant may differ depending on your choice of key switches.
From the packaging, it is obvious that the keyboard sports a minimalist and straightforward design that will not eat a chunk of your space. The keyboard's specifications are written boldly enough for you to confirm and verify the status of your package.
As soon as you open the package, you will be welcomed with the accessories that come with the keyboard, including:
• An extra red "Ascend" keycap for interested users
• A detachable six-foot Micro USB connector
• The Glorious PC Gaming Race brand logo
• A metal switch puller
• An additional right-angled USB plug if you want your cable to be routed toward the right
• A user's guide document and a switch replacement guide
As we proceed, we aim to shed more light on the keyboard, focusing majorly on its specifications, features, benefits, and downsides.
– Build Quality and Design
Straight out of the box, it is not difficult to notice the GMMK's sturdy plastic case and aluminum top plate. Also, the keyboard steers clear of the annoying flex or creak associated with many full-size keyboards.
Thanks to its low profile design, you can easily see the switches from either side of the keyboard. The device's minimal bezel means you don't have to sacrifice too much desk space before you can accommodate your keyboard.
In addition, the low-profile design also makes it much easier to clean your keyboard and get rid of accumulated dirt that may constitute a problem in the near future.
When you flip it over, you will find a pair of nice-looking foam grips with a pair of foldable feet positioned at the top.
These feet will provide you with the much-needed grip and stability on a smooth surface. You can engage in rigorous gaming and typing sessions without struggling to keep your keyboard steady at all times.

– Stabilizers
The GMMK's stabilizers aren't the best out there. However, they deliver a decent performance that can as well match your average stock keyboard's in most cases.
While there is some occasional random stab rattling, it has little or no effect on the overall performance. Also, you can add some dielectric grease to the point of contact between the metal wire and the plastic that houses the stabilizers to get rid of the stab rattle.
– Hot Swappable Switches
Without a doubt, the GMMK's hot-swappable switches capability is one of its strongest selling points. Simply put, this implies the keyboard allows you to replace your switches without soldering.
What's more, the process is simple, thanks to its modular design. All you have to do is click the plate-mounted switches right into the PCB's sockets without the need for a soldering gun.
Listed below are the steps you need to follow in order to effectively swap out your faulty switches with new models.
• Carefully prepare the new switches for installation by ensuring proper alignment between each pin and their corresponding holes in the PCB.
• After inserting the pins, gently push down the switch until it clicks in firmly.
• After ensuring a firm click, ensure that the switch stays flat directly against the keyboard's top plate, and you are good to go.
– How to Remove the GMMK Switch
There comes a time when your switch becomes faulty, maybe after a long period of rigorous use, or you just want to try out a custom switch. The GMMK affords you the opportunity to remove the switch very easily as well.
The keyboard comes with a factory-fitted switch puller. Reach for it somewhere in your packaging box and locate the switch you desire to replace.
• Locate the switch tabs, which could be either at the top and bottom of the switch or directly above the top plate of the switch's case.
• While applying just a little pressure, clamp the switch tabs toward the inner side.
• As you continue to clamp the switch slowly toward the inner side, pull out the switch gently and calmly.
• You can wiggle around a bit if the switch is not coming out easily. However, you have to be very cautious here so as not to damage anything in the process.
– Highly Flexible
The GMMK's modular design is one of the stand-out features of this keyboard, but how does that count when it comes to flexibility?
The good news is the modular functionality works flawlessly without any issue at all. You can easily add any Cherry MX-compatible switch and enjoy a smooth and seamless typing and gaming experience.
However, you should note that swapping in a PCB-mount switch requires you to cut off the switch's prongs to achieve a firm fit. In addition, you need to ensure that your new switch has a transparent housing if you are looking to add an RGB backlighting feature.
Overall, the GMMK allows you to insert and remove your key switches in a smooth and seamless manner, and far better than many mechanical keyboards.
– Make Your Dream Keyboard a Reality
If you opt for the pre-built GMMK model, you will enjoy top-notch configurations that will perform excellently among other top mechanical keyboards.
The modular design comes in handy if you want to tweak your board and swap in some aftermarket keycaps and switches.
It offers strong support for Cherry MX-standard switches to accommodate almost any type of keycap.
To make the whole process easier for you, the brand has a wide range of keycaps and key switches available on their website to help you achieve your desired customization level.
You also have access to a switch sampler, which can be bought separately from the manufacturer's website. This switch sampler comes with some damper rings which will help you customize the keycap travel distance and sound profile of your keyboard to your taste.
Also, the sampler pack helps take away the guesswork for starters and novice users, as you can easily select the most compatible switch for your board without going through all the stress.
You rarely find a keyboard that gives you so much freedom to achieve your desired customization level at an impressive level as the GMMK does.
– Sturdy ABS Keycaps
In the area of keycaps, the GMMK comes equipped with overly minimalistic standard keycaps with no visible branding. For the factory-fitted keycaps, you can opt for black doubleshot ABS models or their white doubleshot counterparts.
Notably, they all have a glossy, shine-through legend that will make a stylish, amazing look whenever the backlight is on. Also, the GMMK's standard bottom row implies you won't have any issues getting the right set of keycaps whenever you need to replace them.
– RGB Backlighting and Software
When it comes to backlighting, the GMMK does not disappoint at all. Its exceptional 16.8 million color RGB backlighting feature is appealing and stylish at the same time.
The keyboard comes equipped with a top-notch backlighting feature and a wide range of customizable modes and lighting effects to suit your taste. You can switch between 18 lighting modes and set them up to fit your mood directly on the keyboard.
The Breathing Backlighting Effect
With the Breathing effect, you can set up about three different lighting effects to suit your mood.
• Switching between different single LED color
• Initiating the Breathing/Pulsing mode
• Initiating a static single LED color without randomly changing to another effect
The Touch Backlighting Effect
We also have three different lighting effects under the Touch effect category.
• You can set up your board's LED backlighting to spread from the exact point a keypress is detected to other areas on the keyboard.
• The key lights up repeatedly whenever a keypress is detected and fades when there is no keypress.
• Whenever there is a keypress, the board's LED lights up across the entire row where a keypress is detected.
The Wave #1 Backlighting Effect
The Wave #1 includes three different lighting effects.
• Wave lighting effect that fades gradually
• Wave lighting effect with less fade
• Static wave lighting effect with an oval pattern
We also have some other lighting effects, including the Wave #2, K-Effect, and Drawing.
If you want to take the lighting customization options to the next level, you can download the GMMK software from the manufacturer's website.
After downloading the software, ensure you follow the specified guidelines and follow the link that corresponds with your board's serial number and model.
– Typing and Gaming Performance
The GMMK keyboard delivers a smooth and seamless typing experience without wobbling. With every keypress, you will get a snappy and precise response, and you can also type for a very long time without stress.
The keycaps are adequately spaced to accommodate your fingertips and prevent all sorts of typing errors. In addition, the keys show great stability during rigorous use. Overall, you will greatly appreciate the accuracy and efficiency of the GMMK keyboard, and the ABS doubleshot injection keycaps will stand the test of time.
The keyboard's Gateron Brown switches perfectly replicate their Cherry MX Brown counterparts. As a result, the keyboard produces very little noise when typing. You can use the GMMK in a library or an office setting without disturbing your colleagues.
However, it is important to note that your choice of key switch will go a long way to determine how noisy or silent your keyboard is. That is why it is advisable to go for a less-noisy switch for your keyboard.
When it comes to gaming, the Glorious GMMK performs excellently. Thanks to the great pre-travel feature of the Gateron Brown switches, you will get a quick and accurate response whenever you make some rapid moves while gaming.
If you have a flair for wireless-enabled keyboard, you should probably look elsewhere because you are not going to get that feature on this keyboard. The full-size variant of the GMMK keyboard lacks a proprietary receiver and the Bluetooth function to support wireless connectivity and multi-device pairing.
Also, as a wired-only device, it can only be active whenever it is plugged in. There is no room for rechargeable batteries which could really be useful when there is no outlet.
You can quickly set up the media hot keys on the GMMK's Fn keys, thanks to its macro-programmable capability. The GMMK software allows you to remap every key and record your macros for a faster and efficient typing and gaming experience.
In addition, you can initiate the Windows Key lock action when you press the Fn+Windows keys at the same time. This will come in handy if you are looking to prevent accidental keypresses when typing or gaming.
The Glorious GMMK mechanical keyboard offers support for all major operating systems, including Windows, Mac, and Linux. However, there are some compatibility issues with both Mac and Linux operating systems.
For instance, some non-alphanumerical keys do not work on Mac and Linux OS, which implies that they fail to return any command whenever there is a keypress.
Also, the software is only compatible with Windows OS, as it doesn't support either Mac OS or Linux. This may constitute some customization issues, as you will need to have access to a Windows device and customize the keys before they become active on other operating systems.
FAQ
1. Is it possible to turn off the LED backlight feature?
Yes, if you are working in a well-lit environment, and you have no need for the backlight, you can turn it off completely.
2. Does the GMMK software have sufficient memory to retain your colors?
To be candid, the GMMK's software is not the best out there, but it works just fine. It helps to retain your most preferred color once you turn on the keyboard. If you desire to switch to another color upon start up, you can quickly do this by pressing the hotkeys that are designed to execute that function.
Also, the software allows you to assign an extra layer of key actions, which means you can quickly initiate a command or carry out multiple actions with a single action at the same time.
3. Does the GMMK offer support for Outemu switches?
Straight from the factory, the GMMK full-size variant is designed to work with almost all switches, including genuine Cherry MX switches and their clones. This implies that you can expect your GMMK keyboard to work flawlessly with all Outemu and even Gateron switches.
However, it is important to note that adding some switches will require you to remove a pair of small plastic prongs to achieve a precise fit.
4. Is it possible to combine a genuine Cherry MX switch with Gateron on the GMMK keyboard?
GMMK allows you to combine almost all switches, including Cherry MX and Gateron switches, provided they are all plate-mounted. However, while it is possible to mix and match these switches, Cherry will produce less bright backlight, as they are not compatible with SMD LED.

Conclusion
The GMMK keyboard is available in different sizes and layouts to appeal to a wide range of users. From the Glorious GMMK 60% compact layout to the TKL and the full-size models, you can always opt for the one that best fits your typing and gaming demands.
Overall, the GMMK keyboards are a force to be reckoned with when it comes to mechanical keyboards with an impressive modular design. Their hot-swappable capability and customizable RGB backlighting feature are fantastic options for anyone looking to give their keyboard a personal touch.