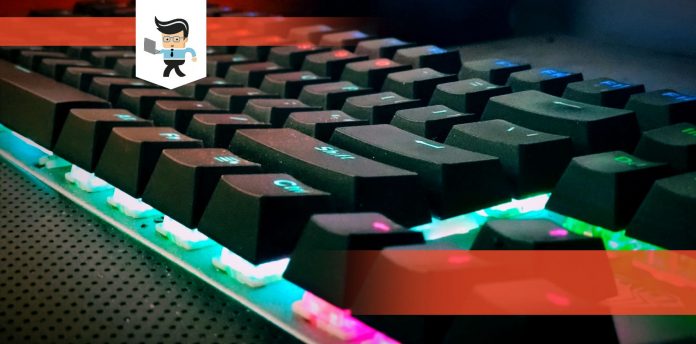 Keyboards that come with plateless tray mounts like the Duck Octagon will give you a balanced sound and typing fee. You'd notice that the keyboard comes elevated to angles that suit your typing style.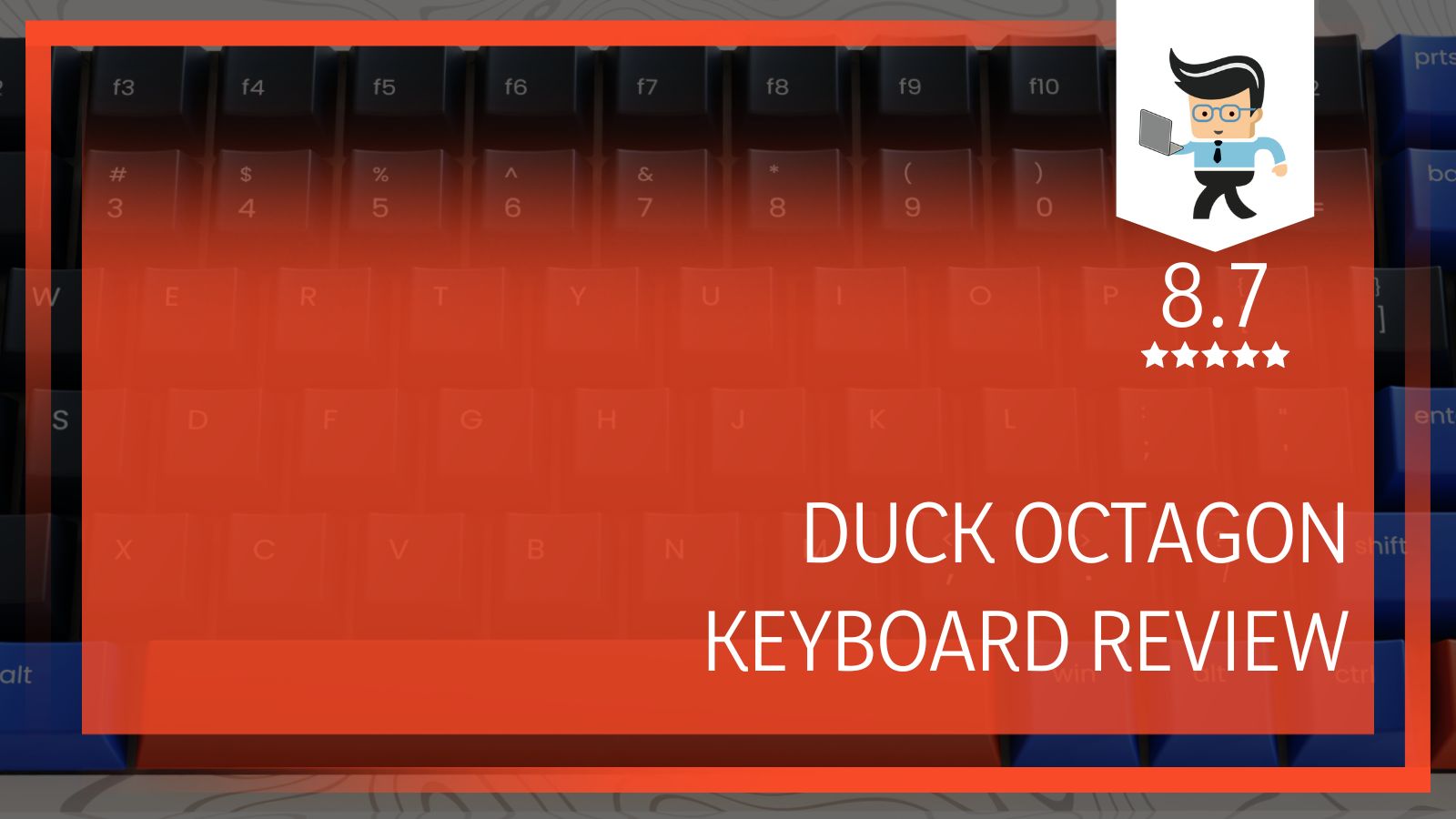 Besides, it packs a good case material that's strong enough to withstand all kinds of pressure. That's only normal for a top keyboard.
Read this review to get a grasp on what we think about the Octagon.
Duck Octagon Specifications Table
| | |
| --- | --- |
| Octagon Specifications | |
| Case material | Anodized aluminum |
| Cases construction | Tray mount |
| Plate material | Aluminum MX, Steel ALPS |
| Macros | Programmable |
Duck Octagon Review: In-Depth Analysis
Duck Octagon Key Criteria
PROS
Durable materials
Speedy response and performance
Multiple switch types
Nice feel and sound
When you're building your rig with plateless tray mounts, it is usually a quick and comfortable experience—as such, getting an Octagon to blend with your PC presents no issues.
For plateless builds, the switch-to-PCB fit is essential if you want to get your switch alignment right. Fortunately, this one comes with lubed and retooled Cherry MX switches.
Even when the PCB faces upside down, the switches will stay in the PCB firmly. As such, soldering the switches will be pretty quick as they were aligned right from the beginning with minimal straightening needed.
Take note, though, that while Cherry switches fit in fine, you must use closer MX clones that follow the same Cherry standard. That is because the wrong clones may be too tight or loose.
When you solder everything in, assembling the stabilizers and connecting the keyboard to your computer will take little time. However, you might encounter a setback: instead of registering the keystrokes, something else may display on your screen.
Further, while building the keyboard plateless, you can test the aluminum MX plate with the kit. You'll find that the switches fit in with little-to-no wiggle room. For this reason, the combination of the well-sized sized PCB mount holes and a tight plate should mean building with the plate should be a smooth experience.
Bottom Line
This Octagon keyboard is excellent for those who want a sturdy tool to help them get the best out of gaming and typing functions.
Features of Octagon Keyboard
Case Design
From all angles, the Octagon has that 'case-within-a-case' aesthetic appeal. It also has an octagonal shape to it with four long sides and four diagonals. That gives it more of an octagon shape than other Duck boards.
For the case lip and diagonals, you have a superfluous design. While the elements don't add much to this keyboard's construction or performance, the interplay between the reflective chamfers, tops, and shadowed sides gives off an interesting textural and visual contrast. That is mostly the case when viewed against the light.
Some might call the Duck Octagon keyboard a budget option, but it is more than that. It sure builds upon the design language of previous Duck keyboards. The side profiles here have been underdesigned as many designers have opted for a more simple look.
However, it's nice to see that this Duck has and continues to apply design chops in that area. Further, the rectangular bumps on the underside of the Octagon will stick well to your table. It will adhere to any surface you put it on.
Many Duck keyboards are known for their wrist-breaking eleven degrees of elevation. The Octagon comes close, but it has a much more tolerable seven-degree angle. We think this is a welcome addition.
That way, your wrist won't hurt after typing on it for an extended period. What's more, seven degrees is just about perfect for many users, and is one reason this board will give off an excellent performance.
Lights
The creative use of LED lights underneath the keys is a significant differential. However, diffusers used here is also a signature feature on Duck keyboards, but they tend to be underwhelming more often than impressive.
With the PCB plugged in, the two LEDs on each side shine through the through-holes on the case to reach the surface. That creates two vital spots of light and diffused lights around them. In the same vein, the LED implementation is intentional, just like on other Duck keyboards.
Machining and Anodizing Quality
The Duck brand has built its reputation on firm quality control of its cases, and the Octagon is no different. Except for a few machine marks on the interior of the case, it does seem flawless. The machining is clean all through, and there are no leftover swirls, hooks marks, or burrs.
On the exterior of the keyboard, you won't find a single scuffed chamfer or scratch. That is quite a remarkable feat when you consider how easy it is to mark up rough-anodized cases.
Rough anodizing is a feature typical of Duck keyboards in the past but is very much a feature on the Octagon. However, the anodizing is more pleasant to the touch and feels less sandpapery than on other Duck products like the Duck Eagle/Viper V2s.
We still think that it is rougher than most boards out there. As such, the anodization will pick up and show scuffs much more quickly than other smoother options. Besides, rough anodizing will make the case edges softer and slightly less defined. That makes its angular aesthetic a bit more questionable.
The thing is, if you can get over that fact, the anodization on the Octagon is as good as you can get on top quality keyboards. Further, the anodizing is good enough with no dark spots, streaking, or pitting anywhere from what we can see.
The neutral color tone is also maintained all through the case with excellent color consistency. Again, because the Octagon is a tray-mounted keyboard, you wouldn't have to color-match the multiple case parts.
Switches
Duck Octagon switches are somewhat of a game-changer. That is because the keyboard is open to different mechanical switches. As such, you can settle for original Cherry MX switches or go for a fancy but adequate clone. Either way, you can get a lot done with quality switches underneath your keycaps.
Typing Feel and Sound
There is a bouncy and flexible typing feel here. That's what you'd typically get with plateless keyboards. However, that feeling comes amplified in the Octagon. That is because the PCB flexes more than many keyboards we've come across.
Depending on the rows, you can witness the PCB flexing when you bottom out on it. In comparison to standard tray 60s, the difference is noticeable. On the latter, you'll feel a bit clustered in terms of the feeling you get.
The Octagon has a thing for a more continuous typing feel on its alphas. As such, the cushioned typing feel means your finger joints don't hurt as much typing on them over long periods. The same thing applies to hard-hitting activities like engaging or competitive games.
The Octagon's sound also benefits from the near-absence of the center standoff. As a result, users experience the same thock, and deep bottom out sound Duck mechanical keyboards are famous.
What you get is an entirely different bottom out sound from what you used to type on. That includes hard plate setups like brass and stainless. However, we think this keyboard more than holds its own and will be a great buy.
The tray mounts implementation here is not as perfect as you'd imagine. That is due to some standoffs positioned near essential keys. For this reason, ping is still a problem.
For example, the 'Enter' keys annoyingly bottom out with a sharp, high-pitched ping since they come positioned between the two right standoffs. It's something you'll experience on the left side of the keyboard.
As such, the 'Tab' and 'Caps Lock' keys follow suit. However, this is not a problem if you don't use those keys often. Besides, it's not too bad of a problem, but it could be much better.
As far as Duck Octagon specs go, we think there is a considerable upside for plateless tray mounts. The only side standoffs as you'd essentially be able to get a touch-quality typing feel/sound at tray mount prices. That said, the Octagon is a step in the right direction and promises a good tray mount typing experience.
Conclusion
With the Octagon keyboard, you not only have a tremendous anodizing/machining machine. You also get legendary Duck quality control and excellent typing feel/sound. Also, there's the fact that you can always use the switch type you like.
That is why we think having an Octagon keyboard makes sense. The keys are very responsive, and you can enjoy having a case that adds support to any activity you do. Overall, the Octagon is an excellent Duck product for users who love all the qualities a modern keyboard gives off.
You can perform a raft of tasks on it, including such as typing and programming. The fact that it has macros also means you can personalize the touch and feel of your keyboard.