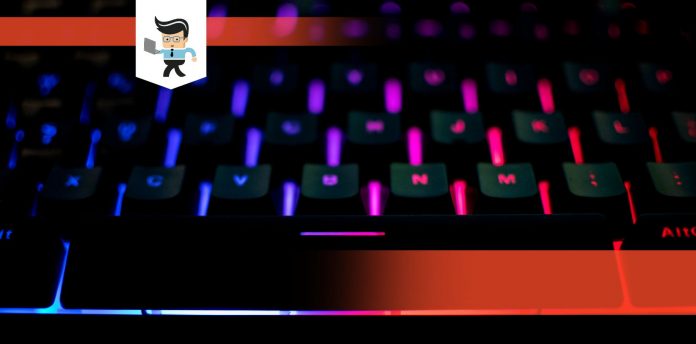 High-end custom keyboards like the TGR Jane V2 packs a lot of quality specs you'll love. For one, TGR has the personality and hype described as second only to the OTD. These keyboards often sell out, even at high prices, because of the performance they provide.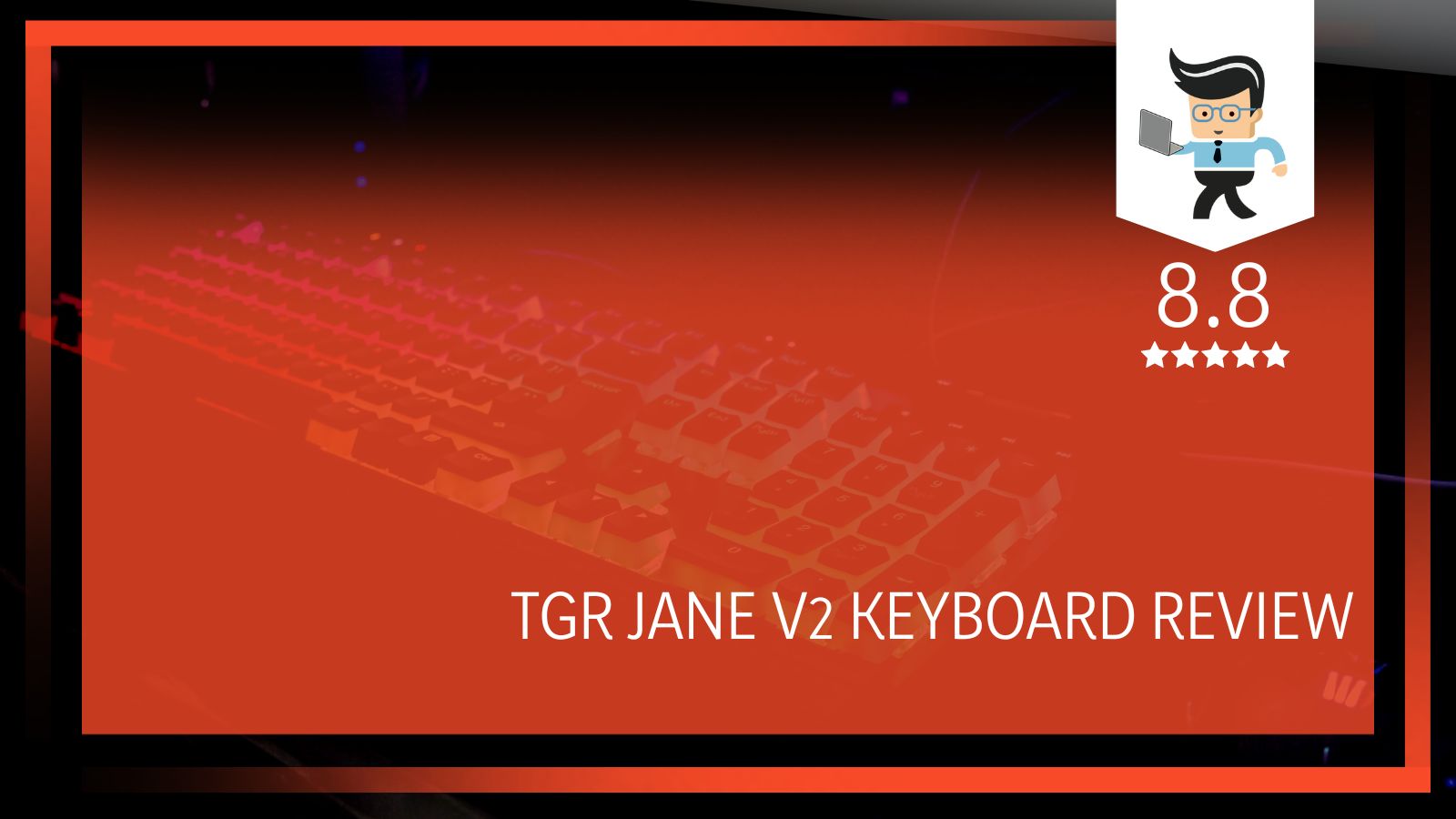 If you are thinking of getting one, this review will help you paint the perfect picture of what to expect.
TGR Jane V2 Keyboard Review Specifications
| | |
| --- | --- |
| TGR Specifications | |
| Material | Sandblasted/coated brass, steel weight |
| Macros | Fully Programmable |
| Lights | Full LED backlighting |
| Case | Kobelco 5052 aluminum case |
| Height | 6.9 degrees slope |
| Supported layout | 84 or 86/87 keys- ANSI- ISO |
TGR Jane V2 Review: In-Depth Analysis
PROS
Elegant design and build
Great and sturdy materials
Long-lasting appeal
Quality components and performance
If you're thinking of keyboards that fetch "astronomical" prices, the V2 is often considered. After all, it takes something special to sell out completely in just 41 seconds. TGR boards also figure low in terms of quantity. That makes it a huge draw for users who love the design and its TKL frame.
The TGR Jane V2 keyboard has a unique three-weight design, new plate design coupled with many relief cuts. It's a total design overhaul from earlier versions, and it has an elegant looking TKL to show for it.
Further, while the first Jane might have been a squarish board with a tiny little brass weight inside, this one looks much more different (in a good way). Designed by Yuktsi, this keyboard also sports fully programmable macros.
The lighting has a supreme touch, too. It comes with full LED backlighting. Further, there's ample support whether you choose the 84 or 86/87 layouts. You also have the ISO and ANSI with more than 6 degrees slope.
This version is also compatible with Duck Orion, Moon, Mech27, and Mira. You can try those out for good measure. Don't forget that the TGR Jane gets along just fine with the Whale TKL.
The controller parts, resistors, and diodes are also pre-soldered to give a touch and go feel. The materials have strong components. It sure helps to have sandblasted brass and aluminum casing and plates.
Overall, it's a nice addition for users who want to build their own rig. The V2 is entirely up for any purpose you want to put it to.
This keyboard will perform optimally with the kind of specifications outline here. It's a perfect tool for users who want a keyboard fit for many uses, including playing games and typing documents.
Jane V2 Keyboard: Top Features
This TGR keyboard has great features and components. All the parts come together to provide you with optimum quality irrespective of the use you put the keyboard. However, we'll focus on these important parts and features of the V2 keyboard. To wit:
Design
The whole keyboard kit looks well-balanced and sports a multi-color steel weight. There's no existing QA issue while the minimalist appearance and design details let you in on what to expect.
Also, there's a textured carbon bottom plate that combines well with the matte black case and steel weight. You will find three sets of screws and the corresponding holes nicely placed. For this keyboard, there's an additional F13 key which is quite unlike other 80% PCBs.
However, when they are put together, you will find that the placement for the D13 makes a lot of sense. As a result, there's a more symmetrical look to the left side of the keyboard
This Jane V2's triangular weight does have a clean and gentle look. That makes it slide perfectly into the case. However, to separate the top and bottom pieces, you'll have to remove the weight. That makes it a bit inconvenient for some users, but you'll get access to the PCB and plate.
Build Construction
For the overall build of this keyboard, there's a Hineybush thin H88 PCB x FR4 half plate. That's not bad if you run Gateron Ink Black switches in them.
However, the Hineybush PCB and plate combination could be so thin. Not that that's a bother for many users. Regardless, it's quite favorable to have the keycaps sit slightly higher than the top case.
What you can do is sink the keycaps by adding some thin stickers between the plate feet and the top case. This move will create a playful feel when you're typing on or using the keycaps.
Further, the TGR Jane V2 specs are worth mentioning, especially for being flexible to rebuilding efforts. For example, you can do some rebuilding with the yellow Jane PCB and carbon plate. Yuktsi really did a great job on this one!
Typing Feel
Typing on the Jane V2 feels like a dream thanks to its brass plate and dense case. As such, it's quite exceptional with many parts complementing each other to give you the ideal performance. The Cherry MX Blacks and the hard brass plate set up to further combine for a great time on the keycaps.
The brass plate serves well to make bottoming out seamless. As a result, you have a consistent time doing any task on the keyboard.
If this keyboard had come with the aluminum plate option, many users would appreciate the flex in-between. That's not to say the brass and steel aren't great. However, aluminum is more the standard for all top-mounted keyboard kits. That is because they complement the additional flex top-mounted provided.
Sound
The sound is up there with the best, too. With the combination of brass plate and cases, you get to have a singular, warm, and clacky bottom out. The fact is with hard plates of brass, you're getting a material much better than steel and aluminum in terms of sound.
Brass makes everything great on the inside. Also, when it's paired with ABS plastic like on other sets, it produces a clacky sound that is much like a song being sung. Such is the case when you're hitting the keys consistently. If you're keen on using it for typing, this will appeal to you.
For linear switches, the typing feel is great coupled with the sound it produces. Overall, we think you'll love the audible feedback the Jane V2 produces.
Switches
TGR Jane V2 switches sit nicely on a good switch plate. Here, they're warp-free and have a perfect switch hole sizing ideal for retools. If you want to retool your Cherry MX Blacks, they'll still fit in securely. Also, you can take them out without any hassle.
The PCB is easy to work with as the PCB-mounted. Also, the Cherry switches will go in firmly with a little wiggle room.
In all, it's a well-designed keyboard with PCB holes fit for Cherry switch stems. That is the case particularly if you make use of Cherry exclusively. However, using Gateron will expose you to some slight issues when it comes to fitting in.
Jane V2 PCB
It's common knowledge that the PCB is the most important component of your keyboard. It determines the size and features the keyboard carries. It's important to pick one with the right PCB for you. However, you can customize how your PCB (printed circuit board) gets placed inside the case. That will let the switches communicate with your computer properly.
When a switch underneath is pressed, the metal plates touch, and a message is sent to the computer once it detects or registers a keypress. Usually, the keyboard features three well-known kinds of PCBs, and they are standard, hot-swappable, and through-hole.
Frequently Asked Questions
1. Why is the TGR Jane so expensive?
It should be noted that the V2 boards were designed for a unique set of users or a niche audience. For this reason, they sold out faster than a host of other products. Also, their parts and components make it easier to spot why the price sticks out. They're expensive to produce per board. However, they offer great value for the money in the long run.
The numerous relief cuts and design overhauls further add to its appeal. Again, the Jane V2 is elegant-looking coupled with the TKL profile which provides a very comfortable typing experience.
Gaming is nice also, and since it's built with Tealios and outfitted with an OG Cherry dye-sub keycap set, the Jane V2 is even more special to have. The bottom weight is simply one of a kind along with the grill design.
Conclusion
There you go! The Jane V2 keyboard is a solid choice for all lovers of high-performing keyboards, even though there's an expensive ring to the price.
With its impressive TKL profile and aesthetically appealing build and design, you will not feel weird forking out that much to get overall quality.
We recommend this keyboard for enthusiasts who love detailed design and components. It's also worth having for the kind of experience you get.
The keyboard will take some getting used to in terms of layout. However, getting the hang of it will open you up to cool performances. Whether you want to have it customized or not, you can put it to several functions and still have pleasant experiences.