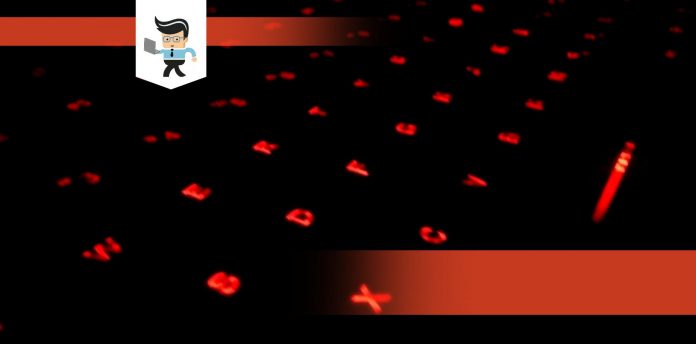 There's something quite interesting about the Razer Cynosa pro keyboard. Sure, it's a membrane model, but it fits the bill as a gaming keyboard. It also offers a lot of cool specifications many users will like.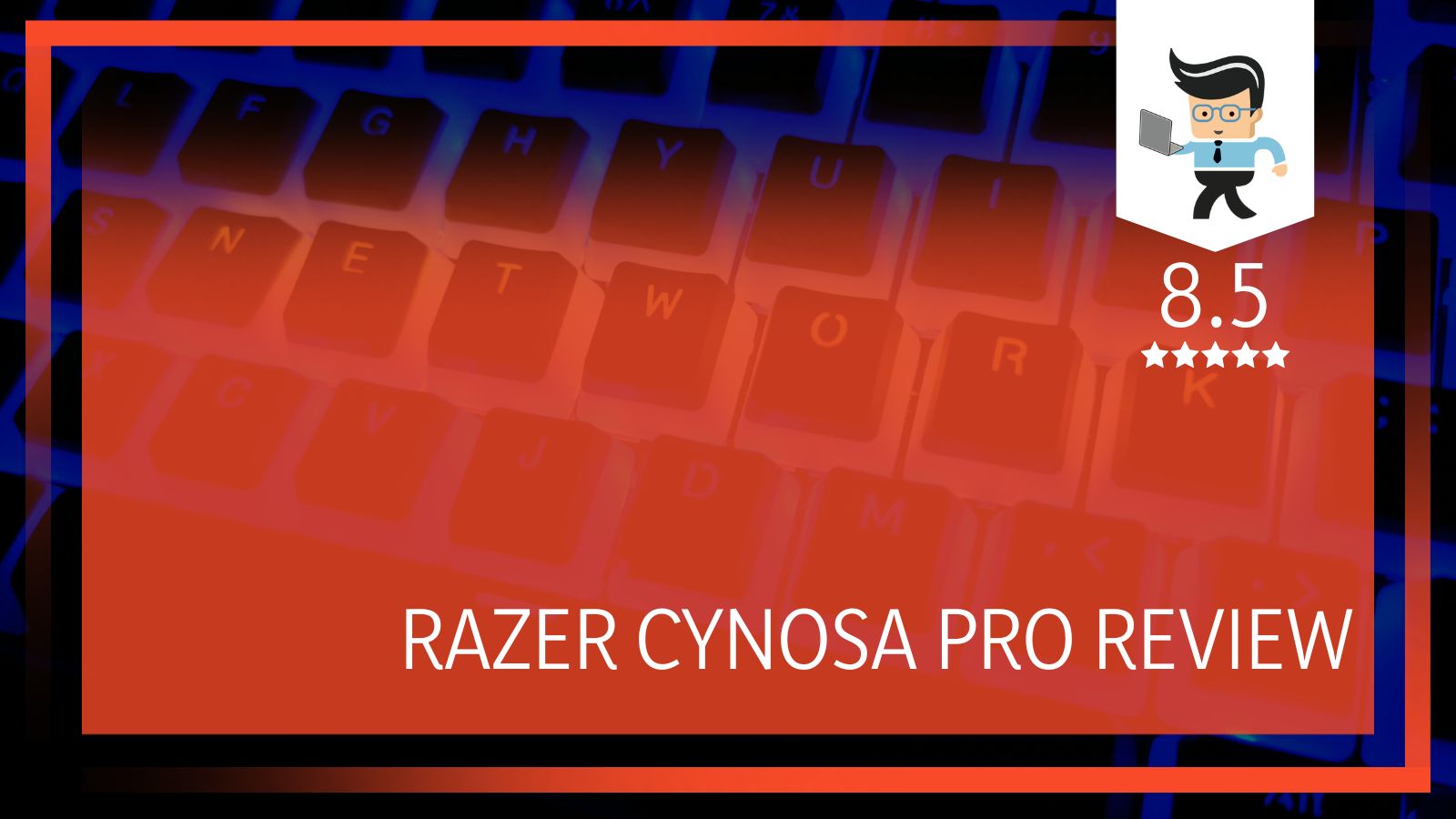 This is why our team has come up with this review. We will help you understand what makes this keyboard tick and why it's worth getting.
Razer Cynosa Pro Review Features and Specifications
| | |
| --- | --- |
| Features | Specifications |
| Durable construction | 80 million clicks |
| RGB and Backlit | Chroma customizable |
| Software | Razer Synapse |
| Keys | Membrane |
| Anti-ghosting | N-key rollover |
| Macros | Fully programmable |
Razer Cynosa Pro Key Criteria
PROS
Spill-resistant durable design
Optimized key matrix
Fully programmable keys
Dedicated gaming mode
CONS
Membrane keys
A bit expensive
The Razer keyboard is one that promises an all-around gaming performance. You can execute up to ten commands at the same time, thanks to the built-in rollover Anti-ghosting featured in the keyboard.
Also, you get the ultimate in personalization, all geared towards deep gaming immersion. To help with that, the Razer Chroma provides full syncs with popular games. While gaming, you can try out millions of colors on individually backlit keys.
The spill-resistant design is another cool feature to love. It is built to withstand most accidental liquid splashes. Whether you have a coffee or another beverage spill on to it, the internal components are safe.
The durable construction also extends to the number of clicks over time. As such, you have a guaranteed 80 million clicks to enhance its lifespan.
What's more, the keyboard offers support for fully programmable macros. These are handy options you can use for more functions. The Razer Hypershift is responsible for all keys and keypress combinations. They can be remapped to execute some complex commands.
Since it is primarily a gaming keyboard, you'd want to assign functions to specific keys you trust. The Cynosa Chroma Pro adds 22 customization zones which you can find at the front, back, and sides of the keyboard.

The Cynosa Chroma Pro is one keyboard that can do all the easy and difficult stuff with ease. It will fit those who want a keyboard that swings between gaming and typing. With a classic layout, you have all you need to perform optimally. The major sticking point is the price.
Razer Cynosa Pro: Top Features
– Construction and Design
The Razer Cynosa Pro is very much a keyboard with many qualities. By way of color, it is black all the way around and doesn't come with a magnetic wrist rest. As a full-sized keyboard, there's a lot to look forward to. However, discrete media keys and extra macro buttons are absent.
Much like other membrane keyboards with some lighting detail, this keyboard offers cool effects. The Pro features an "underglow." As a result, the entire panel underneath the keys features customizable RGB lighting.
The whole keyboard comes alive with a rich palette that bounces off the back chassis. The "underglow" feature is awesome and should feature on other Razer products soon.
Further, Razer makes this keyboard spill-resistant. Such a construction is important even if a membrane keyboard isn't all that easy to damage with water. For this reason, they're unlike their mechanical counterparts.
Overall, this is a good keyboard without being overly exceptional. However, don't try to dampen things by inserting it in water.
– Keys
The lighting is an intriguing aspect of this keyboard. Other than that, the membrane keys are striking. Yes, they're not as popular as mechanical models, but they feel great to the touch.
They're also comfortable and have a decent long key press. Part of this includes typing innovations to give you real speed and accuracy. If you're a typist, this keyboard will suit you to a T.
While there is no actual switch underneath each keycap, having two electrically linked membranes has its advantages. Also, the Razer features the PBT key cards. They won't wear out any time soon. What you get is a shiny surface after long usage.
– Software
The keyboard comes with the all-new Razer Cynosa software, also known as Synapse 3, which is really useful for customizing and controlling a host of functions. This includes lighting, macros, and other configuration options. It's much cleaner than previous iterations even though you have to get familiar with it.
Razer helps you do this by streamlining different feature sets into modules. This includes the Chroma Module for setting custom key colors. For recording macros and setting key bindings, there's an easy pull-down menu to choose preset configurations.
To set up Razer's new Hypershift functionality, you can use the Synapse 3 software. It allows you to click a selected button and use two sets of macros or key bindings. As a result, the number of customizable keys is effectively doubled. This feature is much like Roccat's Easy-Shift feature.
What Synapse does is save your various configurations across multiple devices. You won't have to start all over again every single time. On the whole, the new Synapse software is pretty straightforward and easy to use.
– Cable
The cable used here is non-detachable. Many people wouldn't like this aspect considering the cost of this keyboard. It's long enough, though.
– Backlighting/RGB
The colors here are RBG, coupled with individually backlit keys. You can customize these colors on a per-key level using the Synapse software. It will appeal to those who love to work or play games in the dark.
Further, you can highlight important keys using the lights. The usual assortment of colors with wave, breathing, and ripple effects are simply great. You can also add the previously mentioned "underglow" feature to the lighting effects.
– Gaming Experience
The Razer Cynosa Pro is good for gaming. That much is clear. You can use it for games such as Overwatch, Destiny 2, and PlayerUnknown's Battlegrounds. The results will satisfy you with quick responses in many gaming situations.
They are not a replacement for mechanical switches since they lack tactile feedback on keypresses. However, like we mentioned above, it is capable of handling any game.
While gaming, you'll also notice the keycaps have a slightly loose feeling. However, if you're punching furiously with the resulting shakes, it won't affect your gaming experience. The fact that you can also customize backlighting with Chroma-compatible games is a good development.
That is the case with Overwatch when it takes over the keyboard's color scheme. The effects just get to work without interrupting your gaming session.
– Switches
According to Razer, the Razer Cynosa switches are soft cushioned models with gaming-grade performance. As such, they're squishy, just like every other membrane keyboard. They're smooth and pleasant to the touch. However, most people will appreciate mechanical switches over it.
Buying Guide for an Ideal Keyboard
Getting a quality keyboard like the Razer Cynosa Pro is important to complete your gaming or typing rig. Here are some things to consider before spending that budget:
– Manufacturer
It's not uncommon to be influenced by brand name. The fact is it plays a role in what you eventually pay for the product.
Most times, quality isn't even considered over the brand name. However, you still have to pick a reliable brand with a proven track record. Brands like Razer will deliver the best, just like the Cynosa Pro.
– Ergonomics
Comfort is the key to productive usage irrespective of the function. With a product made of the best materials, there's enough joy while using it.
The reverse is the case, even if the brand is at the top of the chain. That is why keyboards for gaming often have perks and features like a magnetic wrist rest. Others have more features geared towards making you comfortable.
– Keyboard Lights
There's hardly any modern keyboard without backlighting. Whether that's a mechanical keyboard or membrane keyboard, lights are part of the construction. What's more, the colors usually number up to 16 million.
As such, picking the right color to fit your style is easy. Lights present a dynamism for many models, including the Cynosa Pro.
Lights will also play a big role in the price of any keyboard. Sure, you can choose simpler models with lighting options. However, that's not all there is to keyboards, especially membrane models.
– Special Software
Any special software is a good addition to any keyboard. For instance, setting up some RazerCynosa profiles requires software. Also, the software won't affect the price of the keyboard. It's there to facilitate your overall experience.
Reprogramming of keys and saving configurations are positives of special software. It will help you give that personal feel to your keyboard.
– Extra Features and Functions
Extra features like screens and keys add more functionality to your keyboard. As such, you'd want to consider this aspect.
At least, you'll enjoy using your keyboard when you pay more for it. Further, extra features speed up your tasks, and including additional function keys for launching apps, music, and volume is great. The Cynosa Pro does offer quality features.
– Keystrokes (Switches)
The first thing to do is to check the keystrokes or switches when you are buying a computer keyboard. If you don't, you might end up with a keyboard that feels like a typewriter.
You can imagine how difficult that is. Always test for how the keys feel. Since there are different types of keyboards, the feel is bound to be different. Some are soft or feather-like, and others are extra hard.
The feeling you get is purely down to the switch underneath the keycaps. The popular switches available are rubber domes, scissor, and mechanical switches.
They all play a role in the sensitivity, level of noise, and comfort you experience. A little knowledge about how they all work sure helps.
– Longevity
No matter what you pay for a keyboard, you'll want it to last for a considerable time. If you're in the market for one, consider the materials used for all parts. It also helps to check out how long the manufacturer guarantees the keystrokes.
Mechanical keyboards are known to last the longest. On the flip side, many membrane keyboards last for just 5 million keystrokes. There are exceptions with the Cynosa Pro supporting up to 80 million clicks.
Frequently Asked Questions
Here are some popular questions you might have about keyboards in general:
1. How do I clean my Razer Cynosa Pro?
Before you begin any cleaning process, remove the device from your computer. Even though it is spill-proof, you have to be careful.
A tissue will work here. However, make sure the surface of the keyboard is free of large dust particles and debris before using a product to wipe it. This way, scratches are kept off.
Do not immerse your Cynosa Pro into any liquid. The same goes for other keyboards. Also, many brands will not fulfill their warranty on your keyboard in this scenario.
2. What is the best keyboard for gaming?
The best keyboard for gaming is always a matter of personal preference. That is why, even after reading about differences between the membrane and mechanical keyboards, you'd still want to know what's best for you.
The fact is many gamers favor mechanical models for several reasons. One is that they are more durable. They're also faster and more customizable.
Many professional gamers swear by them with recent models flooding the market. Such models have more tactile and auditory feedback. If you're a gamer, you'll like the fact you can use mechanical models outdoors.
However, membrane keyboards are not at all bad. For instance, the Cynosa Pro offers N-key rollover and other quality features. You can still have the speed and accuracy you want.

Conclusion
One thing is sure about the Cynosa Chroma Pro: it is suitable for gaming. At the same time, it has a few drawbacks.
Although the rubber dome switches feel mushy, you can customize the keys to perform different functions. Again, it is not as responsive. What it boasts is the Synapse 3 software to program macros.
This keyboard is great for users who love to make their gaming experience more enjoyable with full RGB backlighting. With this technology, you can get a lot done in the dark.
Our team also recommends it for typing and software development. However, we feel the membrane keys are a bit inferior to what we have on similar keyboards within the same price range.