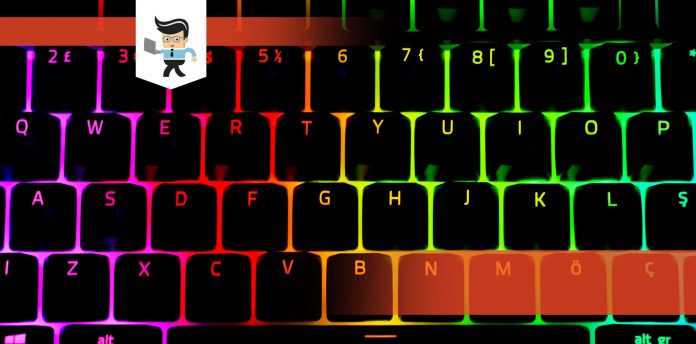 For many pro gamers and enthusiasts, Mongraal's keyboard is a must-have, especially if you need a setup that will put you in the league of top-rated gamers.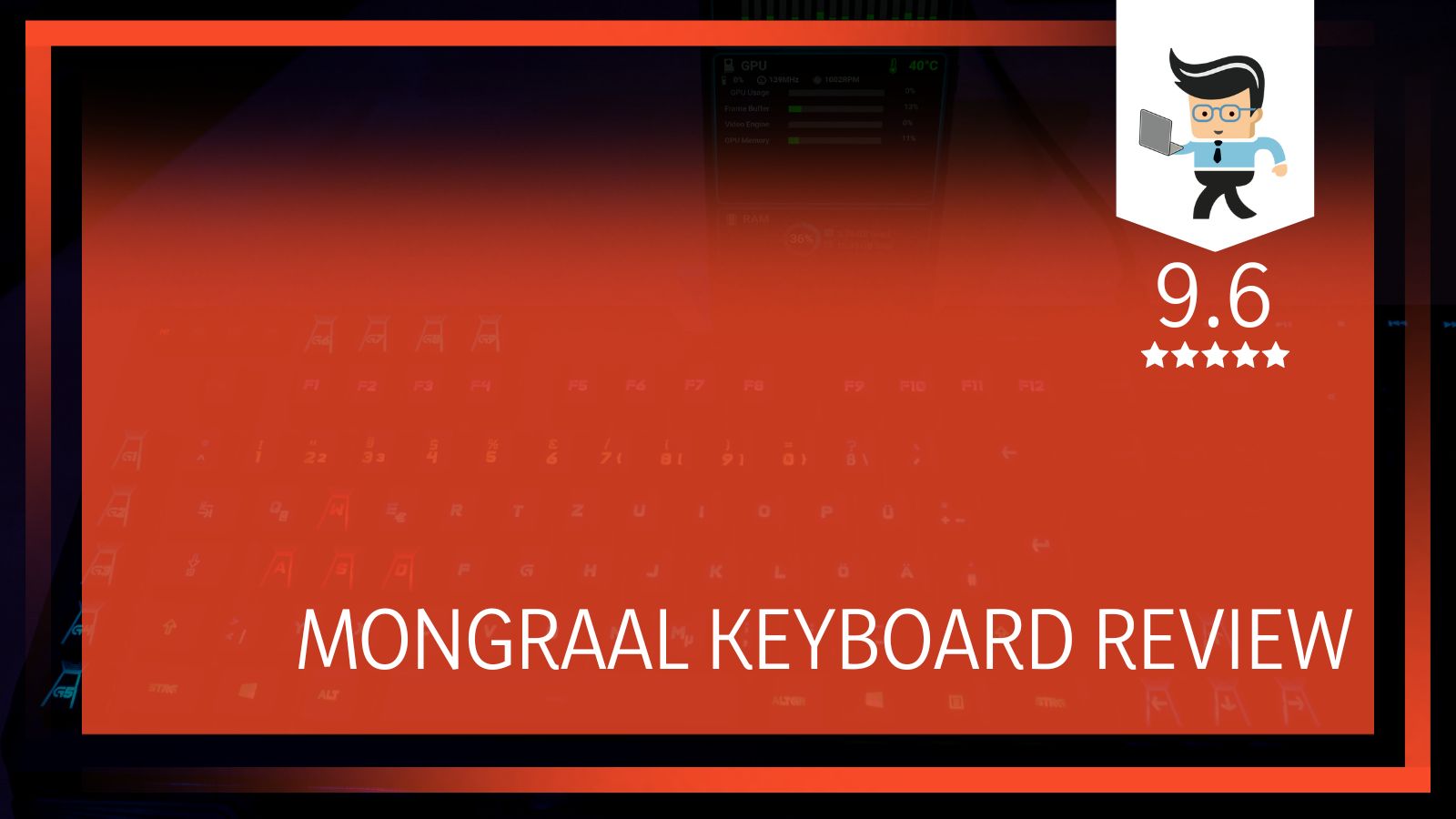 Think of all the damage you could do on Fortnite with a gaming rig built with the best quality.
Even if you need this keyboard for something else, it's worth getting. We have come up with this review to help you learn more about it.
Mongraal Keyboard Setup at a Glance
| | |
| --- | --- |
| SteelSeries Apex Pro | Specifications |
| Switches | OmniPoint switch, Cherry MX |
| Cable | 2x USB Type-A |
| Keycaps | Plastic |
| Lighting | Per-key RGB |
| Construction | Aluminum alloy frame |
| Weight | 2.14 pounds (1kg) |
| Others | Magnetic wrist rest |
What Keyboard Does Mongraal Use?
Mongraal Keyboard Key Criteria
PROS
Brilliant RGB per-key lighting
Durable aluminum build
Adjustable per-key actuation points
Customizable five onboard RGB profiles
The SteelSeries Apex Pro product will fit a lot of your needs, especially if you need it for gaming. You can fine-tune it to represent your style and what you stand for. Further, the striking design speaks for itself, and the RGB lighting makes it much better.
There's so much customization brought by unique switches if you want to set the actuation point for nearly every key.
The SteelSeries Apex Pro also comes with a screen and other quality features. For instance, there's a magnetic wrist rest that gives you comfort while doing any task. For this reason and more, the price you pay is worth it.
The Apex Pro's linear keys have a mushy feel at whatever actuation point. It might not be a good fit for those keen on typing, but it will make sense if all you want to do is play some great games. The keys are guaranteed for 100 million presses.
As a result, it is twice the average of a typical mechanical gaming keyboard. You can put this down to the quality OmniPoint switch
Users will also appreciate the fact that it supports 104-key rollover and 100% anti-ghosting. If you press 104 keys at once (if you can!), they'll all register. It's a feature you'll love, especially if you have to initiate gaming key combinations at breakneck speed.
Notably, the keyboard can register 32 keys simultaneously, so you initiate different commands by pressing multiple buttons at a time.

The SteelSeries Apex Pro is the ultimate gaming keyboard, especially for FPS games. It is very responsive. Moreover, you can set the actuation point of your keys to your preferred setting.
That makes it the ideal choice for users who love a well-built and fully customizable keyboard. The software inside is excellent, and the backlighting is also great for gaming in the dark.
Breakdown of the SteelSeries Apex Pro Features
– Cable
The SteelSeries Apex Pro features a non-detachable wired-only keyboard. The cable should be long enough for most setups and has a rubber coating. Also, it ends in two USB plugs, as one is for the USB passthrough on the keyboard. You can't use it wirelessly.
– Design and Construction
Going by the kind of looks it has, this Apex Pro is an impressive keyboard. It is built on a Series 5000 aluminum frame, which SteelSeries claims is aircraft-grade.
Also, it has a matte finish, which feels like plastic, while the dark build is the perfect foundation for RGB lighting. There's an attached USB Type-A cable which connects to your PC.
What stands out here is the cable management system. At the back of the Apex Pro, there's a long channel for snapping on the keyboard's cable. You can also extend it outwards from one of three locations. As such, your PC's port location won't matter, and everything looks tidy.
Along with a long cable are the three rubber pads to keep the keyboard in place. There will be no unexpected slide off your desk.
Further, the feet are slightly elevated for an all-around appeal. What's more, there's a magnetic wrist rest you can use within seconds. It feels amazing and helps you comfortably glide across the keyboard, and just like the keyboard itself, it lasts as long.
We've already mentioned that the keyboard has a screen. This screen is OLED with tiny size and black-and-white display. It helps with readability and enables a raft of customizable features. Perhaps this is why it is a great aspect of Mongraal's keyboard settings.
To activate the menu, you can double-tap the button to its right. You can navigate with the audio wheel and press in. Also, this works without you having to download the free SteelSeries Engine 3 companion software. There's also a slick audio wheel to control the volume of your PC.
The Apex Pro also features a USB 2.0 Type-A passthrough port. Want to use it? Plug one of the keyboard's cable's two-pronged USB connectors into your PC. This takes one USB port from your PC and moves it to a more accessible spot.
That spot is perfect for plugging in your mouse or a Bluetooth dongle. Further, you'll know the USB passthrough port is ready for use when it shines brightly.
To cap off the design, the Apex Pro weighs 2.14 pounds. As such, it is smaller than many keyboards. However, this is a positive if you're dealing with a tight space.
– RGB Lighting and Controls
This aspect of the keyboard provides some brilliant illumination. The lights start from under the raised keycaps, so you won't miss the glow. It's that bright. However, you can control it by shutting it down or turning it off completely. However, the RGB adds a real style to the keyboard.
Further, you can toggle preset profiles on the OLED screen or use the software. Either way, the display will show big letters with five different designs. They include Vapors, Coast, Haze, Prism, and Orange.
– Switches and Adjustable Actuation
The Apex Pro's keys have a linear feel. As such, the keys travel straight down and lack any tactile sensation or bump until you bottom out. Many of the keys use the OmniPoint switches for adjustable actuation points.
The Numpad, macro, and arrow keys, however, use Cherry MX Reds. Both offer real flexibility and will last for a long while.
Further, the SteelSeries software or the menu in the OLED screen will help you determine which distance a press is registered. That could be ten steps from 0.4–3.6mm for each of the 61 main keys. Again, at 0.4mm, you'll barely have to press a button for it to register.
To compare, Cherry MX Blue and Green switches actuate at 2mm and the Kailh Box White at 1.8mm, so at 0.4mm, you can still accomplish a lot, especially while playing games that demand a lot of accuracy.
– OLED Screen
The OLED screen mentioned above holds a Profiles and Settings menu. It contains the timeout, brightness, and lock indicator, which will display as icons on the screen. Also, the screen can share info with you if you play CS: GO, Discord, and Spotify.
It's not exactly another display or dual-screen setting. However, you can perform some functions on it, including changing songs.
If you have a favorite 120×48 pixel image, the SteelSeries will help you showcase it. Otherwise, it will offer you two of its logos, black on white, or white on black. You can also draw one if you're inspired to. What this shows is that you can truly make this keyboard your own.
– Typing and Gaming Experience
Typing on this keyboard with the Omnipoint underneath the keycaps is pure bliss. Every keypress is smooth with a little "clack" noise. As you continue with more pressure, you'll notice the sounds the aluminum frame gives off.
Further, the adjustable switches give you control over the typing experience. As such, you can feel confident working on extra sensitive keys or something firmer.
For the gaming experience, this keyboard is compatible with PC, Mac, PlayStation 4, and Xbox One. Also, the Apex Pro's adjustable actuation shines when gaming. You can also strategically program actuations for different actions.
Overall, the gaming experience is responsive and comfortable, especially with the wrist rest. Mongraal's keybinds will come in handy here, especially if you play Fortnite.
Frequently Asked Questions
1. Is the SteelSeries Apex Pro perfect for gaming?
Yes! The SteelSeries Apex Pro is an excellent keyboard for gamers. It offers a versatility few other keyboards can measure up to. The actuation force setting is a unique component you can adjust depending on the gaming experience you want.
2. Who is Mongraal?
Originally named Kyle Jackson, Mongraal is an English eSports player. He's better known for playing the game Fortnite and currently plays for the FaZe Clan eSports team.
Conclusion
There are many cheaper alternatives to the SteelSeries Apex Pro. However, this unit offers unique components and features that are worth it. Adjustable switches will always make a noticeable difference, especially for competitive gaming.
If you love a linear switch and a flexible keyboard, the Apex Pro is your best choice.
Further, you can reduce typos and accidental keystrokes when typing texts. It's a keyboard that is very well-built and features dedicated media keys. A nice magnetic wrist rest offers you the comfort to game or work for long hours.