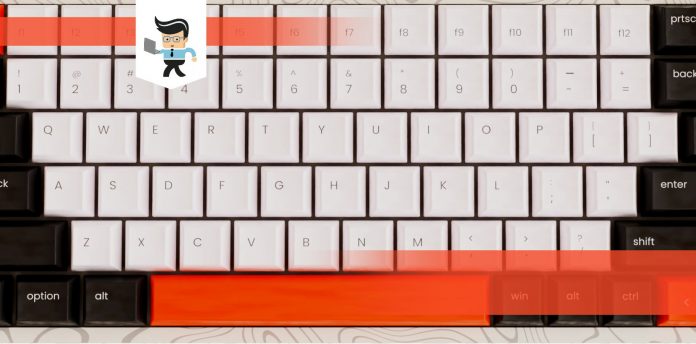 The Zeos keyboard is as vintage as it comes, and it will appeal to many lovers of classic keyboard design. At the same time, it does have some features that will meet up with the demands of the modern era.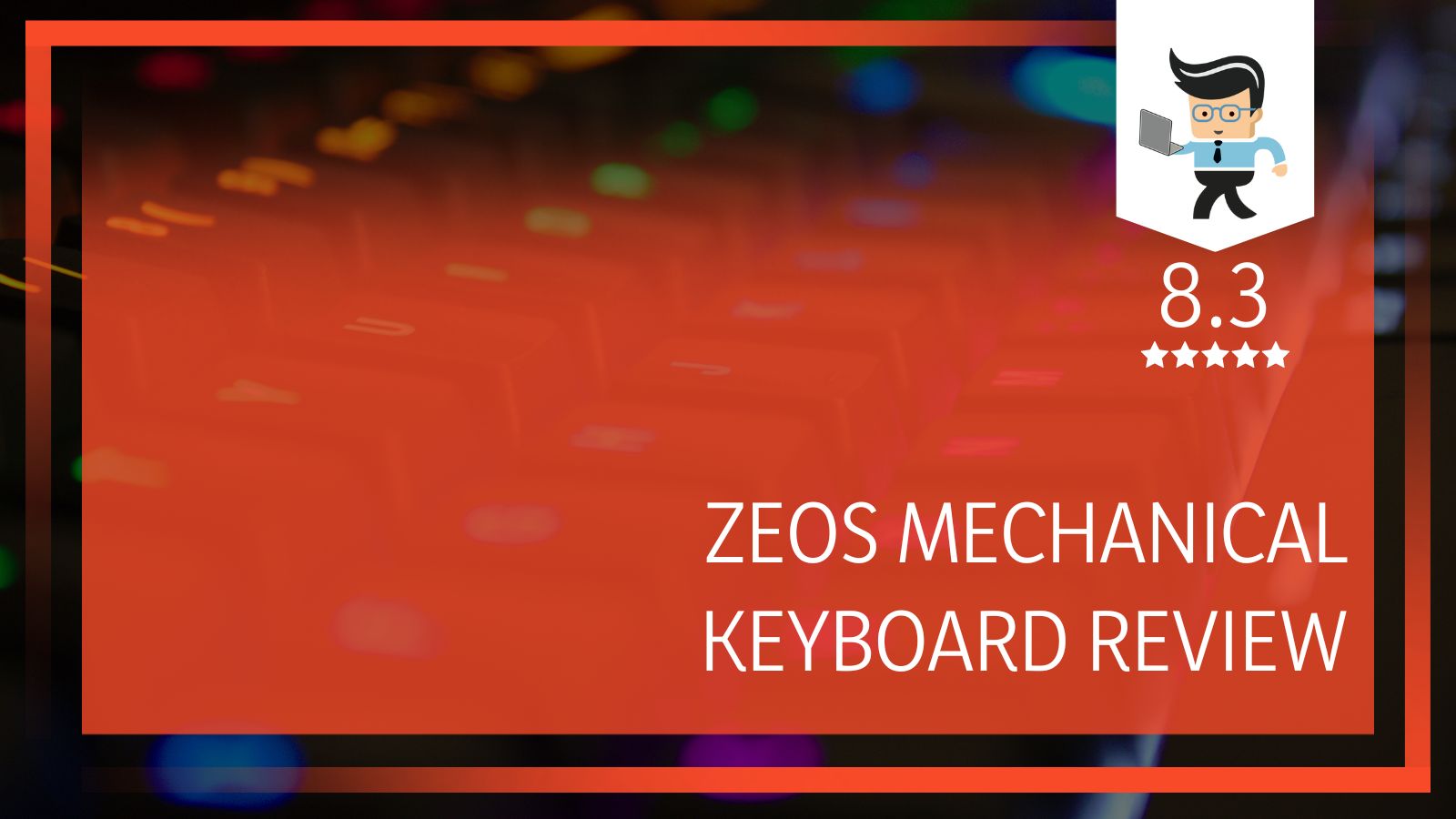 Sure, it's not the cheapest mechanical keyboard out there. However, it is undoubtedly one that's up there with striking appeal. The specifications say a lot, too, with nice switches and genuinely robust construction.
Keep reading to learn what we think of its capabilities and drawbacks.
Zeos Mechanical Keyboard Specifications Table
| | |
| --- | --- |
| Zeos Specifications |   |
| Material | Alloy frame |
| Switches | Cherry MX, Clones |
| Light | LED |
| Profile | Clicky |
The Best Zeos Keyboard: Everything You Need to Know
Zeos Mechanical Keyboard Key Criteria
PROS
Supports Windows and Mac
Custom mechanical switches
Durable
Satisfying clicky feel and travel
The Zeos KB is one of the best vintage-style mechanical keyboards we've seen. Many fans will appreciate having it in their rig. It has a striking appearance that makes a lot of difference if you love aesthetics.
It has a transformed look from its deep clicky keystrokes and alloy paneling to its LED-backlit keys. Sure, you can do some aftermarket changes to the already durable construction.
For avid typists that with old souls and the money to get it, they'll have a delightful time getting to work. It's exotic and gives you a reassuring feel and sound. Besides, it offers support to windows and Mac systems.
We've also mentioned that you can have your choice of switches underneath. Whether that's an MX Red or Blue, or any competent clones out there, that's a good advantage. That is important if you want to make changes later on.
The retro look may seem a bit too much for some, but we think it's qualities are understated. In all, it's a quality keyboard that will help you get the best performance yet.
Bottom Line
Zeos keyboard specs suggest that it's one that's great for typing. We wouldn't put it past gamers, though. Further, we think the lack of programmable macros makes it a bit short. However, it takes little from the keyboard's performances overall.
Zeos Keyboard: Top Specifications and Features
The Zeos keyboard has some great features outlined below:
Design
With its zinc alloy frame and relaxed construction, this keyboard exudes many vibes all through to its LED-backlit capabilities. This classic keyboard further has the retro plague bolted onto the main panel next to the directional keys.
You can use other traditional materials and frames to replace the surface, including black or white leather material.
The classic retro design will expose screws and old-fashioned indicator lights for the number lock. The keyboard is also a heavy presence. It weighs over three pounds, which will give off a reassuringly sturdy feel.
Connectivity and Support
This vintage connects both Windows and Mac systems via a USB-C port links the keyboard to the computer's CPU. Zeos also offers lights you can customize to put your print on your keyboard. That means you can do with the function key and the up or down arrow keys combinations, and there are also toggle switches for Mac-PC and power.
The content at the back of the keyboard is a feature that points to more changes. For one, you can replace Windows-specific keycaps. Ranging from File Explorer, you can try out the Mail to Num Lock and the Menu.
You can swap them with about a dozen Mac-centric versions such as the Launchpad, Command, and Eject. Either way, the Mac keycaps are a nice touch for this keyboard. However, this Zeos mechanical keyboard lacks any programmable keys.
Also, you can make changes to a few keys on the Zeos with Mac-specific keys. Even if you encounter a problem doing so, it won't alter the look of the keyboard.
Switches
The clicky switches here are a type of switch that focuses on producing a tactile bump accompanied by a loud audible click with each keystroke. As a result, the switches offer great feedback when typing. You will also know by the sound that everything is working correctly. Not to mention, the sound is fantastic and enjoyable.
You can determine how reliable the switch here is when you look at how long the Zeos is guaranteed. If you're using a Cherry MX, they last for a long time, with some boasting up to a 100 million keystroke guarantee. Other clones come as close but do not go past the 50 million range.
Sounds
The loud switches may bother your neighbors, especially in the workplace. They're present a sharp click with an outright noise, which makes them incredibly loud. However, we think the quality of the sound matters more.
If you're in a quiet house and type at night, the sharp click will fill the atmosphere. That will be more than the thump of a silent keyboard's keys bottoming out.
If you play games at night, the sound can be almost unbearable, and yes, you'll stop others from sleeping. Their high-frequency noises are more directional and more comfortable to hear when you're alone.
Lights
Backlit features are a regular part of many mechanical keyboards. The Zeos is no different. It offers a full LED to help you add beauty to your keyboard.
However, you have to control all the settings on the board since there is no way to use programmable macros.
Typing Feel
A mechanical keyboard user might guess that the clicky, highly tactile switches on the Zeos are a result of the MX switches underneath the keys. That may be true but what's sure is that the typing feel is excellent to the touch. With the backlit on moat keys, you have an even glow while typing.
Zeos keyboards switches are clicky, so you can expect that loud and profoundly satisfying sound while you press the keys. The key switches will actuate about halfway through each keystroke before the keys spring back up.
Further, the space bar, in particular, produces a beautiful "thunk". You'll hear this sound when you tap it with the edge of your thumb.
Overall, anyone close to you may hate you while you're typing on the Zeos board. However, that's not your concern to worry about. For you and other keen users, the sound of the touch-typing bliss this keyboard provides is excellent.
Frequently Asked Questions
Is the Zeos the right keyboard for gaming?
Whether you're an elite game player or not, a mechanical keyboard to help you get the performance you want is essential. This keyboard features such specs, especially with its shorter activation point.
However, we are not all out when it comes to competitive games. That is why we also think it is better suited to those who code or type.
Are clicky switches the best?
While clicky switches feel similar to tactile ones, they have an added click sound to go along with the tactile bump. We do recommend it for some reasons, including typing.
They may not be the best out there, but they're certainly best for some tasks like coding and working on documents. They help with faster speeds and actuation.
Conclusion
The Zeos board, with its vintage design and clicky profile, is a go-to gear for those who want a combination of modern and throwback keyboard. Also, the deeply satisfying typing feel is an excellent treat for dedicated PC or Mac users.
It will prove a popular gear to have, particularly for typists. However, the lack of programmable keys does seem a bit too much, considering what other brands offer.
Further, the loudness of the keyboard may take a toll on others near you. So if you plan to get one for a close-knit workplace, that may be a bad idea. That said, many users will appreciate the clicky sounds and the attendant tactile bump it gives off. There's also the fast actuation you'd like.
Overall, we recommend this keyboard to those who want a quicker performance on several tasks.