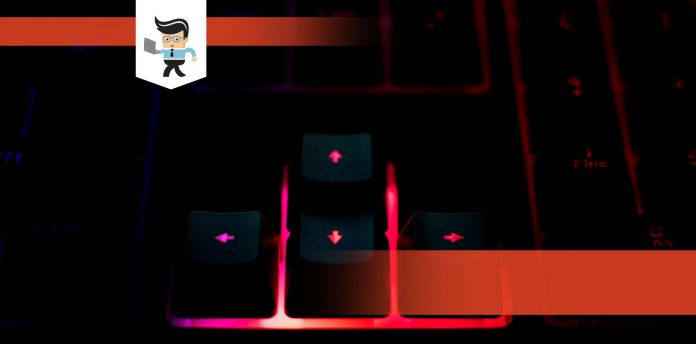 Velocifire VM01 is the answer to the question of what to do if you don't want to shell out big bucks for a mechanical keyboard. If you are on a budget but want the stability and durability of a gaming mechanical keyboard, then you should take a look into the VM01.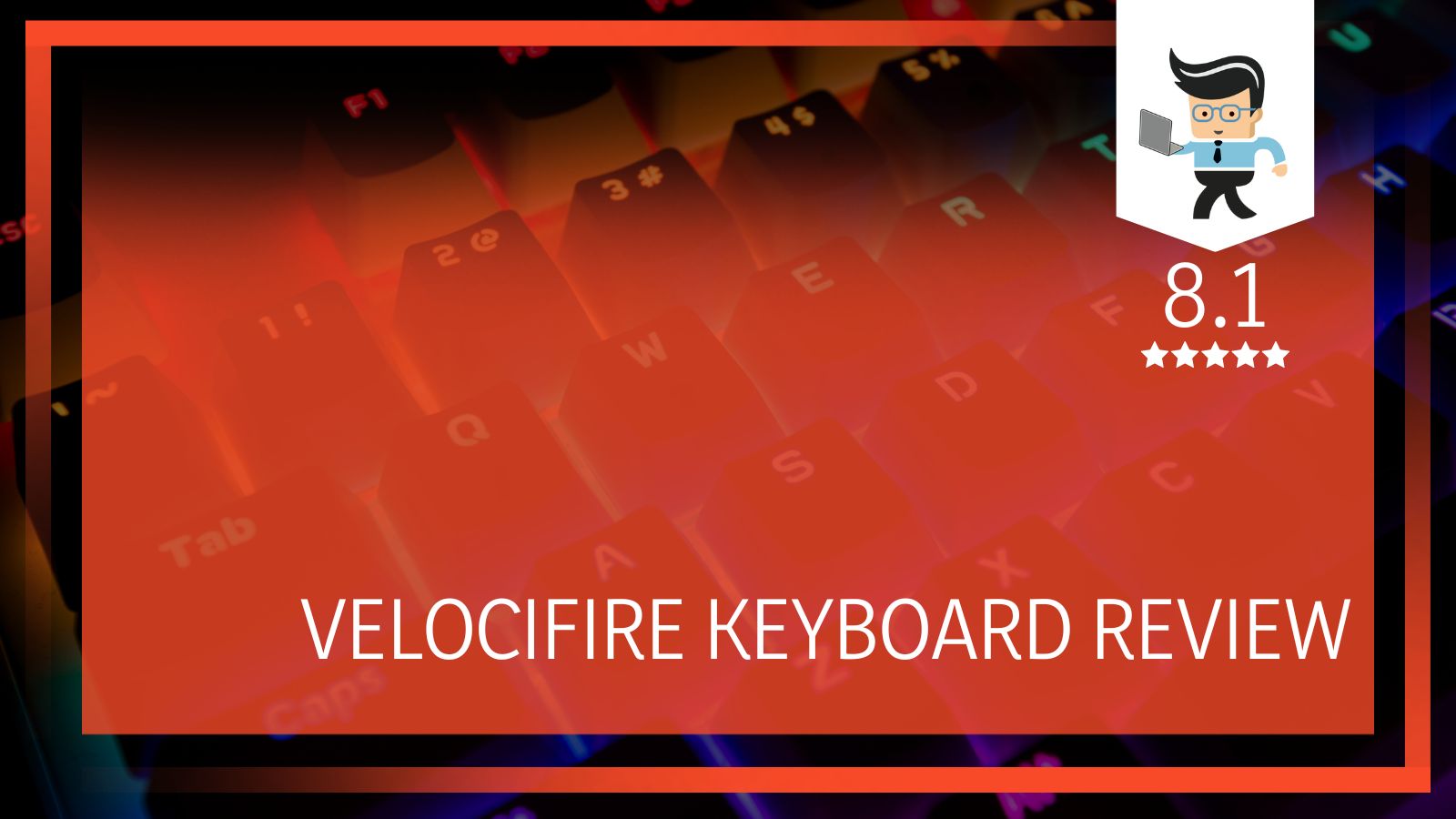 There are some things it leaves to be desired, namely, that to reach its price point it had to give up the notion of using name brand switches, but there are other features that can help smooth over the drawbacks.
Velocifire Keyboard Key Criteria
PROS
Inexpensive
Switches have a nice light pipe design to help illuminate keycaps
Switches are consistent
Comes with a keycap puller
Multiple backlight modes
Media key shortcuts
CONS
Really bad switches for claiming to be tactile (almost linear)
No flip out feet
Case flexes and it's bulky
Keycaps don't have even backlighting and the font is mediocre
Painted keycaps so they will wear out quickly
Backlight color
Not enough control of the brightness
No scroll lock LED indicator
Velocifire produces mechanical keyboards for the bargain basement sector of the keyboard market. While may cut corners in some places, their products exhibit a high level of quality and usability in comparison to other lower priced mechanical keyboards.
Most of their mechanical keyboards have a minimalist aesthetic that's perfect for any gaming rig. We're going to review the Velocifire VM01, the big sibling of the new TKL01.
– Value for Price
The VM01 is designed to be a cheap keyboard that appeals to the average consumer. Its case is made from thick ABS plastic, which in some locations is close to 2mm thick. It is lightly textured and consistent in terms of finish. No warping or creak presented itself.
Remember that this mechanical keyboard is quite hefty for a plastic model, weighing in at 2 pounds 10 ounces.
– Mechanical Switch Technology
The Velocifire VM01 mechanical gaming keyboard is the cheapest one on the market utilizing brown switches. If you don't already know, brown switches are made by the company Cherry and their MX switch series have become the staples of every premium mechanical keyboard in the world. In fact, some of the best gaming keyboards in the world use MX Switches and even the Black widow ultimate stealth incorporates Brown MX Switches.
These Zorro brown switches used in the VM01 claim to be tactile like Cherry MX browns, but they are much lighter and have almost no tactile bump. They are basically linear with the slightest of bumps that is almost not noticeable unless you are really trying to feel it. So if you're looking for almost no tactility I guess the switches are fine… They are all fairly consistent to each other at least.
In any case, the switches have a light tactility and greater scratchiness than Cherry MX Browns. There's also a sense of springiness — one can definitely feel a force increase near bottom out. That's great for floating typists, but not so much for those of us who hammer keys all the way down.
Certain switches produce metallic "scratching" noises that are just loud enough to be heard, which isn't particularly pleasant. At this price point, I don't think it's a dealbreaker, but it's also worth mentioning the manufacturer's rating: 55g +/- 15g doesn't indicate tight tolerances, which could account for any inconsistency encountered in the switches. Besides that potential 27% variation in weight, the switches sport chunky LED lenses.
– Lighting
The switches have what appear to be an integrated light pipe to help SMD LEDs on the PCB illuminate the keycaps better. But the switches cannot accommodate through hole LEDs due to this design. That's not really a pro or con, just an FYI if someone were looking into these switches. The backlighting is a dull cyan color that may be difficult to match with RGB peripherals.
There are some lighting modes, breathing, and some patterns where the rows light up in different sequences. The backlight control is pretty poor with on, off, and two in between settings. I typically like to see more adjustment steps, but at this price point, the limitation isn't a surprise. Several lighting modes, many of which are just vertically mirrored versions of the originals, can add flavor to your experience.
The VM01's backlit teal LEDs are reasonably bright due to the switch lenses. There is a downside to the lenses, though. On wider keys, like shift, the LEDs are too focused. Only the center of the legend is bright, creating uneven light coverage.
Leaving the lenses out would have resulted in slightly dimmer alphanumeric legends, but cost savings and even coverage would have made it worth consideration (especially if the savings were passed on to customers).
– Durability and design
The build quality is mediocre with heavy but fairly limp plastic that can definitely flex if some torque is applied to either end. The keyboard lacks flip out feet and the case is fairly bulky/ugly IMO. Not too much ping from the board, the heavy plastic seems to not be prone to it.
The indicator LED section has lights for number lock, caps lock, and then a winkey lock. No scroll lock light though… Again using the weird cyan color LEDs, it may be difficult to match the VM01 keyboard's teal lighting with RGB peripherals.
What could be an issue for some users is the lack of flip out feet. In theory, it's more ergonomic to keep your keyboard flat. In practice, many people enjoy a steep angle. If you're one of the latter, the Velocifire VM01 probably isn't for you. You could use other means to elevate it, but that would look goofy or require money — two things that shouldn't be involved with mechanical keyboards, particularly when they're cheap.
Large plastic clips secure the plate halves, while screws serve to provide greater stability. The screws themselves are fairly wimpy, but given the tanky nature of the case, it's an understandable decision. Quality fasteners can be relatively expensive, especially if metal inserts are pressed into the case plastic, so they were probably a cost cutting location.
The plate and PCB are supported by a number of through-plate pegs and lateral supports. They do an excellent job of keeping things in place. Overall, the physical structure of the case is excellent.
– Features
The only standout, even if it is pretty mundane, is the calculator shortcut. Calculator shortcuts in budget mechanical keyboards were dying out for a while due to gamer-centric design, at least in the keyboards that I've seen. There is also a Windows lock to prevent issues during gaming.
Velocifire also boasts that the VM01 has anti-ghosting, 104 keys, illuminated LEDs, and 12 multimedia controls. This is very common for most mechanical keyboards but its nice to know that Velocifire knows what they're doing. Lastly, on Amazon, Velocifire states that the VM01 will last for 10+ years and has a 1 year warranty
The VM01 features Velocifire's typical medium-thick ABS doubleshot keycaps. Their font is refreshing, as it is less aggressive and modern than those found on other budget mechanical keyboards. They will shine over time, but that's normal for ABS caps.
– Disadvantages
The Velocifire VM01 isn't spill proof at all, nor does it have any drains. The backlit LEDs shine through the PCB, so that means liquid could run down its back and cause shorts. Even so, it doesn't cost much for a mechanical keyboard. If a sticky beverage spill happens, replace it. Water spills, so long as you unplug the keyboard quickly and let it dry, shouldn't be too bad. 
The Velocifire logo is pasted on the case with standard pad printing. It isn't particularly sharp or unique, though it does have nicely saturated red flames. The bottom label is plasticized, which means it will hold up to wipe downs with a wet rag. Or spills. Or scratches from being thrown about in backpacks.
The pad printing is slightly inconsistent, which is to be expected. I only have one additional complaint about these keycaps — they have a thin layer of translucent extruded plastic around their perimeter that is left over from the injection molding process.
No macros are present on the Velocifire VM01. The shortcuts aren't anything special either. Basic media and OS controls are present on the Fn layer.

The Velocifire VM01 offers great value compared to other mechanical keyboards in its price bracket. That isn't to say that it is a perfect keyboard. Its cons are relatively insignificant in most use cases, but they might be no-gos for some users.
Conclusion
It will work in the office, at home, or at LAN parties. The VM01 won't complain about being thrown in backpacks or having its keys mashed after a frustrating gaming session. It won't make your wallet cringe if it breaks and needs to be replaced either.
The fact that the VM01 calls itself a mechanical keyboard and uses mushy switches can be a dealbreaker for a lot of people. Combine that with the chunky but flimsy construction, the color and brightness of the LED backlighting on the board, and the lack of macros, and people looking for a gaming mechanical keyboard may turn up their noses at the Velocifire VM01.
However, for those who are not used to typing on name brand mechanical switches and are just dipping their toes into the mechanical keyboard world, it is a good option to start, and if it is damaged or needs to be replaced, it will not break the bank.