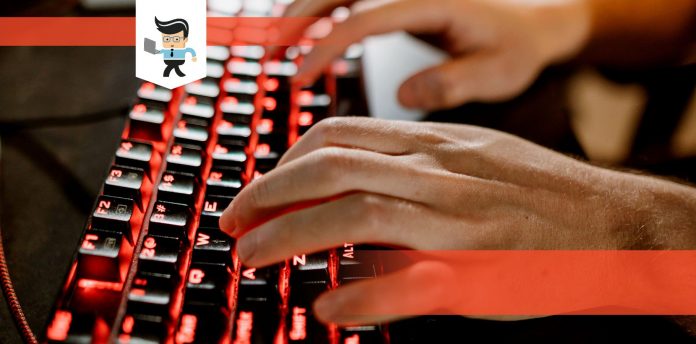 The color scheme of the GMK Oblivion is not the only feature you'd love about it. The keycaps are great. They are the main reason why coders, typists, and gamers think it's the perfect brand.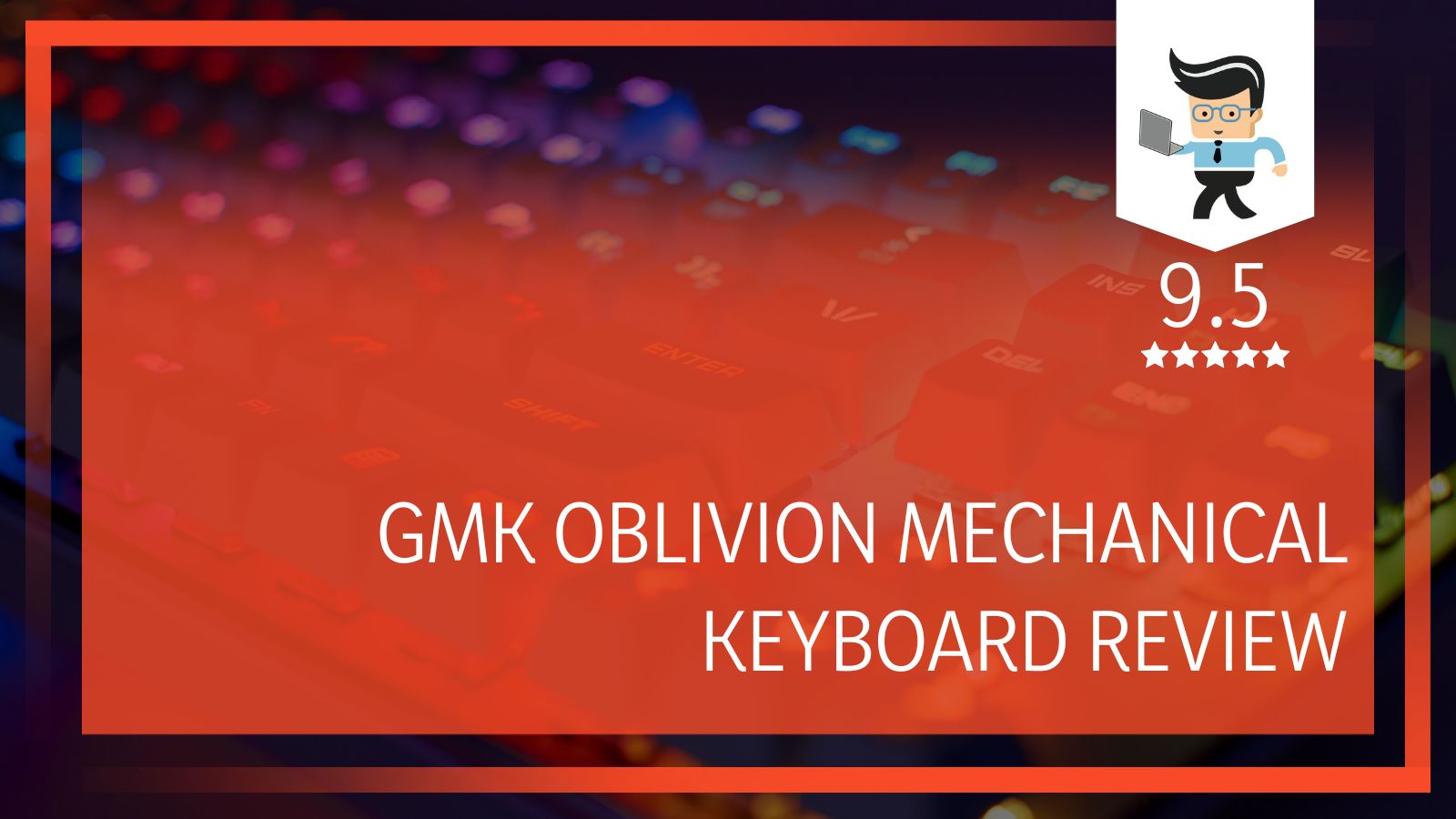 It is styled in supreme materials with the effectiveness to show for it. So what makes it the ideal keyboard for you?
Read on to find out what our review team thinks of its specifications and advantages.
GMK Oblivion Mechanical Keyboard Specifications Table
| | |
| --- | --- |
| Keyboard Specifications | |
| Brand | GMK |
| Profile | Cherry |
| Materials | ABS Plastic |
| Colors | Gray, blue, etc. |
| Legends | Doubleshot |
| Base kits | Three sets |
| Switch | Cherry MX, Clones |
GMK Oblivion Review: All That You Need to Know
GMK Oblivion Key Criteria
PROS
Durable
Unique multicolor appearance
Awesome layout
Compatible with Cherry MX and clone switches
Whether you're a programmer or a gamer, you will love the color schemes that come with the Oblivion keyboard even if you use the custom keycaps like many users. There's also the unique colorway that makes it all the more presentable if you're building your computer rig.
GMK is a brand that outdoes itself. To that extent, the Oblivion packs a Cherry profile. That's not all for it. When you consider, you can use other MX clones depending on the performance you want. It also comes styled in light gray with slightly beige legends.
These legends are Doubleshot by the sideway and come with understated but sleek alphas. As a result, they will pair nicely with the modifiers even if they're dark gray or have accent colors. That's another point. You can choose from green, blue, red, orange, etc.
A good layout is a requirement for any keyboard. The Oblivion has just the one you need and comes with three different base kits to choose from.
Keycaps are also ABS plastic, which is still strong, although many people will prefer to have PBT working for them. That doesn't stop it from being durable, though.
Bottom Line
A Gmk Oblivion mechanical keyboard is an excellent companion for users who do a lot on their computers. The keysets, base kits, and other specs make it worth all the money you pay for it.
Breakdown: Oblivion Specifications
Layout
Let's start with the keyboard's layout, which is excellent and offers a fantastic set overall. That is coupled with the fact that it comes with three different Base kits.
Not many keyboards will provide that much or even a single one. They're all geared towards maximizing the appeal and appearance of the set before you.
The keys number the standard set you'd hope to have. Since you pay quite the premium for GMKs, expecting it to last for a long time is essential. As such, the set is compatible with a host of essential features you might need for future keyboard purchases or aftermarket considerations.
Besides, you can sell them for some money should you need something different or an upgrade.
We also mentioned that this set has modifiers that add to its appeal. That's a significant factor with many GMK products, irrespective of the color blend you want with yours.
However, the Cherry profile does take some getting used to, especially if you wish to use the Oblivion keyboard for gaming purposes. Other users like programmers and typists will find it a good buy, though.
All the things you need for support is available so that you can have a relaxing time getting business done on your keyboard. Again, the Oblivion keyboard provides little to no downsides in terms of the layout.
Keycaps
GMK Oblivion keycaps have an understated quality, but there's no reason to believe that they're substandard. Further, they have a thickness of 1.5mm. These keycaps are quite resolute units even though they're thick ABS plastics.
When compared to other products in the GMK line, they might not measure up to PBT plastics. You'll get good strength and comfort, but durability is another thing.
The keycaps here also have a pleasing but semi-matte finish to them. They give off some glossy shine when you look at them, especially in a lit atmosphere. This light will cover most of the keycaps, but you shouldn't expect the same for all, at least, not from all angles.
As far as texture goes, you get a nice feeling even though there's a combination of somewhat different surfaces. There are a slightly rough feel and other soft areas of the key. However, your fingers will rest nicely on any keycap you lay them on.
On the whole, we do feel that GMK should have at least made the keycaps with the resolute PBT plastics. We mentioned that these are ABS, so they might not fit users who repeatedly pound their keys.
Doubleshot ABS Construction
The keycaps are ABS plastic and are Doubleshot injected. In line with that, the legends won't fade for a long time yet. With keysets, you should give priority to Leven quality.
Whether you're a writer or programmer, legends are essential considerations and add to your keyboard's appeal.
Cherry Keycap Profile
GMK is a German brand, so the Oblivion is also sculpted in a German-designed Cherry profile. By now, you should know these keycaps provide a comfortable feel for programmers, writers, and more. As for compatibility, the keycaps will fit on Cherry MX stems and related clone brands.
The Cherry profile is highly sought-after. Keyboard profiles refer to the overall shape and height of the keycaps. As such, Cherry profiles have a unique look because they're shorter than most common keycap profiles.
However, they're mostly thick and offer good keypresses. The keycaps' size is ideal for programming and typing even though gamers would like to use it. It's a comfortable keycap profile with pleasant feelings when compared to other profiles. In addition, the thick ABS plastic creates a good sound when typing.
Cherry MX Switches and Clones
Every keyboard user needs a responsive and reliable keyboard. That is required gear for diving into the latest games like battleground royale, legendary MOBAs, and epic MMO worlds. Not to mention executing other tasks like coding and typing documents.
However, these functions are worthwhile only when you have the best switches underneath your keycaps.
The GMK Oblivion keysets come accompanied by Cherry MX switches. Also, MX clones work well with them. For example, you can use Kailh or any other clones for your keyboard. It's all about what you prefer.
However, Cherry MX offers prime reactivity and durability. Further, depending on the switch, you'll have an audible or quiet experience. A keyboard responding with ease will ultimately provide greater comfort without wearing your joints out.
Base Kits
This GMK product comes with up to three different base kits. Firstly, there's the Regular with Oblivion-colored text modifiers programmers will love using. The Monochrome base comes in second and has monochrome modifiers. The third is the Git with Oblivion-colored git-inspired modifiers.
It's worth knowing that all the base kits will cover 60%, TKL, WKL, Fullsize, 65%, 75%, HHKB-style keyboards, CP, and 1800's.
For actual HHKB keyboards, you will need a 6u Spacebar kit, and the keyboard must get converted so that MX-style keycaps work on them. Also, all base kits here have ISO Enter built-in as well.
Sound
The sound of the Oblivion is good. With ABS, you might not have the most preferred choice for materials. However, this is one keycap material with a quality sound, much like its PBT counterpart.
As such, users shouldn't have issues with any during keypresses. What's more, GMK is one of the best brands in sounding caps, and the Oblivion keyboard is no exception.
While using the keys, you'll notice a slightly higher-pitched sound. This sound is mainly softer when you bottom-out. The sound is also consistent with time.
Keyboard Quality
There are few imperfections in a GMK product. Oblivion is pretty much a go-to product for ready users. We know that a stock keyboard should have caps that are ordinary strong, and long-lasting.
However, the ABS plastic is relatively thin and wears down. Further, it's bound to develop a greasy shine after a while. Well, you can improve your keycaps by upgrading them to a PBT plastic set. That's one of the benefits of having a product you can sell or exchange at a later date.
GMK generally makes its high-end keycaps out of a thick ABS. However, this doesn't stop it from being on the market. One of the reasons for using ABS is that it allows your keyboard to have no warping and few imperfections.
Also, you have a lot of positives with colors that pop better and boosted acoustics.
Typing on the Oblivion
Whether you're up for typing or doing other stuff like coding, you have to press the keycaps. Having a Cherry profile helps with that and gives you a functional performance when you work.
This keyboard also has a good layout and, like other GMK products, has cylindrical-shaped keycaps. As a result, it's easier to move between rows of keywords. Users will enjoy going through many documents with a short and accurate session.
Frequently Asked Questions
Is PBT better than ABS?
As a whole, many users see PBT as superior over ABS keycaps. That is because it's stiffer, durable for a long time, and stays right in color. Also, it doesn't develop a shine effect after constant use. However, GMK uses only top-notch ABS for her keyboards.
How do I stop my GMK keycaps from shining?
Well, the fact is you have to get used to it. However, a quick solution is to buy more GMK sets. That way, you can rotate them regularly and delay the inevitable.
All caps will shine, whether made out of plastic ABS or PBT. The only difference is that PBT takes longer to get there. Either way, you'll use a GMK for a long time.
Are GMK keycaps good?
Yes. GMK keycaps are on the higher price spectrum because they are incredibly high quality.
Much like the GMK Oblivion costs, GMK keycaps are mostly textured and are not like OEMs, which have a relatively cheap make. OEMs also do not feel as good and end up feeling worse for wear. GMKs are worth it.
Conclusion
Many users claim GMK keycaps and keyboards are stupidly expensive. However, they are worth the price. They offer super high quality and are to get. That means you'll have to jump through several hoops to purchase them.
The Cherry profile with thick ABS plastic on the Oblivion keyboard is the best material and keycap profile. Most of the value of GMK keycaps comes from the demand and their exclusivity.
We do recommend the Oblivion keyboard. It's a set you can use for a good number of tasks, including gaming, typing, and coding. They will last longer, and since you can change premium switches, there's nothing to lose.