Our router reviews showcase wireless options that form the base of a home or office network. That's the case, especially if you run a business or work from home. 
With these routers, you can enjoy a fast and secure network connection for your personal computer and other external devices. 
As we proceed, we will touch upon some significant parts and questions about the best routers for every user to help you make an informed decision whenever you are ready to purchase a router. 
Here are Some of the Best Routers Available Right Now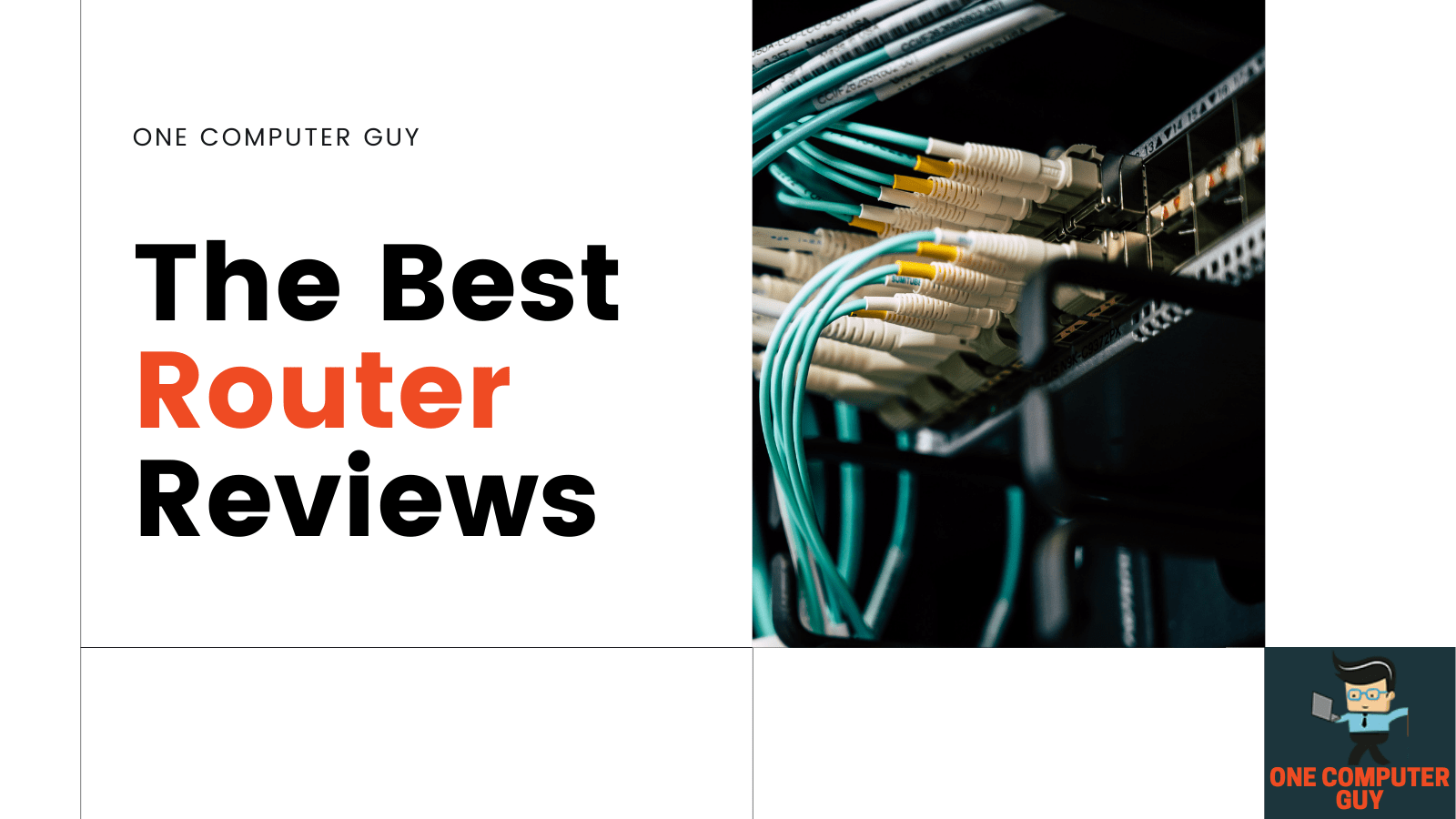 Routers described as the best come with a variety of top-quality features, and some of them pack a lot of capabilities, so you can expect to pay more. So if you're out to get one of the best, there are certain things to watch out for. 
For example, you'll need a router with at least four 10/100/1000 (gigabit) Ethernet ports. That way, you can connect to wired devices. Your desktop PCs, network-attached storage (NAS) drives, and home-automation hubs can work with it. 
Other top attributes of the best wireless routers include: 
Faster Throughput Options
It's not uncommon for users to request faster throughput for large file transfers. To that end, you'd need a top router that supports link aggregation. That's because link aggregation makes do with two gigabit Ethernet LAN ports to increase throughput (up to 2 Gbps).
Further, it gives users a fail-safe if one LAN connection goes down or when there's a need to balance your network traffic. 
Again, it's easy to plug in a printer or a USB drive with at least one USB port and share it across the network. However, with two ports, you can do both. 
Antenna Settings
Whether you want a home router or looking to get a model that will serve your business needs, you should always choose one that offers removable antennas. 
Some router manufacturers offer models like Asus RT-AC1200 and the Belkin F9k1124 with capable antennas. Such antennas boost performances. Besides, you can always get a third-party antenna that supports the router. 
Essential Quality of Service (QoS) and Parental Controls
It's normal for users to manage how their Wi-Fi network is being used. You can always ensure that your next router has parental controls and Quality of Service (QoS) options. Also, add a guest-network feature to them. 
With a parental control feature, you can limit network access for certain users and specific times. 
It helps to access scheduling and website blocking options or pause the internet and select age-appropriate presets. That way, you can automatically block access to platforms and sites that contain things like adult content, gambling, games, and more.
You can use the guest network feature to offer Wi-Fi connectivity to guests securely on the flip side. 
With the QoS settings, you can choose which applications and clients get network priority on your wireless router. For example, you can assign high QoS priority to a gaming console like Xbox Series or Sony PlayStation. That way, you Eliminate lag time and improve overall gameplay.
Security
For all wifi router reviews, it's essential to take note of security, as a lot of models will give you a Wi-Fi Protected Setup (WPS), which allows you to add compatible devices with the push of a button. 
If you want a more secure router, use a Wi-Fi Protected Access (WPA or WPA2) that will prompt users to enter a network password for each device before they can gain access. 
Notably, all routers with a WPA-Enterprise security feature have higher levels of security than WPA/WPA2. The only catch is that they require a Remote Authentication Dial-In User Service (RADIUS) server to authenticate each client.
The Best Wireless Routers for a Newbie
Belkin N300
If you're new to routers, you have to start somewhere, and if you are looking for the best router for a newbie like you, the Belkin N300 wireless router might just be the one you need. It's reasonably priced, and you don't have to be an It expert to set up. You can connect to it anytime you want, especially if you've got more than a couple of devices to connect via the network. 
Cool Features
The Belkin N300 comes equipped with tons of desirable features, including a high-powered signal using MultiBeam Technology. Also, you can diagnose and fix network issues with its self-healing application. The data transfer is equally impressive, with a rate of 300 Mbps. 
Other top features include parental control. One downside is that you may have to restart this router from time to time. 
D-link AC750
As far as router ratings go, this is one option for your home and office needs. The D-Link AC750 specs make for a great spectacle by way of a mini-review, even with limited features. This WiFi router is more expansive than its predecessor, the DAP-1320, and weighs just over 3.6 ounces.
One of the reasons for its larger design is down to the newer extender's dual-band support. In line with that, it's not too large that it's unsightly in a wall outlet. Again, you'll notice that this small extender has no Ethernet ports. 
As a dual-band device, the router comes equipped with two popular types of bands—the 2.4GHz and 5GHz, to boost your connections. Usually, the latter is faster than the 2.4GHz variation. 
Router Device and Feature Comparisons
1. TP-Link Archer C9 vs. C7
Carrying out routers comparisons is never easy to do, as newbies and enthusiasts might find it challenging to tell some devices apart. 
For example, while both Tp-link Archer c7 and c9 are dual-band wireless routers, they have distinctive differences that distinguish them from each other. Let's take a look at some of these distinctive features below:
Configuration and Performance
Both routers are pretty easy to set up and install, and they also have dual-band features and high-speed throughput. But the Archer c7 router offers support for both IPv4 and IPv6 and gives you a speedy internet connection, thanks to its 802.11ac generation of Wi-Fi. 
Further, it can reach about 1700 Mbps wirelessly and is three times faster than many 802.11n standard routers. It also supports up to 1300 Mbps through the 5GHz bandwidth and up to 450GHz on the 2.4GHz band.
When it comes to the c9, what you get is a sophisticated and stylish router that also supports the 802.11ac IEEE standard, and it is far quicker than the C7. For example, the C7 features a 1.7 Gbps bandwidth, while this C9 router comes with a 1.9 Gbps bandwidth.
The C9 is also a dual-band router, and faster speeds are possible through the 5GHz channel. The 600 Mbps speed is enabled through the 2.5GHz channel. 
Antenna and Connections

 
The C9's expansive coverage and targeted network set it apart from the rest when it comes to antenna and connections.
The Tp-link Archer C9 is equipped with three dual-band detachable antennas, which means more excellent area coverage in almost any condition. While the C7 comes equipped with the same type of antennas, it comes nowhere close to the C9's beamforming technology feature, which will help you to locate any connected device and direct the signal towards it.
Speed
When you compare routers, speed is a huge factor. To that end, the c9 delivers faster speeds than the c7. It packs a maximum speed of 1900 Mbps at 600 Mbps on the 2.4GHz radio frequency band. 
Also, there's a 1300 Mbps speed over the 5GHz radio band. To put that in perspective, the c7 offers lower band speeds. 
2. Nighthawk X4S vs. X6
These are two highly-rated Netgear routers that will guarantee top performances, as they're both fast and give you a better throughput without network hesitations or lag. Besides, they both offer exceptional range whether in the home or workplace.
The Nighthawk X4S speed reaches about 2.53 Gbps, while the X6 has speeds of up to 3.2 Gbps. Not many routers offer the same or better rates. 
We must also note that the Nighthawk X4S specs are superior to the Nighthawk X6. A closer look shows that the former has a 1.7GHz dual-core processor with four external antennas, while the X6 comes equipped with a dual-core processor and six external antennas.
Range

 
For range, the X4S is excellent; however, because of the tri-band Wi-Fi and the six external antennas, the Nighthawk X6 has the best coverage. 
On the whole, both of these routers offer dynamic QoS (Quality of Service). They will work well for latency-sensitive applications when internet speeds are 250Mbs or less.
Comparing the Top Wireless Routers for Gamers
How do the GT-AC5300 vs. RT-AC5300 Compare?
These are two high-performance tri-band gaming routers, so we'll go straight to the point. The fact is every gamer and enthusiast out there demands a lot of speed. To that end, many reviews of routers do the best to pick out the fastest. 
The GT-AC5300 and the RT-AC5300 are both offer high-speed network functionality. Even with a high-end gaming machine, you'll need a high-speed router to eliminate network lag and improve throughput. 
The Rapture GT-AC5300 is faster than the Asus RT-AC5300, but the speed difference is barely noticeable to most users. For example, speed tests on the 2.4GHz band show the Asus Rapture GT-AC5300 scores 128 Mbps while the Asus RT-AC5300 manages only 101 Mbps.
If you are a serious gamer, these routers will make your experiences much better with faster speeds. However, the GT-AC5300 is the preferred option for gaming. 
Conclusion
Wireless routers are excellent companions for your PC and other compatible devices, and having the best is a question of personal preferences and the tasks you want to perform. 
We are sure the routers highlighted here will come in handy for you, whether you are looking to get a router for your home or SME business or you are just in need of the best wireless chipsets from Intel. Whatever you need, whether that's gaming, surfing the web, or streaming, there's always a router for you.
List Of All Router Articles