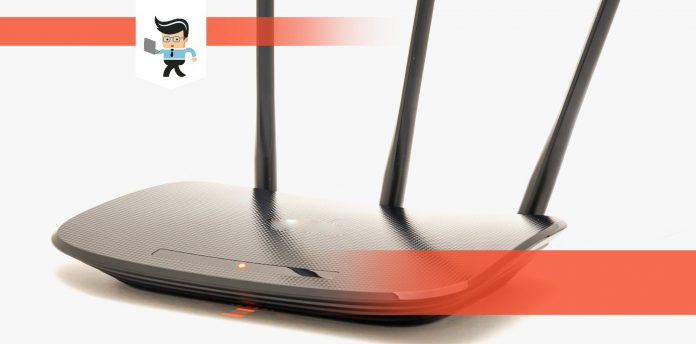 Comparing the Nighthawk X6 vs X4S is difficult since both routers are highly rated. Netgear produces some of the best routers in the world, so you can be sure that buying either of these Nighthawks would be a right choice.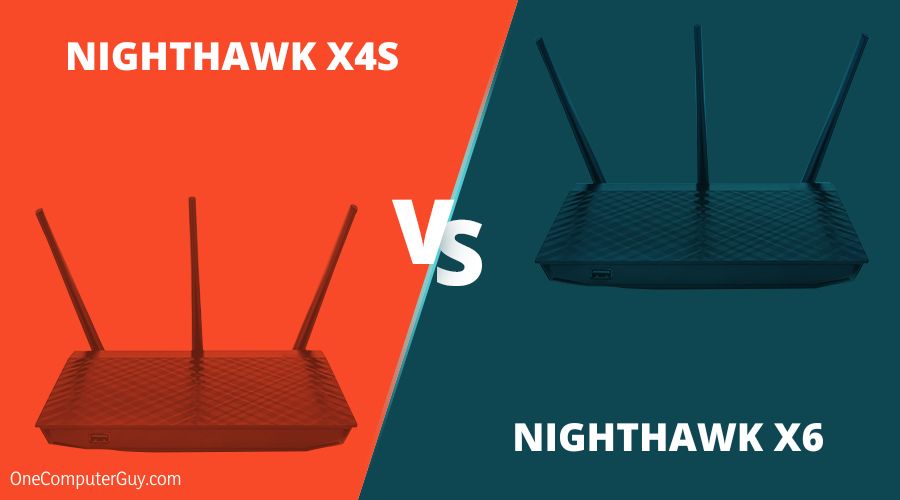 But we will dig deeper and see what the differences are and what could be the features that make a difference for you.
We compare the Nighthawk X4S vs X6
Model
Nighthawk X4S Dual-Band Wireless Adapter
Nighthawk X6  Tri-Band Wireless Adapter
Wi-Fi Speed
2600 Mbps
3200 Mbps
Bands – wireless frequency
Dual Band
(1 x 5 GHz & 1 x 2.4 GHz)
Tri-band
(2 x 5 GHz & 1 x 2.4 GHz)
Antennas
4
6
CPU
1.7GHz dual-core processor
1GHz dual-core processor
RAM
512 Mb
256 Mb
Ports
4 LAN Gigabit Ethernet ports (10/100/1000 Mbps)
4 LAN Gigabit Ethernet ports (10/100/1000 Mbps)
This Nighthawk router comparison shows that both Netgear routers have excellent specifications. They are fast and will deliver superior throughput without network hesitations or lag. Their exceptional range ensures your network will operate well throughout your home or workplace.
Launched in 2013, the Netgear Nighthawk R7000 was the world's fastest AC Wi-Fi router at the time. Since then, Netgear has built its reputation by adding more ultra-fast routers to the Nighthawk range. As technology improved, many of the new routers were much more powerful than the original R7000.
So we will help you to see why we have chosen to compare the Nighthawk X6 vs X4S. We will help you select a Nighthawk router to meet, and surpass, all your needs for a top-performing home or workplace network.
Let us take a look at the specifications which most people use to rate modern Wi-Fi routers. The Nighthawk X4S speed can get up to 2.53Gbps, while the X6 has speeds of up to 3.2Gbps. You would need a high-speed internet connection to enable similar speeds on your network.
The Nighthawk X4S specs are superior to the Nighthawk X6. The former has a 1.7GHz dual-core processor with 4 external antennas, while the latter has a dual-core processor and 6 external antennas.
The Nighthawk X4S range is excellent. Because of the tri-band Wi-Fi and the 6 external antennas, the Nighthawk X6 has the best coverage. But it would help if you remembered that you would struggle to see the difference between two routers in an average home setup.
Both Netgear routers offer Dynamic QoS (Quality of Service), and Netgear recommends Dynamic QoS for latency-sensitive applications when internet speeds are 250Mbs or less. Dynamic QoS prioritizes time-critical applications like voice traffic, video streaming traffic and online gaming. Traffic such as browsing, file downloads and torrenting have lower priority on the network. This means that if you are making a Skype call or using Zoom, another user making a large torrent download will not disrupt your call.
The voice call will get the most bandwidth, while the download will have less bandwidth during your call.
MU-MIMO (Multi-User Multiple Input Multiple Output) improves the Netgear Nighthawk X4S range. The Netgear Nighthawk X4S speed is also enhanced. The lack of Mu-MIMO support in the Nighthawk X6 gives the Nighthawk X4S a range and speed advantage in your Wi-Fi network.
The Nighthawk app gives you an easy way to manage and configure your router using a smartphone. Parental control is available. You can also improve your network management with security features like firewall and NAT. You can also access backup storage remotely or even create a VPN using Open VPN.
Individual Reviews
Pros

Cons

DFS channels to avoid interference.

Dated Genie dashboard
Slow 2.4Ghz performance

Gorgeous design
Reliable performance at all ranges
The Nighthawk X4S specs are impressive. It has high speeds, performance and reliable connectivity. The dual-band router has Wi-Fi speeds of up to 2.53 GHz and features a powerful 1.7GHz dual-core processor. Add dynamic QoS for stable and lag-free gaming as well as 160MHz MU-MIMO. And concurrent, high-speed device connection provided by quad-stream connectivity gives you peace-of-mind. You know you will have a trouble-free performance network good for intense gaming as well as HD media streaming. What's not to like?
The Nighthawk X4S supports DFS channels (Dynamic Frequency Selection). DFS uses select channels in the 5GHz band to avoid Wi-Fi interference. Many other routers do not use these channels, and this reduces the possibility of outside interference. If you live in an area where there is a lot of wireless activity, you might be subject to Wi-Fi interference from your neighbors. DFS helps prevent this sort of interference.
We live in a digital multi-tasking world. You will likely have many users doing different activities at the same time. Some people might be streaming video, some might be playing online games, and others might be browsing the web. You want a network where concurrent activities can take place with minimal interference. This is when you will appreciate a router that supports MU-MIMO.
MU-MIMO is standard on the Nighthawk X4S. This means that it can serve traffic to multiple devices at the same time. The Nighthawk X6, by comparison, can only send traffic to one device at a time. MU-MIMO will give you a considerable improvement in all your gaming, streaming and browsing on the internet.

The Nighthawk X4S has gigabit Ethernet ports to give you improved wired performance.
The Nighthawk X4S is a robust package. It suffers from slow 2.4GHz performance, and the administration app is old fashioned and can do with an update. But it is a high-performance package giving you lots of performance when you need it. It is one of the fastest 5 GHz routers on the market with top speed file transfers. Combined with MU-MIMO, it is a router we would recommend at a relatively affordable price.
• Netgear was the first manufacturer to offer a tri-band router. It is designed to manage the increasing number and variety of devices many of us have on our networks.
Pros

Cons

Beamforming+
6 high-performance antennas
Excellent at optimizing the performance of multiple devices on a single network.
Simple setup.
Solid throughput and NAS performance.

No MU-MIMO support
Slower than X4S
Network Map feature needs improvement
Lacks enhanced QoS feature
Pricey
Most networks today have many Wi-Fi devices attached. These can range from smartphones, tablets, laptops, printers and many other devices. This is commonly called the IoT (Internet of Things). To cope with all these devices, the Nighthawk X6 delivers three bands with its breakthrough Tri-band Wi-Fi. It is capable of high speeds up to 3.2Gbps. The 6 high-performance antennas also offer superior speed and range.
The Nighthawk X6 specs are unusual because the X6 has a dual-core 1GHz processor with three offload processors. It has 128MB of flash memory and 256MB of RAM. The three offload processors enable the CPU to work more efficiently than some faster CPUs.
Netgear states that the goal of tri-band routers is not breathtaking wireless speeds. The tri-band routers like the Nighthawk X6 seek to achieve superior performance on an entire Wi-Fi network.
They also allow more devices to connect to that network without interruptions.
The Nighthawk X6 has explicit and implicit beamforming+. This focuses on Wi-Fi signals, conveying stronger connections for all the available mobile devices. It also has a USB 3.0 port that delivers speedy storage access.

The Nighthawk X6 setup is effortless. Netgear has made it simple for you to get up and run as quickly as possible. You follow clear instructions, connect a cable, extend the antenna and start your browser. Then you access the Netgear Genie, which manages the setup process. You then use Netgear Genie to manage your network as well.
Difference between Nighthawk X4S vs X6
The main difference between Nighthawk X4S and X6 is, Nighthawk X4S delivers better performance, and has more Ram, while Nighthawk X6 has 3 co-processors to ease the load on the main dual-core.
– Speed
Both Nighthawks have dual-core processors. The Nighthawk X4S has a 1.7GHz processor as opposed to the X6's 1GHz CPU. The Nighthawk X4S should deliver better performance since it has a more powerful processor. The Nighthawk X6 has another 3 co-processors to ease the load on the main dual-core. The extra 3 CPU's are particularly useful when wired and wireless clients talk to each other through the router.
Nighthawk X4S routers come with MU-MIMO capability. Combining this with DFS channels and Dynamic QoS give it excellent performance and Wi-Fi speed. This is particularly true in the 5Ghz range.
The Nighthawk X6 is a Tri-Band Wi-Fi router designed to maximize devices on a network rather than outright speed. The lack of MU-MIMO support also counts against the X6 in the speed stakes.
– Ports and Storage
The Nighthawk X4S has two USB 3.0 ports and an eSATA port. It's a rarity to have a router with two USB 3.0 ports. There's usually just a single 3.0 and a second 2.0 port. Not only that, but the X4S has an eSATA as well. The Nighthawk X6 only has one USB 3.0 port
If you want a killer router for storage, go for the Nighthawk X4S.
• Winner: Nighthawk X4S
– Value
The features and specifications of the routers show that they similar. The Nighthawk X4S has a faster processor and more RAM. The Nighthawk X6's three co-processors compensate a little for this.
When you use the routers on your network, you will be hard-pressed to see a significant difference between them. They are both designed to give you a fast network with little network interference and signal degradation. They also have a good range, ensuring that all your devices in your home can connect to your network and perform well.
The difference in price between the routers indicates that the Nighthawk X4S is the eventual winner. Whichever of these routers you can afford should be of good value and will meet your needs.
• Winner: Nighthawk X4S
Conclusion
The NETGEAR Nighthawk X4S gives fast Wi-Fi performance. It will deliver up to 2500 square feet of wireless coverage. It is ideal for up to 45 devices. It enables you to stream videos reliably, play games, surf the internet and connect smart home devices.
We recommend the Nighthawk X4S model as the best value-for-money Wi-Fi router in the Nighthawk product line.
It possesses some of the essential features that you must look for in wireless devices. It has fast speeds and MU-MIMO for the best performance on all home devices. It uses DFS channels to cut interference. And it has plenty of processing power using a dual-core 1.7Ghz CPU with large 512MB RAM. The X4s support the newest wireless features such as MU-MIMO, Beamforming etc.). It is a future-proof device that will not be obsolete in a few years. We recommend this model for home networks, with heavy traffic in streaming, gaming, file sharing etc.
The Nighthawk X4S is the router you want so that you can forget about how everything works. Instead, you can concentrate on enjoying using your network for fun and entertainment.