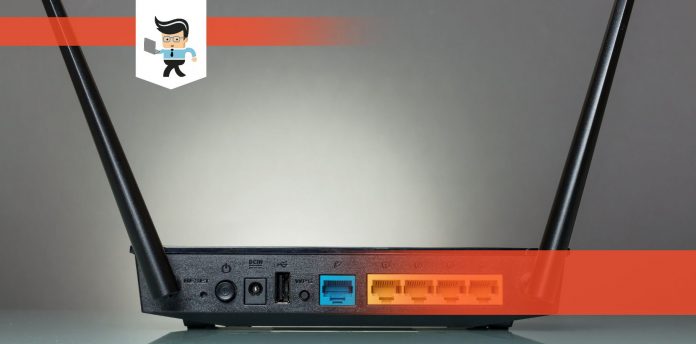 Are you looking to buy an Asus rt-ac1200 wireless router? We have taken our time to test this fantastic product bring you our expert analysis. Continue reading below to discover why it is one of the best routers out there.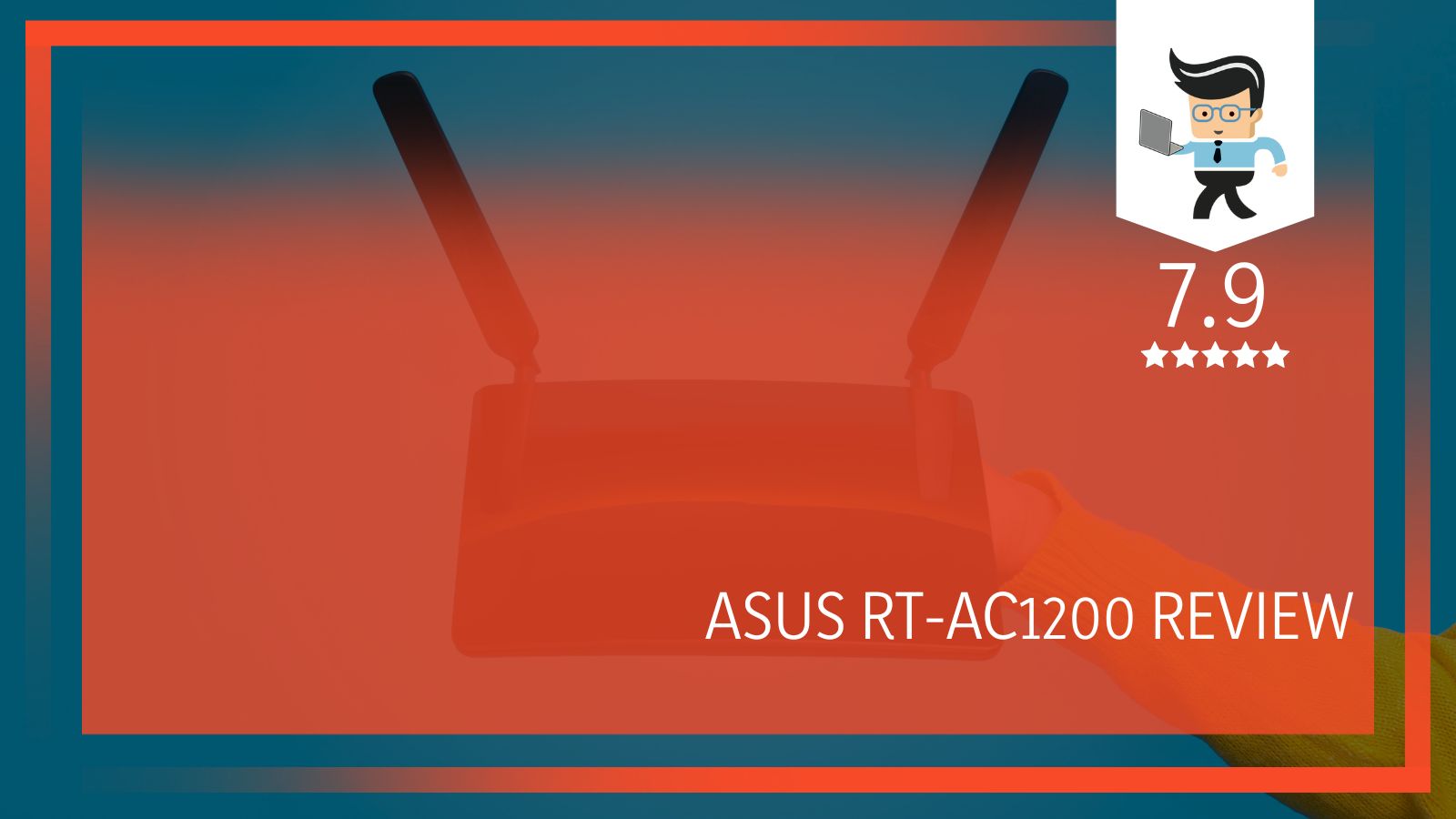 | | |
| --- | --- |
| Asus RT AC1200 | Components |
| Brand | Asus |
| Frequency Band | 2.4 GHz / 5 GHz |
| Wireless protocol | 802.11a/b/g/n/ac2 |
| Integrated switch | 4-port switch |
| Antenna | External |
| Interface | Ethernet 10Base-T/100Base-TX |
| Transmit power | 23 dBm 2 |
1. Asus RT AC1200 Review: A Reliable Option for Budget Users
Asus RT-AC1200 Key Criteria
PROS
A reliable performance, especially on the 5 GHz wireless band
Excellent multilingual support
Affordable
Useful app
CONS
Weak 2.4 GHz performance
Robust control and perfect optimization with the ASUSWRT dashboard is excellent on this router. You can use the ASUSWRT dashboard user Interface to setup, monitor, and control network applications in one intuitive area.
The setup is just as easy, too, because it takes about 30 seconds or less to get together. In addition to the multi-device detection, it has flexible settings to get the best out of your network performance.
The dual WAN enables two connections/ISPs on one router, thanks to a sufficient load balance and failover mode. This dual WAN ensures you enjoy uninterrupted internet access. If you play plenty of games or spend a great deal of your time streaming videos, this is the router for you.
Besides, the RT-AC1200 V2 has excellent Quality of Service (QoS) standards that let you select how much bandwidth you can prioritize for just about any task. There's also the fact that the traffic monitor allows you to check your Web usage through an uncluttered graphical interface.
The router allows you to control your network from any location. With the world increasingly getting more mobile, this router encourages the perfect response to tight schedules.

You can use the app (the new ASUS Router App) to change things up to that extent. We can affirmatively state that the app is built from the ground-up to be both intuitive and robust. As such, it allows you to set up your router, manage network traffic, diagnose connection issues, and get the firmware updated. You can do all that without booting up your PC.
The Asus rt-ac1200 wireless router is undoubtedly the perfect choice for people with studios or one-bedroom apartments. Such homes often have a small number of devices connected to the Wi-Fi.
Asus RT-AC1200 Review: Top Specifications and Features
– Hardware Specifications and Build Design
The Asus rt ac1200 wireless router comes with a single-core MediaTek MT7628DAN processor that runs at 575 MHz. There's also 64 MB of RAM and 16 MB of storage space for the firmware.
Being an affordable wireless router for 100 Mbps internet connections, it boasts modest specs that we have readily identified. The router's bandwidth peaks at 300 Mbps for the 2.4 GHz wireless frequency, while it delivers up to 867 Mbps whenever you are on the 5 GHz frequency.
Also, the ASUS RT-AC1200 V2 comes with up to two unremovable external antennas for each band, and these will come in handy whenever you need to broadcast your Wi-Fi signal.
– Dual-Band Connectivity
The dual-band connectivity do you well if you appreciate a hitch-free session doing anything online. It delivers on both the 2.4 GHz and 5GHz concurrent bands with speeds reaching up to 300Mbps and 867Mbps, respectively.
What's more, the RT-AC1200 V2 has a total speed of up to 1167Mbps connectivity to provide speed alongside a stable connection. Users will find performing basic internet tasks like Web browsing and file downloading easy under the 2.4 GHz band.
You can do that and still simultaneously stream 3D or HD content and other demanding applications smoothly on the 5 GHz band.
– Super-fast and Wide-ranging
Speed and range are two components that work hand in hand and make this router what it is. The ASUS rt-ac1200 V2 is powered by a 5th generation Wi-Fi (5G Wi-Fi).
In the same vein, the 802.11ac chipset gives this router faster wireless speeds than the famed N technology. Even 2.4 GHz, we noted that it reaches 300 Mbps and is significantly higher on the 5GHz band with blazing speeds and range.
The upgraded bandwidth features a very high capacity that's much-needed to increase Wi-Fi enjoyment at home or in the office. The compatible devices number a lot and include notebooks, desktops, pads, and smartphones that are now all Wi-Fi-reliant.
Whatever the case is, it's high time you upgrade to the next generation to expand your connectivity.
– Setup and User-Interface
Getting the most out of the Asus rt-ac1200 specs is further boosted by an easy setup process. It does not matter if you connect with your iPad, smartphone, tablet, or PC; it's pretty much effortless to get things up to speed.
The three major things to do are connect the cables to the router, open a Web browser, and follow the setup wizard to surf the Internet in no time.
To get you the best review possible, we tried out the ASUS RT-AC1200 V2 with a web browser and a computer. To start with, you will be prompted to choose and set a login name and password for your router by the setup wizard.
We'd advise you to use a custom name and password that is different from the one you will use for Wi-Fi. That way, you're double sure about your security.
Proceed to enter the details of your internet connection and set the Wi-Fi's desired name and password. As you get to the end of the setup, you are shown a summary of your settings. Also, you can go ahead to activate the Yandex.DNS service on your device if you wish to use it.
The device's user interface is easy to use, user-friendly, well organized, and available in many languages (24). Suppose you are an advanced router or device user. In that case, you'll find the router very appealing, as it comes with highly customizable features that give you complete control over your wireless router.
If you desire to learn more about the settings, controls and explore your customization options, user documentation is easy to access. For any setting you don't know, you'll find it's marked with a question when you move your mouse cursor over it.
Follow the question mark prompt to see information explaining that setting. However, we noticed that the product's documentation is the incomplete list of features that come with the brand's latest firmware, like IPv6. As such, this trick does not work for everything.
– Asus Router Mobile App
While we've touched on this a little, we have to emphasize that many users will find the ASUS Router mobile app useful whenever they are setting up and administering the ASUS RT-AC1200 V2. With it, users can use the app to control the router from anywhere on the Internet.
Its extensive capabilities include viewing the devices connected to the network, seeing their traffic in real-time, blocking them, or limiting their bandwidth. In addition to that, you can manage the devices used by your children and configure the router's main features.
– Performance and Connection Test
Much like our review team, you can test the Asus rt-ac1200 range and network strength by connecting a host of devices to the network.
You can include your desktop PC, a couple of laptops, several smartphones, a wireless printer, a smart plug, a smart bulb, and a gaming console like the Xbox One. After connecting them, you can evaluate the speed and variability of wireless transfers.
Take it a step further by moving some devices to another room separated by one wall from the router. Make a wireless transfer on it to test the speeds. Perhaps you noticed that the average speed on the 2.4 GHz will be satisfying but offer less than the 5GHz. An update on the Asus firmware can change things up.
Other than that, the 5GHz band should be your go-to network on the ASUS RT-AC1200 V2. The 2.4GHz is prone to instability and lag moments, and you wouldn't want that when gaming or downloading videos.
– USB Port
As part of your Asus rt-ac1200 setup, you get to use the USB port. Many wireless routers are increasingly coming to market with USB 3.0 ports or other alternatives. You'll find this feature more on the latest premium, dual-band 802.11ac Wi-Fi routers.
A USB port on a router has some key advantages. Firstly, you can connect a printer or external hard drive for sharing on the network. Secondly, USB ports are handy because they make it very simple to expand sharable storage.
Perhaps one drawback of the USB port is that it might be a source of signal interference for wireless routers. Whatever the case is, it is beneficial for faster transfer rates and adds appeal to the RT-AC1200 router.
With the USB 2.0 here, you can make the RT-AC1200 your media and file center.
– Improved Coverage and Multi-device Performances
The RT-AC1200 has four powerful external high-gain antennas, with two antennas dedicated to each frequency band (2.4 GHz and 5 GHz). As such, you get a powerful signal that gives off better coverage throughout your spade.
Besides, when devices get a stronger signal, their Wi-Fi performance is improved, especially if they're a long way from the router. The Asus rt-ac1200 firmware provides all the support you need.
With that, you can enjoy an uninterrupted video streaming and web browsing experience, efficiently and reliably, across all spaces, including email attachments to more demanding ones like HD video streaming.
– Security
Your RT-AC1200 router is perhaps the most crucial gadget in your home. As such, it's saddled with checking all incoming and outgoing traffic to ensure that nothing dangerous comes in and nothing sensitive goes out.
Besides, it controls access to your home Wi-Fi network and, through that, all of your phones, tablets, laptops, and more. You wouldn't want someone else to gain access to that network, no matter who they are. That's why the RT-AC1200 comes enabled with WPA-PSK, WPA2-PSK, WPA-Enterprise, WPA-Enterprise to keep you safe.
With those options, you can monitor and restrict internet activity for any user. We also mentioned that you could use advanced parental controls to get your kids addicted to the Internet. Besides, you can restrict how each device can access the Internet by applying scheduled time limits.
– Other Capabilities
You can take control of your media with convenient wireless streaming. Thanks to the ASUS AiPlayer app, RT-AC1200 becomes your home media hub.
In line with that, you can safely keep all your images, music, and video files in the built-in USB storage and stream them wirelessly to any mobile device. You won't have to max out space on your mobile. Besides, you can enjoy your collections in any room and with support for almost any format to enjoy smooth and seamless streams.
FAQs
1. What do I need to set up the RT-AC1200 V2?
The complexity of setting up the RT-AC1200 V2 Wi-Fi router is often a significant barrier to many users, even if they stand to benefit from the features of an advanced piece of hardware. That's why Asus has bundled in some helpful resources along with an intuitive router interface that significantly helps customers to understand their routers.
While some routers have easy-to-use graphical web interfaces, others require knowledge of text-based commands or excessive complex language. As such, users should pick a router that's easy to set up. For example, the rt-ac1200 offers a 3-step set up:
• Connect the cables to the router
• Open a Web browser
• Follow the setup wizard
2. What should I consider before buying a router?
• Whether you need any wired network ports or want to stick to only wireless options. If you are not planning to use the wired Ethernet ports on your router, you can leave this point. However, if you intend to, you might want to buy a modem that offers support for wired LAN ports and meets your specific requirements. There are some routers out there that go further than the standard four, though, much like the rt-ac1200
• How big is your home or operating space? This is also a factor, especially if you live in a massive multi-level mansion. That means you'll need a more robust and likely more expensive wireless router.

On the flip side, if you live in a single-story apartment, just about any option will work. What you can also do is stretch a Wi-Fi network out with network repeaters in the future.
Conclusion
The ASUS RT-AC1200 V2 is a new model on the market users can easily afford. However, for its price range, it does lack some healthy capabilities. However, the ASUS RT-AC1200 V2 does have a couple of great features and specifications going for it. One of them is a reliable performance on the 5 GHz wireless band. Another is an excellent mobile app for remote control and Dual-WAN capabilities.
Money is often a sticking point when buying a router. If you can't get the costliest out there, the ASUS RT-AC1200 V2 is the right choice that delivers the basics you need.
However, we must state that it is best used in small living spaces, like a studio or a tiny office space. Other than that, it's an excellent router to have.