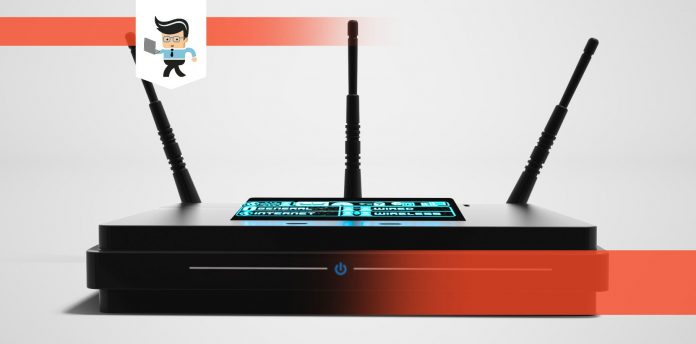 A Linksys ea 6200 router uniquely blends stability and relatively high speeds in an affordable and efficient router.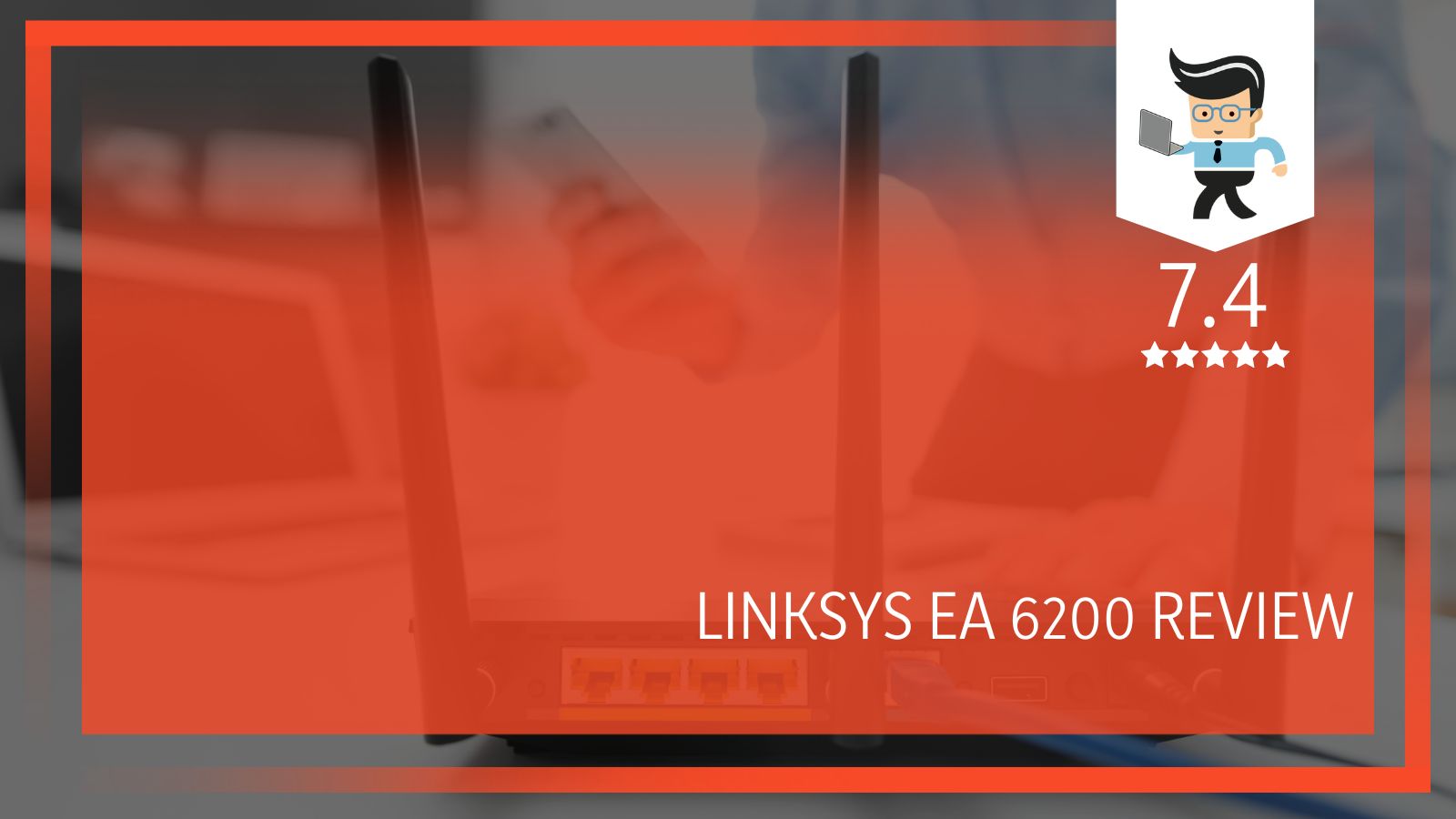 We took our time to test this product in real life and analyzed it comprehensively. Check our findings below!
Linksys EA 6200 Review: Specifications Table at a Glance
| | |
| --- | --- |
| Linksys EA 6200 | Components |
| Frequency band | 2.4 GHz / 5 GHz |
| Encryption algorithm | WPA, WPA2, WEP |
| Wireless protocol | 802.11a/b/g/n/ac |
| USB | USB port |
| Brand | Linksys |
| Connectivity technology | Wired, wireless |
| Other connectivity | Bluetooth |
1. Linksys EA 6200 Review: An Affordable and Super-Efficient Smart WiFi Router
Linksys EA 6200 Key Criteria
PROS
Budget-friendly
Easy setup
Dual-band
Fast and wide-ranged
CONS
Light on key features
The Linksys EA6200 AC900 router is one of the top products in Linksys's Wireless AC range. As such, you get excellent value for the kind of network you've got to work with.
The data rates are worth it, too, when you consider that they reach data rates of 867Mbps on the 5GHz AC and 300Mbps on the 2.4GHz Wireless N. While that doesn't seem as fast as its big contemporaries, it's not without a lot of advantages.
The fastest speeds are excellent, mostly if you stream a lot of content and play games. However, some people don't always need blazing speeds. What they need is the kind of all-round stability and useful features that the Linksys AC900 packs.
This router is one slick device that's easy to set up and comes with many user-friendly options to optimize performance. It also supports the newest and fastest wireless AC technology and is also backward compatible with wireless G and N.

As such, the device can take full advantage of your internet connection speed by retaining consistent performance and quality, even when you are working on multiple devices simultaneously.
The device is affordable and will undoubtedly be a perfect purchase for users who want to stick with a budget while keeping top features to operate.
Key Features and Capabilities of the Linksys EA6200
– Wireless AC On A Budget
It's no secret that 802.11ac routers can be quite pricey. However, the EA6200 falls within the budget end of Wireless AC routers. What stands out is the delivery of wireless speeds of up to 865Mbps.
With Wireless N out of the picture, Wireless AC is the technology that we will all use. To that end, Linksys is offering the newest technology for users with lower budgets.
Faster WiFi is something we all want, and you can have the Linksys ea6200 router, which also helps you transfer files between devices in your home. If you are looking for faster WiFi performance, the 802.11ac is a simple choice.
It is the supercharged version of 802.11n. With the 802.11AC, you get to enjoy top connection speeds within the range of 433 megabits per second to several gigabits per second. To achieve that kind of throughput, 802.11ac works exclusively in the 5GHz band.
– Dual-band 5GHz & 2.4GHz
The simultaneous dual-band allows users on both the 2.4 and 5GHz frequency bands to share the wireless network simultaneously. Since many wireless devices use 2.4GHz, this band is often congested.
However, with dual-band, you can use the relatively uncongested 5GHz, which offers you the ability to balance who and what uses each band.
We recommend using the 2.4GHz band for less intensive tasks, like browsing the Internet and emailing.
On the flip side, the 5GHz band works perfectly well with bandwidth-sensitive and thirsty applications, like VoIP, video streaming, and engaging online gaming. Armed with an excellent Quality of Service, the EA6200 AC900 provides the best online and wireless experience possible.
– DLNA
Part of the Linksys ea6200 specs includes a DLNA (Digital Living Network Alliance). This feature makes for easy sharing of media with other DLNA compatible hardware around your home, so if you have compatible games consoles, TVs and home cinema systems, it's worth the use.
The Linksys EA6200 comes with a built-in DLNA media server so you can share files centrally. DLNA also lets you share digital content such as photos, music, and videos from your mobile device to another device.
In the same way, it's possible for users to browse folders on your media server right from your TV screen and select photos, watch videos or listen to music. Similar DLNA-enabled products like this router are designed to be affordable and easy to set up.
USB 3.0 Port
The USB port works in conjunction with DLNA. If you have music or video files stored in one place, you can access all of them by plugging in any USB drive you have. Access them anywhere in your home at any time. You can also boost your centralized printing options when you plug in a USB printer.
USB 3.0 is still relatively new, although computers and related devices manufactured today use it as a standard. Usually referred to as SuperSpeed USB, it implies that devices that adhere to the USB 3.0 standard can theoretically transmit data at a maximum rate of 5 Gbps or 5,120 Mbps.
However, we feel that 3,200 Mbps is more reasonable in everyday use. However, this is in contrast to previous USB standards, such as the USB 2.0 that, at best, can transfer at 480 Mbps, or USB 1.1, which maxes out at 12 Mbps.
– Gbps LAN Ports
Another cool thing about the Linksys ea6200 setup includes four gigabit LAN ports. That means your wired Ethernet network nodes will have fast access to the network without fear of experiencing bottlenecks or congestion.
We also noted that a wired connection provides a faster and more stable network performance compared to wireless. However, an Ethernet cable will only extend to limited distances depending on its specs.
With Linksys, you don't have to limit yourself with wired technology; but you can improve your network and internet experience by going wireless.
A WiFi connection gives you mobile and convenient access to your network. Besides that, Linksys offers various networking solutions designed to provide you with the best wireless experience.
– WPA2 Wireless Security
Your wireless data on this router is fully protected with WPA2 wireless security. WPS (WiFi Protected Setup) also helps you pair WPS compatible devices to the EA6200 with ease.
Router security is paramount, and you get a Linksys ea6200 default password you can change at any time. The focus is on the piece of hardware as the first line of defense in an Internet-connected world.
The Linksys brand goes beyond the ordinary to provide the best security for users. That includes tasks covering several vital areas, including making necessary changes to router settings and updating the Linksys ea6200 firmware.
However, non-professionals who rely on wireless networks and need to maintain a reliable Internet connection are not left out. With the Linksys EA 6200, you don't have to possess any technical know-how before you can secure a home system properly.
– Smart WiFi
This router boasts a Linksys Smart WiFi, and with a Linksys Smart WiFi account, you can manage your router remotely or internally using a tablet or smartphone. A significant update was recently released on the Linksys Smart WiFi mobile app available for Android and iOS devices.
With the new app changes, you get to experience a new user interface that's sleeker and easier to use than previous versions. Also, the app has more in-depth access to a router's settings and features. As a result, you can use the app to change the main WiFi networks' names, passwords, and guest networks. Viewing the list of connected devices is also very easy and visually appealing, especially with the icons on display.
You can go ahead to sort out your preferences, including Parental Controls (for access restriction) or Device Prioritization for prioritized access to the Internet.
– Bluetooth Support
Bluetooth is a wireless connection technology you can use on this router. It allows you to connect several devices in your home. Like WiFi, you can use Bluetooth to swap files between devices and operate electronics. On the ea6200, it's possible to link compatible headsets, cellphones, and even gaming consoles. However, Bluetooth has certain limitations, including a shorter range and lower bandwidth than your WiFi, but it's just as easy to connect devices.
Frequently Asked Questions
1. How does a Linksys EA 6200 2.4 GHz differs from the 5 GHz model?
These figures represent the two different bands that your WiFi can use for its signal. The significant difference between the two bands is speed.
In normal conditions, the 2.4 GHz WiFi will support up to 450 Mbps or 600 Mbps, but that depends on the router class. On the other hand, the 5 GHz WiFi will support up to 1300 Mbps.
It's essential to take note of some things, though. One of them being that the maximum speed you might see also depends on the wireless' standard protocol supported by your router — 802.11b, 802.11g, 802.11n, or 802.11ac. Another primary consideration is the 'normal conditions' mentioned above.
The 2.4 GHz band is usually a crowded place because it's used by more than just WiFi, and it is compatible with some popular home devices such as old cordless phones and baby monitors.
Thanks to its great longer waves, the 2.4 GHz Linksys EA 6200 routers can cover longer ranges and transmit data through walls and other substantial obstacles. As such, it makes sense to select the 2.4 GHz band if you need your Linksys ea6200 range to be longer.
The Linksys EA 6200 5 GHz band, on the other hand, isn't as congested as the 2.4 GHz models, which means automatically means more stable connections. It will give off higher speeds and is more effective in shorter ranges than the 2.4 GHz band.
2. 2.4 or 5 GHz, Which should I opt for?
Suppose you have a device like the Linksys ea6200 that supports a wired Ethernet connection, and it's not too difficult getting a cable to the device. In that case, we highly recommend using a wired connection over a wireless one.
The thing is, wired connections offer lower latency and no dropped connections due to interference from objects, and they are faster than wireless connections.
On the flip side, if you need more speed for streaming videos or playing games, then you probably need to move to a Linksys EA 6200 model ha runs on 5 GHz.
The fact is you can't get much speed out of a 2.4 GHz network, even under ideal conditions. If you live in a crowded apartment complex with many wireless devices, consider switching to the 5Ghz band if you haven't.
3. How does the Linksys EA 6200 help protect my WiFi network?
As with any internet-enabled device, your EA6200 wireless router comes with some security features built-in, but you must know how to use them.
Usually, most routers use either a WEP or WPA encryption. If you have to choose, WPA is far superior. With keys that change regularly, WPA makes it incredibly difficult to hack into your WiFi network.
While it's true that every router comes with encryption features, they're usually turned off for shipping. As such, when they get to you, make sure you actively enable encryption. Never assume it is working. What you can do is run a firewall on computers or devices connected to your WiFi for added security.

Conclusion
On the whole, our review team believes that the Linksys ea6200 is an excellent device. What you get is efficiency and convenience at the same time.
The router also provides top speeds to give you a super-fast and stable Internet connection you can enjoy from anywhere, whether that's in your home or your office space.
We have touched on several key features, too, and since the ea6200 is affordable, there's no harm in getting one to get the connection you need. What's more, security is a top consideration, and you have that in spades here. Go ahead to use the easy installation process to navigate the Internet.