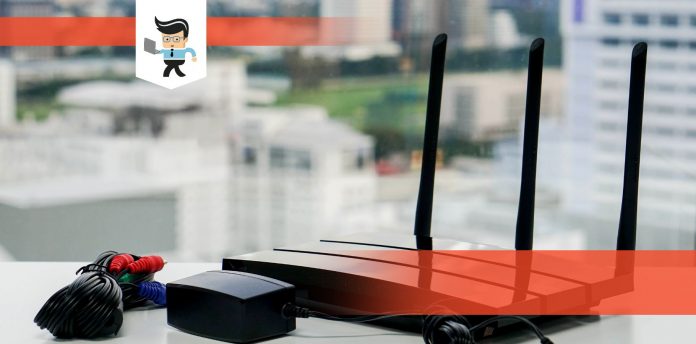 Are you looking to compare the Netgear AC1750 vs AC1600? The AC1750 and AC1600 are great Netgear routers.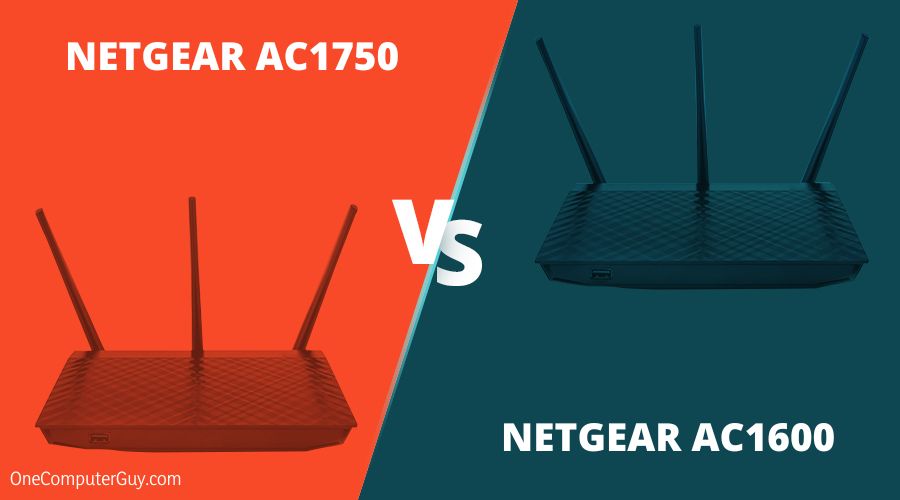 Both routers have minimal differences. This article will give you all the information you'll need to help you make the best decision between the two.
Products

Key Specifications

USB 2.0 and 3.0

WAN Port

Gigabit Ethernet

USB 3.0

1300Mbps speed

VPN Support
Pros:
● Netgear genie app
● Rapid data transfer rate (1750 Megabits Per Second)
● Ten times faster than USB 2.0
● AiProtection powered by Trend Micro.
Cons:
● Old school setting up process and UI
The Netgear nighthawk AC1750 specs are good. It is an upgrade from the AC1600, and the specs are better in some aspects as well. For example, the data transfer rate is a swift 1750 megabits per second. This transfer rate aids in faster connectivity and smoother flow of data. The high power antennas increase the range for connectivity.
The fast connectivity of the Netgear Nighthawk AC1750 will make watching movies with the family memorable and buffer-free. Engaging in social media will be smooth. The latest news will reach you right away with little to no time lag. The speed will be beneficial to the whole family because everyone enjoys limited disruptions with Wi-Fi connectivity.
The Netgear Nighthawk AC1750 is very easy to install. You will get online within minutes. The benefit of this effortless set up is that you do not have to hire or pay anyone to assist you in installation. The Nighthawk AC1750 is a bit bigger than other routers but is small enough to fit on any little table or stand. It also comes with two wall mounts. Thus, you have the option to mount it on the wall if you so wish.
If you are replacing an old router, you can use the same names and passwords. Every single device connected to the old router will connect to the new one. It's another way of making setting up easy.
The Netgear AC1750 has a WPS button located on the side of the panel. When activated, it lets you add devices, for example, tablets or phones. You can add them to the network without having to type the password.
The Netgear router AC1750 has a CPU powered dual-band of 3×3 802.11ac Wi-Fi technology. As its name suggests, it can speed up to 1750 Mbps. It has broad responsive coverage for large homes and a 3,000 square feet coverage area.

The Netgear router AC1750 is accessible through any device, whether it be a computer, tablet, or phone. This feature is terrific if you have a family member who may want his or her own space. It is also a plus for hooking up devices at the same time. For example, a father may want to watch the game on his computer and use his cell phone to communicate.
We've packed this Netgear Nighthawk AC1750 review with information because we wanted you to gain loads of knowledge of the product. In that way, you can make an informed purchase.
Pros:
● Faster connectivity
● Easy Installation
● Accessible through the computer, tablet, or phone
Cons:
● Decreased performance range
● 2.0 USB space only
The AC1600 router is easy to use with Netgear's Genie app. The genie app is accessible through a browser on your computer. With Netgear genie, you can set up and manage the network with useful features. Some of those features include parental control and guest network access. Netgear also offers a feature known as "advanced quality of service."
Parental control enables parents to track the sites with which children engage. Guest control allows internet access to your guests. But it restricts your file access. Advanced quality of service lets you tell the router which devices you want to be optimized. It provides those devices with smooth HD video and lag-free gaming.
With the Netgear genie mobile app, you can manage and play music or videos from any home media server. Another feature is the ability to use your smartphone as a remote control for any DLNA media player (smart televisions and game consoles). This setup makes it easy to share memories from your phone onto your big screen television.
This router works with the larger ADSL and VDSL internet providers. If you're using DSL, you can hook it up to your current landline phone service. Thus, many Internet customers in the US use these services. The easiest way to know if you're using DSL service is to inspect your router's connection.
The WAN Ethernet connection located on the back panel is one of the great features of the Netgear AC1600. The right side panel has a button to turn off the Wi-Fi connection.
A dual-core 800Mhz processor powers the Netgear router AC1600. This next-generation 802.11ac dual-band router delivers fast wireless speeds. It is up to three times faster than 802.11n and ten times faster than USB 2.0.
The USB 2.0 lets you connect a hard drive or printer to your router for storage and printing accessibility. You can access it anywhere on your home network. It can also make any printer AirPrint compatible.

With Netgear, you can print from your iPad or iPhone to your existing printer. This feature is beneficial to anyone who may want something from a device printed. Now you don't have to send it to a laptop or computer.
The super-speed USB 3.0 port is ten times faster than 2.0, which increases the response rate. Do you have a growing number of internet-connected devices in your home? The Netgear Nighthawk AC1600 will handle them for you.
The Netgear AC1600 features AiProtection powered by Trend Micro. It provides multi-stage protection, for example, vulnerability detection and sensitive data protection. These are benefits that can help you feel safe, knowing that it is protecting your information.
This router has two USB ports located on the rear and the side of the panel. At the back, there are four LAN Ethernet ports to connect to your computer. You can use the USB ports for internet access on computers that don't have an Ethernet port. Read any Netgear Nighthawk AC1600 review to see more wonderful Netgear AC1600 specs.
Product Comparison
The main difference between AC1600 and AC1750 is, Netgear AC1750 has better USB connectivity while Netgear AC1600 has a broader Wi-Fi range.
USB
The Netgear AC1750 has both USB 2.0 and 3.0. Of course, that's better than the AC1600's USB 3.0.
Speed and Connectivity
The download and upload speeds of the AC1600 are greater than that of the AC1750. The greater the upload and download speed, the faster the connectivity. Netgear AC1600 also has a broader Wi-Fi range than the Netgear AC1750. It can cover a big house with robust connectivity.
Conclusion
Deciding on which router to buy can be difficult. This Netgear router comparison makes it much easier to choose the right one for you. The main difference between AC1750 and AC1600 is that the AC1600 works with a 2.4Ghz band.
The AC1750 generates 450Mbps and has a 5Ghz band that processes 1300mbps. These small differences make the Netgear Nighthawk AC1750 a better buy as it produces more.
Yet, most computers do not support that high connectivity in full. Installation is much more straightforward with the AC1600, and it has more USB ports. If you get the Netgear R6250 1600 Wi-Fi router, you'll have next-generation Wi-Fi at high speed.