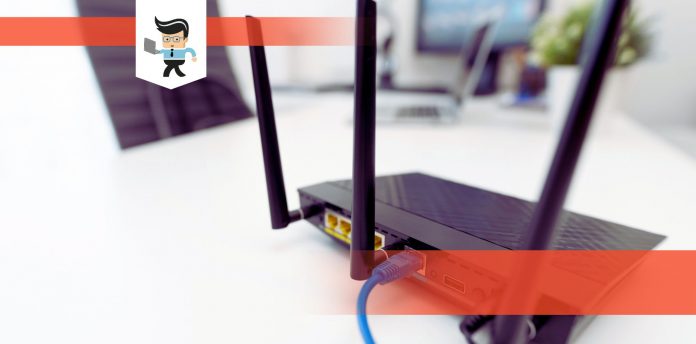 The Sagemcom F@st 5260CV may not be as popular as most wireless routers out there, but it is equally as good as any of them. It comes equipped with top-tier specifications and features that will keep you connected at all times.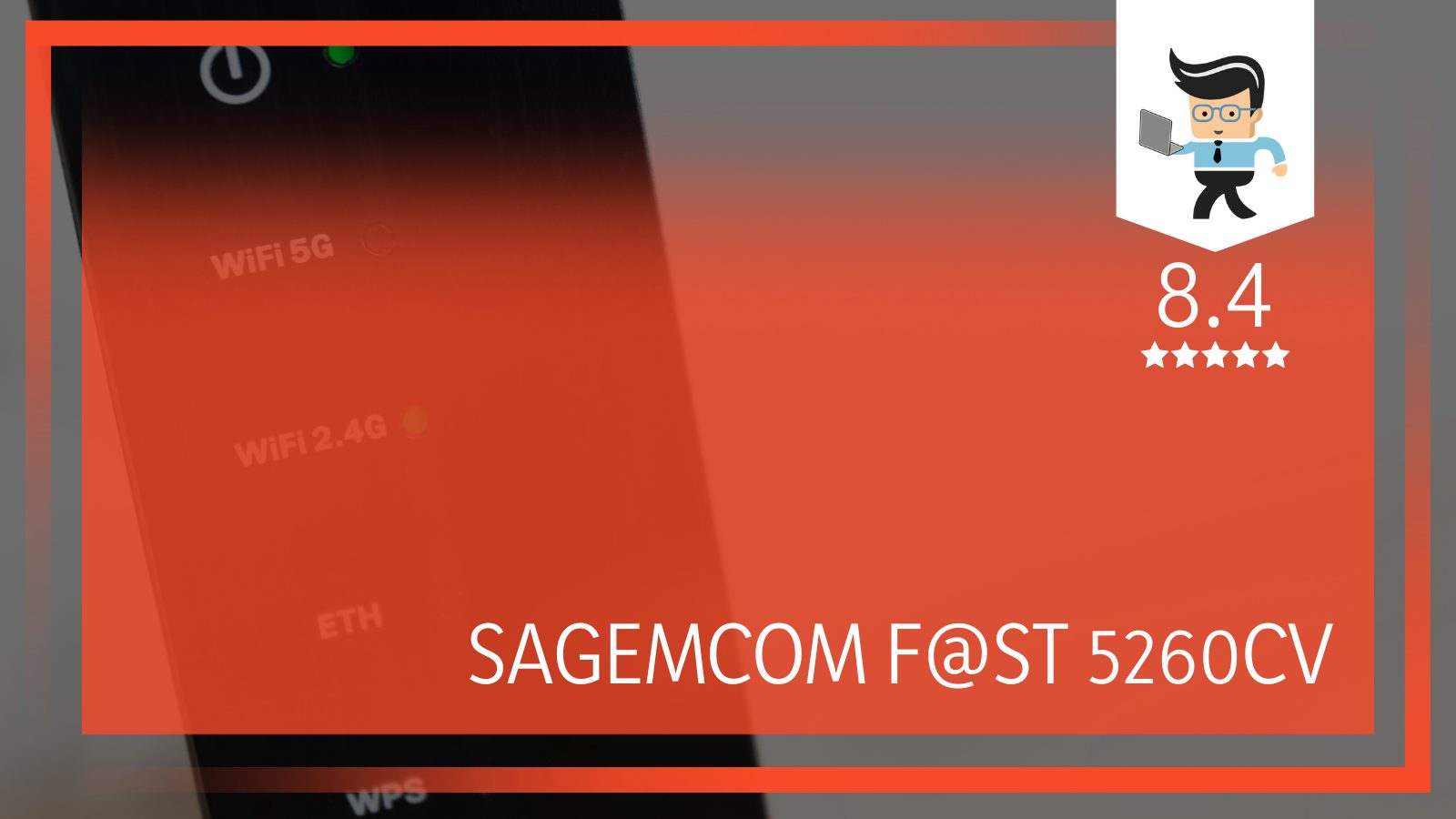 As we proceed, we have listed and explained the most prominent features of the F@st 5260cv wireless router to help you decide whether it's the right fit for you or not. Read on!
Sagemcom F@st 5260cv Major Specs at a Glance
| | |
| --- | --- |
| Model | |
| WiFi Band | Dual-band |
| Wireless Technology | 802.11ac |
| Security Protocol | WPA2-PSK |
| Connectivity Technology | USB |
Sagemcom F@st 5260CV Key Criteria
PROS
Access control
Smooth, reliable speeds
Faster connections
Strong protection
If you're after a router with faster speeds and excellent security, consider the Sagemcom f@st 5260cv. Sagemcom is one router that uses the latest 802.11 ac wireless technology.
Also, it provides you with maximum speed and range without having to deal with cumbersome wires. There's a dual-band feature that supports next-generation technology and boasts compatibility with legacy devices.
Again, it's is designed to avoid wireless interferences. The f@st5260 WiFi router ensures high WiFi speeds and smooth with reliable connections for different purposes, including gaming, HD video streaming, and file transfers.

There's easy control access to the internet here coupled with protection for your network using WPA2 encryption and an SPI firewall. That way, intruders don't stand a chance. What this router enables you to do is transfer files at blazingly fast speeds with Gigabit Ethernet technology.
Another positive is the USB port, which allows you to plug in your USB storage devices or printer. As such, you can conveniently share them throughout your network. Further, this router offers support to next-generation systems.
Add a more than decent lifespan to it, and you've got yourself a keeper for a while. That's great, mostly if you play online games and use the internet frequently.
F@st Specifications and Capabilities
– Speed
There are all sorts of routers listed with blistering speeds. Well, the Sagemcom fast 5260 specs boast also boasts speeds featuring the latest 802.11 ac wireless technology. Speed is essential in anything you want to do with your router, so when comparing them and trying to settle on which to buy, you'll come across different labels.
For example, there are AC1200, AC1750, AC 3200, and so on. "AC" here refers to the wireless standard which this router has.
802.11 AC routers are usually sufficient for the average Internet user. Other factors that often impact your Sagemcom fast 5260 speed include your modem, ISP connection, and the layout and construction of your home. Depending on your internet activities, it can be swift.
– WPA2-PSK Security Protocol
Router security is a top priority when it comes to keeping information on your network safe. On this router, you've got a WPA2-PSK security protocol. WPA stands for WiFi Protected Access Protocols, which encrypts your system. It also requires that external devices — and hackers — have a "key" before gaining access. Since this
Any Sagemcom fast 5260cv review will point out how important it is to have WPA protection for your router.
– Frequency
The frequency band class here is a Dual-Band variety. With single-band routers, you get a lower frequency — on the 2.4GHz band . It also has fewer channels and is, therefore, more crowded.
The dual-band routers support both 2.4GHz and 5GHz frequencies. That means the 5GHz band is capable of transmitting more data at higher speeds. However, you should note that you may experience some difficulties routing around walls and furniture once in a while.
Also, the Sagemcom fast 5260 range is good, but this frequency won't travel as far. On the whole, a dual-band router will provide better speed and coverage, which is what matters most for great WiFi everywhere in your home or office.
– Wireless standard: The 802.11 AC
You can call them protocols, standards, or specs, but the fact is the terms around wireless internet compatibility are pretty much confusing and unfamiliar variables on a router. Usually, most routers available today come with the 802.11ac and 802.11n standards, while others appear considered out of date.
Further, the 802.11 AC standard is faster and transmits more data since it utilizes both the 5GHz and 2.4GHz bands. There's a drawback, though, you need to be close to your router to use both channels . If you don't, the router automatically defaults back to using only the 2.4GHz band.
– Connections
This Sagemcom fast 5260 firmware features a USB port that allows you to plug in your USB storage devices or printer. That means you can conveniently share them all through your network. Files get transferred at blazing fast speeds with Gigabit Ethernet technology.
The USB also connects to printers should you want a direct printout. The Bluetooth connection is just as great if you appreciate a little less wire on your router. As such, you can connect to compatible devices without having to worry about cables.
– Software/Interface
Every user would like a router that has a user-friendly interface. It's an important feature here on the Sagemcom fast. The settings page gives an impression of ease. Further, there are advanced and straightforward tabs depending on the user.
– Bandwidth Range
A faster router doesn't always equate to faster speeds. It may look all fancy and fabulous but not have what you need. That's not the case on this Sagemcom, though. This one comes with a dual-band Gigabit with support for wireless transfer rates that could reach 5300 Mbps through its frequencies.
– Lifespan
The lifespan of a WiFi router depends on quite a number of options. However, many technology experts recommend changing a router every 3 to 5 years. As a result, you get to account for recent technological developments that will improve your internet speeds. That's the case with this Sagemcom router.
This Sagemcom is billed to last for a while yet. However, how you use and store your Sagemcom will directly affect its speed of deterioration. No one can tell you when to change it but follow some signs that tell you it's time to get a new Sagemcom router.
– Overview
If you are after a router with faster speeds and excellent security, consider the Sagemcom f@st 5260cv. It uses the latest 802.11 ac wireless technology and offers maximum speed and range to keep you connected at all times.
Buying Guide for a WiFi Router
WiFi routers differ from each other, and just picking one from your local store does not necessarily mean you have gotten the right device for your smart devices.
That is majorly because these routers come equipped with a wide range of specifications and features which may or may not be useful in the long run.
In addition, some external factors, including your home and the number of connected devices, will have a large say over the router's overall performance. So, what exactly do you need to do or know before you spend your hard-earned money on a wireless internet router?
The first thing to do before you buy a WiFi router is to figure out the most suitable model for your home or office space. Before you do this, you need to consider the number of bands you want your router to support and determine its compatibility with mesh networking. Here is a quick rundown of the most popular types of routers and their most prominent feature.
• Single-Band Routers: Quite slow but very affordable
• Dual-Band WiFi routers: most suitable for a largely crowded area
• Tri-Band WiFi routers offer real-time coverage with its double 5Ghz band
But knowing how to buy a quality router can be really taxing for some people. That's why we have written this buyer's guide to help you get the best WiFi router out there.
The key features of a WiFi router
These include the following:
– Security
Ensure that you get a router that comes with extra software to help prevent viruses, malware, and ransomware.
– Interface
Your router should have a good interface that will adequately meet your connectivity requirements, such as— internet and broadband-only, with USB ports.
– Router Coverage
This enables you to enjoy your Internet usage. So, get a long-range WiFi that's capable of covering more than 5,000 square ft. areas.
– Bands
Avoid internet congestion due to multiple usages by using a dual-band. There is band support for up to 1GHz – 6GHz on the WiFi 6 802.11ax standard.
– Speed
It's more important to consider your internet's top speed before choosing a router. And this is mostly determined by your internet provider. Hence, you need to use the best service plan for your internet to get the best speed.
– WiFi standard
The latest WiFi standard is 802.11ax, which is also known as "AX WiFi" or WiFi 6. This standard is fast, efficient and helps to reduce congestion in heavy bandwidth during usage.
Things to Considerations before buying a WiFi router
• Get a router that supports high bandwidth activities if you are a heavy internet user.
• If you experience a lag, consider upgrading to a router optimized for faster streaming or gaming service.
• Ensure that you get a router that adequately fits your family size and accommodates multiple usages.
• Try to consider an upgrade if you have an old router. This is to give you an up-to-date technology.
Conclusion
A reliable wireless router like the Sagemcom F@st 5260cv can be your gateway to the digital world, especially in your home or office. It packs a lot of useful tools and features, including a dual-band wireless frequency that delivers wireless signals reliably.
Overall, the F@st 5260cv may come short of the performance levels and specialty features found in some premium models. However, you may consider getting one if you are searching for a decent wireless router capable of handling your cross-network communication needs without breaking the bank.