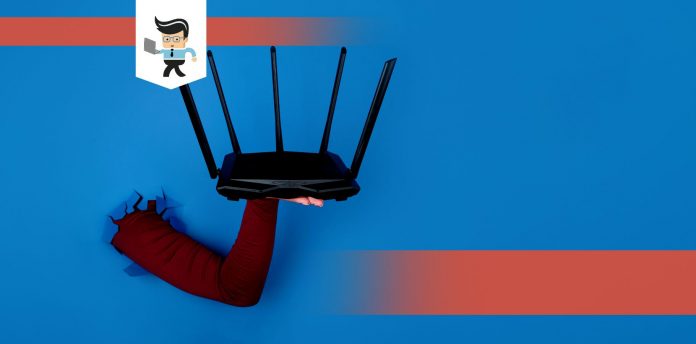 Netgear makes quality network products, and we review the Netgear N600 vs N300 wireless routers. Both routers would make an excellent Wi-Fi choice for a home or small business.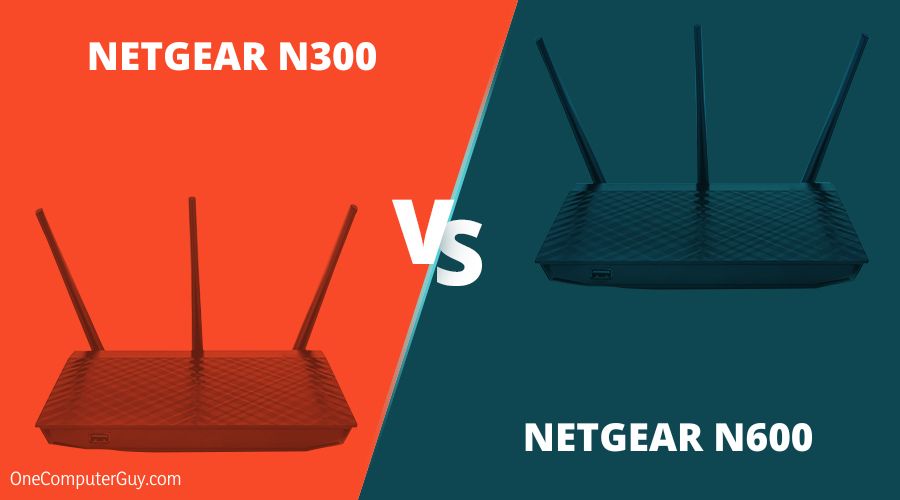 They are high-quality products that offer value for money as well as high-end performance. We will check their features and give you advice on choosing a suitable router for yourself.
We compare the Netgear N300 and N600
The N numbers of these two routers give you a guide to the speed potential of each router. The N rating refers to the maximum wireless speed capability of the router. The N300 operates in the 2.4Ghz bandwidth and can deliver up to 300Mbs.
The N600 is a dual-band adapter and can give 300Mbs in the 2.4Ghz band and 300Mbs in the 5Mhz band. This means the Netgear N600 speed is a maximum of 600Mbs. It is important to note that the N number is a measure of speed and not of range.
But the Dual Band N600 will cover a more extensive range throughout a house because it uses two bands to deliver data, the 2.4 GHz and the 5 GHz band. If you have a large home and want the most comprehensive Wi-Fi coverage in your home, then the Netgear N600 range would better suit your needs.
Feature and performance are similar for each router. The deciding factors being that the Netgear N600 speed is higher, and the Netgear N600 range would suit a larger space. The Netgear N300 is a high specification router serving a more budget-conscious buyer.
Individual Reviews
• 802.11n Wi-Fi Technology
• maximum speed of 300 Mbps
• 2.4Ghz Wi-Fi band.
• 1 x WAN Ethernet port and 4 x LAN ports
• Netgear Genie App Support
• compatible with IEEE 802.11 b/g/n standards
| | | | |
| --- | --- | --- | --- |
| Pros | | Cons | |
| Affordable price | | Single-frequency bandwidth | |
| Reputable/reliable brand | | | |
| Netgear Genie app (easy installation) | | | |
| Fast with a good range | | | |
| Attractive and practical design | | | |
The N300 has an attractive slimline design, making for a small footprint on your desktop or shelves. It looks good; it is also well ventilated so that the router will not overheat, which could lead to malfunction. This is a router you can switch on and leave unattended for months or even years without concern.
The Netgear N300 is an excellent budget Wi-Fi router. Netgear has a long history of making quality network products, and the N300 is no exception. If you want peace of mind when buying a router, you know that Netgear will not let you down.
If there is one thing that sets Netgear routers in a class of their own, it is the Netgear Genie app. This app will run on all laptops, PCs and smartphones. The Genie app's benefit is that it makes it easy to set up and manage the Netgear routers. Not only will you find it simple to get your N300 (or N600) router up and running in no time, but you can also customize your network.
And you can do this from your phone. You can prioritize network resources to selected users, and you can manage all the users on the network. Parents have access to many parental controls that will allow them to restrict specific users or devices. You can control access, connection time to the network and other select features.
The router also offers security features to protect you from hostile attempts to access the network. The WPA and WPA2 protocols give excellent security. We all need to protect our home or office networks. This is important to safeguard our personal and private data.
A nice feature of the Netgear N300 is the ability to set up guest access to the network. You can control and end access when it suits you. The 4 Lan ports are useful to add network printers, PCs, laptops and gaming boxes. Of course, you can add many other devices using the fast Wi-Fi connection.
The Netgear N300 is a single band router operating in the 2.4 GHz band. It will provide high-speed movie streaming and good LAN gaming. Most users will find it offers an enjoyable all-round Internet experience. With the Netgear N300, speed will be enough for the performance you need.

This router would be ideal in a home that does not have many users on the network at the same time. It works best when there are some restrictions on simultaneous networking demands. The Netgear N300 range is good in small and medium-sized networks on the 2.4GHz band. If you have other Wi-Fi networks nearby, they can cause interference. This may sometimes disrupt the smooth operation of the network.
The N300 is a suitable plug and play router and has many useful features at a reasonable price. Most users will not miss the complexity and extra features of the N600.
• 802.11n Wi-Fi Technology
• maximum speed of 600 Mbps
• 2.4Ghz and 5 GHz Wi-Fi bands. (Dual-band)
• 1 x WAN Gigabit Ethernet port and 4 x LAN Gigabit Ethernet ports
• Netgear Genie App Support
• compatible with IEEE 802.11 a/b/g/n standards
| | | | |
| --- | --- | --- | --- |
| Pros | | Cons | |
| Fast dual-band Wi-Fi | | Not a budget-friendly router | |
| Reputable/reliable brand | | Technical setup not always easy | |
| Netgear Genie app (excellent customization possible) | | | |
| Value for money in its class | | | |
| Traffic meter | | | |
| Aesthetically pleasing design | | | |
The Netgear N600 is ideal for the tech-savvy network geek. That is because it has powerful features that many may find challenging. If you are an experienced gamer or an IT Pro you will love the Netgear N600. It offers many levels of complexity and customization so that you can build a network that is perfect for you. It is not the router for a networking beginner. You can configure the N600 as a repeater or a bridge.
Traffic Meter is a helpful way to see the amount of Internet traffic passing through the router's Internet port. You can set up a monthly limit on all traffic.

The Netgear N600 speed is one of the things which sets it apart from most other routers. Intelligent use of the two Wi-Fi bands makes it capable of top of the range speeds. If you are comfortable with the technology, you will not feel frustrated when using the N600. It should be able to deliver all you want from a high-end Netgear router.
Do you need this? That's if you want a network router that works. If you follow the easy level setup in the Netgear Genie, then you will be happy with the N300. But if you want more, then the Netgear N600 has few rivals.
Difference between Netgear N300 and N600
The main difference between Netgear N300 and N600 is, Netgear N600 is extremely fast and very high-quality, while Netgear N300 is easier to use and more affordable. 
– Speed
The Netgear N300 or Netgear N600 is the router you would buy if you want high network speed with excellent throughput. You would also expect a reliable network router when you buy a Netgear product.
Both Netgear routers, the N300 and the N600, give you these qualities, although at different levels. The Netgear N300 is as fast as a single band 2.4 GHz router could be. But the dual-band Netgear N600 is blindingly fast.
It gives high speed, excellent throughput and good range. There is no doubt which Netgear router would be the winner in the speed race.
• Winner: Netgear N600
– Customization
The Netgear N300 and the Netgear N600 have the powerful Netgear Genie app. This is for easy setting-up, managing and customizing each router.
The Genie App makes it easy to set up the Netgear N300 straight out of the box. It gives you access to features like Parental control and a certain amount of fine-tuning of the router.
The Netgear Genie app gives the Netgear N600 a lot more power. You can configure IPv6 settings so that you can enable this if your ISP offers IPv6. Excellent features are the Guest network option and the option to create a media server with the N600.
This category is a difficult one to declare a winner since it depends on your needs.
If you want an easy setup and use a "plug and play" router, then the Netgear N300 is the winner. You might not do a lot of customization, but you will be able to configure and set up your system to suit you.
Are you an IT professional or someone with good technical skills? Then you would enjoy configuring and customizing your router to suit specific requirements. For such a user, the Netgear N600 is the winner.
• Winner: Netgear N600 or Netgear N300, depending on technical skill
– Value
The Netgear N300 Wireless Adapter is a no-nonsense router that is easy to use and will be robust and reliable to own. It is easy to set up and use.
The Netgear N600 Wireless Dual-Band Adapter is a top-quality dual-band router. It is one of the fastest on the market and ideal for the technically minded who want speed and are not budget-conscious.
• Winner: Netgear N300
FAQ
What type of user is the Netgear N300 best suited for?
The Netgear N300 is suitable for users in smaller households or apartments who require stable internet for light tasks such as browsing, emailing, and streaming standard definition content.
How does the dual-band capability of the N600 benefit users?
The N600's dual-band capability means it can broadcast on both 2.4GHz and 5GHz frequencies. This allows for better flexibility, less interference, and potentially faster speeds, especially for devices that can take advantage of the 5GHz band, making it suitable for households with multiple devices and heavier online activities.
Are both routers compatible with all internet service providers?
Generally, both the N300 and N600 are compatible with major ISPs. However, it's always recommended to check with your specific ISP to ensure full compatibility and optimal performance.
How do the security features of the two routers compare?
Both the N300 and N600 offer standard security features including WPA/WPA2 encryption, SPI and NAT firewall protection, and the ability to set up guest networks. They also support secure and easy setups with Wi-Fi Protected Setup (WPS).
Conclusion
The Netgear N300 and the Netgear N600 are both excellent routers. They are part of a family of high-quality network products from Netgear. Whichever product you choose, you can not go wrong if you buy the Netgear brand.
You must decide if you need all the technical features of the N600 Dual-Band adapter. Or would you prefer a fast, reliable single-band router like the N300?
If budget and technical skills are no problem, then the Netgear N600 Wireless Dual-Band Adapter must be your choice. Choosing the Netgear N300 Wireless Adapter is an excellent router for most users.