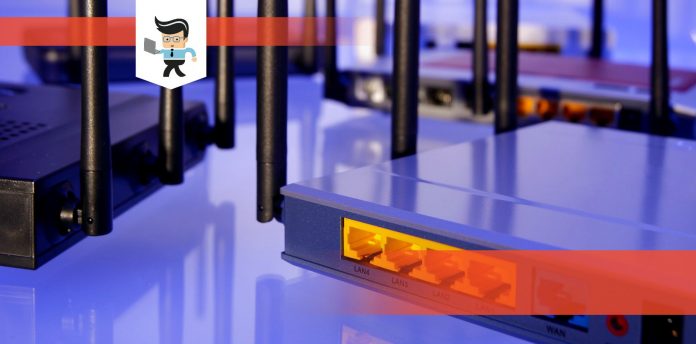 The Belkin g54/n150 is the perfect alternative if you're looking to save costs while maintaining a stable Internet connection. Our team has reviewed every aspect of this router, so all you need to do is continue reading below. Judge it for yourself.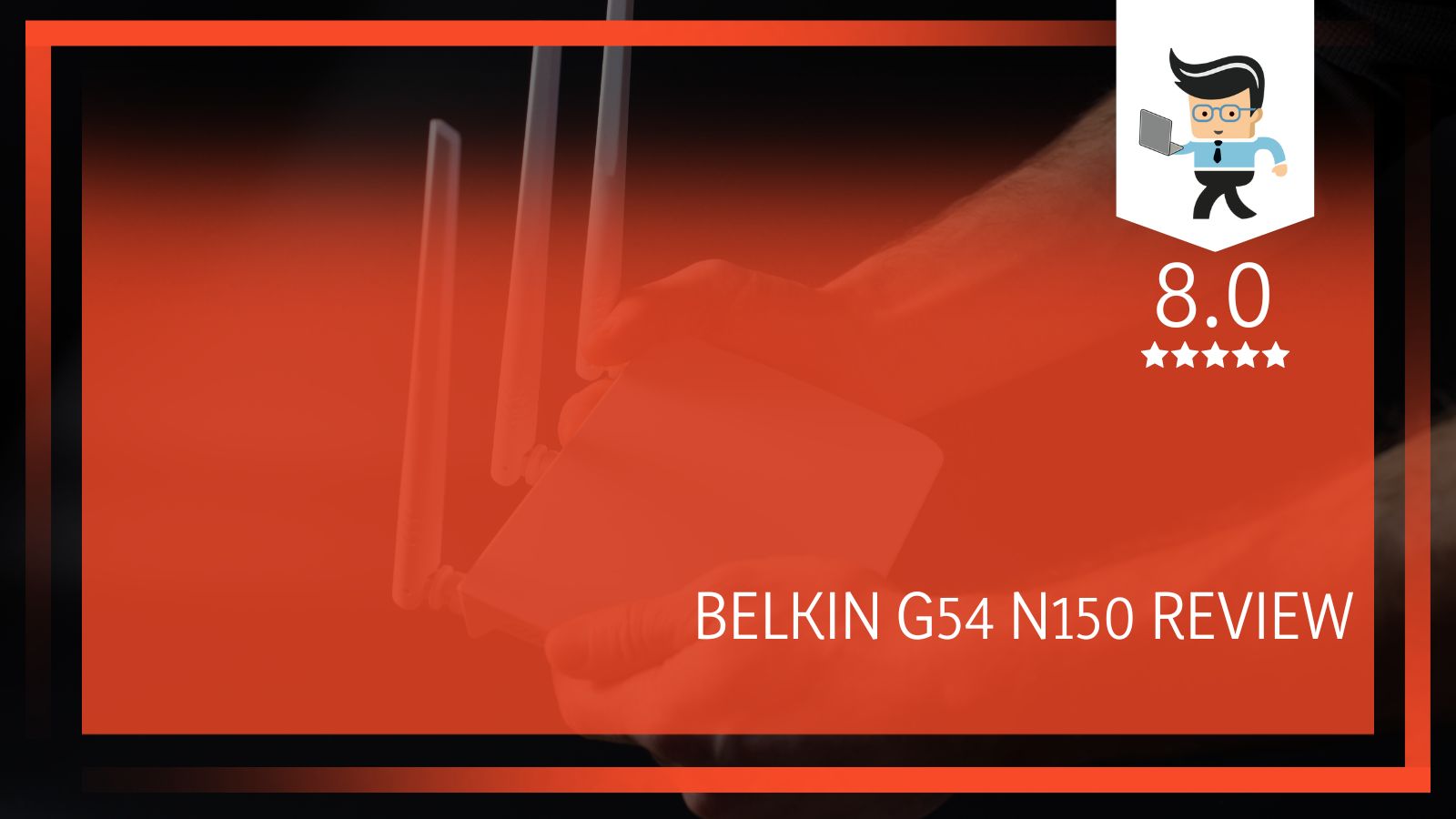 | | |
| --- | --- |
| G54 N150 | Components |
| Brand | Belkin |
| Chipset | Realtek RTL8196C |
| RAM/Flash | 16 MB/4 MB |
| LAN Ports | 4 x 10/100 Mbps |
| WAN Ports | 1 x 10/100 Mbps |
| Antenna | 1 x 3 dBi |
| 2.4GHz | Yes |
| 5GHz | No |
| Speed | 150 Mbps |
| Security | WEP, WPA, WPA2 |
| USB | No |
1. Belkin g54 n150 Review: Our Expert's Verdict
Belkin G54 N150 Key Criteria
PROS
N technology for fast speeds
Easy installation and set up
Multi-beam technology
Unique preset security code
CONS
No USB
May falter on long-range
The Belkin g54 n150 router is an excellent piece of technology for home users. It's fast enough and will cover a reasonable space or distance, especially for homes and small businesses.
Installing this router is straightforward and comes without the hassles often associated with bigger routers. You can put that down to excellent technical support by the Belkin brand.
Within minutes, our review team completing the setup process for this router. It sure has fast speeds and a display that's easy to follow. As such, you can surf the web, use social media effortlessly, and send or receive emails.

Good performance over a long-range is significant, but we feel the 2.4GHz doesn't do enough to ensure a solid and stable connection. That said, you'll struggle to find a better alternative for what you pay here.
The speed pegged at 150 Mbps is respectable. You can also count on the exclusive MultiBeam feature that allows router connection availability in different rooms in your home. What's more, the connection of the N150 is available for desktop and laptop devices.
If you live in a big building and you desire an affordable router that will cover every nook and corner of your rooms, the Belkin g54 n150 is the right choice.
G54 N150 Wireless Router: Specs and Components
– Speed and Range Of The N150
Perhaps you live in a home that has a lot of devices needing an Internet connection. What you need is a router to make sure that you're able to experience and enjoy fast streaming and smooth video calling no matter where you are.
A WiFi router can offer reliable performance specs but not the desired coverage necessary for your home or small space. The g54 n150 speed can address your need for a fast and reliable signal, especially if you're within a short radius. This router will perform well at a short distance and give your devices the speed it needs.
It delivers wireless speeds that are two times faster than the G-technology. The speeds measure up to N150 Mbps with a stable internet connection in your home.
Such speed is perfect for surfing the web and even streaming videos. We think the speed it provides will assist rather than hinder activities you perform over the Internet.
When we considered the throughput, we found out that this device has a higher medium-throughput in distances that are more than 30 ft. was the Belkin. That's far more than some 'best selling' routers on the market.
– WiFi Setup
To get started with the G54/N150 WiFi router, all you need is a smartphone, tablet, or computer. Just open an Internet browser, enter the URL provided in the quick installation guide, and follow the onscreen prompts to set up the network.
If you have any other devices that can get on the Belkin technology, that's even much better because it will work correctly with them.
– Security
There's hardly any potential router buyer without security as a top consideration. While it's great to take preventative measures, it does help to have a router that meets you halfway. As such, you should try a router like this Belkin to keep you safe. Being on the Internet doesn't have to cost you an arm and a leg.
The Belkin g54 n150 specs come with WEP, WPA, AND WPA2 protocols for safer internet access in your home or workstation. We also mentioned that there's a preset, unique code to help you browse safely.
– Frequency Band
Unlike some routers that operate a dual-band frequency out there, the g54 n150 uses only the 2.4GHz band. Of course, this band comes with advantages and disadvantages, much like its 5GHz alternative.
The 5GHz will give off faster speeds, but the 2.4GHz will give you better coverage. A good example is the Belkin g54 n150 range on the 2.4GHz frequency.
When choosing a router to buy, consider whether you need strong coverage throughout your home or office. If that's the case, you will want to use the 2.4 GHz band that comes with the g54 n150.
– MultiBeam Technology
Belkin developed the Multibeam technology, and it has been nothing short of outstanding on the brand's router. As such, it delivers a robust, blazing-fast network to support every part of your home.
All devices linked to your WiFi, including media-intensive activities like video streaming and gaming online, become seamless via the router. What's even more remarkable is that it is on the 2.4GHz band.
– LAN Ports
While many routers come with a USB port, it's safe to say this Belkin product makes up for the lack of any with LAN ports. These Ethernet ports are useful for setting up multiple wired computers in the network and can connect with the Internet.
Other devices that work with it can also come in handy. For example, some people use an uplink port – a type of Ethernet Jack for connecting to a broadband modem.
– Performance
Like many Belkin routers before it, the g54 n150 wireless router, the performance was decent while we reviewed it. On the 2.4GHz band, the range was sharp enough even though devices in several rooms were connected. The router speeds went above 100 Mbps but decreased ever so slightly when you increase the distance.
It is important to note that if you're in a place where obstacles might interfere with the router's signal, the performance will naturally reduce. That is the case, especially on the 2.4Ghz band. Still, this router can pass 24-hour stress on the 2.4GHz band without problems.
Frequently Asked Questions
1. What is the maximum speed rate for connected Wireless-G and Wireless-N devices?
Devices with Wireless-N speeds such as routers deliver up to 54 Mbs of link speed whenever they are connected to a Wireless-G connection and vice versa.
Indeed, Belkin's early wireless G products and the present N devices use similar techniques to speed up the WiFi. The compatibility level when either network is connected to the other always stands at about 54 Mbps.
2. Is the g54 n150 router good for me?
Short answer? Yes. We think it makes a difference to have one working in your home or small office space.
People will always look for a high-performance wireless router, but there are quite a few routers in the market that can deliver high efficiency and performance, like the g54 n150.
Generally, Wireless Belkin Routers are known for their excellent WiFi speed, ideal coverage area, wireless standards, and working security features.

Conclusion
Belkin's g54 n150 wireless router is very light on specs, features, and in some cases, performances. Other products from this brand with a dual-band frequency often surpass this router by some distance.
That hasn't stopped it from delivering, though. We think the 2.4GHz 802.11n performance is, in fact, satisfactory to work. It's reliable and will give a stable connection over an adequate space.
One drawback many users don't appreciate is that this router doesn't have a USB port. As such, it's difficult to share data over a hard drive or use a printer with the router.
We found the router's performance good enough with the speed and range you'd love to have. Sure, the band can get slow, but you can stream and play games with its router.