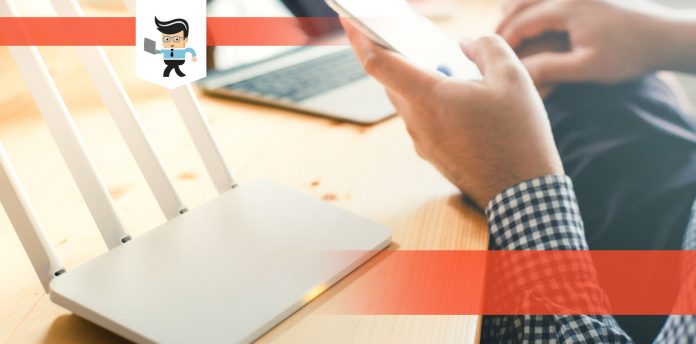 If you live in a medium to large-sized home, the Netgear n450 WiFi cable modem router can solve all your network needs. Read on to discover what our review team thinks about it.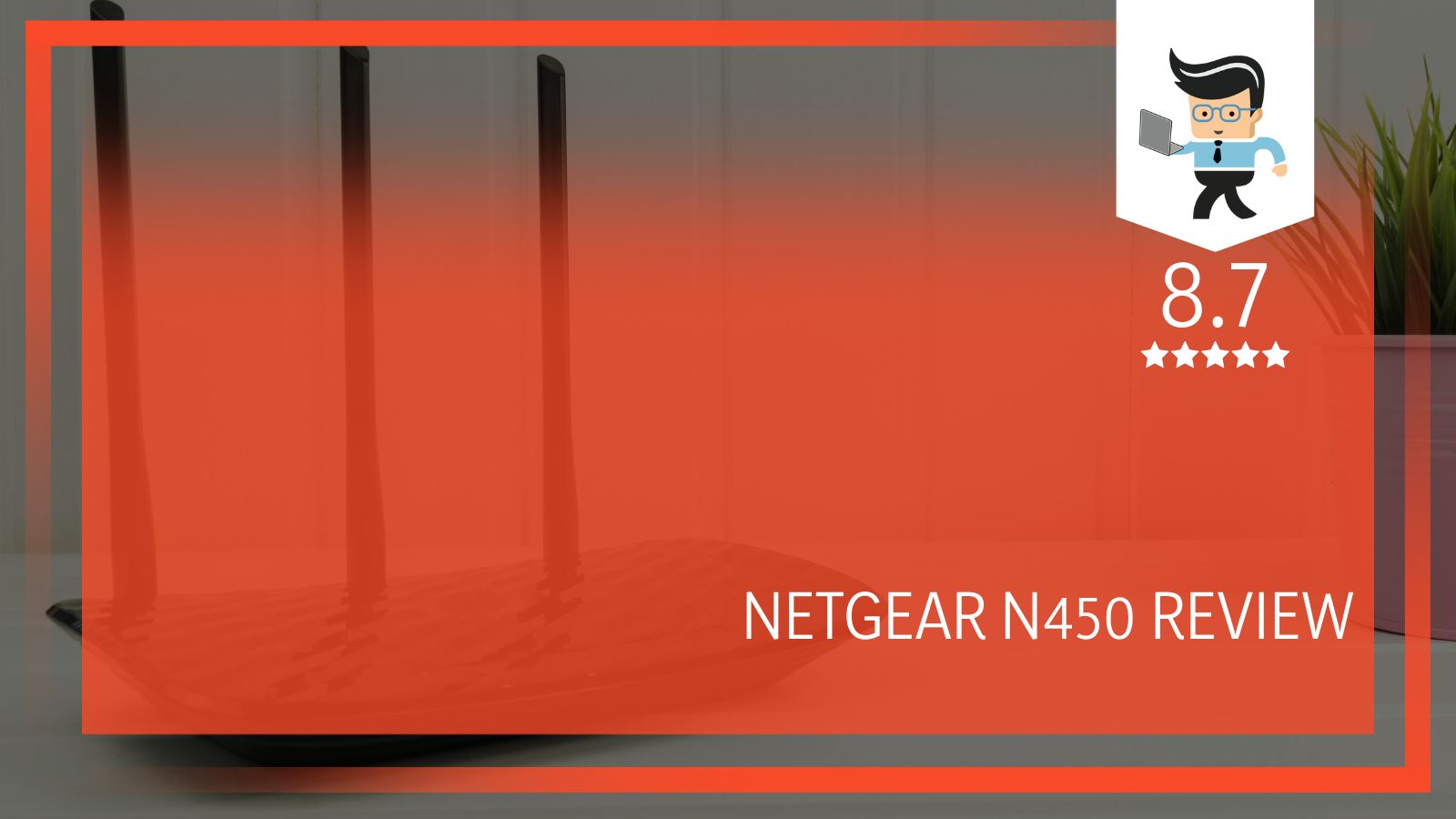 Netgear N450 Review: Specifications Table at a Glance
| | |
| --- | --- |
| Netgear N450 | Components |
| Brand | Netgear |
| Frequency band | 2.4GHz, 5GHz |
| Connectivity technology | wired, wireless |
| Wireless protocol | 802.11b/g/n |
| Data transfer rate | 450 Mbps |
| USB port | Yes |
| Form factor | Desktop |
1. Netgear N450 Review: How it Holds Out in the Real World
Netgear N450 Key Criteria
PROS
Faster WiFi speeds reaching 450Mbps
For Gigabit Ethernet ports
Twin USB ports
Very fast cable Internet download speeds
CONS
Slow 2.4GHz but a larger range
Wherever you're staying, chances are you need the best Internet connection to perform a raft of functions. That is where the N450 Cable Modem comes in. It has an enhanced range powerful enough to cover your whole house.
The two-in-one unit is available to you at an affordable price, too, and you can also say goodbye to monthly modem rental charges and save some money.
The router and DOCSIS 3.0 cable modem gives off eight times faster download speeds reaching up to 340 Mbps. That means it's faster, has smoother WiFi, and will work with all major cable internet providers.
The Netgear N450 is also a great combination of using the latest technology in the DOCSIS 3.0 platform. As such, it doesn't just give you good value for the money, but it is also fast and reliable over a great number of commands.

The DOCSIS 3.0 support here makes the N450 8 times faster than DOCSIS 2.0. Also, it's no secret that the DOCSIS 3.0 is the next generation of Data Over Cable Services Interface Specification (DOCSIS), representing an international standard that lets cable operators deliver significantly faster data speeds to your home.
If you need a reliable connection for normal web surfing and do not require serious bandwidth for gaming or HD streaming, then Netgear N450 is the router you need.
Netgear N450 Review: Special Features and Capabilities
– Speed and Range
Alongside the excellent Netgear n450 speed, there's an outstanding WiFi range and performance. The 2-in-1 N450 Cable Modem Router connects your home to the next high-speed level.
As a result, you get smooth HD streaming, continuous online gaming, and quick, reliable Internet for all your connected devices.
– Ethernet Ports
There are four Gigabit Ethernet ports with N450 WiFi. You can take advantage of the fastest wired speeds to connect your router, computer, and other devices. In addition to that, the modem features Wireless N for Email, chat, surf, music, video, and USB access to enable all users to transmit data wirelessly via the USB port.
– Set up Process
If you get this product, you immediately notice that It is easy to install. It comes with a simple setup for iPad, tablets, smartphones, and computers.
The Netgear n450 wireless router system requirements are a cable broadband Internet service and compatible operating systems, including Windows Vista, 7, 8, 2000, XP, 2000, Mac OS, or other operating systems running a TCP/IP network.
A Microsoft Internet Explorer 5.0, Firefox 2.0, Safari 1.4, or Google Chrome 11.0 browsers or higher are other options you can use.
– Security
When it comes to purchasing a wireless router, security remains a top priority. It would help if you were using WPA2 security to guard access to your router, which essentially requires every new device to use passwords to connect. Thankfully, the Netgear n450 has the highest level of wireless security with WPA/WPA2 enabled.
What you can do to ensure a more secure network is changing the WiFi password regularly. That means you'll need to reconnect all your devices again, but it also keeps out unwanted visitors who might be lurking.
It's also our recommendation that you set up a new password to access the router settings, instead of just leaving the default password in place as many people do. The Netgear n450 firmware may not get affected, but your router could be reconfigured.
– Sharing Data
Besides the fast Internet connection, you can share your files on your home network. To that end, your N450 has two USB 2.0 ports. They will help you access your external hard drive or pen drive and share your files and documents with any device on your network.
– Wireless Standard
The wireless protocol standards matter. Why? Whether you call them specs, protocols, or standards, the terms around wireless internet compatibility are often the most confusing and unfamiliar variables on a router.
There are some variables, including 802.11a, 802.11b, 802.11g, 802.11n, and 802.11ac . The 802.11ac and 802.11n protocols are the standards you'll find on most current routers, while the "a," "b," and "g" standards are older and considered out of date.
The Netgear n450 features 802.11b/g/n. If you want to choose any router, note that some households can operate successfully on 802.11n. Most consumers should use the newest standard, 802.11ac.
That is because the standard is faster and transmits more data since it utilizes both the 5GHz and 2.4GHz bands like on many routers. However, one downside is you need to be close to your router to use both channels . Otherwise, the router automatically defaults back to the 2.4GHz band.
– USB Ports
Netgear routers that support ReadySHARE will let you connect a standard USB storage device and share your files and documents with people on your network or over the Internet. However, USB storage devices have to be on the compatibility list.
To that extent, you can share large files with colleges. Note that sending files larger than 5MB can be an issue for some email systems. However, on the N450, you have the option to send huge files, including PowerPoint presentations or ZIP files, to colleagues at another site. Also, using FTP to download shared files from the router easily is a better fit.
– Dual-band
A dual-band router uses two frequency bands, 2.4GHz and 5GHz, simultaneously for data transmission. That way, you get to enjoy better performance.
A dual-band rougher has one channel of 2.4 GHz band, which works on 802.11n standard and provides a similar speed of up to 300 Mbps. On the flip side, the 5 GHz works on 802.11ac standard, which is blazing fast and gives you a speed of up to 2 Gbps.
The Netgear n450 setup boasts both and has better range coverage and better signal strength. This dual-band router is capable of switching bands automatically whenever required. That also means it will work correctly in open areas with fewer obstacles due to high oscillating radio waves.
We observed that it is ideal for mid-sized homes or small offices because of network coverage. Whether there are two users connected on a dual-band router like the N450, both will access the Internet at different frequencies and still enjoy good speeds.
– Data Rates
The data transfer rate on a router can help determine your data transmission speed rate from one location to another. Take this as an example, a hard drive may have a maximum data transfer rate of 480 Mbps, while that of the Netgear n450 stands at 450 Mbps.
Frequently Asked Questions
1. Which WiFi frequency has the best range?
When going for a new router, you should know that the WiFi frequency band with the best range is 2.4 GHz. It's commonplace that there are two router frequency bands: 2.4 GHz and 5 GHz.
The 2.4 GHz band has a better range, but the 5 GHz band is good because it is less crowded and carries faster speeds than the former.
When you come across long-range routers mentioning their maximum range, that's how far the 2.4 GHz signal can reach when there's no obstacle blocking it.
2. What is the life span of a Netgear N450 router
Always remember that networking hardware doesn't last forever. Besides, the standards change fairly often, but networking hardware gets through a lot of stress daily. As such, your WiFi connection is stretched across your computer, smartphones, gaming console, streaming devices, and others you link.
As more devices get added to the mix, there's only one result: quick burnouts. That is because as the load gets larger over time, a router's performance decreases.
Have you been using a router for years and don't understand why it's unreliable or slow? Then it's time you had it replaced by a new one. Other than that, your router may need some routine cleaning.
Conclusion
The Netgear N450 WiFi DOCSIS 3.0 Cable Modem Router (N450-100NAS) is an excellent router option. It also offers the latest technology in the DOCSIS 3.0 platform.
Not only does this router offer good value for the money, but it is also swift and reliable, and it also saves you money on monthly cable modem rental charges.
The easy setup process is another aspect you can count on to get going online. If all you want is the perfect modem/router for your medium or a large home or working space, this N450 is the best option. You can link multiple devices to it and still have a fast connection.