Our motherboard reviews showcase the best motherboard options that form the base of every personal computer. Whether you're building a PC or buying a new one, you'd want to invest in a motherboard that takes your experiences to the next level. 
If you don't, other components are at risk of failing as a whole. This review will help you figure out the qualities of unique motherboards. Read on!
Best Motherboards: More Than Just a Component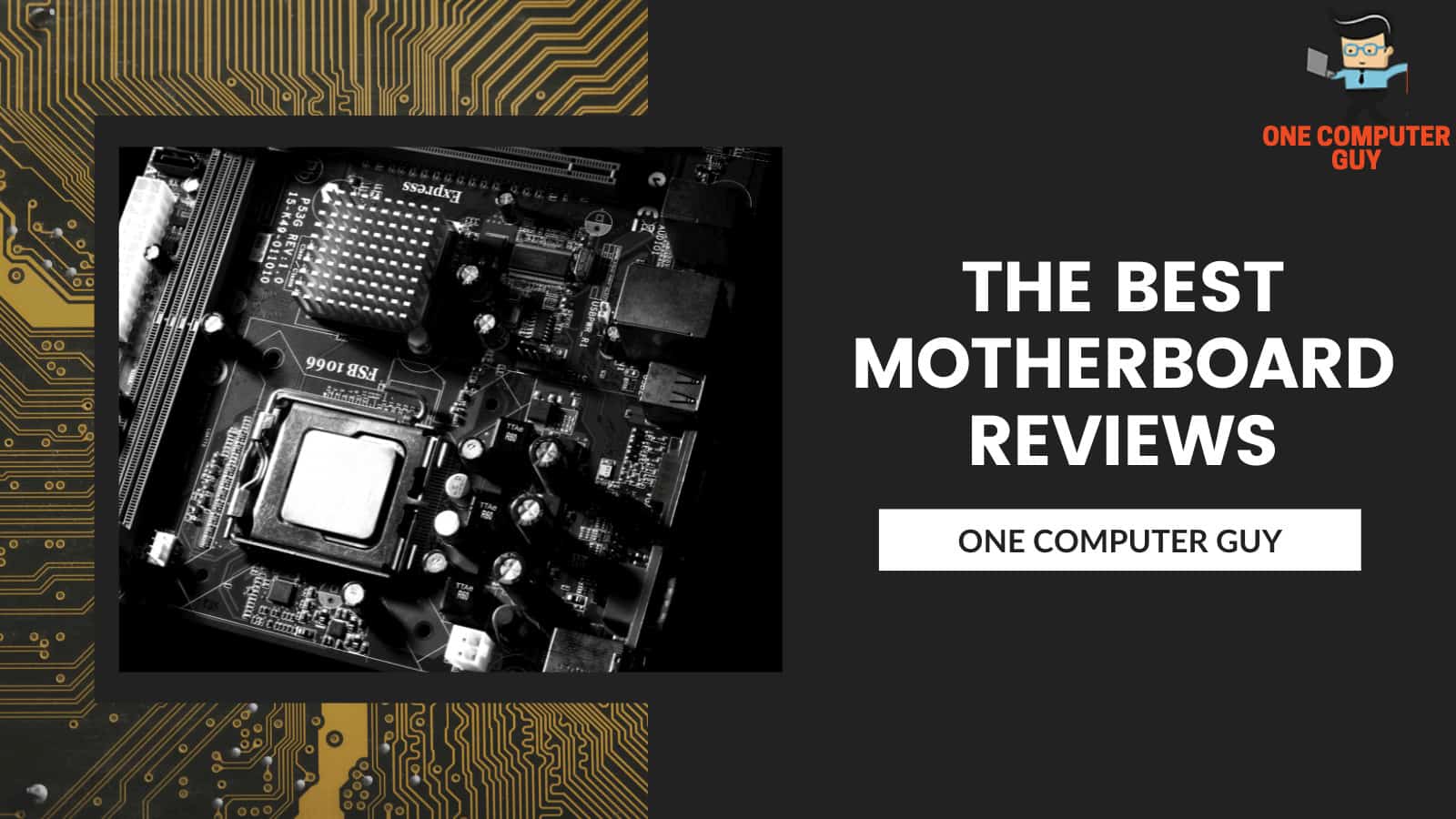 | Name | Processor | Expansion Slots | SATA Ports | Memory | Detail |
| --- | --- | --- | --- | --- | --- |
| | 8.5 | 8 | 8.5 | 8 | Review |
Perhaps you want a perfect motherboard for gaming or some demanding tasks. You'd know that a motherboard can have a significant impact on how your PC operates. 
For example, a motherboard decides what CPU platform you use, which is a huge factor. Also, it determines what case it can go in and what storage you're able to plumb into your machine.
For that reason, your motherboard has to provide a stable base from which you can assemble your entire build. It also has to give you a reliable platform. It has to fully complement your PC so that all the parts come together. 
The difference in performance may not be noticeable, but it's still important not to get the wrong motherboard. To avoid doing that, the first thing to do is getting your CPU socket support correctly. That includes ports and overall quality. But beyond that, other features stand out. 
Enthusiasts
Typically, gaming motherboards should have the option and ability to overclock your CPU at some point. Enthusiasts might also need high-performance memory support. The best boards out there also offer some measure of future-proofing. Users will need that thanks to fickle, fast-moving modern-day PC technology. 
To that end, getting a socket or chipset that can support new processors, such as Intel's Z490 and Rocket Lake chips, is essential. That way, you can overclock while gaming for long periods. 
Here Are Some Top Motherboard Options for Different Users
Mid-Level Gamers
Asus Prime B450M-A/CSM
The Asus Prime B450M comes off as an excellent motherboard for medium-level gamers. It comes with all the features, including some extras like Fan Xpert 2 and Aura Sync RGB. 
Besides, it's easy to pair the board with a Ryzen 3 2200G and any AMD Ryzen AM4 processors. You even have PS2 support for users with old hardware.
From the name, the design of the B450M is mATX. Further, the board comes in a black color scheme with exciting shades of grey. 
It also has an excellent grip to it with a rear IO with two USB slots transferring data at 10Gbps. You also get a single HDMI port and a DVI-D port to set up your machine.
Top-Notch Performance
The B450M-A is one of the best entry-level computer motherboards. That's why its overclocking performance is modest, though you shouldn't expect much. For example, users can boost a Ryzen 3 3200G from its base speed of 3.6GHz to 3.8GHz effortlessly. 
Overall, you'll enjoy quality GPU temperature sensors, High-definition Realtek audio, and Intuitive cooling controls. However, there's no Lacks VRM cooling with limited RAM slots. 
Affordable B360 Motherboard for All Users
GIGABYTE B360M D3H Motherboard
A B360 motherboard represents a lot of things, both to the computer system and the user. Firstly, it packs a lot of speed, thanks to its ultra-fast M.2 port with PCIe Gen 3 X4 and SATA interface. 
Also, having the best affordable B360 motherboard will provide you with a unique opportunity to stay on top of your upgrade schedule for a long time. That way, you won't have to upgrade as frequently as you would with some other boards.
For keen overclockers, the cooling system in this B360 motherboard is the best. You also get smart fan features with multiple temperature sensors over the entire motherboard. The fan headers will stop and start automatically or via your clicks.
The Gigabyte B360M is also a durable motherboard coupled with some of the best RGB lights in the industry. There's some anti-sulfur resistance and a quality build that ensures it lasts a long time.
Budget-Friendly Z370 Motherboard
1. EVGA Z370 FTW
Another budget-friendly but decent motherboard for overclocking is the EVGA Z370 FTW. It's an excellent motherboard for Z370 designed explicitly for gaming. When you overclock beyond 4.3GHz, it means you have to install your air cooler. However, all six cores are rated to run at 3.7GHz.
When you're using this board, you'll find that temperature control is essential because it can get out of hand quickly. The parts are well-built and will last the test of time, but better if you can use a cool environment. Other slots are protected and reinforced. 
Overall, EVGA offers a good amount of support as you build, and if you aren't the type of person who likes RGB lights or anything overly flashing, you'll like this board. 
Battle of Partner Processors
1. Intel 5th Generation vs. 6th Generation
The fact is that the Intel 6th Generation is an improvement on the 5th. To that end, it's not easy to spot differences. However, the 6th generation is more popular and used in more builds than the 5th generation CPUs.
Speed and Supported Integrations
When you want a faster option for your rig, the 6th generation is markedly faster in almost all ways. From booting up the computer to how fast the ports are, it wins this comparison by a landslide.
On the integration front, the sixth generation offers more than just popularity. It has more integrations that you can use both from Intel itself and others from the users. 
Security
Security is a very vital part of owning and running a rig. To that end, motherboard comparisons often tell you which one presents a safer option. 
Since you'll be using these processors with your board, it's important to note that the fifth-generation Intel CPUs come equipped with better security than the sixth generation. 
Tips for Choosing the Right Motherboard
Getting top-rated motherboards isn't an easy task to accomplish. You have to consider the following:
The correct socket makes a difference: This is one point you have to take very seriously when you are looking to get a gaming motherboard for your rig. You can indeed find excellent CPUs either from Intel or AMD. However, when you settle on a processor, your motherboard must have the correct socket to support it. 
You'll find that the latest mainstream AMD chips use AM4 CPU sockets. On the current Intel 8th Gen and 9th Gen Core, CPUs will require LGA 1151v2 sockets.
Smaller boards mean fewer slots and features: Usually, motherboards come in three main sizes. From the largest to the smallest, you'll get the ATX, Micro-ATX, and Mini-ITX. It's possible to use a smaller chassis with the micro or mini boards, but you'll have to settle for fewer card expansion slots. You could also have to deal with fewer RAM slots and other connectors.
Do you need built-in Wi-Fi or high-end ports? Only pay if you need them: You mustn't spend extra money on wireless connectivity. As such, if you have a wired connection, you can future-proof your PC using USB 3.1 Gen 2 and Thunderbolt 3 support.
FAQs for Gaming Motherboards
What are the most vital things to consider when buying a new motherboard?
Motherboard ratings are essential, but you want to know which processor you want to be building your new rig around. 
If you're keen on some Intel option that can take you through some rough patches, or AMD, take note of performances. For example, with AMD, the Ryzen 5000 CPUs' performance will make you feel you've spent well. 
Is it possible to overclock on any motherboard?
The answer is no. The thing is that there are many restrictions in place to stop that, especially on the Intel motherboards, so if you want to enjoy a higher speed, you've got to upgrade your CPU. Intel has opened up memory overclocking across its 500-series chipsets. However, the Z590 presents the only chance of overclocking the latest Rocket Lake K-series CPUs. 
When it comes to AMD, you've got a more generous device because it allows all its CPUs and most of its motherboard chipsets to overclock, and this is one of the top reasons why some users prefer to switch from Intel to AMD at some point. 
Tips to Ensure a Cooler Motherboard
Open the case for an inspection: This helps you see the components and observe how they work. For example, you can check the fans to see if they're aiming in the right direction. Typically, a computer has at least two fans. One goes at the front to draw in cool air, and another within the power supply to force hot air out of the case.
Clean debris off the fan: Sometimes, dirt and dust can build up. That can lead to increased friction and fan revolutions. However, it would be best if you didn't attempt to clean the fan in the power supply. It's best to replace it. 
Replace jaded parts: With motherboards, you want to cool, it's essential to replace any area you feel isn't functioning 100 percent. 
Conclusion
A motherboard should help you get the best out of any task you throw at it. For gamers, it's essential to have this part of your rig functioning optimally. Even if it heats up, the best options for motherboards will meet your demands for high-end applications. 
While the motherboards highlighted here serve different purposes and are better suited for some specific uses, you can opt for the model that's best suited to your needs to enjoy optimal efficiency and performance on your PC when it matters most.
List Of All Motherboard Articles