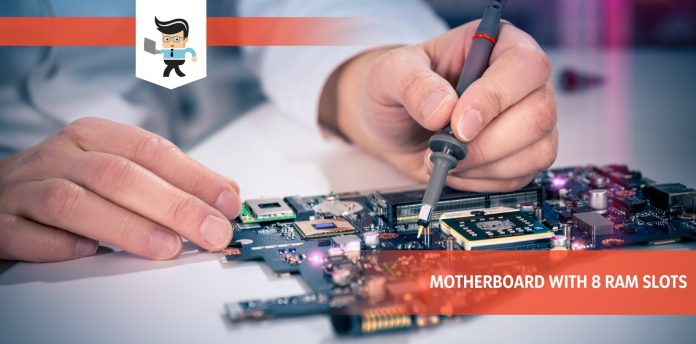 Motherboard with 8 ram slots is the dream setup for any gamer or heavy who wants that extra memory boost to take their computer system to the next level.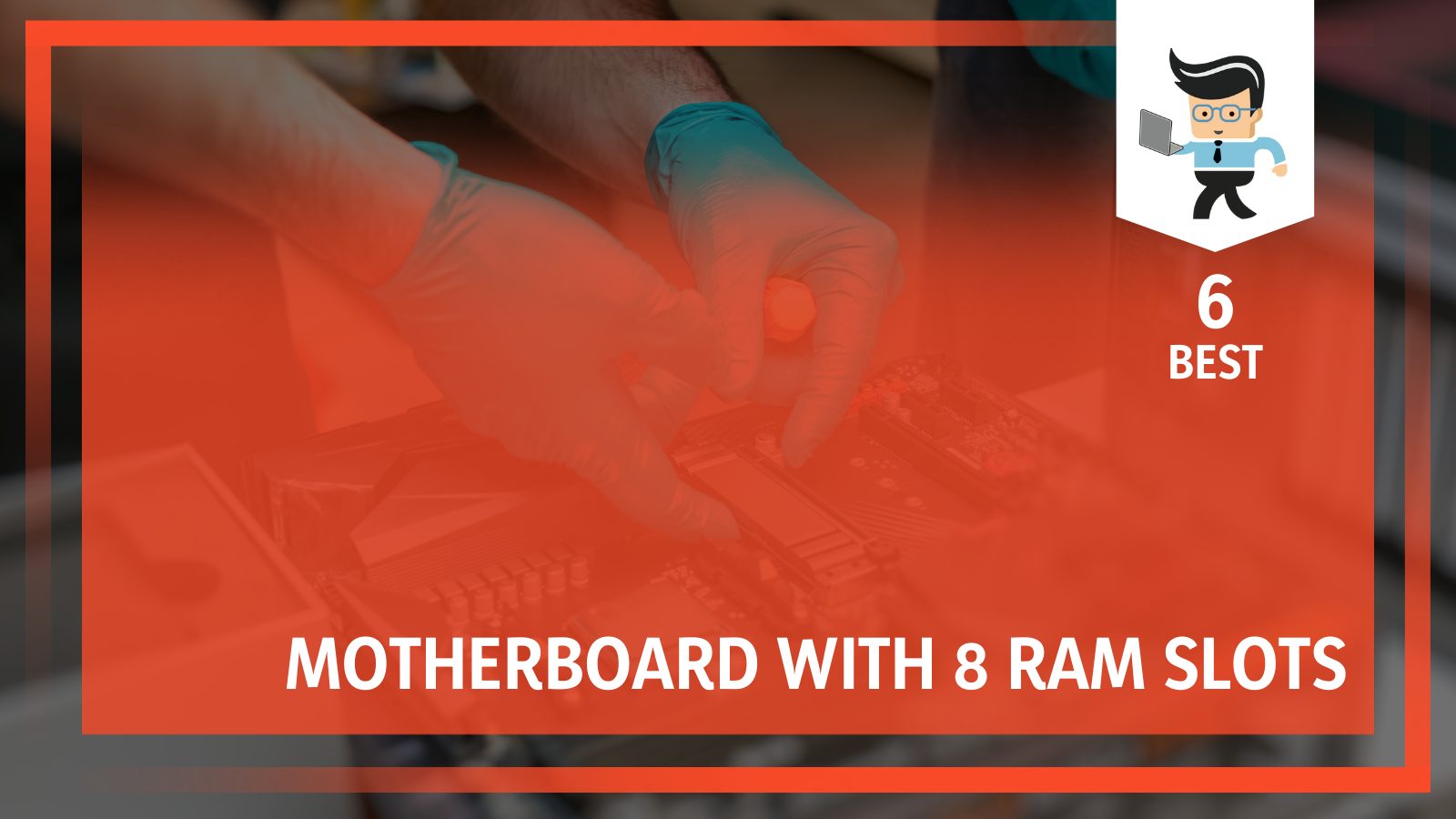 A quad-channel memory motherboard with 8 DIMM slots might also be the dream computer for you, but there are several factors you need to consider before making that purchase.
Since this might be the most significant upgrade you might make to your system for quite a while, you need to consider the price, individual specs, overclocking speeds, and the memory limit, among other factors.
This article will give you a list that includes some of the best options in this category with all the juicy technical details!
6 Best Motherboards With 8 Ram Slots Reviews
In the table above, we compared the salient features of some of the best motherboards. However, in order to make a buying decision, you need to be aware of the cons of the product as well.
Therefore, read comprehensive reviews below to decide which motherboard suits you the best.
Pros:
Cons:
No manual included

Below-average overclocking
We will start with the factors of art, creativity and style. If those three are your goals, the Creator TRX40 is designed just for you and is made to excel. The hardware is a stylish black cover, excellent steel armor detailing, and a VRM heatsink that goes hand in hand with a crystal RGB block.
As for the specs, the hardware is also robust in that department. The E-ATX form-factor motherboard has over 8 DIMM slots and runs on DDR4 Motherboard RAM with a maximum memory of around 256 GB RAM.
When we overclock it using A-XMP overclocking mode, it can reach speeds of 4666 MHz, and when it is overclocked for JDEC RAM, you can expect it to go as high as 3200 MHz. Considering the hardware specs, these are excellent speeds.
Coming down to slots and processor support, you can run this hardware like a breeze with any AMD Ryzen ThreadRipper CPU from the 3rd Gen, and it also has three-way multi-GPU support with both CrossFire and SLI.
You can expect to get three M.2 slots, four slots of PCIe 4.0 x16, and four USB 2 ports. Since the hardware is a creator edition piece, you can also expect to be equipped with nearly 15 USB 3.2 connector ports.
There is no shortage in the connection department either, and you can expect to have Bluetooth 5.0, Intel Wi-Fi 6 AX200, and 10-Gigabit LAN for your connection needs which are some of the latest and best options in the market. Considering all these specs, we have decided to give the motherboard a strong 8 out of 10 in all the categories.
Overview
The MSI Creator TRX40 is an excellent motherboard for an artist who wants to express their technical skills with a great design and has hardware that packs a power punch.

Pros:
8 DIMM slots

Supports DDR4 RAM with Intel X299 Chipset

Best purchase within a budget
Cons:
Incompatible with older processors

Overbuilt in comparison to others
Affordability is a significant factor whenever we try to update the hardware on our devices. The Strix X299-E is a godsend for all gamers who are worried about this.
It is an effective and affordable board if you are planning to make the jump to a motherboard with 8 RAM slots, excellent dependability, and some of the best RAM support and speeds in that price range.
As for its look and style factor, the motherboard's design combines a contemporary modern shade with an edge gaming vibe.
Other than this, you will also find that the more significant parts of the board are covered by sleek black-colored steel, while there is also a VRM heatsink with excellent attention to detail and RGB lighting connected with Aura Sync from Intel. This makes the lighting match and reflect tones with your audio and video.
On the technical aspect, we get 8 DIMM slots with support for DDR4 RAM, maximum memory of 256 GB DDR, and speeds going up to 4266 MHz RAM.
Other than that, there is no lack in the slot department either, with nine slots of PCIe 3.0 x16, eight SATA ports with 6 GB/s, and three M.2 sockets. The processor department has SLI and Crossfire support for multiple GPUs, with both 2-way and 3-way connections.
Lastly, the connection does not lack in any way either, as you will find Intel Wi-Fi 6 AX200, 2.5G LAN, and Bluetooth 5.0 for your use. All these unique qualities and affordability make us give this batch an overall 8.5 out of 10 in every category!
Overview
The Strix X299-E Gaming motherboard is a device that caters to a gamer's gaming needs and budget. You can count on its power to get you through all the big games!

Pros:
8 DIMM slots

Supports DDR4 RAM with AMD TRX40 Chipset

Ideal purchase for financial value
Cons:
Suppose you are still focusing on receiving an efficient performance bang for your buck. In that case, the Prime TRX40-PRO is another beautiful board supported by ThreadRipper, that has excellent value for an affordable price.
Like most of the other pieces in the list, the motherboard also has Quad-GPU support for both Crossfire and SLI with eight slots of DIM, memory support maxing out at 256 GB, and overclocked speeds that are as high as 4666 MHz.
The design is not too shabby if your focus is a machine with a good look. This motherboard is black in primary color, coupled with silverish-white casings cast on its heatsinks, along with a little bit of RGB lighting and core detailing. Considering the price of the overall hardware, its heat distribution and VRMs are just two of the excellent features that make it better.
There are no expansion slots and SATA ports, although the board lacks connection options. You will find eight SATA ports with 6 GB/s, three sockets of M.2, as well as multiple PCIe sockets across the motherboard.
Other than that, you can also expect to have a great deal of USB 2.0 and USB 3.2 connectors. Considering everything it has and lacks, we gave this motherboard a strong 7.5 out of 10 in all categories.
Overview
The Prime TRX40-PRO is an excellent motherboard for you if you want robust hardware for a limited price. While it might lack in some places, it makes up for it with efficient options.

Pros:
12 DIMM slots

Supports DDR4 RAM with Intel C621 Chipset

Ideal as a high-end Intel option
Cons:
Incompatible with older browsers

Difficult to boot
For our fourth item in the list, we come down to one of our favorite pieces, a motherboard with not 8 but 12 DIMM slots. You can ignore the extra options.
Still, they are always in case you need a double dose or want to run something compelling like heavy video editors, 3D Rendering applications, Photoshop, or other mixing software.
Like most other items in the list, this motherboard also supports DDR4 RAM with a maximum memory limit of 192 GB and overclocked speed range going as high as 4200 MHz.
Apart from its capacity for excellent performance, the Dominus motherboard also has a unique, edgy design. Its armor consists of a shiny black sheet that covers up an entirely black box. Besides that, its design is also mixed with many RGB lighting and aesthetic lines.
Since it packs a bigger power punch, its overclocking abilities are complemented by excellent VRMs and a fantastic heat distribution system. The PCIe slots that it comes with are able to support a series of different graphics cards, including AMD CrossFireX, NVIDIA NVLink, and GeForce SLI. Its SATA ports are also able to handle extreme data transfers.
Overview
Coming down to the network and connection options, we have Wi-Fi 5, Intel I219-LM gigabit LAN and 10 GB/s LAN. Given its excellent range of power and support options, we have given this motherboard a full 9 out of 10 in all categories.

Pros:
8 DIMM slots

Supports DDR4 RAM with AMD WRX80 chipset

Ideal for use as a workstation

Supports nearly 2048 GB maximum memory
Cons:
Less stylish than other options

Difficult to mount the motherboard
For our personal favorite, we have packed a proper workstation motherboard with no dependency on shiny lighting and RGB. This motherboard is obviously the Pro WS WRX80E-SAGE SE WIFI, which is a piece that values power over style, and it does not hold back in its strengths.
Apart from the eight basic DIMM slots of DDR4 RAM, the hardware's standout quality is its maximum memory support of 2048 GB, with speeds going as high as 3200 MHz. Other than that, you will also find three M.2 slots, seven PCIe 4.0/3.0 x16 slots, and eight SATA ports with speeds of 6 GB/s.
You will find plenty of connection options with over 14 USB ports, Bluetooth v5.1, Intel Wi-Fi 6 AX200, and a supported base for processors in the AMD Ryzen Threadripper Pro Series.
Overall, the motherboard is an excellent EE-ATX option in the mid-range with a price. While the device might not be as stylish as its contemporaries, it fits the needs for performance a lot better than many others, all things considered.
This makes it the perfect pick on many counts and is ideal for the user who wants to set up a workstation elevated with robust hardware equaling a powerhouse. All its excellent specs and features are the reason this board has received a solid 9.5 out of 10 in all categories from us.
Overview
The Asus Pro WS WRX80E-SAGE SE WIFI is a device made to perform and not be displayed as a showcase. What it lacks in design, it doubles over with performance capacity.

Pros:
8 DIMM slots

Supports DDR4 RAM with AMD WRX80 Chipset

Ideal for use with ThreadRipper Pro
Cons:
Lack of built-in connection options

Bad customer service
When we look at things that came further from their origin than intended, the WRX80 chipset is something that comes to mind. While the manufacturer designed the chipset to cater to workstation needs, it was redesigned to cater to the larger consumer market as the WRX80-SU8-IPMI.
Its grounded origin has given it a pretty simple look overall, but it is nowhere a shabby piece in terms of performance, and it also maintains the design quotient.
However, putting its origin and design aside, the main question is its capacity for performance, and in that department, it literally overflows with specs.
Other than the fact that it boasts 8 DIMM slots with a memory capacity going as high as 1024 GB and memory speeds touching the ceiling at 3200 MHz, the board also comes with four SATA 6 GB/s connectors and two M.2 connectors. In terms of expansion slots, we have seven PCIe 4.0 x16 slots, and the sixteen lanes option is still conditional.
Lastly, we come down to the measure of connectivity, and in that section, we have ten ports of USB 3.2 and a Thunderbolt add-in connecting card.
The only downside for creators in this department is that the motherboard does not come with any built-in Bluetooth or Wi-Fi options. However, this can easily be remedied with an external USB adapter. Overall, we give this piece an overall 7.5 out of 10 in all categories.
Overview
The Gigabyte WRX80-SU8-IPMI is an attractive choice for users who focus on performance, as its chipset was built to cater to workstation needs.

Buying Guide
The Asus Pro WS WRX80E-SAGE SE WIFI is the perfect purchase for you if the focus of your purchase is an increase in performance and you are not only focusing on an increase in the style factor.
While it is important to note that while the hardware might be less stylish than others on the list, it is still quite decent and passable as the best motherboard with 8 RAM slots AM4.
Even though the hardware has its perks, you still need to consider the compatibility with your overall computer system and buy the right RAM that fits.
– Choosing a Powerful Processor
Since your motherboard packs a strong power punch, the processor you choose for its support must be equally powerful. A weak processor will not be able to handle the power of all that excess RAM, and your device might likely end up running into some unforeseen errors as soon as you try to start up the computer.
It is also possible that if your processor is not compatible or robust, it ends up canceling all of the excess RAM sticks and only uses the number it is comfortable with.
This could mean you end up not using the full strength of your ASUS motherboard. When you look for a new CPU to use with your motherboard, try and pick something that can support quad-channel memory since most of them are built for dual-channel memory controllers. The ASUS Ryzen motherboard with 8 RAM slots of our choice is best used with a powerful CPU like the AMD ThreadRipper.
– Choosing Powerful Ram Options
When you get a motherboard with as many as 12 DIMM memory slots for RAM, it is clear that you will utilize the power of your device by installing more RAM. However, since the RAM is so important, you cannot just go with any type; you must go with the kind that is more compatible with your motherboard.
There are different types of RAM, like DDR3/DDR4, and different speeds you can choose from. In the case of the Asus Pro WS WRX80E-SAGE SE WIFI, you will need to get chips of DDR4 RAM, but you can generally find this information on the main website.
If you check the specification list updated on the manufacturer's website, you will find all the details about which RAM speeds your device is capable of. It is essential to be careful of the RAM sticks you buy and their compatibility. Be sure that you don't install different sticks of differing power!

FAQ
Why would I need a motherboard with 8 RAM slots?
A motherboard with 8 RAM slots allows for greater memory expansion, making it ideal for tasks that require substantial memory capacity like video editing, 3D rendering, virtualization, or running multiple applications simultaneously without compromising performance.
Are motherboards with 8 RAM slots typically ATX form factor?
Yes, motherboards with 8 RAM slots are generally of the ATX (or larger) form factor, such as Extended ATX (E-ATX), to accommodate the additional RAM slots and other components.
What type of RAM is compatible with these motherboards?
The type of RAM compatible with a motherboard depends on the specific motherboard model and chipset. However, many modern motherboards with 8 RAM slots support DDR4 memory. It's essential to check the motherboard's specifications for RAM compatibility.
Can I mix different sizes and brands of RAM on a motherboard with 8 slots?
While it's technically possible to mix different sizes and brands of RAM, it's recommended to use the same brand, size, and speed for stability and optimal performance. Mixing RAM might lead to compatibility issues or suboptimal system performance.
Conclusion
In conclusion, it is clear that a motherboard with 8 RAM slots is quite a big jump for most users, but it is possible to do it without breaking the bank if you consider all the factors that make and break the deal.
You will need to consider other parts of your computer system before making your purchase to ensure they are compatible with your processor.
Other than that, it will also be essential to be mindful of the type of RAM you install in your device, as there are usually some restrictions that must be followed.
The Asus Pro WS WRX80E-SAGE SE WIFI is an excellent purchase for you if you want an upgrade for its power, and its design is also passable.
Of course, it is essential to be very clear on what kind of upgrades you are expecting from your hardware so you put your money in the right place.
All you need to do now is figure out what you want you to want from your motherboard and check the right product from our list that meets both your wants and your budget!