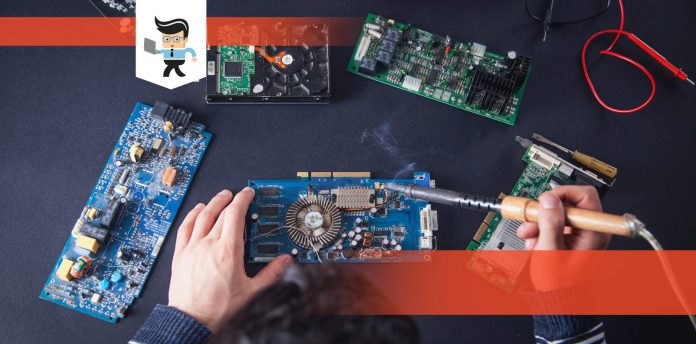 What motherboards are compatible with GTX 1070
The most important thing when selecting a motherboard for GTX 1070 is to make sure there is an expansion slot to hold your graphics card and that you select a case which will have enough room for your motherboard, GPU, and any other components you want to use to improve your gaming experience (CPU cooler, a beefier power supply, etcetera)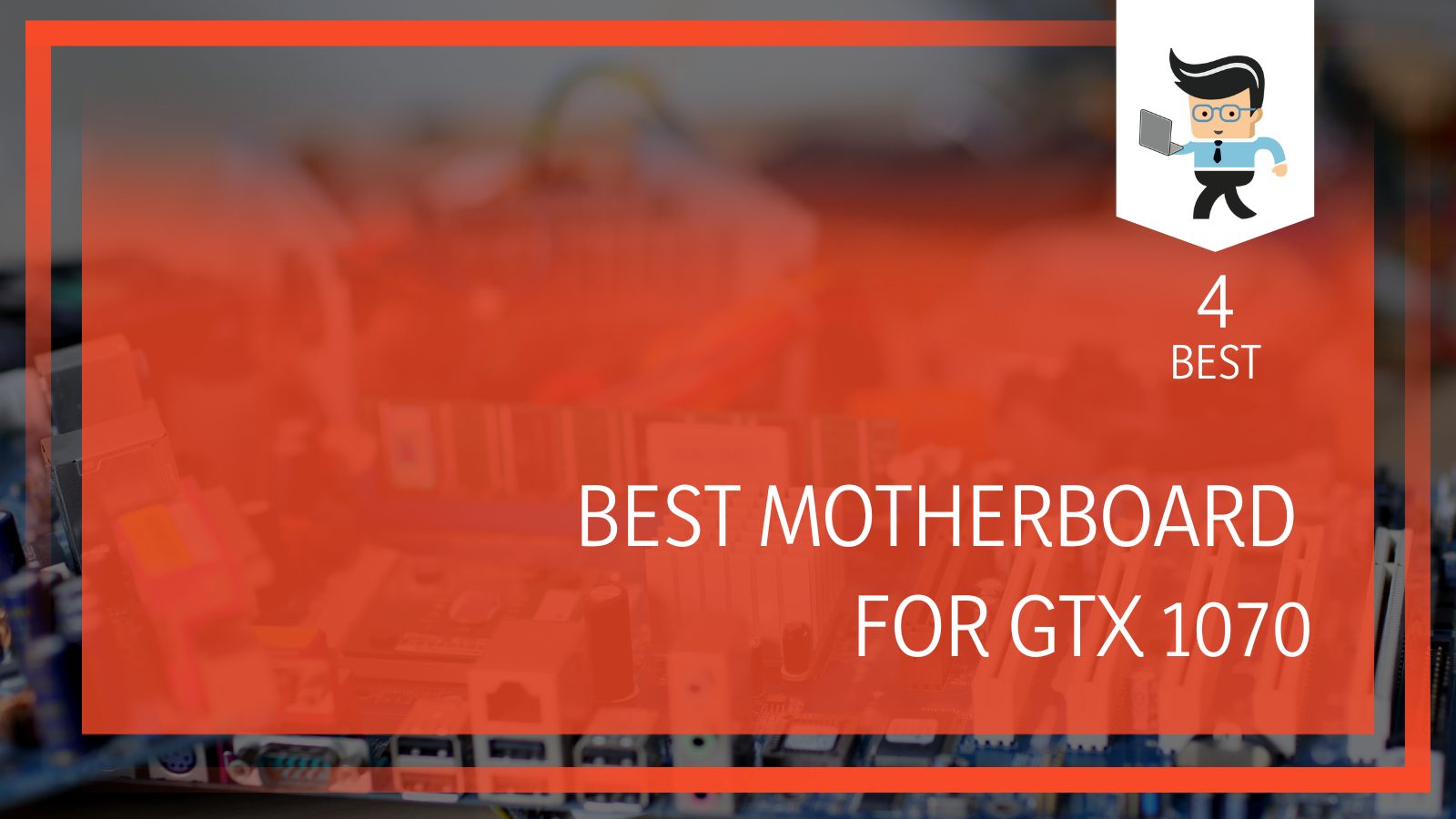 This means that even if you choose a Mini ITX board, you should still use a larger case to fit everything. A low profile case might seem like a good idea until you are contorting your fingers to plug everything in, the motherboard is in a poor configuration for your added components, and you had to spend a premium on a smaller size power supply.
Comparison Table
Product
Key Specifications
ASRock Fatal1ty Z370 Gaming-ITX/AC

Thunderbolt 3
Four SATA6Gb/s ports
Supports SATA drives
USB 3.0 internal header
Two system headers

Gigabyte Z370 Aorus Ultra Gaming Wifi

Optane storage
Six fan headers
M.2 heat sink with Optane
24-pin connector
Two large reinforced x16 slots

MSI Z370 GAMING PLUS

Full black PCB design
Single RGB header
4 memory slots for DDR4
Full-length PCIe x16 3.0 slot
Lack of a PLX chip

ASUS ROG Strix Z370-I Gaming

Single PCI Express x16 slot
Space-saving Mini-ITX case
GTX 1070 compatible motherboards
Dual-channel memory slots
802.11ac Wi-Fi
ASRock's Mini-ITX Z370 motherboard is designed for enthusiasts and gamers. It carries the Fatal1ty name, designed for gaming, but it also carries high-end hardware designed for performance overclocking.
It even has Thunderbolt 3, a connection that makes it extremely unique in the modern market. There is a single PCI-E x16 slot on the motherboard, and right above it are the four SATA6Gb/s ports. A single M.2 slot exists on the back of the PCB, it's rated PCI-E x4 32Gb/s and supports SATA drives too.
– Headers
The motherboard features a USB 3.0 internal header as well as two SATA6Gb/s ports. There is a chassis intrusion detection header, as well as two system headers below the SATA ports. The Fatal1ty features three PWM/DC hybrid fan headers, all at the top of the motherboard.
– Design
The PCB is all black, and the heat sinks are a very dark gray. These simple, understated aesthetics mean that it will pair well with any style of build. The back of the motherboard has some components, including the M.2 slot. There is a single RGB LED header located above the 24-pin connector for those looking to add color
– Specifications
The Fatal1ty Z370 features an M.2 slot, Thunderbolt 3.0, Wireless AC, and features such as USB 3.0 and SATA6Gb/s.
The rear IO panel features PS/2 Keyboard/Mouse, six USB 3.0 ports, a Thunderbolt 3/USB 3.1 type-C port, HDMI 2.0 port, DisplayPort 1.2 port, clear CMOS button, WIFI antenna connectors, S/PDIF optical, 1Gbit LAN, and 7.1 audio jacks.

– BIOS and included Software
The UEFI is similar to the Z370 Taichi. It has some RGB LED support. It offers excellent fan control options, including a GUI and manual menu input. If you are interested in overclocking, you can set profiles built into the UEFI.
Today we take a look at GIGABYTE's Z370 Aorus Ultra Gaming WIFI-OP, a more affordable, a basic refresh motherboard that comes packaged with Optane storage. Intel has been trying hard to get people to utilize Optane as a large cache for a slower drive when it comes to bridging the gap between modern NVMe drives and traditional hard drives.
– Specifications
The Z370 Aorus Ultra Gaming WIFI-OP offers two M.2 slots (although one is occupied), WIFI, USB 3.1, USB 3.0, SATA6Gb/s, and it supports SLI.
The Z370 Aorus Ultra Gaming WIFI-OP has six fan headers; all of them are PWM/DC mode headers. The one header circled in blue is a pump header that runs full speed by default, while the rest of the headers run off a standard cooling curve you can change in the UEFI or through Windows.
The motherboard has an interesting black and white color theme with hints of red. GIGABYTE also heavily branded the M.2 heat sink with Optane. The board has crazy RGB aesthetics and has a nice side overlay near the 24-pin connector. The back of the motherboard is pretty bare.
The rear IO panel features PS/2 keyboard and mouse, four USB 3.0 ports, USB 3.1 type-A, USB 3.1 type-C, HDMI, Gbit LAN, and 7.1 audio outputs.
The PCI-E layout is simple; the first two large reinforced x16 slots operate at x16/x0 or x8/x8. The bottom x16 slot is x4 PCI-E 3.0 electrical and there are two x1 PCI-E slots routed to the CPU. The last slot shares bandwidth the PCI-E x1 slots. The top M.2 slot is occupied with an Optane module.

– BIOS
The UEFI has two operation modes; a basic mode with a GUI and a more advanced UEFI-style mode, which is where you should do all of your overclocking. The motherboard also has a nice GUI for fan control as well as a menu for full RGB LED control, albeit it's not that extensive. All the settings you need to get up and running are present.
The Z370 GAMING PLUS sits towards the lower end of the Z370 models currently on offer with a general focus on value orientated gaming. The full black PCB design has red contrasting lines by way of decoration, but the lighting is only red LEDs. There is a single RGB header to allow for use with compatible RGB LED strips if you want full color customization.
The board has 4 memory slots for DDR4 memory with speeds up to DDR-4000 and 64GB in maximum capacity.
6 SATA 6Gb/s ports are plenty for most users, and the board also makes use of a single M.2 slot which sits just above the top PCIe 3.0 x16. Please note that when in use, it disables the SATA1 slot on the motherboard due to bandwidth.
A steel reinforced full-length PCIe x16 3.0 slot is present with a second slot in red plastic which runs in x4. You can use AMD 2-way CrossfireX configurations, but NVIDIAs SLI is not supported due to the lack of a PLX chip.
On the rear I/O of the Z370 GAMING PLUS, we have the following ports/inputs/connections…
2 x USB 2.0 ports
4 x USB 3.0 ports
1 x RJ45 port
1 x D-sub port
1 x DVI-D port
1 x DisplayPort
5 x 3.5mm audio connectors for onboard audio

There is a distinct lack of USB 3.1 available here, but this is clearly a cost-cutting decision. I would have preferred an HDMI port over the DisplayPort, but I can see that MSI, or at least their designers, knew they couldn't do both and picked what they believed was best.
PROS
Reinforced PCI Express x16 slot.
Dual M.2 slots on a Mini-ITX board.
Snappy-looking onboard RGB LED lighting.
USB 3.1 Gen 2 header.
CONS
Usual Mini-ITX board price premium.
Some gamers might want more onboard LEDs.
Going Mini-ITX? Be Smart About Parts
As with luggage, dropping to a smaller size means you'll need to pack light. Whereas a MicroATX motherboard will have room for two or three expansion slots, the Mini-ITX ROG Strix Z370-I Gaming has only a single PCI Express x16 slot, which will be taken by your graphics card if you are getting this as a motherboard for GTX 1070.
– Notes on Size
You can put a Mini-ITX board like this one into a standard MicroATX or ATX case, provided that its motherboard tray has the appropriate standoff holes for Mini-ITX, and you can count on using a standard-size power supply. If instead you choose a space-saving Mini-ITX case, it's possible you'll need to invest in a specialized power supply designed for compact cases. When it comes to GTX 1070 compatible motherboards, you may want to choose a full size model.
Smaller components don't always translate to lower prices, and that applies to the board itself, too. For the ROG Strix Z370-I Gaming, you may spend more than you would on a full-size ATX motherboard bearing the same Intel Z370 chipset but also offering more slots and ports.
– Lighting and Design
The Asus ROG Strix Z370-I Gaming doesn't offer a lot in the way of lighting but its three large heatsinks are brushed-aluminum and will give a sleek look in a case that has a side window. There is a single row of RGB LEDs lining the edge of the motherboard closest to the memory slots and they shine directly into the motherboard tray.
The CPU socket (LGA 1151) sits near the center of the board, surrounded on three sides by the heatsinks. Two memory slots also border the CPU socket leaving just enough room for a heatsink fan or a water block. Unfortunately, the design is inhospitable to most liquid-coolers, as there is no path for the tubes to avoid going straight over the memory modules.
The dual-channel memory slots support up to 32GB of DDR4 memory and DIMM slots have thumb locks on just the top ends, which makes sense on a space-challenged Mini-ITX board.
Note that the M.2 slot on the board front supports both SATA and PCI Express M.2 SSDs, while the one on the back is PCI Express only.
– Ports and Headers
As is typical for Mini-ITX boards, the I/O panel runs nearly the entire width of the Asus ROG Strix Z370-I Gaming. The panel sports the typical array of audio ports, backed by the SupremeFX audio codec. The motherboard's Wi-Fi card sits nearby, with connectors for two antennas visible. The board features 802.11ac Wi-Fi, as well as Bluetooth 4.2 for your gadgets.
Asus stacked a USB 3.0 Type-A port on a USB 3.0 Type-C port near the left side of the I/O panel. A stack of four USB 2.0 ports comes next, followed by DisplayPort and HDMI outputs for the Intel IGP, along with two more USB 3.0 Type-A ports. There is even a USB 3.1 Gen 2 connector. It is only internal, not on the I/O panel, but it's worth mentioning.
The BIOS: A Brief Look
When you open the BIOS, and you're greeted by the EZ Mode screen, which brings together some basic but worthwhile information about your PC's status: motherboard model and the BIOS version, and a running graph of your CPU temperature, so you can see whether the current value is stable, or part of a trend.

The EZ Tuning Wizard lets you choose different options and will estimate their affect on the computer's performance. When you enter Advanced mode, and the wizards depart you can do all the manual overclocking you want.
Conclusion
The Gigabyte Aorus is a good motherboard for GTX 1070 because it has plenty of connection ports including USB 3.1, the DIMM slots support up to 64 GB of memory, and you won't have to worry about its form factor and fitting everything else into the case.
It lacks the Thunderbolt connection that the ASRock offers, but it is a dependable board which also has extra PCIe slots so you are not using your only expansion slot on your graphics card.