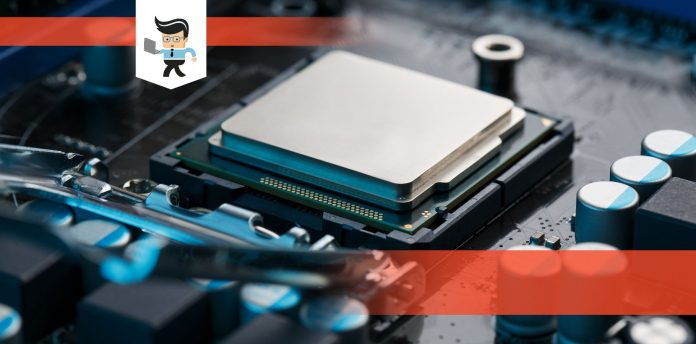 In your search, you will likely come across two of the most popular CPUs from Intel's 6th Generation of computer chips – the core i3-6100u and core i5-6200u. So, to save you some sweat, we provide you with a detailed analysis of the two CPUs – Intel core i3-6100u vs. i5-6200u in this write-up.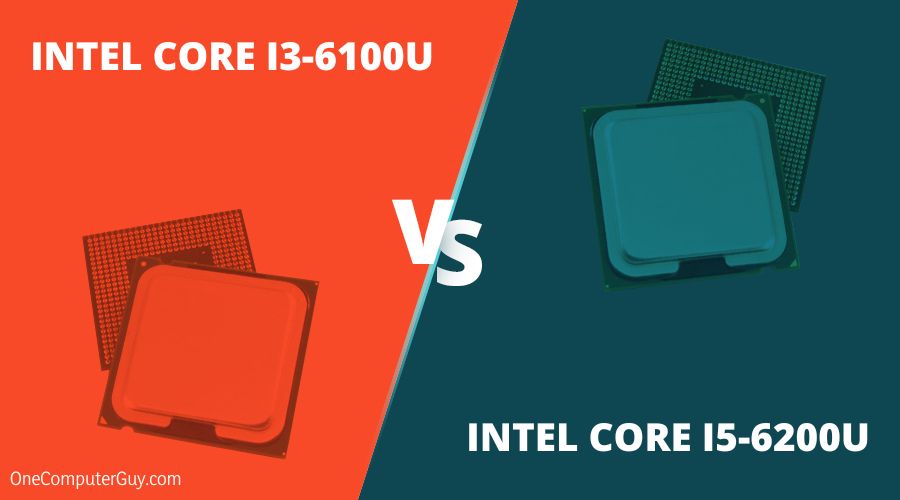 You'll realize that the two CPUs that we are looking at in this guide each have two cores. But then there are those minor variations in the CPU architecture that help create the difference.
So while the Intel core i3-6100u could appear to match the performance of the Core i5-6200U making it pretty hard to make a pick between the two, fast and easy comparison in terms of power consumption, performance, prices and more will simplify things quite a bit. Sit tight and read along.
Summary of key similarities
| | | |
| --- | --- | --- |
| Item | i3 6100u specs | Core i5-6200U specs |
| CPU Cores | 2 | 2 |
| Frequency (GHz) | 2.3 GHz | 2.3 GHz |
| Cache (MB) | 3 | 3 |
| TDP (Watts) | 15 W | 15 W |
| | | |
| --- | --- | --- |
| Dimensions (2D) | 42×42 mm | 42×42 mm |
| Conflict Free? | 1 | 1 |
| CPU Cores | 2 | 2 |
| Threads/Core | 4 | 4 |
| Frequency (GHz) | 2.3 GHz | 2.3 GHz |
| Cache (MB) | 3 | 3 |
| Instructions Width (bits) | 64 | 64 |
| Instructions Extensions | SSE4.1/4.2, AVX 2.0 | SSE4.1/4.2, AVX 2.0 |
| Lithography Process (nm) | 14 nm | 14 nm |
| TDP (Watts) | 15 W | 15 W |
| TDP Down (W) | 7.5 | 7.5 |
| TDP Frequency (W) | 0.8 | 0.8 |
| Max RAM | 32 GB | 32 GB |
| # Memory Channels | 2 | 2 |
| Memory Bandwidth (GB/Sec) | 34.1GB/s | 34.1GB/s |
| Max CPU Temp. | 100 | 100 |
| Max CPU / Package | 1 | 1 |
| PCI-E Version | 3 | 3 |
| PCI-E Configurations | 1×4, 2×2, 1×2+2×1 , 4×1 | 1×4, 2×2, 1×2+2×1 , 4×1 |
| PCI-E Max Lanes # | 12 | 12 |
| Compatible Sockets | FCBGA1356 | FCBGA1356 |
| | | |
| --- | --- | --- |
| Intel V-Pro | No | No |
| Intel Hyper-Thread | Yes | Yes |
| Intel Virtualization (VTX) | Yes | Yes |
| Intel Directed I/O (VTD) | Yes | Yes |
| Intel Ext. Page Tables (EPT) | Yes | Yes |
| Intel TSX Sync. Extensions | No | No |
| Intel 64 | Yes | Yes |
| Intel MyWiFi | Yes | Yes |
| Idle States | Yes | Yes |
| Thermal Monitoring Tech. | Yes | Yes |
| Flex Memory | Yes | Yes |
| Intel ID Protect | Yes | Yes |
| Intel SIPP | No | No |
| Intel SMB Advantage | Yes | Yes |
| Smart Response Technology | Yes | Yes |
| Intel AES New Instructions | Yes | Yes |
| Intel Secure Key | Yes | Yes |
| Intel OS Guard | Yes | Yes |
| Trusted Execution | No | No |
| Execution Disable | Yes | Yes |
Summary of key differences
| | | |
| --- | --- | --- |
| TDP Up (W) | _ | 25 |
| Intel Turbo Boost Version | _ | 2 |
| Turbo Frequency (GHz) | _ | 2.8 GHz |
| RAM Types | DDR4-1866/2133, LPDDR3-1600/1866 | DDR4-2133, LPDDR3-1866, DDR3L-1600 |
The Intel core i3-6100U is a 64-bit dual-core entry-level performance microprocessor that hit the marketplace somewhere in late 2015. The microprocessor is based on the Skylake microarchitecture and is clocked at 2.3 GHz. It has an integrated HD 520 graphics unit running at 300 MHz to touch up the resolution of your graphics.
Core i3 processors exist in three different variants:
The regular non-lettered, low power models operating at 15 Watts. For example, the i3-6300.
The extremely low power models operating at only 35Watts, such as the i3-6100T, and i3-6100TE, and;
A single downgraded graphics SKU with a power consumption of 54Watts, the i3-6098P.
Like any Intel Core i3 processor, the i3-6100u has all the standard features of its peers, such as 2 CPU cores, Hyper-threading support and 3 MB of level 3 cache.
Core i3 processors come with either 3 MB or 4 MB of Level 3 cache. Usually, the more cache a processor has, the more data the computer can store closer to the CPU. The cache memory holds frequently used data which the processor may require next, and is on the same chip as the processor.
Notice that not all Intel core i3 processors come with 3 MB of level 3 cache. The variants with names taking the i3-63xx format usually have 4MB of L3 cache, with the i3-61xx variants being the ones with 3MB of L3 cache except for the Core i3-6100TE.
As a general rule of thumb therefore, a 4 MB cache memory processor will have to access main memory fewer times compared to one with 3 MB because it can store more data/instructions at any given time. This will definitely afford the processor with 4mb cache some noticeable benefits in benchmarks where the data cannot as easily fit into cache.

Being an entry level microprocessor, the i3-6100u does not have advanced technologies such as Turbo Boost or Trusted Execution. Both of these technologies are commonly found on Intel's latest generations of processors. As such, you can expect this core i3 processor to deliver a typical flat frequency at load in its performance.
This is an ultra-low voltage (ULV) SoC with two CPU cores based on the Skylake architecture. Like the Intel core i3-6100U, this processor also has Hyper-threading, and is clocked at 2.30 GHz.
As opposed to the former, however, the Core i5-6200U boasts a turbo boost shooting its processing power to a notable 2.80 GHz.
It is one of the 30 different socketable processors belonging to Intel's mainstream desktop processor line using the latest Skylake microarchitecture. You can buy it for a system build, although some of the specialized parts are available in OEM systems only. In addition, the processor's chip also integrates an HD Graphics 520 GPU and a dual-channel DDR4-2133/DDR3L-1600 memory controller to up the quality of your computer's graphics.
This ultra-low voltage SoC is manufactured using a 14 nm process with FinFET (fin field-effect) transistors.
How the two compare
At this point, it's important to note that the term mid-range, in this context, is relative to time. For instance, what was considered a high-frequency processor two years ago easily falls into the category of mid-range frequency processors today.
The Intel core i3-6100u and i5-6200u have a lot of similarities as you'll notice in our head-to-head comparison here.
Things are pretty much the same between the two CPUs on the iGPU (Integrated Graphics Processing Unit) front.
Both of the CPUs are ULV (ultra-low voltage) with the HD Graphics 520 GPU that operates at 300 MHz with a burst frequency clocked at 1 GHz. Like the core i3-6100U, Intel's i5-6200U equally has a TDP of 15 W with a configurable TDP-down of 7.5 Watts (about 800 MHz) and a configurable TDP-up of 25Watts (about 2.4 GHz).
This way, none between the two CPUs can take an edge over the other when it comes to both raw GPU performance and clock speeds.
This integrated graphics unit (HD Graphics 520) represents the "GT2" version of the Intel Gen. 9 Skylake GPU. Also termed as EUs, the 24 Execution Units on these chips are clocked at 300 – 1000 MHz, offering a performance in the range of a dedicated GeForce 820M. This means your computer will play most of your favorite games smoothly in low settings.
The Core i3 processors are the lowest specification of the range of microprocessors from Intel to enable AVX 2.0 architecture. This indicates that AVX (Advanced Vector Extensions) is a 'Core' feature, over a Pentium or Celeron.
Both the processors also have MPX, or Memory Protection Extensions, a feature that is only available on Core i3 and up. By contrast, transactional extensions, which add hardware transactional memory support thus speeding up the execution of multi-threaded software through lock elision are not on the Core i3 models. This means that the Intel core i3-6100u lacks transactional extensions, but you'll find the feature on the Core i5 option.
Notice that the Skylake microarchitecture (both the i3 and i5 CPUs) replaces both Haswell and Broadwell available with Intel's previous generations of chips. It brings the same microarchitecture in every thermal design power (TDP) class from 4.5 to 45 Watts.
The Skylake design comes with extensive improvements that include increased out-of-order buffers, branch prediction, optimized prefetching as well as some additional gains in performance brought about by Hyper-threading.
Both CPUs have an overall higher performance per clock of 5 to 10 percent in comparison to Haswell and below 5 percent in comparison to Broadwell. Even though this is a modest performance difference from the previous generation of chips, it is a difference that you can count nonetheless.
Based on calculations of effective speed which measures real world performance for desktop users and typical gamers, the results are almost a tie for the two CPUs. Their respective performances are very close to various data points weighted towards typical consumer tasks.
This assessment remains unchanged if you check CPU benchmark i3 6100u and i5-6200u passmark values against thousands of individual user ratings.
Given the improved architecture and the specified clock rates however, the Core i3-6100U should perform just slightly below the immediate former Haswell-based Intel Core i5-4200U. This suggests that the i3 CPU has sufficient power to perform well on office and multimedia purposes, plus light multitasking and some of the more demanding applications.
Both microprocessors have a decently low power consumption specified at a TDP of 15 Watts. This includes the integrate graphics processing unit (iGPU), CPU, and memory controller. They are both well suited for small notebooks and ultrabooks, say; 11-inches in size and above.
The configurable TDP-down of 7.5 Watts means that you can lower the TDP down to 7.5 watts to optimize your power usage. The option serves to reduce both performance and heat dissipation while allowing even more solid designs.
How they differ?
The only main difference between i3-6100u and i5-6200u (the mobile core i3 and core i5 U processors) is the availability of a turbo boost on the Intel core i5 U version. That's pretty much it. Of course this comes with the added option to configure your CPU TDP up 25 Watts for better performance.
Ideally, while both the i3-6100U and i5-6200U have a maximum frequency of 2.3 GHz, the latter (core i5-6200U) will boost up to 2.7 GHz on the same 2 cores or 2.8 GHz on a single 1 core if temperature limits allow it. This way, your core i5-6200U processor can give you up to 20% faster speeds.
Perhaps it's also important to note that the i5 has an obscure additional instruction TSX-NI which the other CPU lacks. This will come handy for multi-threaded transaction code like databases.
Final verdict
Given these few comparable advantaged that the i5 has over the i3, you may want to go for it. But then, it may mean a huge price difference which sometimes makes little sense especially if you are planning to use the computer on mere regular tasks like browsing the web and data entry as opposed to heavy gaming and running of heavy design programs and apps.
Notice that the Intel Core i3-6100U comes with 64KB bigger L1 cache which results in faster CPU and greater system-wide performance. It also boasts Tri-Gate transistors. This is Intel's advanced transistor technology that allows lower power consumption and higher speeds. So, consider both the price and the small differences and make an informed decision in light of these considerations.