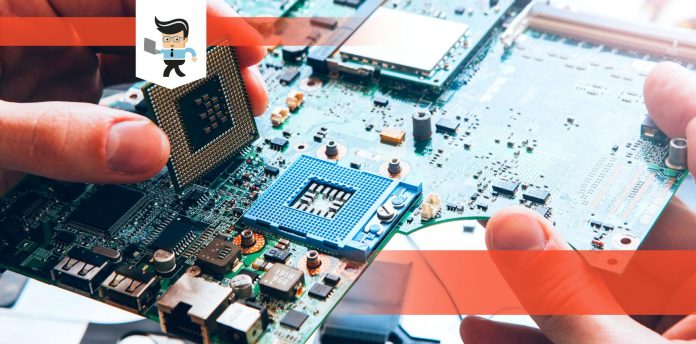 What is the best motherboard for Ryzen 5 2600? You can look at any message board across the internet, and you will see some pretty intense debates about it.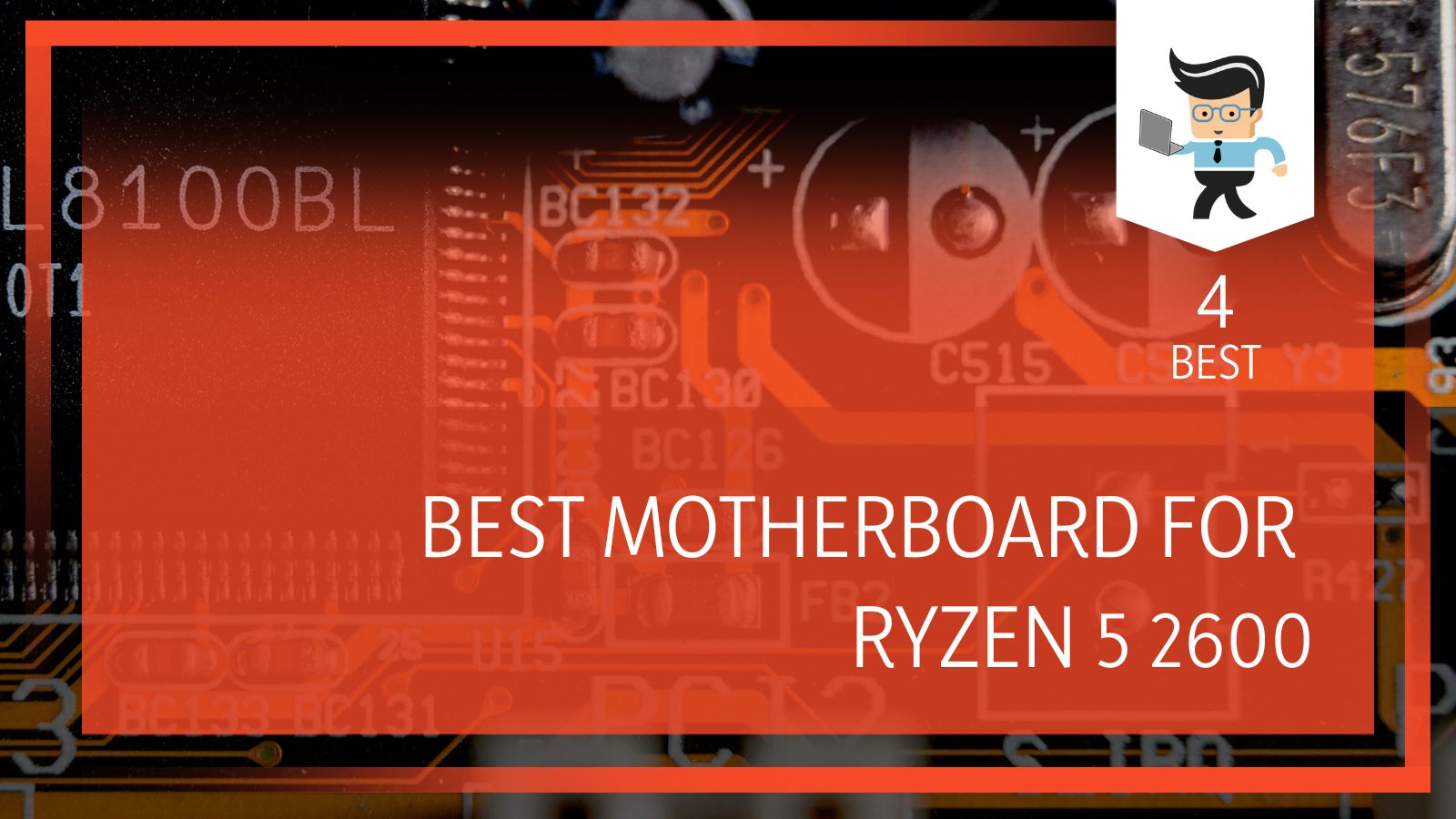 We've considered all the data and broken down the best options from our point of view.
There are a few different options, but we think these stand out:
Comparison Table
Keep reading to see our reviews.
What Is the Best Motherboard for Ryzen 5 2600?
We've gone over many, many AMD Ryzen 5 2600-supported motherboards and found these were the ones which will give you almost everything you need. You will see many familiar names on this list, and maybe even a few surprises.
Of course, you will have to do some of your own research, but with these reviews, you are well on your way to finding your perfect motherboard.
This board isn't going to push your Ryzen 5 2600 to its limits, so you won't be able to get the maximum overclocking potential out of it. However, it still delivers excellent performance. It's a good budget motherboard for Ryzen 5 2600.
| | |
| --- | --- |
| Socket |  AM4 |
| Chipset |  AMD B450 |
| Form Factor |  ATX |
| Voltage Regulator |  8+3 Phases |
| Video Ports |  (1) HDMI 2.0(1) DVI-D |
| USB Ports |  10Gbps |
|  (1) Type A, (1) Type-C5Gbps: (4) Type-A | |
| Network Jacks |  (1) Gigabit Ethernet |
| Audio Jacks |  (5) Analog, (1) Digital |
| Legacy Ports/Jacks |  ✗ |
| Other Ports/Jack |  (2) SMA Antenna |
| PCIe x16L (1) v3.0(1) v2.0 (x4) *shared with PCIEX1_2(1) v2.0 (x1) | |
| PCIe x8 |  None |
| PCIe x4 |  None |
| PCIe x1 |  (1) v2.0 |
| CrossFire/SLI |  2x / 4x |
| DIMM slots |  (4) DDR4 |
| M.2 slots |  (1) PCIe v3 x4 / SATA 42/60/80/110(1) PCIe v3 x2 / SATA 42/60/80 |
| U.2 Ports |  None |
| SATA Ports |  (6) 6Gb/s |
| USB Headers |  (1) 5Gbps(2) USB2.0 |
| Fan Headers |  (5) 4-pin |
| Legacy Interfaces |  None |
| Other Interfaces |  (2) RGB Header(1) RGBW Header(1) CLR CMOS, (1) TPM |
| Diagnostics Panel |  None |
| Internal Button/Switch |  None |
| SATA Controllers |  Integrated (0/1/10) |
| Ethernet Controllers |  Intel® I211AT |
| Wi-Fi / Bluetooth |  Intel Dual Band Wireless-AC 3168 card |
| USB Controllers |  None |
| HD Audio Codec |  Realtek® ALC1220-VB |
| DDL/DTS Connect |  None |
| Warranty |  3 Years |
This is a very good motherboard for Ryzen 5 2600, just to start. It won't perform as well as some of the more expensive models, but it does perform better than many of the other boards in this price range.
It has a fantastic memory when it comes to overclocking. You will be able to boot up many different games without experiencing crashes. When compared to other Aorus models, it misses the mark slightly when it comes to overall performance.

The Gigabyte B450 Aorus Pro delivers performance that is in-line with expectations when you think about price. You can tell that much of the price comes from other improvements, including good aesthetics, regulator designs, voltage controls, quality-of-life enhancements, IO improvements, and overall aesthetic design.
While I wouldn't consider this to be a high-end board, it is close. Just know that you may need to spend a bit more on a graphics card if you are going to use this one.
Broad connectivity; great aesthetics; decent performance; a good value for the price.
There are some OC limits due to the hardware; software isn't the best.
This is going to be one of the most gorgeous motherboard options you will have for Ryzen 5 2600. Of the list, it may be the best option for a motherboard for overclocking Ryzen 2600.
| | |
| --- | --- |
| Brand |  MSI |
| Series |  B450 TOMAHAWK |
| Item model number |  B450 TOMAHAWK |
| Item Weight |  2.91 pounds |
| Product Dimensions |  1.05 x 4.55 x 4.57 inches |
| Item Dimensions L x W x H |  1.05 x 4.55 x 4.57 inches |
| Batteries |  1 CR2 battery required. |
| Manufacturer |  MSI COMPUTER |
| ASIN |  B07F7W5KJS |
| Is Discontinued By Manufacturer |  No |
| Date First Available |  July 4, 2018 |
The MSI Arsenal Gaming AMB Ryzen 1st and 2nd gen is a good motherboard for Ryzen 1700 that will surprise you with how much value it provides for its price. It has an industry-leading six fan headers, which is what will help to make overclocking extremely easy.
Lookswise, this is a great motherboard if you are going to use a case that has glass or clear sides. It is really gorgeous. The gray heatsinks add a bit of luxury you wouldn't expect to find in this price range. The rest of it is a matte black that's sleek, nondescript, and silkscreened, which makes it more durable.
the VRM is quite decent, but you shouldn't really expect to get too much out of it at this price point. It is a better option if you compare it to ones that are similarly priced.
If you are new to building your own PC, this could be a good option for another reason: the flashing BIOS comes without the CPU installed, so you will be able to easily recover from corruption or bad BIOS flash. While this isn't to be expected, it is something you may want to plan for.
Another thing to consider is that there isn't a secondary M.2, which isn't a deal breaker (at all) but it might make the board less user-friendly for some builds.

As mentioned, the six fan headers really help with controlling the temperature of your system and motherboard. You will need to monitor it, but you can make adjustments fairly quickly with the software, which will be helpful in stressful gaming situations.
Looks absolutely beautiful; durable; great for beginners; good value for price.
No secondary M.2, doesn't have all the features some people need.
this is a solid motherboard for gamers who need some pretty good features and a mid-range price point. It isn't going to be the quickest board on the market, but it does get the job done.
| | |
| --- | --- |
| Form Factor |  ATX, 30.5cm x 24.4cm |
| CPU Socket |  AMD AM4 |
| Chipset |  AMD X470 |
| Memory |  DDR4, 4 DIMMs up to 64GB, up to 3600MHz+ with OC |
| Onboard Graphics |  Radeon Vega Graphics (Supported APUs only) |
| Discrete Graphics |  2-way Nvidia SLI or 3-Way AMD CrossFireX |
| Expansion Slots |  2 x PCIe 3.0 x16; 1 x PCIe 2.0 x16; 3 x PCIe 2.1 x1 |
| Storage |  1 x M.2 up to 22110 (PCIe X4 32Gbps or SATA III 6Gbps with Ryzen 1st/2nd Gen CPU, SATA III 6Gbps only with 7th Gen A-Series or Athlon X4); 1 x M.2 up to 2280 (PCIe 3.0 x2 16Gbps or SATA III 6Gbps, via AMD X470 chipset); 6 x SATA III 6Gbps (via AMD X470 chipset) |
| USB Ports |  4 x USB 3.0 (4 Rear, all from any AMD CPU); 4 x USB 3.0 (2 Rear (one Type-C), 2 Front, via AMD X470 chipset); 4 x USB 2.0 (4 Front, via AMD X470 chipset); 3 x USB 3.1 (2 Rear via ASM1142, 1 Front via AMD X470 chipset); |
| Networking |  Intel I211-AT Gigabit Ethernet |
| Audio |  Realtek ALC1220 with dual operational amplifiers |
| RGB |  2 x 12V G R B header; 1 x 5v Digital Header; Single Onboard RGB lighting zone (Rear I/O shroud) |
| Fan Headers |  7, all support 3/4 pin fans (1xCPU, 1xCPU_OPT, 1xAIO_PUMP, 1xW_PUMP+, 3xCHA) |
| Rear I/O |  1 x PS/2 keyboard/mouse combo port; 1 x DisplayPort 1.2; 1 x HDMI 1.4b; 5 x USB 3.0 Type-A (blue); 1 x Optical S/PDIF out; 5 x Audio jacks; 2 x USB 3.1 Gen 2 (red) Type-A; 1 x USB 3.0 (black) USB Type-C; 1 x Anti-surge LAN (RJ45) port; |
| UEFI |  1 x 256Mb UEFI AMI |
If you are looking for something that falls right in the middle of the market but is still quite a deal, then the ASUS ROG Strix X470-F Gaming AMD Ryzen 2 is going to be a really great choice for you, especially if you are a gamer. For this price, you get a sleek motherboard with fitted onboard lighting, RGB headers, and some personalization opportunities you won't find with other options.
For audiophiles, it has a good audio card, some added features, and enough slots that you won't run out. The SupremeFX audio hasn't been able to be replicated by any other manufacturer.
When this motherboard was released, it promised quite a bit and it was able to deliver on almost all those promises. It is a well-made piece of tech, with steel support slots that can handle two Nvidia cards and three AMD cards. It has six SATA ports, which will help for those who are always looking for better storage options. As far as overall performance goes, this is a gaming board, so expect some great performance.

Of course, there are going to be some problems here and there. There isn't a POST display, which may make diagnosing problems an issue for those who are new to building and maintaining their PCs. There isn't a reset option or a power button, which means you will have to handle things manually.
While the construction means you can do this and not have to worry about degradation, eventually, some will occur over the years. It also isn't going to be the type of board you really want to show off when you don't have the LEDs working. You can add your own, which will make it more impressive. Finally, it doesn't have any built-in Wi-Fi which may be a problem for some people.
For gamers, this is going to be one of the most powerful motherboards for Ryzen 5 2600 you'll find. There are added heatsinks which help with your overclocking abilities. You will still need to be careful, and I'd suggest you connect an external water-cooling kit (there are two jumpers to support it) to ensure everything stays cool.
Great core features come standard, good design (not great—you will have to add your own RGBs), cheap price point considering the features, and good performance for gamers.
Lack of audio shielding (not a problem for all people), fewer features than other models; somewhat boring without lights; doesn't have built-in Wi-Fi.
this is a great motherboard if you want to get something that is just going to work but not really be a showpiece in your gaming setup. If you want something low profile and simple, then you are going to get all of that here. There are a few problems, but we point them out, so you won't have to worry about getting something you don't want.
Most people who have been building their own PCs know that MSI is a good name that has offered some pretty high-quality builds. However, lately, they have been getting some bad press.
They've been able to undo some of the damage with the MSI Performance Gaming AMD Ryzen 1st and 2nd Gen AM4 M.2 USB 3 DDR4 HDMI Display Port Mini-ITX Motherboard. This is a much better experience than some of their other motherboards. It is simplistic and easy to use, but that doesn't mean it isn't powerful enough to game on as well.
There are many, many features that will keep you satisfied for a long time. It covers pretty much all the bases with the ability to reach high RAM speeds, two M.2 slots, fantastic Nihimic 3 audio, great Wi-Fi built-in, and Bluetooth options.
There is even a faster ethernet port, graphic slots, and some good lighting features. Now, the actual lighting that comes standard is very simple and probably won't be the best option for clear cases or those that show off the motherboard. You can buy accessories that will light up which will add some pizzazz to it.
As far as the design of this motherboard, the function was always going to be the main focus. Everything is supported and protected extremely well. The ports have been reinforced and have access to the cooling features.
The two M.2 slots are protected as well. One will use the CPU's PCIe 3.0 x4 connection and the other goes through the motherboard. There are three SATA ports, but you will lose one if you want to attach a PCI M.2 drive.

There is plenty of headroom here for overclocking and you will be able to do it fairly easily.
There are many slots; pretty good performance; some unique features come standard.
Very simple lighting, a pricier model for what it does, cannot build RAID.
What Really Matters When Choosing A Motherboard?
There are some things that matter when you are going to buy a motherboard and some things that really won't matter.
Certain manufacturers will prioritize certain things over others. For example, if you are looking for a gaming motherboard, you probably want one that will allow for more overclocking than one that is good for photo or video editing.
– Your CPU Is Very Important.
The CPU you pair your board with matters. For example, Ryzen 5 2600 will need something specific. You need to understand not all CPUs are designed for all motherboards, and you will need something compatible to make both purchases worthwhile.
– Size matters.
Motherboards come in three different sizes: mini, micro, and regular. You will need to think about the case you are using and what you need in terms of expansion slots. If you want as many options as possible, go for regular.
– You need to think about the ports, too.
The number of ports you have available is important, but it can be difficult to predict just how many you need or even what kinds you need. You want to ensure it has all the external slots that you need. When in doubt, max out on USB headers.
– RAM Slots differ quite a bit.
Most motherboards for Ryzen 5 2600 will have at least four available RAM slots, but you may need or want more. Mini motherboards may only have two.
The best of the best will have eight. If you need to have more RAM installed on your computer, you will want to get as many as you can. It really all depends on your usage. You should have enough with two or four, but your mileage may vary.
– Does Expansion matter?
Yes, you will need to worry about the expansion slots if you are going to game a lot, especially if those games are video or sound heavy. You can get away with only having one slot of each kind, but the more you can have, the better.
– What about Wi-Fi?
Most people who are building their own PCs won't really care about Wi-Fi because they are going to be using their ethernet connection as it is more stable. However, it may be something that matters more to some people than to others.
– Know Your Chipset!
The CPU you use will dictate what your chipset options are, not your motherboard. Even so, you will want to find a chipset that is also compatible with your motherboard. You may need to take overclocking into consideration.
– What about overclocking?
Overclocking is something people who game will want to do quite regularly. Most mainstream users won't need to worry about this capability at all. If you want to make your CPU faster than it is rated at, you will need to overclock.
This requires installing features that will work to cool your system. Make sure you know what you are doing. Take your cooling system seriously, and if you can, splurge on your motherboard so you can get the most out of your system.
– Do aesthetics matter?
Most people like things that look nice, but does that really matter on your motherboard? For the most part, no.
Unless you are going to display your computer in some fancy way or you are building something to record, you don't necessarily need to worry about the RGB lighting or the appearance. This also includes what the heatsinks look like, whether it is big or small, and even where some of the ports are.
Those are our options for the best motherboards for Ryzen 5 2600. You can start with those and then move up or down the price ranges if you don't see something you like. Even so, there are plenty of options here to keep you gaming for a long time. Just remember you may need to invest in some external gear or software to help keep everything going as it should.
Which one do you think you are going to test first?