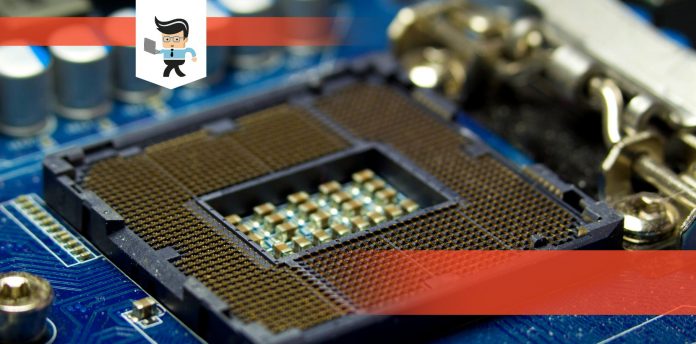 Choosing the best motherboard for overclocking is essential. It makes an IMMENSE difference in speed and latency when gaming. In this article, we'll tell you exactly which motherboard is right for your rig. How do we know? Because we tested each motherboard. Plus, we researched customer reviews to get the full scoop. Let's get to it!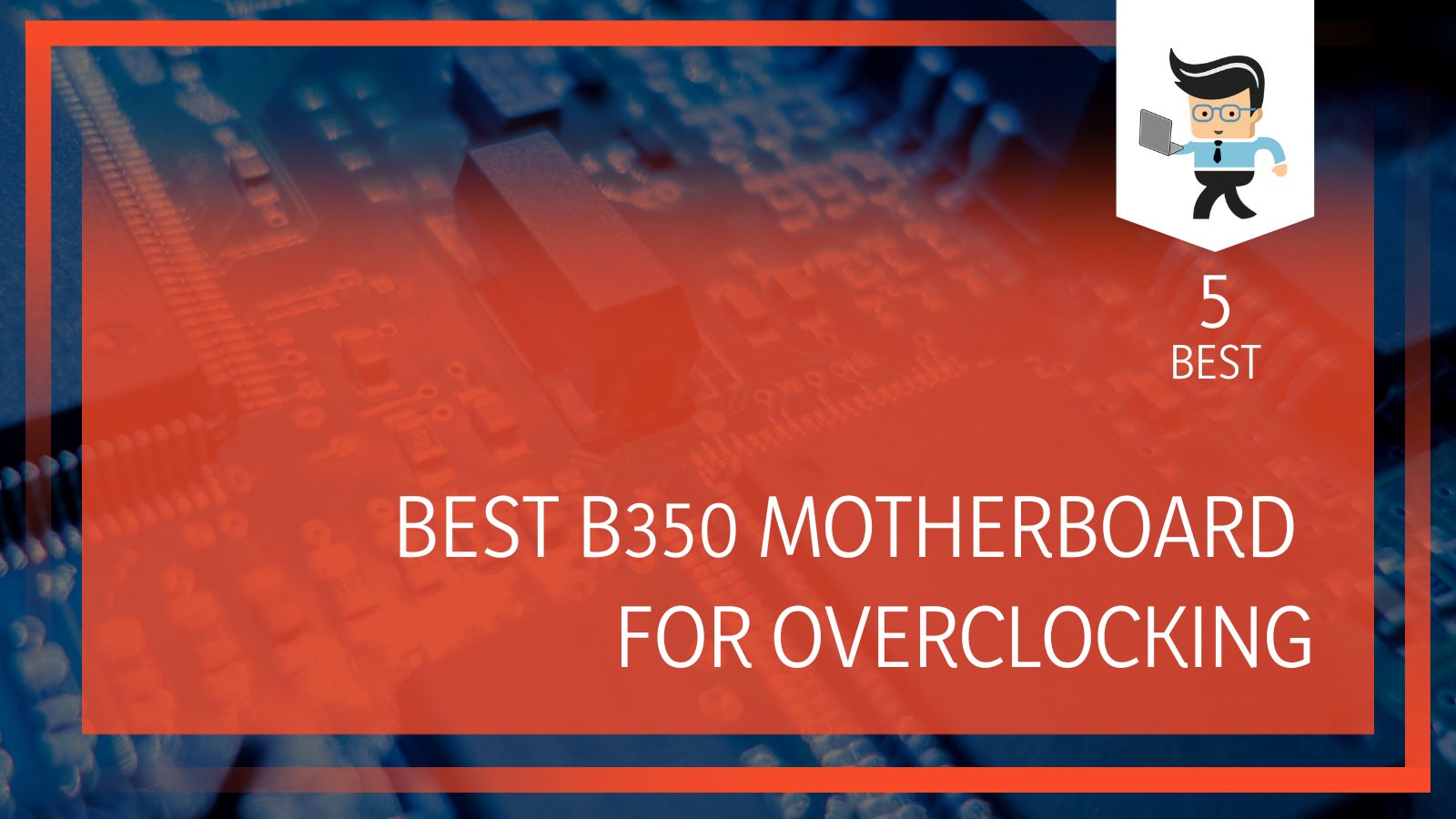 Remember that you don't only need a motherboard for overclocking. You also need a motherboard with up-to-date components that complement the Ryzen processors. Which brings you to the right place.
Here you can scour through some of the best motherboards for Ryzen processors. 
What is the

Best B350 Mobo for Overclocking

? Meet Our Contenders
We had to consider a few things when we looked at overclocking B350 motherboard options. Of course, overclocking is not your only concern as a gamer. You also have to look at performance and at other features such as storage options.
As such, we looked at the form factor, processor socket, PCIe ports, and price. 
Here's what we found:
Specs
ASUS Prime B350
MSI B350 Tomahawk
MSI B350 Krait Gaming
ASRock AB350 Pro 4
Gigabyte GA-AB350 Gaming 3
Supports AMD Ryzen™

Yes

Yes

Yes

Supports Ryzen Series CPUs 

Supports AMD 3

rd

Gen Ryzen™/2

nd

Gen Ryzen™/1

st

Gen Ryzen™

 

Supports 7th Generation A-Series/Athlon™ Processors

Yes

Yes

Yes

AMD Socket A-Series APUs

AMD B350 Chipset

Yes

Yes

Yes

AMD Promontory B350 Pro4; Supports Triple Monitor

Yes

AM4 Socket

Yes

Yes

Yes

Yes

Yes

Form Factor

ATX

ATX

ATX

ATX

Narrow-ATX

PCIe Ports

2 PCIe 3.0 x16, 2 PCIe 2.0 x1, 2 x PCI

1 PCIe 3.0 x16, 1 PCIe 2.0 x16, 2 PCIe 2.0×1, 2 x PCI

1 PCIe 3.0 x16, 1 PCIe 2.0 x16, 3 PCIe 2.0×1

2 PCIe 3.0 x16 (one runs at x4), 4 PCIe 2.0×1

1 PCIe 3.0 x16, 1 PCIe 2.0 x 16 (x4 mode), 1 PCIe 2.0 x 16 (x1 mode), 2 PCIe 2.0 x1

Multi GPU Support

AMD CrossFireX™

AMD Crossfire™

2-Way AMD Crossfire™

AMD Quad Crossfire™

2-Way AMD Crossfire™

SATA/M.2/U.2 Port

6/1/0

4/1/1

4/1/0

6/1/0

6/1/0

USB 3.1 Gen1/3.0/2.0

2/6/6

8 X USB 3.1 Gen1

2 x USB 3.1/USB 3.2 Gen1

2 x USB 2.0

8 X USB 3.1

5 x USB 2.0 

8 x USB 3.0 

2 x USB 3.1 

Memory Slots

4 x DDR4 (64 GB Max)

4 x DDR4 (64 GB Max)

4 x DDR4 (64 GB Max)

4 x DDR4 (64 GB Max)

4 x DDR4 (64 GB Max)

Support 3200+ (O.C.)

Yes

Yes

Yes

Yes

Yes

Audio

Realtek® ALC887 audio codec 7.1 CH HD Audio

7.1 Channel High Definition Audio

Realtek ALC892

7.1-Channel Audio

Realtek ALC892

7.1-Channel Audio, ELNA Audio Caps

Realtek ALC1220-based

7.1-Channel HD Audio

Power Phase Design

4+2

4+2

4+2

6+3

4+3

Networking

Realtek RTL8111H LAN controller

Realtek RTL8111H LAN controller

Realtek RTL8111H LAN controller

Realtek Gigabit LAN

Realtek RTL8111H LAN controller
Pros
AMD Ryzen processor maximizes speed and connectivity

Advanced fan controls for optimized cooling

Built-in LED lighting options that illuminate your build

SafeSlot core offers greater shearing resistance and stronger retention
Cons
OS sometimes freezes

Board does not have a reset switch
Asus is a brand name that you can trust when it comes to the B350 motherboard for overlock. The Asus Prime B350 Plus is no different. It's an excellent motherboard for gamers that will give you all the features you need. You get a mobo with reliable stability and compatibility, and superb performance.
Asus engineers the Prime 350 Plus motherboard with industry-leading 5X Protection III. This setup ensures component longevity and reliability, and the SafeSlot core protects the PCIe slots. The Asus Prime B350 Plus is compatible with more than 1000 devices and components. The brand tests each new model for at least 8000 hours to ensure compatibility and safety. 
The Asus Prime 350 Plus motherboard also offers superb performance. You'll speed up memory frequencies up to an unbelievable 3200 MHz with DDR4. You're also guaranteed the best compatibility.
Why?
Because ASUS works with almost every brand of DDR4 memory.
Another benefit of the Asus Prime is that it optimizes cooling. How? With Fan Xpert 2+ advanced controls. Fan Xpert 2+ has hardware-level 4-pin/3-pin PWM/DC mode detection. It also has onboard thermal sensors. It ensures that each fan attains the best balance of low noise and cooling performance. The RPM fixed mode allows you to adjust the fan speed and lowers noise to near-0dB silence.
With the Energy Processing Unit (EPU), you'll also enjoy system power savings. It maximizes savings with Away Mode, optimizes power consumption, and data transfers are ultra-fast. The backward-compatible USB 3:1 also gives you ultimate connection flexibility. 

Overview
The Asus Prime 350 Plus motherboard is excellent for its price range. It's perfect for gamers. You get a low-priced system that performs very well. Who can ask for more?
Pros
Board looks really good with the red lights and theme

Good overclocking performance with decent voltage accuracy

Well-equipped UEFI that retains key features from higher-end models

Rear IO audio ports are excellent compared to similarly-priced competitors
Cons
Some early B350 Tomahawks may require an older CPU to update

Mediocre RGB LED control
The MSI B350 Tomahawk gives users a delicate balance between style, functionality, and value. This standard-ATX motherboard has a comfortable, uncluttered layout. It also has strong overclocking capabilities and a low price point.
Some gaming enthusiasts may think that you lose when you buy a mid-range motherboard. If that's true, you don't lose as much as you may believe. Are you okay with four SATA ports, a single graphics card, and as many as fourteen USB ports? Then the B350 motherboard may be the best bet for you. And best of all, it lets you overclock.
This motherboard uses AMD's B350 chipset. Its design is for gamers and mainstream users. It helps you to create a system that doesn't quite need the extras found on the enthusiast platform. MSI has loaded the Tomahawk with features. For example, you get high-grade audio featuring de-pop protection. You'll also get Nahimic 2 software, dedicated PCB layers, and virtual 7.
MSI B350 supports two four-pin fan headers. It deploys four SATA Gbps connectors, which is a slim amount. Most competitors offer six. Still, it has all the essentials, like a PS/2 port, an HDMI output, and support for four USB 3.0 ports (three type A and one Type C). There's also the standard four RAM slots. The base RAM speed starts at 2666 MHz, but you can overclock it to 3200 MHz.
Users on a budget will be happy to know that the Tomahawk has an overclocking button. But you can only overclock through software. The disadvantage of this feature is overvolting. Your processor "overvolts" to ensure that it has enough headroom for stability.

Overview
The B350 is an excellent motherboard for gamers who want to crush their enemies. Its performance is stable, and this chipset is on par with other, pricier options. It uses mid-range Realtek hardware, which is standard for the B350 market.
Pros
Overclocking, price performance ratio

Bold black and white graphics

UEFI stability out of the box
Cons
UEFI needs some color

Board has issues overclocking past turbo speed
The MSI B350 Krait Gaming motherboard dominates. It's No 3 in the field for B350 motherboards for overclocking. The brand has the highest number of motherboards and the most high-quality boards. 
MSI has built this board with gamers in mind. The name says it all. The Krait B350 Gaming has many of the usual features, plus it boasts six fan headers. To meet gamers' needs, MSI went beyond design for the Krait B350. They built this gaming motherboard using the latest technologies for the best performance.
MSI has built this motherboard to accommodate certain airflow conditions that are more common in gaming PCs. Design decisions like that characterize the entire board.
You'll find the standard four slots for RAM, with 64 G.B. memory. You can do overclocking in the BIOS, and bring the supported speed for DDR4 from 2400 to 3200 MHz. This board has only four SATA III connectors, which is enough for most users. The inclusion of six USB 3.0 ports and one USB-C port means that you have plenty of peripheral options.
Overview
This motherboard delivers an outstanding gaming experience with lower latency. Krait also offers performance-oriented features such as Audio beast and Turbo M1. It lets you overclock with the push of a single button, making it perfect for gamers new to overclocking.
Pros
Low energy consumption

Small form factor for smaller builds

Supports all Ryzen 3, 5, and 7 processors
Cons
Limited power delivery

No HDMI display port
Offering exceptional performance, the ASRock Pro4 is an excellent motherboard for overclocking. This stable, straightforward motherboard is a godsend for gamers on a tight budget.

This board's small dimensions and low price point are deceptive. The Pro4 boasts many of the features that you can expect from a full-fledged board. AMD Quad Crossfire support, Dual M.2 slots, 7.1 channel audio, and USB Type-C are a few of the standout features. The ASRock AB350 also offers you a good number of USB ports (eight 3.1 Gen1 ports).
It's one of the best budget AM4 motherboards on the market with a B350 chipset, thanks to its overclocking performance with Ryzen 3 and 5 processors. The ASRock AB350 Pro4 undergoes rigorous testing during the development process, ensuring an exceptional performance that gamers will love. This machine offers an immersive experience without any compatibility problems. 

Overview
The ASRock AB350 Pro4 is for gamers who need a reliable motherboard. It's also the best choice for builders who want to spend as little as possible. Although it doesn't have any fancy features, it gets the job done.
Pros
Supports Realtek HD audio and HDMI 

Easy to install G connectors

Smart Fan 5 control
Cons
The intuitive and innovative Gigabyte GA-AB350 Gaming 3 motherboard is perfect for gamers. This motherboard is compatible with AMD Ryzen AM4 2nd Generation series processors and with Ryzen 1st to 7th Generation A-Series, Athlon X4 processors. The motherboard has 2-way multi-graphics supports. It also has enough slots to make your screen light up with vibrant colors. You get all these features without sacrificing anything.

The design connects everything to the motherboard and supports the cutting-edge features to cater to your gaming needs. A metal shield guards the PCIe slots. These slots are 3rd generation, and they make the fastest connection in and out of the system. They assure fast and HD gaming. The board also has M.2 expansion ports, along with PCIe NVMe and SATA mode support. The USB connectors are gold-plated and support USB 3.1 connections for both Type A and Type C modules.
The Gaming 3 motherboard is easy to overclock. But, full disclosure, the BIOS options are minimal. They use "offsets" rather than actual voltages.
Overview
Gigabyte GA-AB350 gives you high-end performance from a budget-priced board. It's ideal for gamers who want to overclock but don't have much to spend.
To Wrap Up
There you have it, our top overclocking B350 motherboard picks. Overclocking with the wrong motherboard will damage your computer. That's why we assembled industry experts to help us come up with these picks.
We found that the best motherboard for overclocking is the ASUS Prime 350 Plus, followed by the MSI B350 Tomahawk. We hope this list helps you find the motherboard for overclocking that's right for you.