Our mouse reviews have been carefully prepared to give you everything you need to know of the best options available in the market right now. As with all other computer peripherals, you can never be too careful when getting a mouse, especially as it stands tall as one of the most vital PC components for all users. 
Whether you want one for your office, smooth streaming, or gaming, mice give you easy solutions. Since there are many brands and models out there, this article sure helps to help you understand how mice work and what you need to know to get the perfect model for your rig. 
Best Mouse: Making Out the Perfect Fit for You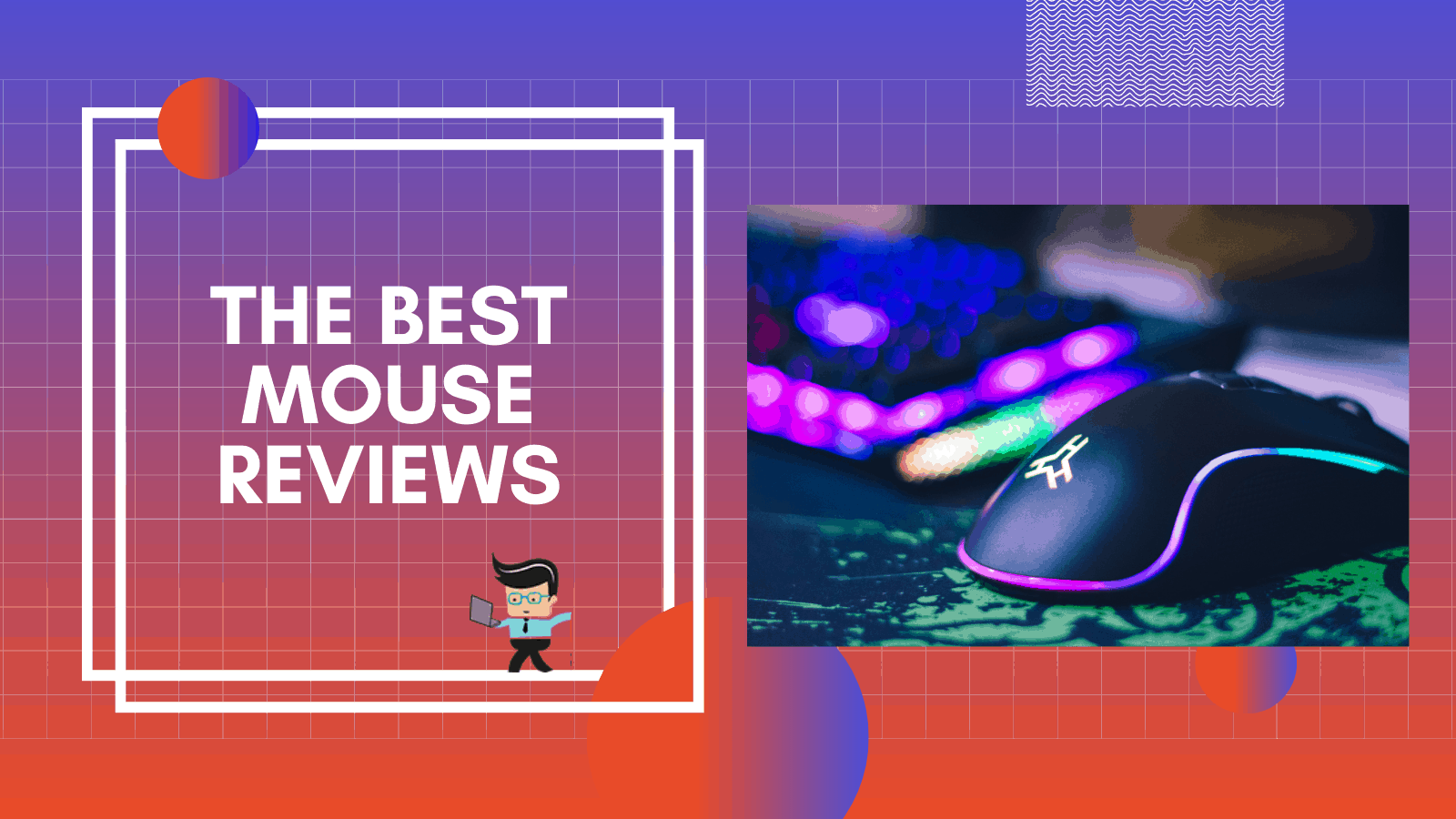 Many people need computer mice for different reasons, including playing games and deal with shoulder pains. With the best mice out there, you'll have the necessary tool needed to reach your full potential. Also, mice that won't hold you back and puts everything at your fingertips sure helps if you're an ardent user. 
For example, quality gaming mice will have snappy sensors and ergonomic grips. That way, you get that extra accuracy and response that could make the difference between victory and defeat in fast-paced games. 
Design is Everything
It's safe to say there's a mouse for every occasion with perfectly designed options. Many brands have become experts at churning out more than applicable mice models to suit all palms. Brands like Logitech and Razer make some of the best mice out there. 
RedDragon also offers some budget options to help more enthusiasts. They pack exquisite designs to help users do more than have some clicks. 
Making a Difference Where It Matters Most
Indeed, having a perfect mouse doesn't necessarily make you better skilled at what you do. However, if you're a gamer, you'll find that quality mice give your skills a chance to shine through. Whatever mouse you end up buying, you must find the best mouse for your style, aesthetic preferences, and budget. With that, you'll be more comfortable and practical with a standard mouse.
Ergonomics at the Forefront
Top-rated mice are mainly ergonomic in design and pack the latest features. However, many people still pay much attention to graphics cards, CPUs, or even PC cases. 
If you're one of those people, consider that the computer mouse is the only part of the computer you're constantly in physical contact with. It makes sense that you give thought to the one you want. 
Types of Mice for All Users
There are different types of mice sporting different designs and ergonomics. That's why one form factor can't fit everyone the same way. 
Here are some types of mice to consider:
Horizontal Mouse
It's a popular form factor because many users are familiar with the design. Mostly, it comes with a contoured dome shape for comfort. Also, it uses either optical or laser to track movement. A horizontal mouse remains the best option for productivity if that is the most important consideration for you.
Vertical mouse
As the name implies, this is a vertical computer mouse with primary buttons located on the side and users assuming a "handshake" position to hold it. 
Vertical mice don't give into twisting the wrist, which may cut down on your chances of carpal tunnel syndrome. However, this sort of mouse will take some getting used to, unlike many traditional mice options. 
Trackball Mouse
This mouse is a bit old school considering you've got more advanced options like the Corsair Scimitar that gives a competitive edge. A trackball mouse has a stationary base since users roll a ball to control the mouse cursor. 
This type of mouse is also known for using less space and mainly doesn't require wrist or arm movements to operate. As a result, it dramatically reduces the chances of RSI-related injuries in those areas. Moreover, the trackball mouse offers decent precision. 
Some tasks like cutting and pasting or drag/drop are more complex than other form factors.
Pen Mouse
Mind you, when you compare mice, don't mistake the pen mouse for a stylus. Instead, note that a pen mouse is a regular mouse housed in a pen form factor. That means you can hold the mouse like a pen or pencil, with very few wrist movements required to operate it. 
It's a viable option for people who suffer from wrist problems and can no longer operate a regular mouse. 
Productivity-Focused Mice Options for the High-End Users
Some users want a mouse for everyday work. Well, a wireless mouse, or a wired mouse, can offer a variety of options. Some of them can also fit the gaming category, even if they're small and sleek for your hands. Such mice prioritize speed over all other capabilities. 
On the flip side, you get other mice that come large and full of extra bells and whistles. Also, you can customize the perfect fit and weight for your hand. Overall, manufacturers will always design mice to give you an advantage anywhere you use them. 
Whether you want a corded mouse or other powerful options, you have to consider the following factors:
Size
Size is relative, but no one will appreciate a mouse that's too big or too small for their hands. That's why you have to make the right decision to fit your hands comfortably. If it's too large, your hands will not be rested in the right place on the mouse. 
Too small, and your fingers will have a clinched feeling coupled with a large gap between your palm and the mouse. Always check out the dimensions. 
Wireless or Not
When opting for a wireless option, it could be a Bluetooth mouse or one with in-built connectivity. Either way, a wired mouse will put a check on the clutter of more cables on your desk. However, it requires batteries to run and a USB receiver to connect to the computer. 
Wired options are still great, but as a disadvantage, wired options come with cables. That isn't very pleasant if you have to work outside your home or office. 
Form Factor

 
The form factor of a mouse often determines how comfortable and ergonomic your mouse gets. For example, traditional horizontal mice offer a nice feeling. Other options like vertical, trackball, and joystick mice will help to give you an incredible feeling, depending on what meets your needs. 
DPI Switch or Dots Per Inch
Mice with a physical DPI switch will let you easily adjust the sensitivity of the mouse cursor without any software. To that end, a high DPI setting means a more sensitive mouse cursor that responds to micro-movements of the mouse. 
For gamers, a mouse that supports an ultra-high DPI setting gives a more responsive feeling. However, there's a correlation between high DPI setting and carpal tunnel syndrome. 
With a mouse with a physical DPI switch, you get to dial down your mouse's sensitivity on demand, depending on the task at hand. 
Number of Buttons
It's not uncommon for almost every mouse to come with at least two primary buttons for left and right-clicking. Beyond that, some mice will give you more than ten buttons. Perhaps you'd need some mouse ratings to figure out the number of buttons you need. 
The fact is that ergonomic options provide benefits, including extra buttons you can customize without moving the mouse for some tasks. 
At least, if many buttons don't appeal to you, get a mouse with browser back and forth controls. Other than that, some MX and Logitech models come with up to 12 programmable buttons. That means tons of shortcuts and faster actions. 
Left or Right-Handed?

 
It's not uncommon to have many mice featured for right-handed people, though Trackball varieties are ambidextrous. That means it applied to both left and right-handed people. Besides that, many brands own up to the current trend of having ambidextrous mice options for many users. 
With an ambidextrous mouse, you can alter between hands throughout the day to operate it. As such, you'd be spreading out the workload between your two hands, which significantly reduces the chances of developing injuries. 
Further, being disabled on the one hand means an ambidextrous mouse lets you use your other hand to operate it. This feature is something to consider, although a right-handed mouse remains the norm across all brands. 
Would You Choose a Gaming Mouse Over an Average Optical Mouse?
That's a hard one, and you may need a mouse comparison that gives a head-to-head analysis of the best mice from the best brands to make a decision. 
Note that gaming mouse sensors are more responsive and accurate, and they also come equipped with more accessible and programmable buttons than average optical mice. That way, you won't have to fumble around with your keyboard or mice while you're on a roll. 
Conclusion
Getting the right mouse to suit your needs shouldn't be a problem with many brands out there. Then, of course, there are proven models from Logitech and others you can choose from. 
When you're in the market, observe the key factors to watch out for, and you're most likely to get the choice right. Whatever the case, ensure the mouse fits your hands and requirements. That way, there're few complaints in your way.
List Of All Mouse Articles