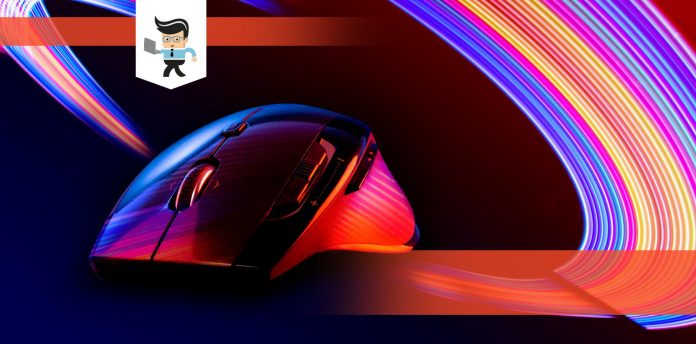 Two of the biggest gaming companies with their two best mice, the Logitech G502 vs. the Razer Basilisk. Both are some of the best their respective company has released over the past few years.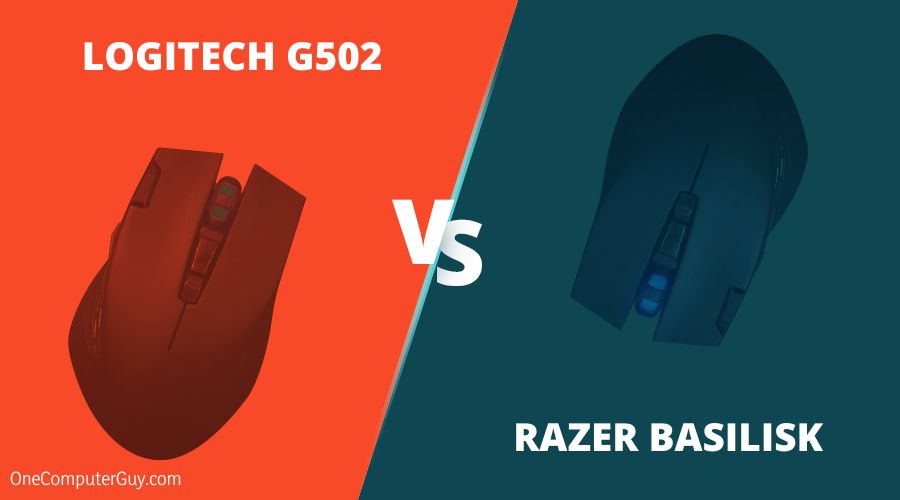 But how do they differ?
Here we will explain some of their best features and how they compare.
| | | | | | |
| --- | --- | --- | --- | --- | --- |
| Product | Wireless | Battery Life | Dashboard | Tuneable Weight | DPI |
| Logitech G502 | Yes | 48-60 hours | G HUB | Yes | 25,600 |
| Razer Basilisk V2 | No | N/A | Razer Synapse 3 | No | 20,000 |
Pros:
● Wireless
● Eleven programmable buttons
● Amazing sensor
Cons:
● Pricey
● Few lights
The Logitech G502 wireless mouse is top of its class. With tons of fantastic features, you can't go wrong choosing this mouse.
This mouse features eleven programmable buttons. You can modify it through the G HUB dashboard, and you can also use the buttons for in-game or macros on your desktop. This feature adds some excellent control to your computer from just your mouse.
A significant disadvantage to wireless mice is a dead battery. While the Logitech G502 is high tech, that doesn't mean the battery runs out quickly. With RGB lighting, the G502 can last for up to 48 hours. Without turning the lights on, it can go up to 60 hours. It comes with an ultrafast USB-C charger for quick charges between gaming.
Another drawback to wireless mice is that it lags. Many players avoid wireless mice because connections can fail. That is no longer an issue with the Logitech G502's sensor and receiver. The HERO 25K and wireless dongle eliminate the lag between mouse and computer.

The Logitech G502 is exceptionally lightweight. At only 4 ounces, it has no drag and is pretty easy to carry around. You can add 16 grams to the mouse to give it some sturdy weight. These weights come with the mouse and are simple to insert.
Pros:
● Lightweight
● Wired
● Razer mechanical switches
Cons:
● Few lights
● Razer Synapse can be buggy
The Razer Basilisk is easily one of the best mice Razer has ever released. It is packed with features and at a great price. It is a pretty easy choice for gamers looking for a lot of value.
This is one of Razer's lightest mice. The Razer Basilisk weighs only 92 grams and doesn't allow for extra weight. However, this may not be a bad thing because of its slip-free design. The cable is braided and slip-free, making this wired mouse feel wireless.
Just like the Logitech G502, the Razer Basilisk features eleven programmable buttons. You can manage these features from the Razer Synapse 3 dashboard. You can also set the color profiles here. These button assignments and colors can be loaded to the mouse's on-board memory.

A great feature of Razer is its mechanical switches. These provide tactile and quick clicks to the Razer Basilisk. They last about 70 million clicks and are covered under a two-year warranty. These witches never create double-clicking, so every click is precise.
The Razer Basilisk sensor is also a highlight. At 20,000 DPI, your mouse will move quickly and precisely. The Focus+ 20K sensor auto-calibrates, easily conforming to any and every surface. This sensor is easily one of the most accurate sensors today.
Comparisons
The main difference between Razer Basilisk and G502 is, Logitech G502 features unrivaled accuracy for a wireless mouse while Razer Basilisk is wired compared to wireless and the sensor is slightly slower.
Both of these mice have some fantastic features. Each offers a unique way to experience gaming. But how do they differ? Here we will compare some of their best qualities to determine which is the better buy.
– Value
Gaming mice can be expensive. That's just a fact of gaming. If you are going to spend a fair bit of cash on a mouse, you want a lot of value.
The Logitech G502's price is the highest of the two. It is a fantastic mouse, and the price is warranted. It's just a little more expensive than most. With the G502, users get a ton of features with that price tag.
The Logitech G502 is the most precise wireless mouse around. The HERO 25K sensor, eleven programmable buttons, and RGB lighting are just a few of its most outstanding features. The G502 packs so much into such a small package.
The G502 also won the award "Best Gaming Mouse" at the T3 Awards. The recognition is well-deserved. All of this is covered under a two-year warranty, ensuring you spent your money well.
A little cheaper than the G502, the Razer Basilisk V2 costs pretty much similar to other gaming mice. It has many of the same features that the G502 has, with some minor differences. The most significant difference is that the Basilisk is wired compared to wireless, which shaves some of the prices. The other big difference is the sensor, which is slightly slower.
Other than that, it features RGB and eleven programmable buttons, just like the G502. It is a great mouse that provides similar features for a lot less. This is what makes the Basilisk win this category.
– Sensor
This category is a little closer as both sensors are fantastic. Both have incredibly high DPI and unrivaled accuracy. They are some of the best that each respective company has released in the last few years.
The Razer Basilisk V2 features the Focus+ 20K sensor. This sensor has nearly 100% accuracy with no skipping or slipping. The max DPI for this mouse is 20,000, but you don't have to be playing at full-speed all the time. The Basilisk features DPI switches on the mouse to fine-tune your DPI to your needs.
The HERO 25K is a little bit more robust. This sensor maxes at 25,600 DPI and features unrivaled accuracy for a wireless mouse. During gameplay, you can switch to DPI using the switches on the mouse. It also does not suffer many of the issues that plague wireless mice.
Logitech G502's HERO 25K wins this category because it's simply more powerful. It eliminates many of the issues wireless mice suffer. This likely is what hikes up this mouse's price, but you get what you pay for.
– Handling
The dimensions of these mice are pretty solid. Both are amazing for every hand size and are incredibly comfortable. They are exclusively right-handed, though, eliminating a group of gamers.
The Razer Basilisk V2 is 5.12 x 2.96 x 1.67 inches, while the G502 is 5.17 x 2.96 x 1.62 inches. As you can tell, the difference is marginal. That's why one mouse doesn't win this category like the categories above.
Both provide optimal comfort because Razer and Logitech take great care to improve the ergonomics of their mice. It shows in these mice, as they are comfortable to hold, especially during long periods of game time.
Conclusion
It's hard to declare a winner in this case as both are fantastic mice. They both have unique pros and cons that set them apart from their competition. While the G502 is a little on the pricey end, it's a fantastic investment for your gaming rig.
The Razer Basilisk V2 is equally impressive. For a mid-range price, you get one of the best mice Razer has to offer. With the inclusion of Razer Synapse 3, it is entirely customizable to your needs. The Razer Basilisk V2 and Logitech G502 are must-haves for PC gamers.