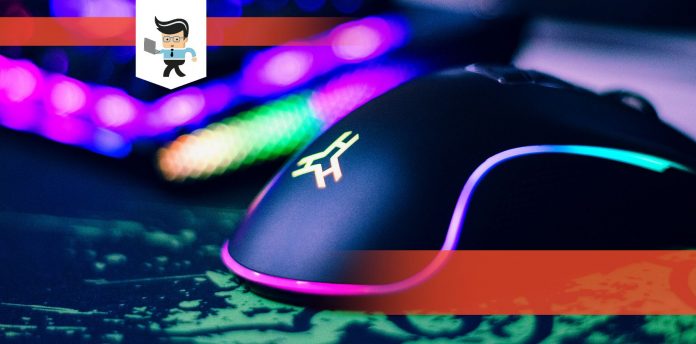 If you have a laptop and you are trying to make a choice between the Logitech m310 vs. m325, you might have some trouble just from looking at the specs. They seem pretty similar, and where one is strong, the other is weak in a few different categories.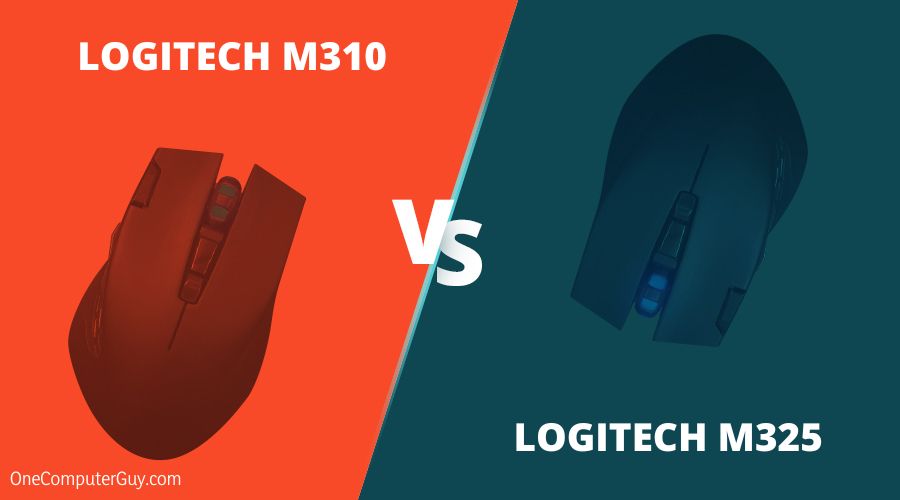 It can be hard to make a decision, but we think that we've broken down these two gaming mice enough that you should be able to make the best choice.
Sometimes, you will have specific needs for your mouse. If you are a gamer or you do a lot of work on your computer, you need a mouse that is truly special. If you travel a lot, you might want a mouse that is smaller and easier to take with you.
Continue reading to see our overall reviews and our comparison to see how they stack up to each other.
Logitech M325 vs M310 – Specs & Comparison
| | | |
| --- | --- | --- |
| | M325 | M310 |
| Weight | 3.28 oz (93 g) | 3.49 oz (99 g) |
| Sensor Resolution | 1000 | 1000 |
| Height | 3.73 in (94.7 mm) | 4.4 in (111 mm) |
| Width | 2.24 in (57 mm) | 2.4 in (62 mm) |
| Number Of Buttons | 5 | 3 |
The main difference between Logitech M310 and M325 is, the Logitech M325 has a better precise scrolling control, is smaller and more expensive, while Logitech M310 has a better variety of colors and patterns and is more suitable for lager hands.
When you are trying to choose between the Logitech M325 and the Logitech M310, the first thing you need to do is look at the specs, even if they don't really tell you all that much. Of course, most consumers will start with the price. The Logitech M325 is more expensive than the M310, unless you are able to get them on some sort of sale, which isn't all that often.
As far as design goes, they are pretty similar. They use the same types of curves and angles to help position your hand. They are good for those who use their lefts hands or their rights hands on the mouse.
The M310 tends to have straighter lines throughout the design, and there is almost a mesh-like texture on it. The M325 has a few more curves and a texture that raises up the grip. Both have a green light indicator that peaks through the scroll wheel hole. It helps you to see if the mouse is on or off. In terms of looks, we think that the M310 has a better variety of colors and patterns.
The M325 has a better precise scrolling control for web-scrolling, which makes it easier if you tend to read longer documents. The M310 isn't a bad scroller, it just doesn't allow for fine scrolls.
Both models have a USB receiver that is pretty traditional: you insert it into the laptop or desktop USB port and it works that way. This USB acts as a receiver. For battery life, the M325 lasts longer with about 18 months of use, which means you won't have to buy batteries all that often.
– Specs:
| | |
| --- | --- |
| Brand name |  Logitech |
| Model Number |  M325 |
| Weight |  3.28 oz (93 g) |
| Sensor Resolution |  1000 |
| Height |  3.73 in (94.7 mm) |
| Width |  2.24 in (57 mm) |
| Number of buttons |  5 |
| Battery life |  18-month battery life |
The Logitech M325 mixes together precision and comfort in the design. It is great for those people who need to scroll through large documents or longer web pages and need something that will scroll smoothly.
This isn't going to be the mouse that you choose for business or work unless you choose one of the tamer designs. It really stands out because there are so many colors and designs that you can choose from to make your desk a little more exciting. It also has a compact size that makes it great for traveling to class or on public transportation.
This isn't a world-class mouse and it doesn't have many bells and whistles, but it is a great option if you are looking for a more inexpensive wireless mouse with some personality. If you have bigger hands and you need more real estate, this probably isn't the mouse for you. It measures in at a small 3.73 by 2.24 by 1.54 inches (HWD) and only weighs 3.28 ounces.

Even for small hands, it will feel a bit small. However, it has some pretty great grip and is ambidextrous, so it might be a good fit for college students. It uses a single AA battery that should last for up to 18 months, or even longer if you turn it off when you aren't using it.
The receiver is small as well, at 1.8 cm long and with only 6cm poking out. It will work with almost any Windows computer. It comes with a three year warranty.
Great for left-handers and right-handers; great colors and patterns; compact design; good buttons; works on many surfaces; good scroll; unique clicking pattern
It takes some time to get used to the scroll wheel
– Specs:
| | |
| --- | --- |
| Brand name |  Logitech |
| Model Number |  M310 |
| Weight |  3.49 oz (99 g) |
| Sensor Resolution |  1000 |
| Height |  4.4 in (111 mm) |
| Width |  2.4 in (62 mm) |
| Number of buttons |  3 |
| Battery life |  12-month battery life |
The Logitech M310 is a great wireless mouse that many people will enjoy, including those who have bigger hands and feel like most aren't big enough for them. One unique feature is the zoom option that allows you to make the screen bigger, perfect for those who do editing or producing. It is also contoured and supports the curves of your hand so that you don't get fatigued.
The Logitech M310 is hand-friendly and has a good Nano receiver with an easy-to-use design so it feels good when you use it. The soft rubber grips will help those with sweaty hands. Unfortunately, sometimes the connection does seem to stutter and blink out, but it shouldn't be too much of a problem for most.
The dropouts seem to occur when the battery in the mouse is starting to die and you need to replace it, so it could be a good warning. Still, you get response curser control, ease of text selection, and some good scrolling. While the mouse is absolutely designed for those who are right-handed, it can work for those who are left-handed as well. The contours may take a little bit of time to get used to, but you will adjust.

It is a full-sized mouse, so anyone can use it. The M310 is small enough that you will be able to travel with it. It doesn't have as many designs or color options, but it is still a beautiful mouse.
The grips and design stay sharp after long-term use. As far as the battery life, you will get about 12 months of good usage thanks to the on-off switch and auto-sleep mode that help to extend it. The battery can be tracked through the green light or the performance, as we mentioned.
The mouse has a three-year limited warranty.
Full-sized mouse; good price; nan receiver; contoured shape for support; softer grips; can work with a unifying receiver
occasional stuttering and connectivity problems
Final Verdict & Conclusion In Logitech M310 v M325
it really depends on who you are and what you want to do with your mouse. There are some slightly differences that you need to pay attention to when you are picking between the two.
The physical structure and battery life of the M325 make it a great option for young women and college students who need to carry their mouse with them at all times. If you have bigger hands or you need to do more zoom-ins for editing and design, then the M310 might be the better option for you.
Both models have some great designs and work really well. You can't really go wrong, especially if you just need a more basic mouse that is good for internet scrolling and some basic computer work.
If you want to compare one Logitech mouse to another, you are going to pretty much get the same thing every time. They make consumer options that work really well but don't really break the confines of the market. You can trust that they will be good pieces of technology that do what they need to do. For gaming mice, there are certainly better options out there if you are willing to pay the price.