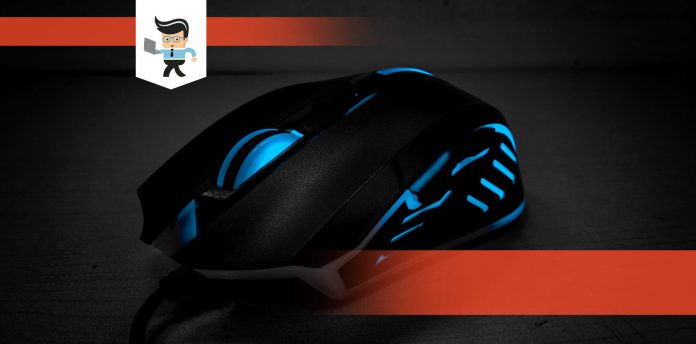 The best claw grip mouse out there exists and contributes to a number of functions like gaming and regular uses. There are different mouse types in the market that are often recommended to users based on their grip and hand style.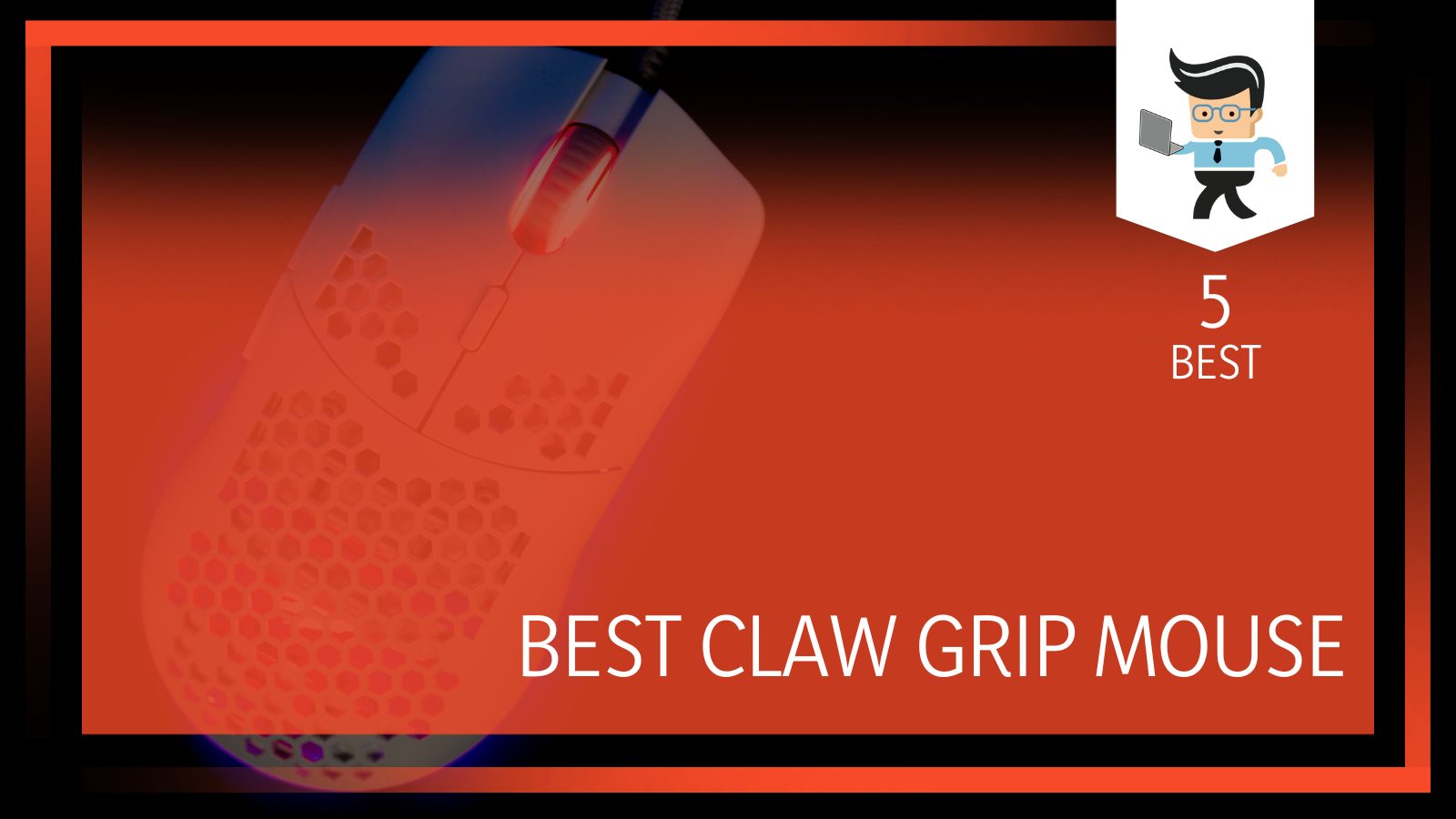 Of course, comfort is the main factor, and speed is not too far behind. In line with that, we have gone over thousands of devices to bring you this list and review of the top claw grip mice.
Follow us as we carefully review the devices one after the other.
Key Specifications at a Glance
Product 
Key Specifications 
DELUX M800BU

Connectivity: Wired
Buttons: Six
Max DPI: 16,000
Sensor: Optical

Fantech Basic X9

Connectivity: Wired/USB
Buttons: Seven
Max DPI: 4800
Sensor: Optical

Cooler Master SGM-2007-KLON1

Connectivity: Infrared
Buttons: Seven
Max DPI: 12,000
Sensor: Infrared sensor

NACODEX GTI

Connectivity: USB
Buttons: 14
Max DPI: 5000
Sensor: Optical

Bloody V7

Connectivity:
Buttons: Eight
Max DPI: 3200
Sensor: Optical
Best Mouse for Claw Grip: Here's How Our Top Five Picks Stand
If you're searching online for a new mouse to complete your rig or change your old one, you're faced with numerous options from different brands.
Well, it's pretty tough choosing the best, and when you add the condition of being a claw gripper, your choices are narrowed. Because of that, we have drawn up this list of the best grip options you can come across.
As a claw grip user, you need a mouse with a low-profile hump so that you have enough flexibility for movement. However, you might be on a budget, which means you'd have to consider what you're prepared to part with.
Our list and reviews contain five top mice. They're all different but spot little similarities with the most important: they're all claw-palm mouse options.
Check out what these five mice offer to claw grippers which are gamers or regular users.
Pros
Fast-paced with high DPI
Quality shape with an ambidextrous design
Lightweight
Lag and drag-free
Cons
The Delux M800BU claw grip gaming mouse is reminiscent of the Razer Viper shape and is similar to it in many ways. That's why many users and gamers go for this M800BU device if they can't get a hood of the Razer product. It has almost the same weight and offers a decent feature set and price.
Also, there may be wireless versions of this mouse, but this wired version gives you enough output. For instance, you get the lightest weight possible that's worth having among your rig. Its capabilities showcase it to be a credible choice.
– Design and Build Quality: Lightweight Smooth Coating
By now, it's pretty easy to point out how light the Delux M800BU is. It has a recorded weight of 58 grams, which is ultra-lightweight in hand, while the shell or casing has a smooth, hollow feel.
In addition, you get a matte coating that is also smooth to the touch with a little grain, coupled with a rubber-textured coating on the sides.
We already mentioned how the shape is similar to the Razer Viper's, but this one is a bit shorter and wider. We think that's a good improvement and will suit medium-sized gamers better than the regular Viper and Viper mini.
The M800BU feels better for claw or fingertip grips. There's also RGB integrated into the underglow of the mouse and logo. You'll find that the shell has minimal flex as well.
Note that the cable on this mouse is an ultralight weave cable, which lets you enjoy the drag-free experience you get on a wireless mouse. There's far less mouse fatigue due to repeat mouse movements.
– Buttons & Scroll Wheel: High Ratings
You get minimal pre-travel with a minor post-travel for the main buttons on the M800BU mouse. Both of them have a light actuation with sharp tactile feedback. However, there's o crispy sound.
The buttons are relatively quiet, with functional switches underneath, even though Delux doesn't state the brand of switches underneath. The buttons are rated for up to sixty million clicks.
We would compare the clicks on the six buttons on this mouse to the feeling on the Omron 50Ms switches.
The side buttons are not good, have a soft feeling, and don't have a lot of tactile response when pressed. The side buttons turn out to be the biggest weakness of the mouse, and we'd say if you have to rely on side buttons, we would not recommend this mouse.
The scroll wheel is excellent, tactile, and comes with w rubber coating over the wheel to promote good grips. It's well-positioned, and the middle click takes a medium amount of force and provides a satisfying click feel.
– DPI: High-end Resolution
The DPI on this mouse is one of its huge attractions and ranks as the best on this review list. It offers a high-end resolution and gaming-grade tracking engagement with the five gear DPI (400/800/1600/3200/5000) reaching up to 16000 DPI settings via the drivers. You also get a high refresh rate and overall durability.
For the onboard memory, you get the Memory Pro Software Setting with different sections for setting. With that, you can adjust the DPI, lighting, macros, mouse sensitivity, double-click speed, and much more.

– Overview
We will recommend this mouse for gamers that use the claw grip. Its ambidextrous shape is the ideal left or right-handers. You can also select macros and perform a whole lot of customizable functions.
Pros
Cool ambidextrous design
On-the-fly adjustable DPI
Awesome for claw grippers
Compatible with Fantech X9 software
Cons
Next on the list of mouse options for a claw gripper is the gaming mouse from Fantech. It's good enough to grace this list and the hands of willing gamers, even if it isn't from a popular brand like some of the mice here. It's affordable and comes with essential features users will need.
– Shape and Design: Simple Palm Fit
A mouse is designed to fit your palm, and this one from Fantech is no different. That's why it comes with a simple design that's contoured in a round shape so that users can grip it with ease.
You might have issues with the whole mouse both, though; it's made of plastic, which gives it that average feeling in your palms.
However, it's comfortable and designed to fit into the palm of your hand, reduces muscle tension, and comes across as great for long-time use and everyday use.
– Buttons: Nice Touch and Customizable
There are two additional programmable buttons on the left side of this mouse to further boost its gaming credentials. Underneath them, you get switches that feel clicky and give off a decent travel, too.
Even though the mouse is affordable for many gamers, RGB lighting is present, and you can adjust it using the Fantech X9 software.
In addition, the switches under the buttons mean you have a mouse graded for ten million clicks. That's good enough for a mouse in this price range.
What's more, the mouse has a six feet nylon braided cable attached to it. On the whole, you have seven programmable buttons you can choose to re-map also using the Fantech X9 software.
– DPI and Sensor: On-the-fly Adjustable
The sensor of this mouse uses an optical one that gives you about twelve adjustable DPI levels. To that end, you can use the DPI shift buttons to cycle between DPI levels ranging from 200 to 4800 DPI.
It has on-the-fly capabilities that can be saved for about six gears. The + / – buttons easily adjust X9 to match mouse speed to different scenes and actions in the gameplay.

– Overview
With the model name "Thor," this mouse is the perfect device for entry-level users. There's a Chroma RGB backlit, pointer precision, and enough wheel speed on the device. Overall, it's a solid and basic mouse for claw grip users.
Pros
Nice claw grip
Programmable and customizable options
Durable material
Top-notch infrared sensor
Cons
If you want a gaming mouse for claw grip that has enough responsive and accurate control, then this Cooler Master product is a big draw. It's not going to hold you back from having a great time playing games online or working.
You can get a drop on opponents using its comfortable and responsive design. Unlike so many small mice, this one weighs more than the average.
– Shape and Design: Durable Make
When you buy this Cooler Master mouse, you'll find the shape agreeable and fitting for your palm. It's very much on the comfortable side and boasts a shape configured with the best PBT material in the market.
That's why it's durable and comes rated for twenty million clicks via the OMRON switches and ALPS scroll wheel.
Those with claw grips will find it easy to hold with your palm staying rooted to the mouse and not sliding off. On the whole, it's styled to be a gaming mouse.
– Buttons: Program Your Functions
Buttons are an integral part of any gaming mouse, and this product has seven of them to boost your functions. You get an excellent actuation and even better feedback. Note that these buttons are suitable for claw grips and offer programmable features.
As a result, you can assign certain tasks to buttons you feel comfortable with. For instance, you get three-zone RGB lights fully programmable for customized lightings, buttons, and macros.
– DPI and Sensor: Adjustable Levels
You get infrared sensors that provide up to 12,000 DPI and infrared connectivity. It's a Pixart PMW-3360 sensor that provides pinpoint accuracy and on-the-fly DPI adjustments with four levels and four profiles.

– Overview
We'll go ahead and recommend this gaming mouse for users who want a nice claw grip and a durable frame. The infrared sensor means you have a fast base to operate from.
Pros
High number of programmable buttons
Reliable quality
Ergonomic shape and comfort
Multipurpose mouse
Cons
More suited to right-handers
If you want an ideal brand that offers above-average features, look no further than those mouse trim NACODEX. Its design is attractive enough, and you get capabilities that make them suitable for entry-level users.
It's also shaped to enhance the famous claw mouse grip. You have USB connection technology, about fourteen buttons, and dimensions suitable for various uses.
– Shape and Design: Full Modular Customization
A gaming mouse that starts things off caring for users' comfort is a fantastic choice. With this one, you get a comfortable and ergonomic design.
It's an MMO mouse that favors right-handers more and includes a frosted painting surface and soft rubber roller.
You will enjoy long-term use without fatigue that includes two hand-feeling modules to meet different gripping demands for various PC games.
There's full modular customization with the fourteen MMO-adjusted buttons, four interchangeable side panels, and a 3,9-button configuration. It also allows FPS, MOBA, PUBG, MMO, and other games.
– DPI and Sensor: Professional Mouse
As a professional gaming mouse, this product is designed to produce up to 5000 DPI. Users get six adjustable DPI levels to meet multiple needs for daily work or playing games.
There's also a 1000Hz polling rate, 20G acceleration, and high-precision PMW3325 Sensor. As a result, it gives you a greater edge over your competition.
It also comes with 16.8 million LED colors and eight lighting modes for easy switching and customization. Reliable quality and service is the name of the game, thanks to a twenty million clicks lifespan.
The 5.2ft five-core professional braided fiber cable has a magnetic ring USB connector that ensures greater durability and safety.
– Buttons: Assign Different Tasks
We know this mouse gives you fourteen buttons. You can program them for different functions or tasks. These buttons further boost users who are more comfortable with a claw grip mouse.

– Overview
We have gone through the features and capabilities of this mouse to note that it's best for those who intend to game with it. Even though it doesn't feel like an option for professionals, we think new gamers will appreciate its straightforward features.
Pros
You can adjust the report rate
Quality materials and controls
Sensor boosts mouse sensitivity
Wide compatibility
Cons
Lacks enough quality features
Bloody is a cool brand. At least, the name gives off the vibe of a serious mouse for different uses. We can also confirm that it has an attractive design and quality features those on a budget will appreciate.
– Construction: Quality Build and Design
The Bloody V7 has a sleek body design and matte plastic on all the parts that touch your hand. There are concave sides that let your right thumb and left pinky rest comfortably. Also, the USB cable is braided, which is a big advantage for users.
When it comes to lighting, only one red LED changes color when the mouse mode is changed.
With the kind of build here, it's obvious that this mouse is designed for first-person shooter games like CS:GO.
– DPI and Performance: Convenient and Comfortable
The Bloody V7 features as one of the mice for claw grip and is quite rich in features. You can adjust the CPI from 100-3200 CPI. Also, the report rate of this mouse is adjustable between 125/250/500/1000Hz using the Bloody 6 software.
Although this is an affordable mouse, there's a glossy plastic finishing on the sides. With that, you get an enhanced look, which gives it a premium feel. The grippy plastic panel on the left side offers you a decent grip while holding the mouse.
The mouse's cable is nylon braided, making it a durable gaming mouse overall. It also helps that the manufacturer offers a three-year warranty for this mouse.
– Buttons: Programmable Options
There are eight programmable buttons on this mouse, out of which two buttons are present on the left side. These buttons are easily reachable and give a nice and tactile response.
You also get a precise gaming optical sensor compatible with many top platforms out there, including Windows and Vista.
We like the convenient controls provided by the next/previous buttons when users browse web pages, play games, or work on different functions for a long time on their PC.

– Overview
The Bloody V7 mouse is the ideal gaming mouse with an attractive design and quality features at affordable prices. Its optical tracking technology provides enough sensitivity for standard mice for smooth and precise tracking on various surfaces.
Best Claw Grip Mouse: Mini Buying Guide
If you want a small claw grip mouse, you're not just going to head to the market and buy any available option that comes your way. Sure, a mouse is a small hardware component, but it's still an essential one.
It often comes with two more buttons that enable users to move the pointer on the screen. Even if you're okay with some basic features, gamers wouldn't be content to have 'basic' mice options to operate with. To that end, if you're a major claw grip handler, here are things to consider before selecting such a mouse.
1. Size and Shape
The first thing every user sees is the shape and size of the mouse. Those are obvious parts we come in contact with.
You have to check and observe that it matches your hand's size or palm. Choose a mouse that fits your palm so that it's easier to have a claw grip with your fingers. When you do that, your fingers will rest well on the buttons to fit a claw grip.
2. DPI/CPI
The Dots Per Inch is another consideration for a claw mouse. Since the cursor on the screen moves with your hand, you have to ensure the mouse you pick carries out your command to the letter or with precision.
The movement you make on the mouse depends on the optics and DPI inside it. You'll need a high-quality DPI if your purpose for getting a mouse is gaming.
3. Buttons
Are the buttons on the claw mouse you want programmable? How do they function effectively?
Depending on your level of gaming expertise and the games you play, choose a mouse with buttons necessary for your needs. For example, more buttons are handy for RPG, MMORPG games, and FPS titles. A lot depends on your preference, but fewer buttons on a mouse could lead to more problems for you.
4. Weight
The weight of a mouse is an essential part to consider for claw grip handlers. That's because you're using your fingers and your wrist to fit the aim and not your palm.
As a result, you get a lighter mouse which is much better, and you wouldn't have to expend much energy into moving it. Also, you use minimal effort to glide on the mouse pad.
5. Cable or Wireless
Do you prefer the feeling a wired mouse brings or the ease of working with a wireless mouse?
The fact is that many brands are turning to wireless technology, but if you're going for a wired mouse, ensure the cable is longer.
6. Durability and Texture
These are essential features, and they both help boost your claw grip on mouse. You'll need all the control and movement from any mice you choose.
7. RGB Lights
A mouse has many technical features that endear it to many users. However, RGBs can provide a different dimension to the mouse and user experience.
To that end, you can always pick a mouse with in-built lighting. Our review contains mice that offer two-zone and three-zone RGB adjustable lighting. You can program your buttons to activate those you assign for such lights.
8. Lift-off Distance (LOD)
This is the amount of distance between the mouse and the surface before it stops registering any movement. You can consider a mouse as having a bad LOD when it creates unpredictable movements than not.
9. Warranty
Some of the best mice here are products that have warranties. Brands like Bloody here offer decent aftersales services for the V7. A warranty helps you get a replacement if the device isn't up to scratch or gets damaged while in active use.
Frequently Asked Questions
1. What is a claw grip on a mouse?
The claw grip got its name from the kind of hold many users have developed while holding their mouse. It's designed to help gamers arch their hands with a hollow part of their palm having fewer contact points on the mouse, essentially forming a claw shape.
Also known as the fingertip claw, it's a useful technique that gives room for fast gliding and helps users control the mouse when moving rapidly. You can move faster back and forth across the screen during gaming.
Many claw mice out there are ergonomic in shape and offer a unique style you can fit your hand on. Your thumb will lie on one side of the mouse, while other fingers will stay at the top. That way, there's seldom any wrist strain, just a prolonged period of comfort.
2. What can a mouse with a claw grip do for me?
The claw grip has some handy benefits that can give your performance a real improvement. It will provide intense feedback on every click whenever you play engaging games.
Also, gamers will change DPI on-the-fly, without using any software or special push buttons.
In addition, some claw-inspired mice offer stronger grips to the user to help increase the level of accuracy and sensitivity on each click.
It's also designed to fit your hand and fingers so that it's easy to move the mouse around. Overall, getting such a mouse will improve your gaming experience with precise movements.
Claw Grip: Conclusion
After going through our list and reviewing the top five claw grip mouse options, we hope you can decide on the one you want. We have pointed out and discussed their essential features relating to performance and capabilities that can help you.
Also, there's a mini buying guide you can use for further purchases you might want to make in the future. Whatever the case, if a claw grip is your thing, these mice are perfect options you can choose from. We are certain you'd want to know our personal favorite as well.
Our review team sticks with the first product featured in this review – the Delux M800BU wireless gaming mouse. It's as lightweight as they come and stands out as a perfect choice for many claw grippers.
Moreover, it has the highest DPI of the lot and will help you improve your gaming and overall performance. You get excellent buttons, a scroll wheel, high-end resolution, and tactile feedback. Not to mention the shape and design that make it ideal for your claw grip style.