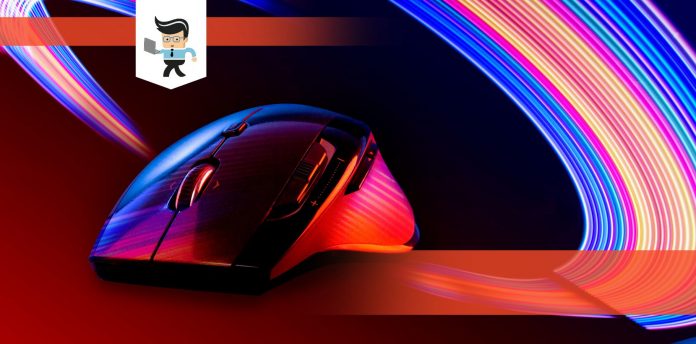 Logitech g502 hero vs. proteus spectrum is a comparison every enthusiast wants to see. The software, build quality, and performance of both mice represent real value. As such, either of them will give you desired results in real-time.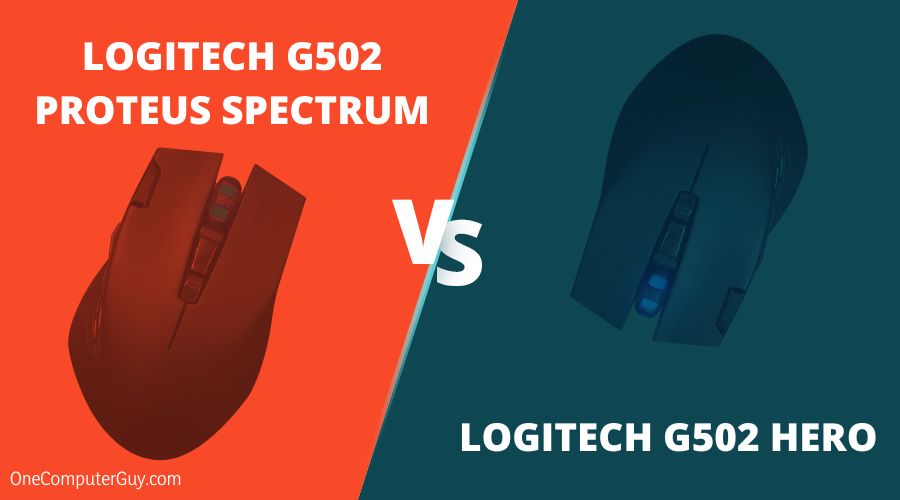 However, we want to provide you with an in-depth look into their features, capabilities, and drawbacks.
Logitech G502 Proteus Spectrum vs. Hero – Key Specifications at a Glance
Products
Key Specifications
G502 Hero

Max DPI: 16000
Sensor: Hero Optical
Connectivity: Wired
Buttons: Programmable

G502 Proteus

Max DPI: 12000
Sensor: Logitech Software
Connectivity: Wired
Buttons: Programmable
Comparing the Logitech G502 Hero and Logitech G502 Proteus Spectrum
Pros
• Beautiful and comfortable design
• Eleven programmable buttons
• Adjustable sensitivity
Cons
• Near-dormant RGB lighting
• Fit for right-handers only
If you're looking for a solid, excellent performing gaming mouse primed for personalization, this is it. It's an upgrade on its predecessor, the G502 Proteus Core. One of the key differences you immediately notice between them is the addition of customizable RGB lighting.
With such lighting options, the mouse gets a more sophisticated look. However, we must state that the lights don't add much. What you get is a comfortable mouse featuring eleven programmable buttons.
Besides, you can adjust the resolution to reach about 12,000dpi. The removable weights make it a big draw for most gamers.
– Wholesome Design and Features
Going further in this g502 proteus spectrum review, it comes with a matte finish on the body. The same finish applies to its left and right buttons. There's a glossy finish on the rest of the eleven programmable buttons, including the scroll wheel.
You get texturized rubber grips at both sides of the mouse, while the left side also features a comfortable thumb groove. This thumb grove comes with three buttons: Forward and Back above the thumb and DPI Shift. The latter helps you to switch between two resolutions in front instantly.
– Strong Build
The build of this mouse comes specifically for right-hand users. That seems to be a potential drawback for users. We don't have too many complaints about the DPI, though. On the mouse, you have two sensitivity adjustment buttons and the left of the left-click button.
They can be used to either increase or decrease the dpi. When you do that, expect the sensitivity level of the mouse to decrease.
Under the scroll wheel, you get two extra buttons. The top toggles friction for hyper-fast scrolling, while the one down allows you to switch between three gaming profiles. You can set that up using Logitech Gaming Software.
Also, the dual-mode scroll wheel is ridged. As such, you get precision scrolling and accurate clicks.
The g502 proteus spectrum release date doesn't just come after that of the g502 Core, but it's also a tunable mouse. You can always have weight changes depending on the spec you want to achieve.
– Top Quality Software
The Spectrum's sensor rates from 200 to 12,000dpi. While that's much on its own, we have to admit that nothing compares to those on other Logitech models. For example, the Mamba has a max DPI of 16,000dpi, while others reach around 20000.
It's possible to adjust this mouse's polling rates between 125Hz, 250Hz, 500Hz, and 1,000Hz. Another feature on this top mouse is switching between using customized profiles saved on the mouse's onboard memory. Also, you can or let the Spectrum automatically detect games on your computer and select them.
It's excellent for use on different surfaces, including a desk, mouse pad, or glass. To tune, load up the Logitech software and follow the on-screen instructions.

– Top-Level Performance
Thanks to their position, you'll find the preset DPI adjustment buttons require a bit more concentration to use effectively. Once that's clear, it's easier to reassign functions so that the mouse is more intuitive. You can use the mouse to play games and scroll through documents at incredible speeds.
If you're a right-handed gamer who loves a customizable mouse and the thrills and frills that come with it, the Spectrum will suit you.
Pros
• Excellent sensor
• Programmable buttons
• Adjustable weights
• Durable build
Cons
• A bit too narrow
The Logitech g502 sensor here is one of the reasons why this mouse is renowned. The sensor is excellent and made to compete with the best in the market. Other than that, this mouse doesn't boast the best designs.
Yes, it's sharp and has an angular look, but it's also for any gaming scenario. This model also comes with more buttons than your typical mouse.
– Nice Design and Appeal
This model descends from the previous G502 with most of its features. That means there's no much change on the outside. The build combines a matte black plastic used for the primary buttons and grip. There's also glossy plastic between the mouse's aesthetically different sections and on the extra buttons.
For the scroll wheel, we observed a shiny, metallic, and neatly notched button. It'll give you much-needed speed when you have to deal with voluminous actions. If faced with tones of pages or documents, reading becomes much faster. Overall, it's a sturdy design with hard angles to shape the mouse.
– Functional RGB
Another feature of the Hero mouse is the customizable RGB lighting for the DPI indicators and Logitech G logo.
These two lighting zones are smartly placed. That's why they're visible between your thumb and index finger when holding the mouse. However, the DPI indicators don't stay lit all through.
We have to state that this G502 isn't the most comfortable for larger hands. It's a little thin, while the side grips don't offer much traction. A claw grip works well enough, but we feel that a deeper groove and a softer rubber finish would have provided a more trustworthy hold.
– Durable, Well-Placed Buttons
The Logitech Hero comes with durable and comfortable buttons. To that end, both the right and left buttons' performance and longevity have increased from 20 million clicks to 50 million clicks. With those figures, you can click the buttons continuously for two years.
On the Hero mouse, uses also get a customizable scroll wheel that can be locked or unlocked depending on the need and circumstances. Besides that, the scroll wheel is comfortable while in use and comes equipped with two buttons. You can activate them by moving the wheel on either side.
We are very sure that this mouse was designed for shooter games. That's because two of the total buttons come intended for this purpose.
– Noteworthy Performance
The Hero mouse poses a reasonable 1,000Hz polling rate and 1ms response time. You'd expect that figure from a proper gaming mouse, along with an excellent sensor.
The Hero sensor offers flawless and supports a DPI range from 100 to 16,000. The Logitech g502 dpi will also respond well to hand movements and provide consistent tracking at max speeds.
The max speed will reach over 400 inches-per-second and max accelerations over 40Gs. You'll struggle to find a mouse of its ilk that offers this much.
We found that they're great at giving responsive clocks with little actuation force for the switches underneath the mouse. What you get is enough resistance enough to stop your resting finger from clicking.

The Logitech customization software is easy to use here. Since this mouse has many buttons, it's better to use this software. That way, you have a plan for all the buttons.
For example, if you're playing a game like Overwatch, you won't need so many buttons. On the flip side, a game like Rainbow Six Siege can benefit from having all your gadgets and movement options within easy reach.
If you want a great game performer for all times, this Logitech model will suit you. You get to make a lot of changes to it and enjoy the reliable Hero software.
Logitech G502 Proteus Spectrum vs. Hero: Head-to-Head
the main difference between Logitech G502 Proteus Spectrum and Hero is, Hero boasts better hardware overall and offers more accurate sensitivity compared to the Proteus Spectrum.
If you're still trying to figure out the difference between the g502 proteus spectrum and the g502 Hero, you don't need to worry. We have put together a little head-to-head comparison of the critical specifications they boast.
– DPI and Sensor
The DPI doesn't usually have too much control over how a mouse functions. However, it's still a key component if you want the best out there. To that end, the Hero stands out. Moreover, it is the most recent model of the Proteus Spectrum.
The dots per inch can reach about 16000 on the Hero Mouse. You can always take advantage of this increase to use your mouse efficiently.
As for the Sensor, we think the HERO (High-Efficiency Rated Optical) sensor takes center stage. With it, you'll watch your cursor fly widely across the screen. From our perspective, it's speedy.
– Performance and Customization
For performances, we rate the Hero from Logitech higher than its older model – Spectrum. What's more, it's easy to make changes to this mouse and its properties.
Users can tweak the buttons and other features to fit some roles. However, on the Spectrum, that's hardly the case. Many of its actions are preset and remain so.
– Buttons
The Hero features durable and comfortable buttons that guarantee the best performances and longevity. We mentioned that the right and left buttons rate at 20 million to 50 million clicks. They will work for a long time.
The scroll wheel forms part of the buttons and can be customized. You can go as far as locking or unlocking it when you want to. Two buttons further boost operations at the scroll wheel.
Conclusion
On the whole, picking a winner in this Logitech mice comparison has never been this easy. They're two winning mice bit they're essentially different, especially when it comes to crucial specifications.
Again, the Hero is simply a newer version of the Proteus Spectrum. We think that it boasts better hardware overall. That makes it a go-to option for many gamers out there.
The Hero g502 mouse offers more accurate sensitivity to your DPI settings, as well as being more responsive. You can always get it to add precision to your gaming rig.