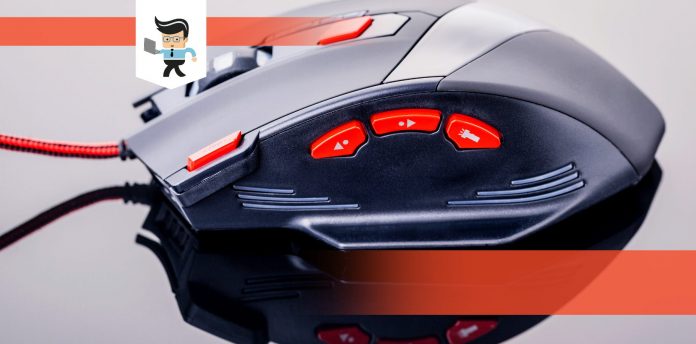 Using a white computer mouse as a critical peripheral for playing games is an easy decision. However, finding the right one isn't all that straightforward.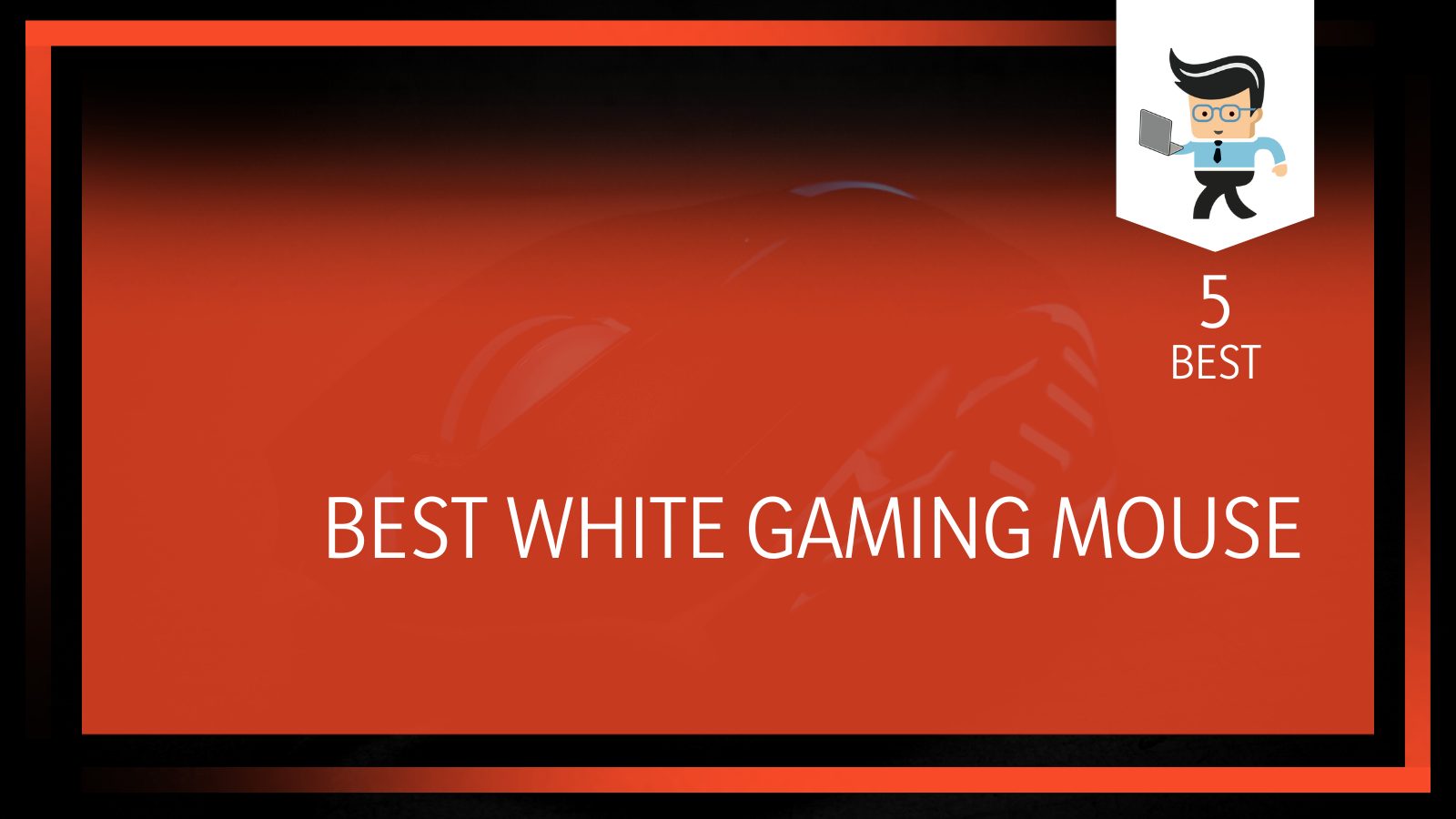 For this reason, we've done a bit of research to produce this review of the best out there. We'll examine what they bring to the table in terms of features and what holds them back to help you determine which model is most suitable for your gaming style. Read on!
Key Specifications at a Glance
Best White Gaming Mouse: Our Top Picks
Finding the right gaming mouse from the vast number of options available presents a tricky proposition. It takes a lot of know-how, particularly if you're new to gaming with a mouse.
You'd have to consider some factors starting from the not so important to very important. For example, a mouse's color shouldn't matter.
On the other hand, the sensor's quality, arrangement of buttons, and wired/wireless type matter a lot. These details will have a significant impact on your experience and a say on whether you remain competitive.
Some mice have exaggerated functions and capabilities indeed. We believe that's one of the reasons why you're reading our review. This is one article you can't miss out on in your bid for the perfect white mouse. Let's get things started with the top five.
Pros
• Comfortable design and grip
• Durable build
• Great at for gaming
Cons
• No support for synapse software
You've probably heard of the Razer brand. It stands tall as one of the best around with a superb lineup to show for it. The DeathAdder Essential is one of the models to reckon with. Just like the name suggests, it's fast and deadly good for gaming and performing other tasks.
– Build Quality
The DeathAdder Essential is predominantly made of hard plastic, thus making it a comfortable mouse to use. However, the recessed rubber scroll wheel does well to offset the plastic. On the side, you get some nicely textured finishes that increase your comfort levels. Besides that, two clicky side buttons are easily distinguishable when using the mouse. That's because they have a smooth, shiny finish.
With the hard plastic, you get a brilliantly weighted mouse that feels as heavy as you want it to feel.
– Top Performing Mouse
The truth is this mouse was designed for gaming and other daily tasks. For the former, it works a treat considering it features a 6400 DPI sensor. Moreover, it is wired, which means it's both quick and latency-free.
The 1.8m braided cable means there's plenty of lead to help you perform sweeping movements across the desk. Also, the latency-free connection makes it a joy to use. Other than that, it'll work very well for FPS games. The DPI sensitivity is perfect, courtesy of the PixArt PAW3328 sensor.
If you're going to jump around corners to extinguish enemies or gain some advantage, the DeathAdder Essential has you covered.

– Software and Lighting: Colorful Movement
We noticed that there's a glaring lack of support for Synapse. As such, lighting options are limited. Also, you won't find the Chroma lighting software here. That limits the lighting with only the green lighting it features being the standard.
If you want a simple mouse with all the necessary features to help you play engaging games, this is the one for you.
Pros
• Built for gaming
• Sensitive sensor with high DPI
• Programmable buttons
• Good memory
Cons
• Moderately strong
This white RGB mouse represents a perfect match for gaming computers. The fact is you could do with a sensor that has a very high DPI sensor. To match, you've got up to seven programmable buttons for MMO controls. What's more, this mouse comes fairly ergonomic to hold in hand.
– Design: Unique and Easy on the Eye
A closer look at the M602's design shows it was based on fitting into anyone's hands. We believe Redragon met this need thanks to a thumb grip and right side grip. Those are popular design choices for many companies for good reason. It's one of the most comfortable designs to use.
On the left side of the mouse, you'll get a unique groove that curves with the mouse's grip. You'll get the right kind of feel when it sits between your pinky and ring finger.
If you have big hands, the M602 RGB mouse will be great for you. However, it doesn't rule out smaller hands from gripping and using it.
At the bottom of the mouse, you get a Teflon material, a popular part of many mice. With it, gliding and sudden movements are simple.
– Buttons and RGB: Programmable Options
On this mouse, you get a total of seven buttons to play with. There are the Left/Right mouse click, middle mouse click, two DPI buttons on top, and two thumb buttons on the side. It's normal for top brands to include a thumb button.
The best part about these buttons is that they're all programmable to your liking. The RGB lights come across as lovely and light up the trim around the mouse and Redragon logo.
Working Software

The software comes from Redragon's official website. You can always get it so that you can set up five different profiles. They include DPI settings, lighting colors, programmable buttons, polling rate, and double-clicking speed.
On a final note, this is an ideal mouse for gaming that boasts an ergonomic design and customizable settings. If that's what you're into, get this Redragon M602 RGB mouse.
Pros
• Ergonomic build
• Wired/USB connection
• Lightweight build
• Gaming-grade sensor
Cons
• Fragile side materials
With the Cooler Master MM711, you have a direct and better successor to the MM710. It comes with a series of quality improvements such as lightweight chassis and precision sensors from PixArt. Again, there are the Omron switches for the buttons.
With these two and a solid construction and quality RGB LED lighting system, it's one of the best out there.
– Design
The chances are that you've come across all sorts of designs and build on gaming mice. The M711 Cooler Master uses a simple design but is one of their best mouse offerings to date. Perhaps the size could have been a bit bigger, but it's a high-quality gaming mouse.
It has a honeycomb design that offers a comfortable grip with the palm and claw alike.
Performance and Buttons: Highly Receptive to Touch
The MM711 is extremely good since and comes with a professional-grade Pixart PMW3389 sensor. As such, it offers a smooth gaming experience.
You can have all the precision and game-changing movements without hassle. Also, it comes with the quality Omron Switch which is another reason to consider this mouse.
It's a white lightweight gaming mouse and probably the lightest here. It weighs less than 60 grams with a coating providing a comfortable and efficient grip. The DPI is customizable from 400 to 16,000 DPI.

As a result, it allows you to select any DPI profile that suits your gaming experience.
There's a good scroll wheel here, along with the left and right mouse buttons. You also get a dedicated button to customize the DPI settings and two additional programmable buttons on the left side. They're all present to give you the best gaming experience. Moreover, cute RGB lights are current here.
If you want customizable RGB lighting coupled ergonomic design that offers longer and fatigue-free gaming sessions, the MM711 is for you.
Pros
• Strong and durable construction
• Extremely lightweight
• Intelligent and sensitive control
• Ambidextrous with low latency
Cons
• Tight cable
Ambidextrous mice aren't all that common. If you get a good one that strikes a balance between the left and right, don't hesitate to keep it. To that end, the Corsair M55 RGB Pro wired mouse represents a rich class of mice.
– Design, Buttons, and Comfort
This mouse has a far superior DPI count that reaches 12,400 compared to its predecessor's 8,000 and other mice. Also, it has an awesome but understated design. Its matte shell gives off a good grip and boasts a rough surface that gives an improved sense of control.
With the side grips, we were only a little impressed. These are made from rubber, but they go about their jobs in the right way. It all feels like a cheap material covering something worthwhile inside.
The right-hand side buttons will get disabled if you're using it right-handed and vice versa. As such, there's no danger of accidentally hitting something you shouldn't. Similarly, changing from right to left-handed mode is straightforward. Just hold down the same programmable buttons.
Everything combines well to give you an incredibly smooth glide thanks to its 86g weight and varying CPI settings. Gong from 200 to 12,400 is like a sports car doing 0 to 120 within seconds. It's that fast.
– Customizable Software
We have to admit that this mouse isn't designed with tons of tweaking in mind, but there're options if you want them. Also, the 900MB install for the Corsair iCue software feels too much for just a mouse. However, it will provide customization options for any Corsair product you have installed.

– RGB
On this M55 mouse, you can also tweak the RGB lighting of the logo and DPI indicator. You'd like that, especially for the DPI indicator, which is useful if you want to cycle through sensitivities mid-game.
Have you got lightweight, essential features and customizable capabilities in mind? Pick this mouse and get gaming already.
Pros
• Lightweight build
• Ultra-fast Lightspeed wireless tech
• Durable battery
• Hero gaming sensor
Cons
• Lacks RGB
If you're searching for a white wireless gaming mouse, you've hit the jackpot with the Logitech G305 Lightspeed. For a name like that, feeling it is super-fast isn't out of place because it is.
– Enhanced Design and Great Comfort
The Logitech G305 Lightspeed is wireless but noticeably light. It only weighs 3.49 ounces. To put it in perspective, it is lighter than the 3.74-ounce Razer Mamba Wireless mouse. That gives you a lot of leverage to push it around, especially in complex gaming scenarios.
The short height of this G305 will be more noticeable by those with larger hands. They'll want an equally large grip for more comfort and performance. However, we feel like anyone could put this mouse to good use.
There's no RGB light here, and that doesn't impede the performance of this mouse. Besides, it comes in different unique colors you'd like. For some form of light, you have an LED below the scroll wheel. It changes colors when you toggle through 4 CPI settings via the dedicated CPI button.
– Wholesome Buttons and Customization
This Logitech wireless mouse comes with six programmable buttons. You get the left and right-click buttons; a CPI adjusts south of the scroll wheel, scroll wheel, and two side buttons. If you're a righty, the two side buttons are conveniently placed and easy to reach.
We noticed that the side buttons aren't swappable, so this mouse leans toward right-handers despite its more ambidextrous shape.
– Top Gaming Performance and Sensor
If you're primarily concerned with playing first-person shooter (FPS) titles like CounterStrike: Global Offense and Rogue Company, a well-built mouse will help. Thanks to Logitech's proprietary Hero sensor used in the G305 Lightspeed, you can game without hassle.
The sensor here comes specced for a sensitivity range of up to 12,000 CPI. While that's lower than we've come to expect on top gaming mice, 12,000 CPI should be sufficient. Also, the Hero sensor can hit a max velocity of over 400 IPS (inches per second) and take about 40G of acceleration.
We also noticed that you could use the G305 Lightspeed without any software, especially since no RGB control. However, if you want to program the G305 Lightspeed's six programmable buttons, you'll need to download Logitech's free G Hub software.
That app will help you set up and store game commands in the mouse for any PC. You can put that down to the mouse's single onboard memory profile.

– Moderate Battery Life
Sadly, the G305 Lightspeed isn't rechargeable. Perhaps that's not why it is an outright best for white mice. For a mouse with great features, that's a downside some gamers can take personally. However, it won't affect your gameplay.
Instead of a rechargeable battery inside, the G305 Lightspeed uses a single AA battery. According to Logitech, you can get up to 250 hours of gaming off one battery. In comparison, that's way more than the 50 hours some other wireless mice claim to have.
If you want a battery reading, you can get that from the G HUB software. At least, there's an LED under the scroll wheel, which flashes red when the battery's dying.
The Logitech G305 Lightspeed will give you a light, fast, and sleek gaming mouse. It packs a high-end sensor in a responsive, tether-free mouse designed for gaming.
White Gaming Mouse: Buyer's Guide
How do you choose the best white mouse for gaming? That's a question that will generate a lot of hits on search engines. People want to know whether such a mouse is different from a regular one or has more to it.
The main difference you get is that a gaming mouse is much more sensitive and more responsive than a regular one.
Also, gaming mice generally have more buttons than normal mice. In the same vein, a gaming mouse is also more ergonomically friendly. That way, you can play for long hours without hurting your wrist.
Those are critical differences between a gaming mouse and a regular one. Now, we want to help you get a white mouse that stands out with gaming qualities. As usual, there're many great options in the market. That makes it a bit difficult to settle for one. Moreover, with a brand like Razer, Redragon, and Logitech ruling the roost, you have tons of options.
Before making a final decision, consider some essential factors outlined below.
1. What's Your Grip?
Knowing your grip simply means knowing your hand's comfort level while using the mouse. If you're serious about getting a gaming mouse, consider these grips:
• Palm grip.
Many gamers and general users employ the palm grip when using their mouse. With it, your fingers lay flat on the mouse buttons while your whole palm rests on the mouse's body.
• Fingertip grip.
Here, only the tips of your index, middle, and ring fingers get placed on the left, center, and mouse buttons. Your palm won't touch the body of the mouse at all.
• Claw grip.
It's more like a combination of the palm and tip grip. Here, your palm rests only on the back edge of the mouse. Your finger and thumb tips are angles inwards to the buttons.
2. Wired or Wireless
Whether you're after a white MMO mouse or something different, it's up to you. They both have their advantages and disadvantages. For example, wireless mice means you're not going to get tangled wires. However, they rely on radio waves to transmit the signal to the receiver, adding an element of lag to the cursor.
Some options give you a lag-free performance, though.
For wired mice often have the fastest response of them all. You'll hardly get issues with lag and wouldn't have to worry too much about charging them.
3. Customization and Software
Many dedicated gaming mice come with their PC software. Sometimes, you get a stand-alone package or a "suite" with compatibility to combine with other gaming gear like keyboards and headsets.
With gaming software like Hero, you get to set up the lighting profile, customize button assignments and set DPI options. That way, you get to achieve precise tracking and faster movements. Advanced white mice will let you make adjustments on the fly.
The latter is significant since it allows you to change the mouse's sensitivity for faster or more precise tracking, and some more advanced mice will even let you adjust this on the fly with mouse buttons.
4. Ergonomics and Comfort
No two persons have the exact preference for peripherals like mice. For example, some prefer a handy mouse with a customizable appeal. Others want something very light and zippy across any surface. Whatever the case is, go for a mouse that gives you a comfortable feeling.
You're the one going to use the mouse to play games. Don't settle for what fits other individuals and makes you uncomfortable.
Frequently Asked Questions
1. How can I keep a white gaming mouse spotless?
White mice present a color that's somewhat prone to dirt. That doesn't mean they can't be cleaner. Firstly, unplug your mouse from your computer and take out any batteries. Secondly, get a little dampened microfiber cloth. Use it to wipe away any grime or dirt gently.
The third thing to do is use a dry microfiber cloth to remove any moisture left from the initial steps you've taken.
2. How can I change the DPI on a white gaming mouse?
Sometimes, a gaming mouse might lack accessible DPI buttons. If that's the case with yours, simply launch the mouse and keyboard control center and select the mouse you wish to use. After that, select the basic settings to locate the mouse's sensitivity setting, then make your adjustments accordingly.
Conclusion
All in all, these mice featured here are excellent options if you are serious about white gaming peripheral. They all pack great features such. Quality sensors and available DPI's to keep your mouse fast and sensitive. That way, you stay ahead of the competition.
For our review team, the Logitech G305 Lightspeed mouse takes top marks in this review. It's super-fast, lightweight, and has customizable features that will help you make the most of your gaming sessions.