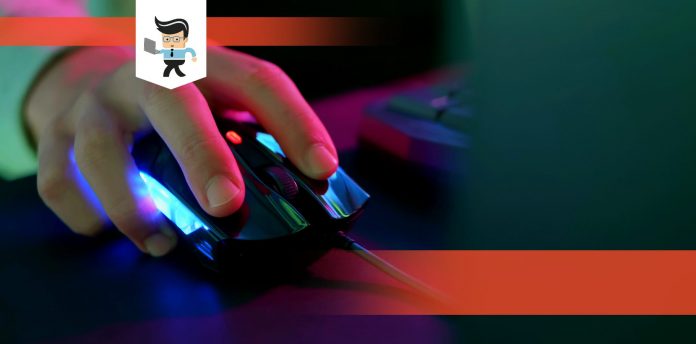 What is the best gaming mouse for big hands? If you have bigger hands, most people will assume that you are naturally at an advantage for gameplay. For the most part, you are. Having bigger hands (in particular, longer fingers) is a benefit in most gaming situations. The problem comes when you cannot properly hold your mouse.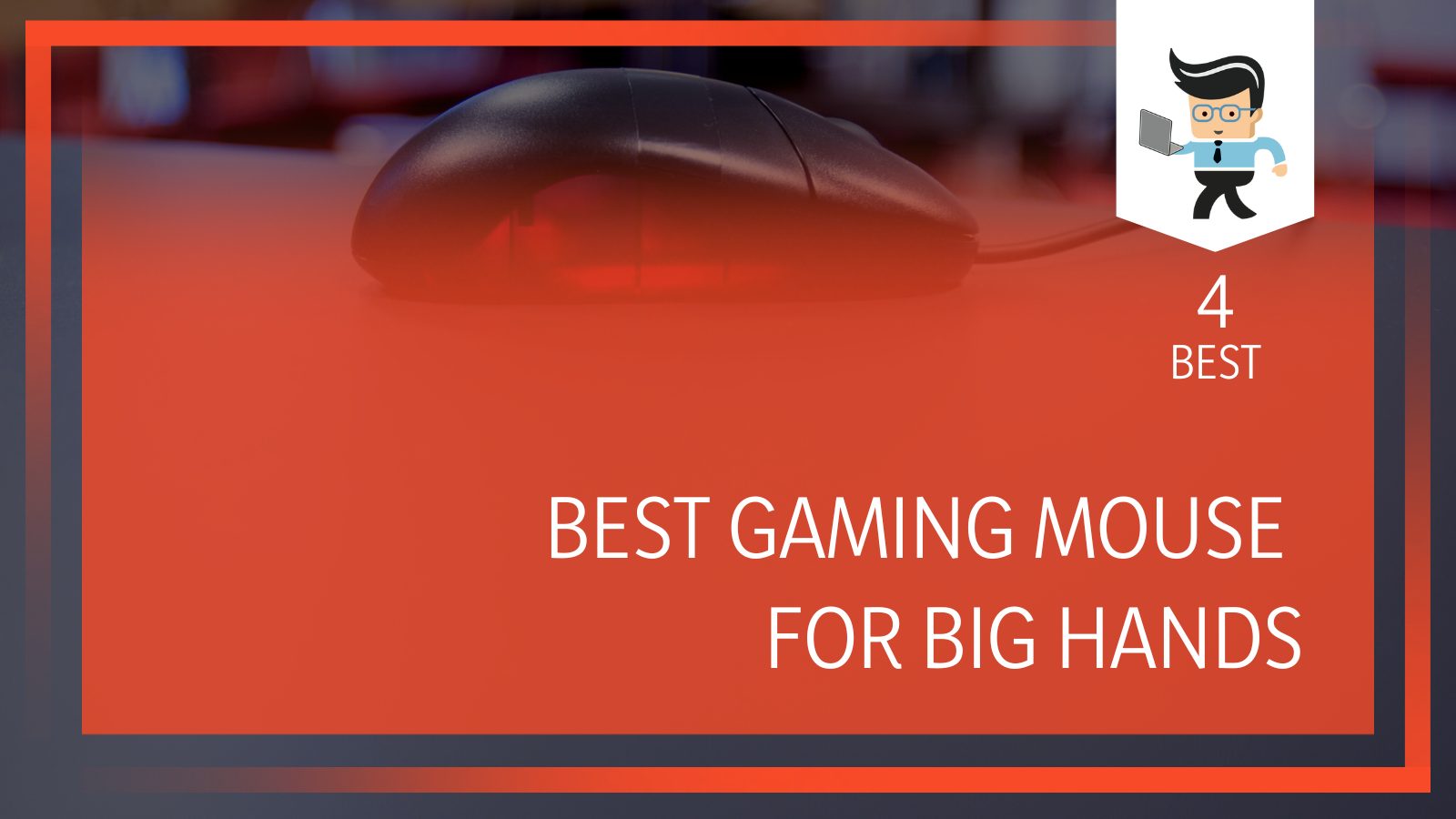 If your gaming mouse is too small, or you need a wide gaming mouse because your palm is too big, you may need to do some shopping around.
Comparison Table
What Is The Best Gaming Mouse For Large Hands?
It is easy enough to find a gaming mouse that is great, but if it needs to be for larger hands, it can get harder. There are a few different options on the market today that you should at least consider before you make a purchase.
Here are our top choices for the best gaming mice for big hands:
Pros
Cons
●        Comfortable
●        Great button placement for DPI switches
●        A few thumb buttons
●        Energy efficient
●        Doesn't have a wired option
●        Windows only
If you are picky about your mouse, there are very few things you will find wrong with the Logitech G602. It is just a cool looking mouse that performs extraordinary well. The curves and details make it so that you can game for hours on end without hand strain.
Even better, for a wireless mouse, it offers a ton of precision and reliability without the cord. Even better, it has a remarkable battery life so you can actually play for a long time without stopping.
The G602 is a right-handed mouse (there isn't a left-handed option) and it was designed ergonomically. It has a jutted wing where you can rest your thumb, which is nice for people with bigger hands. The six reprogrammable buttons are ideal for keybinds and macros when you play certain games.
While there aren't a many buttons as some other Logitech gaming mice, this one is the perfect option for people with big hands. The raised faces on the buttons make it easy to instinctively play games.
The front of the mouse has your standard buttons and two additional buttons that allow you to switch DPI easily. It is out of the way enough that you won't hit it accidentally but perfectly positioned so that you can switch. With 11 buttons and durable mechanical switches, the entire mouse is rated for more than 20 million clicks.
The buttons themselves are a matte-black plastic surrounded by grey. The palm rest is textured and it does take a bit to get used to it. The mouse itself measures 1.73 by 3.27 by 5.47 inches and weighs 3.77 ounces, which is lighter than most gaming mice of its kind.
Now, this is a wireless mouse, which isn't always desirable for a gaming mouse. However, it connects to the PC using the Logitech's G-Series Receiver, which does help cut bag on lagging. It connects at 2.6GHz. You can use either rechargeable batteries or traditional AA batteries. It uses two, but can also use one. With one AA battery, you will get about 125 hours of actual gaming.
Logitech changed the gaming mouse game with its Logitech's Delta Zero sensor, for good reason. It offers between 250 and 2,500 DPI and registers up to 2 meters of travel per second.  This will come in handy for fast-paced games.

The Logitech G602 is a good wireless gaming mouse, even better than some far more expensive options. If you have big hands, it is probably one of your only wireless choices if you want some serious performance. It has a solid design and good performance even in the heat of battle.
Pros
Cons
●        Great optical sensors
●        Attractive design
●        Supports acceleration & deceleration
●        Only has two DPI settings
●        No life-distance
●        Cord is a bit cheap
SteelSeries is another well-known name in gaming mice, and the SteelSeries Rival 310 is a fantastic option in many cases. This one isn't a great choice for people with average or small-sized hands. For those with big hands? It's fantastic.
The Rival is a beautiful matte black mouse with gray grips and a scroll wheel. It comes in at 5 inches long, by 2.8 inches wide, by 1.6 inches high. It comes in around 3.5 ounces, which is light. If you have medium-sized hands, you may be able to get away with it, but really this is for big hands.
The arch is quite high, so it provides a lot of support, but you need the real estate so your fingers aren't stunted. The arch will hold your hand so that you don't feel as much fatigue or strain-if you game frequently, you will be thankful later when you don't get carpal tunnel.
The grip is made out of silicon and after some time, you may slip just a little bit. Even so, it is quite easy to select the correct button and if you don't really sweat from your palms, you will be okay.
The real detriment here is the cord, which is rubber-coated instead of braided. It doesn't have a lot of protection, so you will need to be careful about pinching or pulling. You can swap out the cords, which will help to prevent wear and tear. The buttons can be programmed and set to what you want them to be.
Many people love this mouse because of the lighting features. There are four different effects, ColorShift, Steady, Multi Color Breathe, and Trigger, and up to 16.8 million color options. Unfortunately, when you are using the mouse, your hand covers much of the light.
Unfortunately, there are fewer buttons on this mouse than some of the others. You won't get the pyramid button, the tactile alerts in the buttons, and OLED display. Still, we think it is worth it.

This is a high-end mouse that has some great features, including fantastic button switches and an optical sensor. However, if you have a small hand, it is absolutely not workable for you.
Pros
Cons
●        Wireless – but a good wireless
●        Good battery life
●        You can charge with a PowerPlay mousepad
●        Quite pricey
●        Lighting isn't on when in use
●        Rarely goes on sale
Another Logitech mouse, the G502 is perfect for people who need a gaming mouse for big hands because it has a light and sturdy shell while still offering many different formats. It has a good 2.4GHz connection and good battery life, making it a pretty decent wireless mouse as well.
If you want to spend a little extra and pair it with Logitech's PowerPlay wireless charging mousepad, you will have a great setup.
This mouse has 11 buttons, is sturdy, and is black. There are two primary buttons, a clickable scroll wheel, a macro button, and a mechanical button. They are all easy to reach for people with bigger hands. There are also two pairs of macro buttons and a DPS-dropping sniper button. These buttons are labeled, which isn't a new feature but is a rare one.
The overall design is ergonomic, but the slope is a little bit high for people who have small hands. The thumb-rest wing is a must-have for people who game for a long time and want to avoid numbness. Coming in at 5.2 by 3 by 1.6 inches and 4.02 ounces, it is certainly larger than your average gaming mouse.
You can even add up to 16 grams of weight because it comes with weights. You will need to make the determination about whether or not you need weight. The only problem you will run into is that you cannot use the largest weights and the wireless charging together.
If you don't want to spend the extra money for the mousepad, you can charge this mouse and use it at the same time, which is unique for gaming mice.
The mouse has 48-hours of battery life with the RGB lighting on and 50 with them off. You won't need to charge all that often, especially if you are diligent about turning it off. The lighting is a bit understated but you won't be able to use the lighting while you are playing.
With this mouse, you will get 11 configurable buttons, and each one game be customized with macros, key commands, or other functions that you need. With G-Shift, you can create another set of inputs for different games or profiles. Each profile has five DPI presets.
You can also change up the lighting for each profile, even if you don't see it much. There are certain features and presets that are difficult to navigate to, so you may want to take some extra time while setting up your mouse. The longer you spend to get it right, the better your experience will be.

Logitech's G502 is a great mouse, even if it is a bit pricey. If you can splurge and get the charging pad with it, definitely do it.
Pros
Cons
●        Good lighting options
●        Affordable (goes on sale frequently)
●        Good options for the price
●        Doesn't really improve much on older models
●        Better for longer fingers but small palms
●        Not sold everywhere
If you are looking for the best affordable mouse for big hands, the Logitech G203 is a good choice. It's the simplest option on the list and one of the simplest from the manufacturer, but it is also one of the cheapest.
It still works pretty well and even allows for RGB customization. This isn't going to have the frills and perks that some of the other ones have, but it is light and fast. It's a simplistic, wired mouse that looks just like the other lower-end gaming mice.
It has a six-button gaming layout. There are two clicks, a wheel, and a DPI-preset select button down the middle. On the left, there are two side macros. That's pretty much it. For some gaming, that's really all you need. It is lightweight and sizes in at 1.38 by 4.5 by 2.28 inches. This makes it the smallest option on the list, but the layout is really what makes it a good mouse for big hands.
What really makes the Logitech G203 standout is that it is shaped somewhat strange. It doesn't have the "ergonomic" look that most people have come to expect. Instead, it is a bit flatter. This doesn't have a lot of support for your hand, but people with bigger hands don't always want that support as it just gets in the way. You may feel like your hand is slanted for a bit of time, but you will get used to it eventually.
One thing that is great about this mouse is the optical sensor. It has a sensor that is on par with some premium gaming mice. The G203 uses Lightsync technology and tracks up to 8,000 DPI and is accurate at up to 200 inches per second. This is unprecedented in this price range, even if it isn't that groundbreaking for more expensive mice options.
To set up this mouse, you only need a few minutes. You will have to look at the buttons (you can remap them), set up the presets, and customize the lighting. That's it. Unfortunately, there isn't any on-mouse memory, so you lose some functionality.
The RGB lighting is new, so we need to talk about it. It features two lighting pieces, a logo on the base and a rim. It isn't obtrusive.
There are three lighting zones on the rim that you can control. You only get a few options, sadly.
You choose the logo design based on the rim colors that you choose. While we are glad that the mouse got some lighting, this isn't really much to brag about. It's there.

This mouse is really cheap and pretty good. The functionality is pretty good, even if the looks aren't all that great. For gamers who don't feel like spending a ton of money or those who are just starting out, it's a great choice.
Choosing a gaming mouse for big hands is difficult because there are so many more options for small hands. Even so, there are some great choices that you can make.
Remember that you are allowed to order a few and see how they feel in your hands. Then, you can just return the ones that don't fit your needs.
The most important thing is that you get the support that you need or you will face tension in your hands and wrists, and you may even get carpal tunnel later on in life. Take care of yourself and get the best possible mouse that you can.