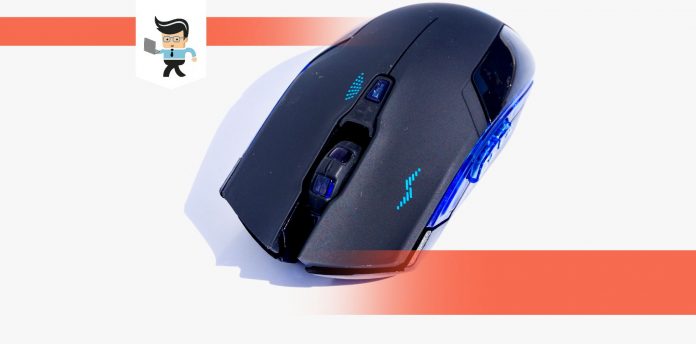 We reviewed the two best wireless gaming mice on the market, the Razer Mamba vs. Razer Lancehead. But which one is better? Some key differences set these mice apart, making it a tough choice even for our expert reviewers. Here, we will outline some of these differences to help you choose the best mouse for you.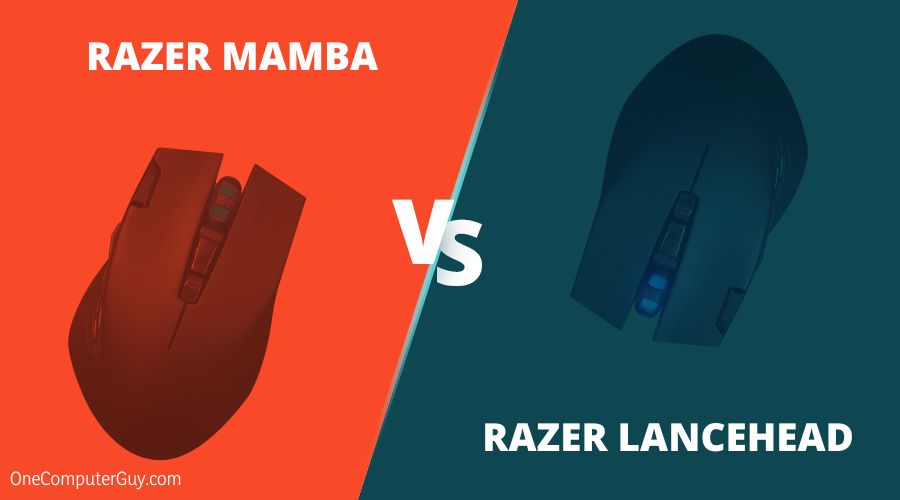 | | | | | | |
| --- | --- | --- | --- | --- | --- |
| Product | Wireless | Shape | Weight | Programmable Buttons | DPI |
| Razer Mamba | Yes | Right-handed | 4.8 Ounces | 7 | 16,000 |
| Razer Lancehead | Yes | Ambidextrous | 6.1 Ounces | 9 | 16,000 |
Pros:
● Wireless
● Rubberized grips along the side
● Razer Synapse 3 compatibility
Cons:
● Not a lot of lighting
● Right-handed only
The Razer Mamba gaming mouse is a terrific choice that doesn't break the bank. Jam-packed with features, the Razer Mamba includes a lot while still being a cheaper gaming mouse. Here is a list of some of this mouse's best features.
While the Razer Mamba Wireless is a wireless mouse, it can also function wired. The USB charging cable allows gamers to keep on using the mouse, even while charging. Lost wireless adapters are also no longer an issue.
The original Mamba suffered some sensor skipping issues that left some gamers unsatisfied. Razer's 5G Advanced Optical Sensor makes this mouse more precise than ever before. Their proprietary Adaptive Frequency Technology also prevents interruptions. This technology fixes any connectivity or lag than previous mice experienced.

Razer Synapse allows for full control and customization of the Mamba. Through this dashboard, owners will be able to assign macros to buttons and change colors. You can save these profiles to onboard memory or the cloud. The onboard memory supports five profiles at a time.
Pros:
● Wireless
● Ambidextrous
● Razer Synapse compatibility
Cons:
● Requires additional drivers
● Synapse unsupported on some platforms
The Razer Lancehead is one of the best products the company has released in the last few years. Razer has recently made serious quality of life improvements to their mice. The Razer Lancehead is proof of that.
The Razer Lancehead utilizes both a wireless receiver and a dongle. The receiver is heftier and works great for a dedicated setup. The dongle is great for on the go. It's lighter weight than the receiver but has a shorter receiving range.
Just like the Mamba, you can use the Lancehead even while charging. This fantastic feature prevents any downtime during a gaming session. The battery life is a whopping 50 hours so that you won't be using this feature much anyway.
Razer's Lancehead features 9 programmable buttons. You can program these 9 buttons through Razer's Synapse 3 dashboard. Here, not only the buttons are set, but also the colors. Color profiles can range wildly, with millions of different options.

While there aren't many left-handed gamers, they are underrepresented in the gaming world. The Razer Lancehead is ambidextrous. This is pretty uncommon for gaming mice and a great feature of this one.
Comparisons
The main difference between Razer Mamba and Lancehead is, Razer Lancehead is ambidextrous and has nine programmable buttons, while Razer Mamba has seven.
After laying out some key features, it's time to figure out which is the best. It's a hard decision to choose one over the other. The Razer Lancehead and Razer Mamba are both fantastic mice. Here we will explain how each feature compares to try and find a winner.
– Mouse Shape
This category is an important one. One mouse is more accessible to gamers than the other.
The Razer Mamba is built for right-handed gamers. This is probably most gamers too. Thanks to its right-handed shape, it feels incredibly ergonomic for right-handed players. Holding this mouse feels exceptionally comfortable and natural.
The Lancehead is one step ahead of the Mamba in terms of shape. Instead of just supporting right-handed players, the Lancehead is ambidextrous. This shape doesn't make this mouse any less comfortable either. The Lancehead still feels ergonomic for both hands.
The Lancehead is the perfect balance between comfort and accessibility. Allowing left and right-handed players to use this excellent mouse while still feeling great is a plus. The Lancehead beats the Mamba easily in this category.
– Customization
This category is a little less black and white than the previous. Both have ample options, but the Lancehead has an edge.
The Razer Mamba features 7 programmable buttons. You can assign these buttons to macros from the Razer Synapse dashboard. These buttons make controlling your game or application more effortless than ever.
Razer's Lancehead is similar, except it boasts nine buttons instead of seven. These can be programmed from the Synapse dashboard as well. These buttons are perfect for assigning keys while gaming or hotkey-ing things on your desktop.
Both of these mice have RGB that is programmable from Razer Synapse. Both mice have lights on the mouse wheel and in the Razer logo. The Lancehead also features light strips along the side of the mouse.
You can save all these customization options can to the mice. Both mice feature onboard memory. This feature allows for five custom profiles to be saved to the mouse without needing a computer or the internet.
There are millions of different color combinations you can choose from. Some games even feature their custom color profile. Terraria, for example, will change your mouse's color based upon your status in-game.
Lancehead barely pulls ahead in this category. It has two more buttons and a few more lights for customization. It's not much of a difference, and the Mamba still has excellent customization.
– Wireless
The Razer Mamba has the accuracy of a wired mouse, without the wire. Thanks to the 5G Optical Sensor and wireless dongle, the Mamba is always accurate. The dongle is a nice, lightweight adapter for connecting wirelessly to any PC.
The Razer Lancehead cranks things up a notch. The Lancehead builds upon the 5G Optical Sensor and wireless dongle. This mouse also includes a wireless receiver. This may not sound like much of an upgrade, but you'd be wrong.
The dongle is excellent for a laptop that is always on the move. Because of its small form-factor, its receiving range isn't super high. The receiver, being a little bit bigger, is better for dedicated setups. It features higher accuracy and a different range than the dongle.
You can use both mice while charging—this nice little feature prevents any downtime due to a dead mouse. The charging cable is excellent and feels like a typical mouse cable.
This category is close too, but the Lancehead wins again. The receiver is a nice little signal boost in comparison to the dongle. It provides better accuracy in exchange for being a little bigger.
– Handling
We've already talked about shape, but how does the mouse feel when handled?
The Razer Mamba weighs 4.8 ounces, definitely a lightweight for a gaming mouse. Some players may prefer this lighter weight compared to more standard, heavier mice. Unlike other mice, you can't change the Razer's weight. It stays at 4.8 ounces.
The Razer Lancehead is a little heavier at 6.1 ounces. The slightly heavier weight makes the mouse feel a little studier than the Mamba as well. This weight cannot be changed either, like some gaming mice.
Both mice have rubberized grips on either side. This nice little addition prevents slipping when making fast flicks in your favorite FPS. The grip has a bit more coverage on the Mamba, but that doesn't make much difference.
A winner is hard to choose for this category. Both have fantastic handling and feel great. Playing your favorite games have honestly never felt better, and both are a great choice.
– Laser Sensor
Razer has a lot of unique proprietary technology. They make great use of this in their mice, giving Razer users an edge over the competition.
Razer's two technologies, Adaptive Frequency Technology (AFT) and 5G Optical Sensor, make these mice fantastic. We've already talked about the 5G Sensor, but the Adaptive Frequency Technology is another excellent addition.
AFT makes wireless mouse function and acts like it's a wired mouse. Many experienced players avoid wireless mice because of their inaccuracy and skipping issues. AFT considered this a huge problem of the past. The AFT makes transmissions 100% accurate, so there is no skipping or inaccuracy.
Both of these mice make great use of AFT. The Mamba provides excellent value for the price. The Lancehead is a well-rounded mouse, and definitely worth the higher price point.
Conclusion
The Lancehead is the clear winner, but that's to be expected. It's a little more expensive, so it has a few more features. It's a great, feature-packed mouse for the price. It is a fantastic choice for both left and right-handed gamers.
The Mamba is still fantastic for the price. It is worth more than the price and is jam-packed with excellent features. Razer offers ideal mice for an awesomely low price, and this is a testament to that. If you are looking for a great mouse with a ton of value, the Mamba Wireless is a great choice.