Our experts have brought you these monitor reviews to help you make light of things and tasks you can accomplish with the best models out there. 
From top-tier vertical monitors for gamers and coders to affordable monitors for those on a tight budget, we will shed more light on how your movies, games, and work will assume the best view on these top-quality screens. Read on!
 That means better productivity and quality. Let this review lead you to the best options for your rig. 
What You Need to Know Before Gunning for the Best Monitors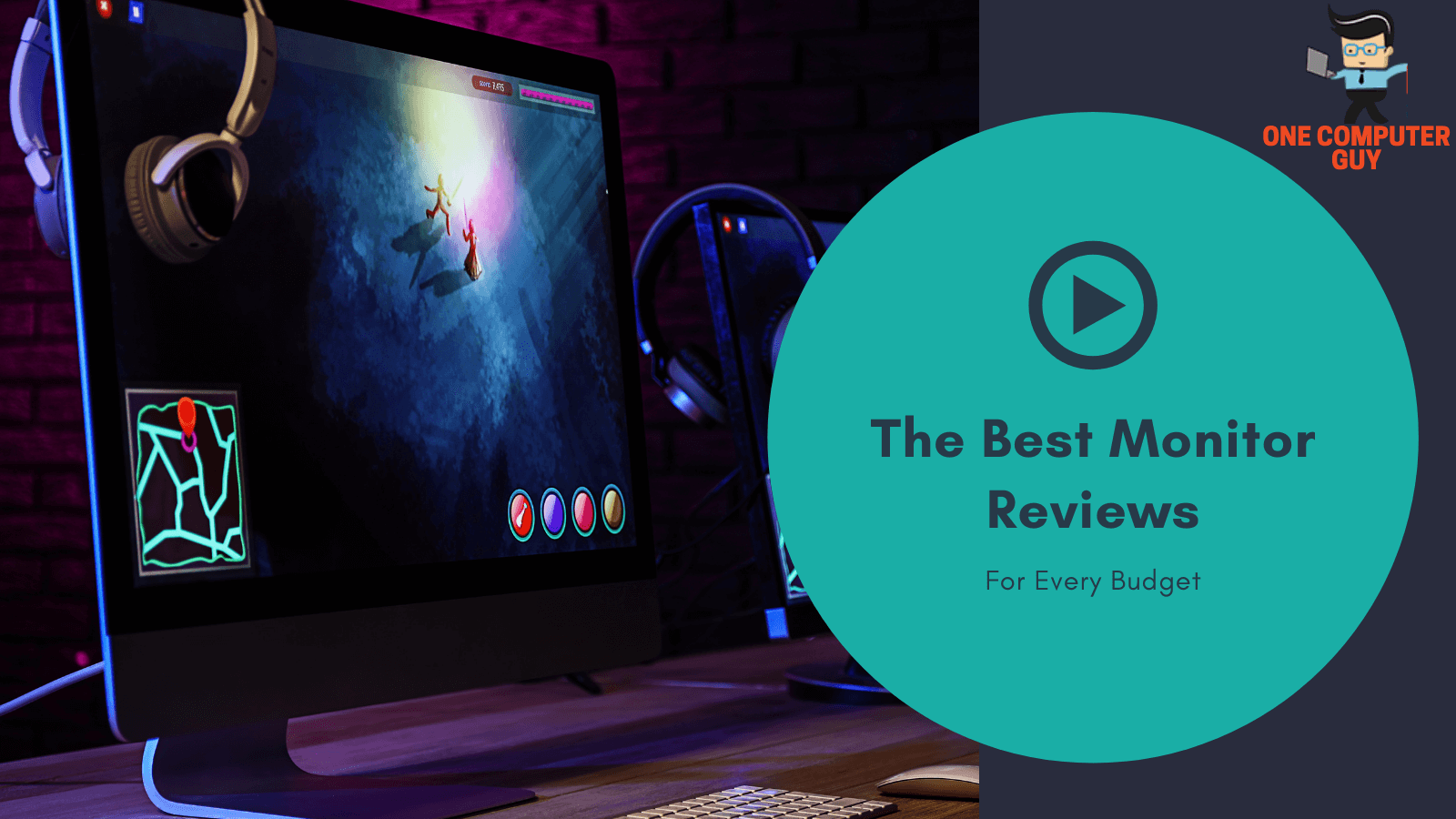 Are you trying to decide between the best monitors with the best refresh rate? Or you just want to get a decent monitor for your graphic design project without breaking the bank? 
Getting a monitor for whatever purpose is pretty straightforward as there are so many models and brands to pick from. However, there are vital issues you have to consider before arriving at the best one to beam your tasks or activities. 
The Size Matters a Lot
Generally, you'll find that computer monitors fall between 19 and 38 inches. Those with extra-large desks and ultra-wide displays measuring up to 49 inches are also available by way of exceptions. 
The smallest ones you'll encounter are those intended for use with a Raspberry Pi and USB-connected portable displays. That means they're meant primarily for mobile use. That's why the size of the panel is measured diagonally.
Is Bigger Always Better?
It's not a problem having a nice, big viewing area. However, it's not always practical when you consider desktop-space constraints. Also, the bigger the screen, the more you can expect to pay for it.
To break it down, a 24-inch monitor is a good choice if you wish to view multipage documents or watch movies. That choice is also great if you have limited desk space. However, the fact is that there's nothing quite like watching a movie or playing a game on a large screen. 
Getting a 27-inch or larger display will give you a big-screen experience for a reasonable price, and that includes vertical options for gamers and coders alike. 
You can also opt for massive, curved-screen computer monitors if you are looking to bring an actual movie-theater experience to your desktop. 
Again, you can always replace a dual-monitor setup with a single display. You can always check out one of the ultra-wide, big-screen models available in panel sizes ranging from 29 to 49 inches. They're usually curved and non-curved panels with 21:9 or 32:9 aspect ratios. 
Pixel Response Rate: Low or High?
Your monitor will get better at displaying video without displaying artifacts, such as ghosting or blurring moving images, with a faster pixel response rate. Plus, PC monitors with a fast 1ms (gray-to-gray) pixel response are perfect for gaming. However, you can still expect monitors with a slower 5ms (gray-to-gray) pixel response to display games without blurring.
How About Lags?
Many users will hardly notice input lags. These are the times it takes for the display to react to a command. It's different with hard-core gamers that consider this a key factor when choosing a monitor. That's why such gamers typically seek out the fastest models available. 
The fastest monitor will have a lag time of less than a millisecond, but even a monitor with around 25ms will do fine before lag becomes a problem for everyday use.
The Perfect Monitor Resolution
The native resolution refers to the maximum number of pixels a monitor can display horizontally and vertically. For example, a monitor that carries a 1,920-by-1,080-pixel resolution can display 1,920 pixels across the screen's width. 
Also, it will give you 1,080 pixels from top to bottom. In that regard, the higher the resolution, the more information gets on the screen. 
HD Options
It's not uncommon to come across the bulk of monitors with a 22-to-27-inch range with a native resolution of 1,920 by 1,080 pixels. Moreover, they're referred to as full HD or 1080p monitors. Displays from 24 to 32 inches are also regular and offer a WQHD (2,560-by-1,440-pixel) native resolution. 
Further, you can take it up a notch to a UHD or 4K monitor display (3,840-by-2,160-pixel). That usually means a 27-inch or larger screen, although there are a couple of 24-inch UHD models. Notably, UHD monitors are ideal for viewing highly detailed images or and life-like displays. 
What are the Main Categories of Monitors?
A monitor computer screen can be categorized into about five categories depending on the audience that needs them. To that end, you've got the following: 
Budget

Business/Professional

Touch-Screen

General-Use/Multimedia

Gaming. 
Budget Monitors

 
You might need a primary monitor for viewing emails, surfing the web, or graphic design. Whatever the case, you don't need to spend so much on features you might never use. 
Budget display models often go straight to the point with essential components  TN panel technologies. Such models aren't known for their performance attributes, particularly when it comes to motion handling and grayscale accuracy. 
You mustn't expect too much flexibility from budget displays that are way simpler and easy to operate. 
Business/Professional Monitors
This category includes various monitor types ranging from small-screen, energy-conscious models to high-end, high-priced, 32-inch-and-up professional-grade displays. 
The latter uses indium gallium zinc oxide (IGZO) or advanced high-performance in-plane switching (AH-IPS) panel technology.  Professional graphic designers and video editors who require a high degree of color and grayscale accuracy will find it helpful. 
Business monitors usually come with ergonomic stands that you can adjust for maximum comfort. That includes pivot adjustability so you can rotate the screen 90 degrees to view in portrait mode. 
Touch-Screen Monitors
These top-rated monitors have gained some traction, but mostly in vertical markets. That's why it's quite the norm to pay a bit more for touch-screen technology. If that's your favorite screen type, try to get a model that lets you position the panel so that it's parallel with your desktop. 
General Use/Multimedia Monitors
If you appreciate multimedia displays, you'll have an excellent selection of features to help you create and view home photo and video projects. There are monitors you can put to a variety of uses or connectivity options.
Some of them also have built-in speakers rated at 2 watts or better. You can use some of them for video chats and take quick stills and videos that are easy to email. 
Gaming Monitors
A gaming monitor has displays for games that require fast response times. That way, the screens can display moving images without producing motion errors or artifacts. Panels that come with slower response times can produce blurs to distract you during gameplay. 
That's why we conclude that giant screens are better for gaming, and a panel that delivers a response time of 5ms (black-to-white) or 2ms (gray-to-gray) or less works best.  
Major Features You Should Consider in a Monitor
Monitor ratings reveal a lot about the type of screen you'd love for your rig. For example, if you love to share a monitor with a co-worker or close family, consider a model with an ergonomic stand. That way, you get to position the screen to your most comfortable viewing angle. 
Pro gamers and some other enthusiasts may prefer a fully adjustable stand that offers tilt, swivel, and height adjustments. Besides, rotating the panel for portrait-mode viewing (aka pivot adjustment) makes sense. 
If attaching and detaching USB devices is your thing, look for a monitor with built-in USB ports. For the best experiences, at least two of such ports will be mounted on the side of the cabinet. That will make it easy to plug in thumb drives and other USB peripherals.
Getting a 4K Monitor Could Mean Premium Gaming for Premium Price
One solid truth you need to know is that 4K or UHD monitors aren't just for gamers. Many prospective owners of 4K monitors do a lot of video editing or usually run multiple windows simultaneously without adding a second monitor. If that describes you, you won't need a panel with lightning-quick response times. However,  you should pay attention to color gamut, contrast ratios, and size.
Premium Price

 
Getting a 27-inch 4K monitor doesn't come easy, but it will generally allow you to fit three full-size browser windows side by side. If you go any smaller than that, the monitor won't be as helpful for multitasking.
On the flip sure, gamers will appreciate a larger-screen 4K display compatible with fast response times. Throw in FreeSync or G-Sync compliance, and you've got a deal. That's the case, mainly if their PC uses a video card that supports one or the other. 
Exceptional Gaming Experience
Whatever the case, gaming at 4K takes a potent video card. However, it will take some spending, but they're worth it based on performance and user experiences. For example, a 32-inch or larger model with GPU adaptive sync support and IPS panels sure helps. 
You can always make some monitor comparisons to determine the gaming monitor that delivers the perfect resolution for RTX 2070 before opting for the most appropriate 4K screen for your high-end gaming activities.
Conclusion
If you're wondering which monitor to buy, don't sweat it. The options referenced in this article will meet your needs, whether that's a high-end monitor for gaming or a budget-friendly model that can handle some basic graphic design tasks. 
You'll find that you don't need the whole world of features to get the best results. But if you're a gamer or have the desk space to match, we recommend that you go for the best if money is no object. 
List Of All Monitor Articles