Reading through an A320m motherboard review can be a bit confusing for some people. They get really long and convoluted, so you don't really know what you need. In this article, we'll tell you exactly which motherboard is right for your build and what you need to pay attention to when you are buying.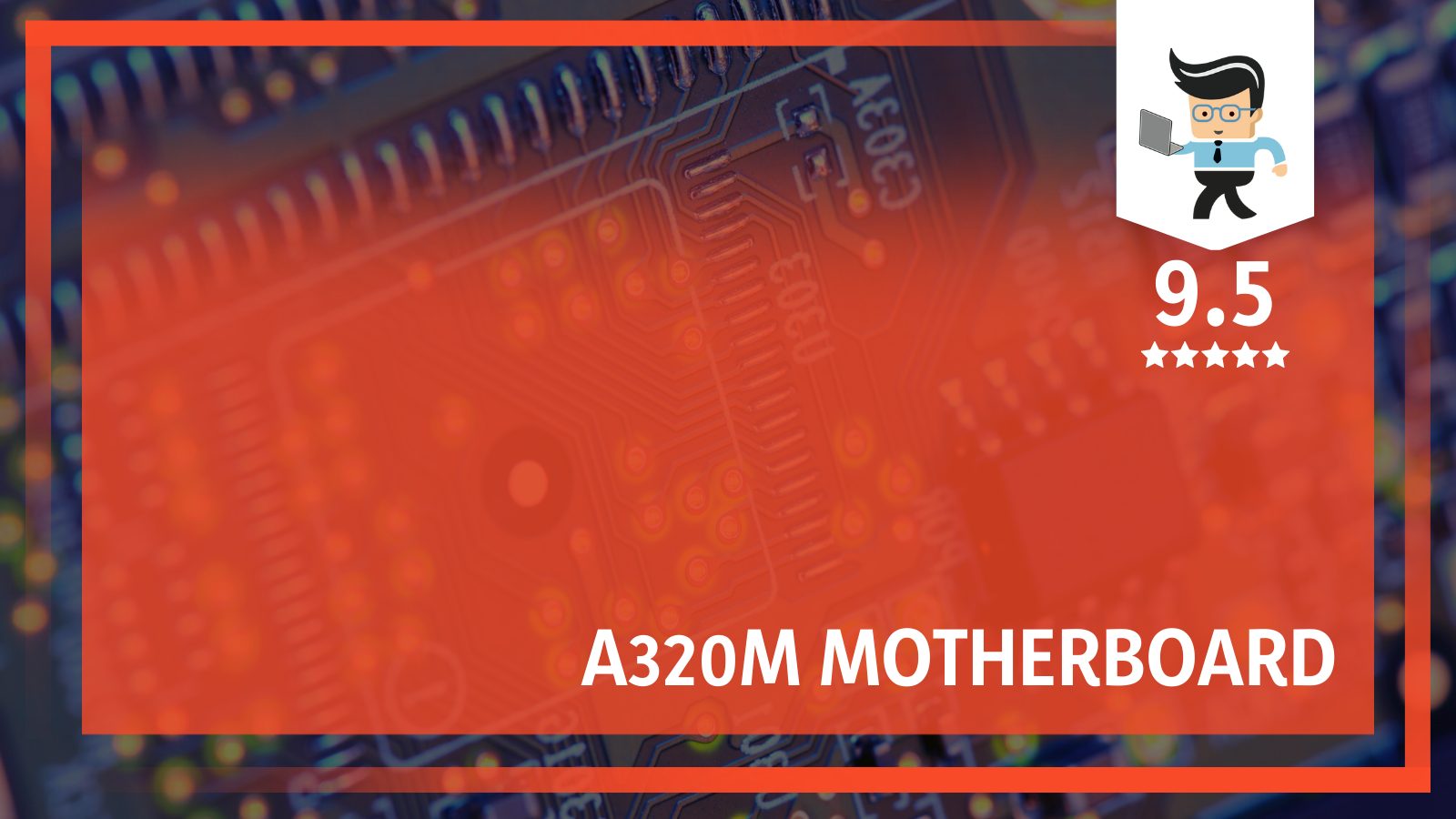 How do we know?
Because we tested each motherboard AND researched customer reviews to get the full scoop. Keep reading to see what we've found!
Best A320m Motherboards
ASRock AMD Ryzen AM4

ASRock A320M PRO4

 

GIGABYTE GA-A320M-S2H

ASUS PRIME A320M-K

MSI ProSeries

CPU Socket
Socket AM4
Socket AM4
Socket AM4
Socket AM4
Socket AM4
Item Dimensions
2.36 x 10.00 x 11.26 inches
9.60 x 9.60 x 1.00 inches
2.76 x 0.79 x 0.20 inches
8.90 x 1.00 x 8.70 inches
9.30 x 7.90 x 1.50 inches
Item Weight
0.55 lbs
2 lbs
0.37 lbs
1.5 lbs
1.55 lbs
Memory Slots Available
2
2
2
2
2
RAM Memory Maximum Size
32 GB
32 GB
32 GB
32 GB
32 GB
RAM Memory Technology
DDR4
DDR4
DDR4
DDR4
DDR4
● Much improved version of this board
● Excellent manual and support
● Pretty board
● One of the best values for the price
The interesting thing about the MSI ProSeries AMD A320 is that it is the second in a series that wasn't well-received at first, but it is now a great board. While it was once designed for business owners, it is now a great home option as well.
This is an extremely compatible motherboard, as the A320M Pro-M2 V2 supports socket AM4 1st and 2nd gen Ryzen CPUs, DDR4 memory up to 3200 MHz, and an M.2 slot for PCIe NVMe SSDs. The updated technology is quite good and performs well.
For audiophiles, the Audio Boost is quite a good feature for making music or editing content. The DDR4 Boost can help with that as well.
If you are new to building your own rig, the EZ debug LED to troubleshoot issues during boot is extremely helpful and can teach you a few things about your rig. You also get diagnostic LEDs for CPU, RAM, VGA, and Boot so that you can monitor your system when things do go wrong.
Of course, the value in the board comes from the features. With this MSI board, you get a ton of features that you normally do not find on these boards, including: X-boost, Core Boost, and armored PCI express slots.
For more content creation, the board also has HDMI, DVI, and D-Sub video outs, more features that aren't standard.
There are some fan headers to reliably cool the motherboard, but this isn't going to be a great board for overclocking. The MSI board does offer intuitive fan control in the BIOS and also from within Windows, so you can cool it down with some minor overclocking.
The BIOS itself is quite advanced for the price range. You can utilize both the EZ and Advanced modes.
Unfortunately, you get only one M.2 PCIe NVMe slot and four SATA 6 Gbps slots, so there are some things to be desired there. However, you will be hard-pressed to find these in any A320m motherboard.

This is one of the rare A320m motherboards that is actually good for people who have audio needs. If you make your own content, particularly anything that depends on sound, this is going to be the best option on the list. This is a good board overall, but most likely not for gamers. The cooling system does leave something to be desired.
● Great value for the money
● Has some great performance, far better than the specs recommend
● No DVI port available
● Only has one chassis fan header (can add more)
The Asus Prime A320M-K is a fantastic A320m motherboard that is one of the best values for what you get. The motherboard itself features quite a bit of technology that is strong, including USB 3.0, DDR4-3200 memory, and M.2 NVMe slot, all of which are better quality than you'd expect.
The board also features LED illumination that is quite beautiful, making it the perfect choice for a display piece. The board will have some of the most reliable power to the CPU as well. Now, this isn't going to be the best board to overclock with, but you can push the machine a bit.
One of the best features on this board is that it comes with Asus's 5x protection. With this protection, your motherboard comes with SafeSlot Core, Surge-Protected Networking, Overvoltage Protection, Stable Power Supply, and an integrated stainless-steel I/O plate. All of this is reinforced and protects your rig from static electricity.
The Prime A320M-K supports DDR4-3200 RAM, and it is one of the few boards to do so, especially within this price range. It also includes the Fan Xpert monitoring software that gives a bird's eye view of the PWM/DC fans in the system. This keeps everything easy to control with one click, for any fan type.
Another great feature here is that the audio components are shielded so that everything is protected against time, dust, heat, and more.
The board comes with an M.2 slot for PCI NVMe SSDs for additional connectivity. There are four USB 3.0 ports at the back and a front-panel USB 3.0 header that supports an additional four ports, so connectivity is never going to be an issue.

Finally, the BIOS settings are quite advanced here as well. You will be able to organize your settings, improve DRAM performance, use the fan software, and update to the latest versions of BIOS with just a few clicks.
Overall, the Asus Prime A320M-K is one of the best A320 motherboards for a budget price, even if it isn't necessarily the best option for those who need to overclock. You just want to ensure that you keep the BIOS updated or you will run into some compatibility issues.
● Has a great performance on a smaller budget
● Forms the backbone of a good rig
● Has some of the latest, updated BIOS software
● Offers quite some connectivity
The GIGABYTE GA-A320M-S2 is known to be an excellent performer by everyone who has it. It is a budget option, but doesn't necessarily perform like one.
Many new builders will use this A320m motherboard as the backbone of their computers with a budget processor. It doesn't have some of the bells and whistles that the other motherboards have.
The motherboard is easy to install right out of the box and new users will have no problem connecting it and leaving it to work. If you want to personalize it, you can certainly do as such.
If you are worried about compromise with this motherboard, you really don't have to be. You will get an M.2 slot to use with HDMI, D-SUB, and DVI-D, if you need them. You will also get the tuning utility from Gigabyte, which has quite a reputation
The Smart Fan 5 helps to gather temperature data from different sensors across the board and helps to optimize cooling. This is great for those who want to have a quieter build or even those who want to overclock.
If you need a budget offering for overclocking. The Gigabyte A320M motherboard has two hybrid fan pin headers, five temperature sensors, and can support fans up to 24W. It is ideal for those who want to push their builds but not too far.

Another thing that many people like about this motherboard is that it has a wide compatibility, especially with fans.
Finally, the onboard internet includes cFosSpeed optimizations for low network latency, which can help with connectivity while playing games. Overall, you will notice that there is far better connection, which in turn leads to better audio, graphics, and more while playing.
This motherboard is a great option for those who want a gaming PC on a budget price. Everything is well built without having the "quality" finishing. Still, this board is a fantastic option.
● One of the few that gamers may be able to use
● Some great graphics features
● Good accessibility
● Features that are far better than other budget boards
● Intuitive BIOS
This is one of the best A320m motherboards that have been able to generate interest from businesses, PC builders, and gamers. The A320M-HDV is an expertly crafted build that deserves a second (or third) look.
The graphics are quite good here, making it a great choice for those who need to work with heavy graphics, such as in designing or building. It may take some time to get the settings just right, but once you do, everything will be fantastic.
If you wish, there is a PCIe x16 slot to add a more powerful graphics card that will support what you need. This isn't a feature standard on most A320m motherboards.
If you need ports, you will get 4x SATA ports, an M.2 PCIe NVMe slot, LAN, and 6x USB ports. This is a lot of connectivity and while you may be able to find more, there are few that offer this many ports with the level of connectivity that this motherboard offers.
The BIOS is great as well, and it is very intuitive. If you aren't the type of person who wants to mess around with the settings, this is a good choice. You have the options, but it isn't overwhelming.
You should note that this is a micro ATX form factor, so it will fit into more compact cases.
You should note that this motherboard does not have the ability to be overclocked in any way. This has to do more with the chipset, but also because the cooling system isn't all that great.

As mentioned, this motherboard is a great option for anyone who needs to use an A320m motherboard that is great with graphics. Everything on this board supports making content, editing content, and generating designs.
● A good motherboard for the price
● Pretty good connectivity
● 3 fan connectors for those we will need cooling
● No RGB headers
If you are looking for a simplistic A320m motherboard, then this may be a good choice. If you are going to use a single monitor or a second monitor, this will be a fantastic choice. Much like its partner listed above, it is a great option to add to a strong graphics card.
Unfortunately, this motherboard has only one DVI-D-out and lacks HDMI or VGA ports, so there are some connectivity issues. The issues aren't that the connections aren't strong, it is that there are some things that we'd like to see.
If you are a gamer that wants to use an A320m motherboard, then this is probably going to be one of your better options. The RAM can be overclocked as well, to about 3200 MHz in the BIOS, which will help to boost the performance. This can help with streaming.
Also for gaming, you will get three fan connectors, one for the CPU fan and two for the chassis.
The connectivity that it does have is a regular PCIe Gen3 x16 slot, a PCIe NVMe M.2 slot for SSDs, and four SATA ports for using SATA SSDs and HDDs. You will also get 6 USB 3.1 Gen1 ports — 2 in the front and 4 in the rear, which is a surprising number.

This is a rather plain board, as you won't get RGB headers. If you want to have your own RGB lighting setups, you will either have to add them elsewhere or look at a different board.
The BIOS is as good as you can get with other ASRock motherboards, so you will know what to expect. There are some limitations with the chipset, not with the board, that you need to consider here, especially when gaming.
This board is a great option for anyone who wants to game but not necessarily overclock. You won't get the best performance, but you will get some good graphics.
What Is An A320m Motherboard?
An AMD A320 chipset motherboard is one of the budget options for the AM4 socket motherboard lines. The most significant difference here, at least for a gamer, is that the B350 and X299 chipsets support CPU overclocking and multi GPU, while the A320 chipset does not. However, you are able to overclock the RAM speed.
This chipset offers more flexibility than some of the other options. You will have to soup up the rest of your board if you are going to try to game on it, and most of these boards will not allow overclocking. This isn't because of a problem with the board, but rather with the chipset.
Conclusion: Our A320m Motherboard Review
There are a few different reasons why one might want to use an A320m motherboard. However, if you don't find the right one, you will find that you are far more limited in what you can do with it. Our experts have looked far and wide to find the best possible options.
If you're going for the best of the best, we can't recommend the ASRock A320M PRO4 Motherboard highly enough. If you're not a serious overclocker or you're on a budget, the GIGABYTE GA-A320M-S2H will do just fine.