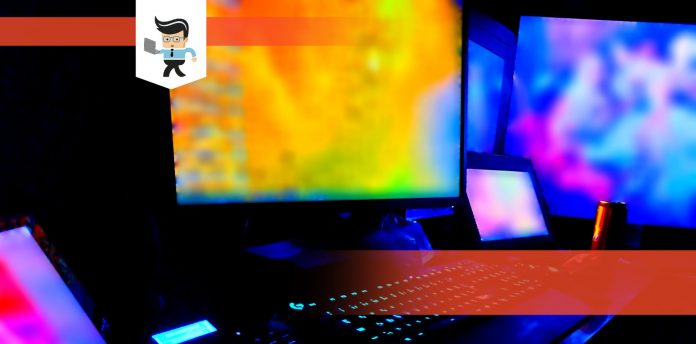 Sceptre computer monitor reviews can be a lifeline. Are you looking for something with the size, speed, and resolution to match a modern office?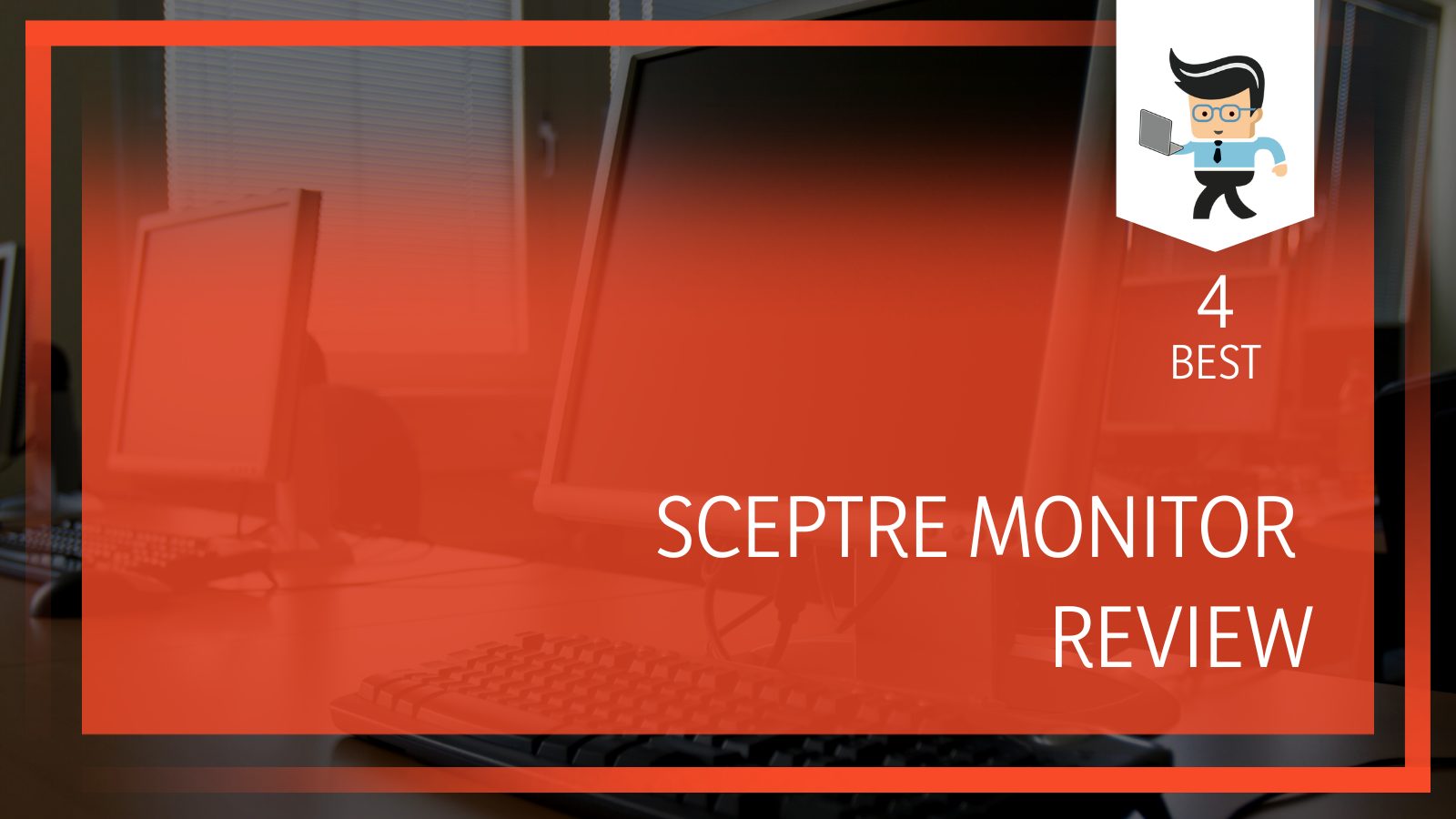 Do you want to stream your favorite movies, or indulge in online gaming? Read on to see why the Sceptre monitor may be perfect for you.
Pros and Cons
We can only give a fair review if we are honest about the advantages and disadvantages of owning a Sceptre Monitor. Each of these devices comes with a few.
Below we have listed a few of the pros and cons of owning this product. Although it's a challenge to choose the perfect monitor, this table helps you see why Sceptre is the best.
Read on to get our evaluation of Sceptre's family of monitors, and learn whether they are worth your time and money.
Pros
Cons

Huge curved display screen
Good viewing angle range
Crisp display
Sleek design

Lacks USB port
Speaker sound quality isn't the best
Large monitor that requires lots of desk space
Are Sceptre Monitors good?
Sceptre Monitors are of excellent quality and offer some unique high definition options. They are a superb buy. The variety of features provided is enough to help make your choice easier. Its curved screen monitors range in size between 19″ to 30″. Sceptre offers a wide variety of all modern-day office functions. Now you can feel like a pro while watching movies or gaming online.
Are you willing to invest in a computer monitor that does all the things a PC can do, that's the best in build quality? Are you looking for one that has a fantastic, vivid display for unbeatable value for money? Then a Sceptre Computer Monitor is the one worth having.
We tested and compared similar computer monitors on the market. The Sceptre Computer Monitor is an excellent standalone product that gives full value for your hard-earned money. You will always get good quality for monitor size and great value.
Who makes Sceptre Monitors?
A private US electronics company, Sceptre Incorporated, makes Sceptre Monitors. This company started in 1984 with its headquarters in the City of Industry, California, situated at the computer industry hub.
Sceptre Incorporated is legendary for producing modern and competitive products. It is a leading innovator for high-definition LCD/LED/HDTV and color displays for computers. The company dedicates itself to improving and building an empire. The brand prides itself on new and advanced display technology and is always ahead of the technology game.
It has produced many new and innovative products, including CRT technology. It is no surprise that Sceptre has, then and now, led the market in the production of LED curved monitors. These monitors boast stunning visual clarity and breathtaking deep color. With a Sceptre monitor, you can see the world from a whole new perspective.
Product Highlights
The size and style are not the only innovative features of this incredible monitor. You will want to keep its other standout features in mind to ensure that you can meet your specific needs.
Basic Features:
● Curved Monitor
● Screen Resolution
● Refresh Rate
● Headphone Ports
● Built-in speakers
● Blue Light Shift Mode
● Display type
Product Review
Sceptre offers two types of monitors: LED Monitor and Curved Monitor. LED Monitors are the most sought after option.
Is a 30″ monitor a little too much for you? Then you can opt for the Sceptre 27-inch, which is as good. It's best for anyone who enjoys browsing, writing, editing pictures, video, and playing games. You can open several windows simultaneously and toggle between them.
Sceptre created the visual of the monitors to fit the general position of the human sight. It gives a visual experience of total immersion in all the action. It doesn't matter where you opt to sit in the room. In other words, you experience the most incredible field of vision.
The shape of the Sceptre Monitor supports an edgeless display. It gives you as much screen as possible, stretching to the furthest edge of its frame. This feature completely immerses you in all action and scenery. This rich display is excellent for gaming and watching movies.
Sceptre Monitor Quality provides stunning color and picture detail. It's a spectacular pick for office work and gaming on the right-sized screen. The high resolution is also a big plus. Dedicated gamers can spend hours with this screen. Our research showed that other monitor brands have lagged in this area.
The refresh rate tells you the number of times per second the monitor refreshes an image shown on its screen. It also measures the quality of these images. The higher the refresh rate, the better the monitor deals with screen movements.
These monitors perform three times faster and smoother than the standard refresh rate, and they give gamers an edge on visibility. There is a smooth video and seamless on the spot movement through fast-paced games. Frames transition right away without leaving blurred images. Also, images change faster and smoother than standard monitors. Users can enjoy a display with clarity and precision.
It's perfect for a gamer seeking the most enticing gameplay. You can switch between several screens because there will be no delay. You also won't have to deal with jerky images when they change.
Headphones and Display port
The Sceptre provides many ports, which allow you to connect to projectors for work meetings and high-definition TVs. You can also use them to connect to gaming consoles.
It is excellent for using external speakers and headphones. You can also use pretty much any possible connector. We also found out that Sceptre monitors are compatible with Windows 7 and above.
These various ports give you more flexibility and connectivity and comprise:
⮚ DVI ports (Digital Visual Interface)
⮚ HDMI ports (High-Definition Multimedia Interface)
⮚ VGA ports (Video Graphics Array)
Imagine no disturbance while you enjoy hours of streaming movies. You can play games or listen to your favorite tunes with your headphones you plugged in—an essential benefit for online gamers and music lovers.
Not all monitors within the Sceptre family feature their own set of built-in speakers. But, the ones featured in this review all have low-wattage, low profile speakers. Sceptre has positioned them into the frame's design. They are well suited for work and gaming.
Speakers also give office-level audio for internet calls and internet training sessions. Speakers deliver smooth and robust audio while saving space on your desk.
Blue Light Shift Mode/filter
Sceptre included this feature to filter out blue light from the picture. It's for users who want blue light protection for their eyes. This feature is a filter created to transition to a warmer light screen to protect your eyes. It prevents eyestrain while you watch movies, work, or play games for extended periods. This feature protects the eyes from eye fatigue, strains, and irritation.
Display type LED (Light-emitting diode)
Sceptre is top for offering value in their LCD and LED display monitors. They provide high-quality resolution and color accuracy. Also, they can support a variety of applications. The type of display makes the difference in the sharpness and the color of a monitor display. LED monitors are energy-efficient, and they stay cool. They also offer a thinner display than LCD models.
This Monitor also offers a sharper contrast with its LED display. It provides an array of rich colors that is ideal for an enhanced gaming experience or surfing the web.
Should you buy a Sceptre Monitor?
Yes. This Monitor is a fantastic buy for use in a home office, office-office, or desktop gaming. Check out our specific buying guide for the top 4 monitors below:
BUYING GUIDE FOR THE TOP 4 SCEPTRE MONITORS
Not sure how to narrow your options? Check out our table below, in which we have singled out a few things. Consider them when choosing your Monitor.
Do you want the benefits of a curved edgeless display in a more 24″ compact size? Or better yet, a monitor that balances work and play? The Sceptre C248W-1920RN model does that at a fantastic low cost. This device is affordable and versatile and is the best seller in Sceptre's list of LED monitors.
The impressive grayscale performance, reasonable price, and excellent image quality are things you can like about the Sceptre 24″ curved monitor. It can double as a work monitor, you can use it for watching videos, and it's an excellent choice for gaming.
This monitor looks outstanding on any desktop with its silver cabinet and ultra-slim bezels. A stand consisting of a round base and a cylindrical arm supports the cabinet. On the downside, it cannot swivel and can only tilt.

This Monitor generally comes with features meant to enhance your viewing experience. It is also Windows 10 compatible. The screen curvature delivers images that appear to 'wrap around you.' No matter what angle you sit in a room, you will have a perfect screen visual.
VESA mounting makes it possible for you to place this display on your wall. It includes a customizable monitor stand to complete your desired setup. If you want to own one of the most affordable 24-inch monitors on this planet, order this one today.
Sceptre is well-known for its low-budget monitors. The brand has again stormed the tech industry with another fantastic product that also falls below $150. The Sceptre C248B-144RN 24-inch curved screen wonder is perfect for gaming. Its 144Hz refresh rate that far outshines other standard 60Hz gaming monitors.
This curved monitor is the best in its class if gaming is your priority but on a tight budget. With dedicated FTS and RTS modes, this 24-inch monitor offers fast response times. It also packs AMD's Free Sync to ensure extra smoothness for those gamers playing AAA games on AMD cards.
This device is more advanced and desirable in many ways. As seen in the table above, it boasts a Full HD 1920 x 1080 resolution. It sharpens the image quality more than other classic monitors. As is the case with Sceptre performance, the C248B-144RN has proven noteworthy. It delivers an excellent gaming experience for a low price.

Other enhancements include viewing angles that extend to 178 degrees. This feature is very admirable for such a low price. Its visuals promote a screen that has enough backlight. Such a screen is ideal in most lighting environments with no flickering.
If you are searching for higher quality on a budget, this model is a must buy.
Critics describe Sceptre 30-inch Curved Gaming Monitor as a vast, towering beast among low-budget gaming monitors. Let's find out whether this Monitor is worth it or not.
This device boasts the highest resolution of the top four monitors reviewed here: an unprecedented 2560 x 1080 pixels. It produces a wide range of bright and even coloring that improves image quality, and it gives you a more realistic visual experience. As promised, this device operates with a refresh rate of 200Hz, and it's very responsive (5ms). It comes with a connectivity panel housing 3 HDMI input ports and one display port.
The C305B-200UN has an adjustable blue light filter. It reduces the eyestrain-inducing aura emitting from the screen. It also allows for the display quality to be so much more engaging and relaxing.
Still, at 25 nits peak brightness, the C305-200UN is a bit dim. But, it's bright enough for comfortable use in rooms with moderate lighting.
Packing a 5-ms response time, the C305B-200UN is a ridiculously fast monitor at its price range. It's founded upon a VA panel with superior color depth and contrast. It renders a startling resolution of 2560×1080 pixels. The extra pixels give it an above-average density of 94PPI, making it very suitable for text work.

It has a 90% sRGB palette, producing a more diverse range of colors. Visibility in dark scenes is pretty good. The high contrast and pixel display make this monitor particularly useful for certain games.
This Monitor is respectable. With a budget of under 300 dollars, it is unique with its wide curved screen and a high refresh rate. Who wouldn't want this on their desk, TV stand, or gaming room?
Sceptre has again nailed the basics with this elegant 27-Inch Monitor. It is tall and light and falls within the most popular size range of 24 to 27 inches. It has a fantastic multi-purpose display at a great price. That's why we've made it a Best Pick. The curved screen adds the feeling of complete immersion. Get it for working, gaming, or viewing content.
It uses 1920×1080 resolution to deliver vivid colors and crisp pictures underlain by an 8ms response time and 250 cdm2 contrast ratio.
The device comes with a pair of nice-sounding built-in speakers, a display port input, and two HDMI ports. Its 75Hz refresh rate makes it a smooth gaming device. It offers the perfect performance for your fast-paced games. No external speakers needed as there are speakers built into the frame.

It is ideal for general use, office work, streaming movies, and a basic gaming monitor. If you play basic games and do not need the best frame rates per second, it is an excellent device to consider. It's important to know that it does not come with adaptive sync, so it may not excite pro gamers.
Being the best of its kind, the Sceptre C275W-1920RN is hands down one of the best mid-sized monitors you can buy. It's also one of the lowest-priced, highest rated, curved monitors available. Do not miss the chance to buy one.
Conclusion
We liked what we found on the Sceptre Monitors and their innovative manufacturers. Sceptre offers a device with a large, thin screen at a very affordable price. It does not try to empty your pockets or break your bank account.
Before deciding on the best device to buy, know what you are looking for in a computer monitor. It's the best way to get the one that is most suitable for your budget.
The Sceptre Computer Monitor is large enough and most affordable. It's beautiful for any desk space, whether office or home. Generally, the term 'cheap' may be synonymous with low quality, but not in this case. With Sceptre, you get quality for your money.
Get one today.