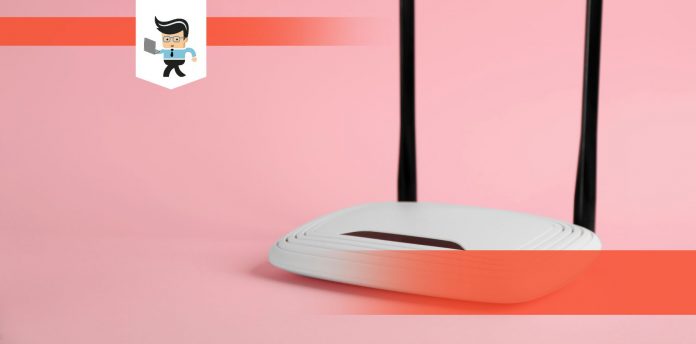 Comparing the tp-link archer c9 vs. c7 is not exactly a walk in the park, as it can be tricky and quite daunting for newbies.
However, you will get a review that contains everything you need to know in our detailed comparative analysis. Read on!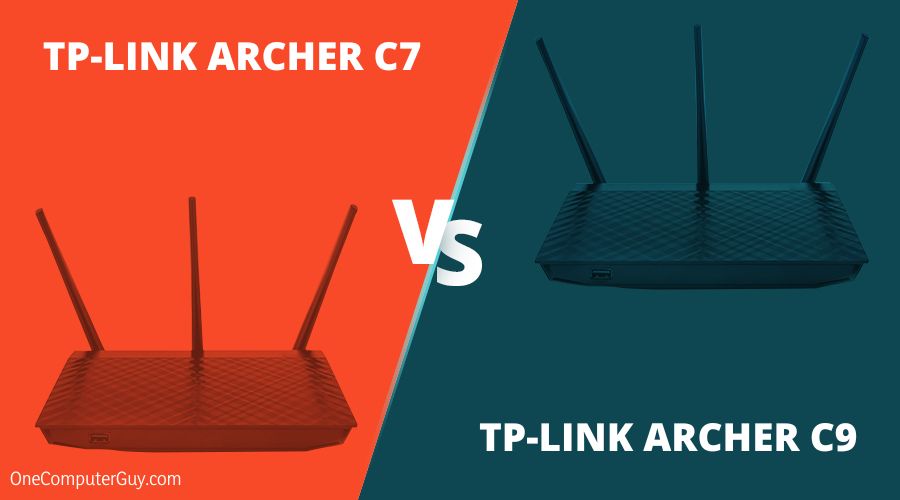 TP-Link Archer C7 vs. C9 Specifications at a Glance
| | | |
| --- | --- | --- |
| | C7 | C9 |
| Brand | Tp-link | Tp-link |
| Launch | 2013 | 2014 |
| Chipset | Qualcomm Atheros QCA9558 | Broadcom BCM4709 @ 1 GHz |
| Standards | IEEE 802.11a/b/g/n/ac | IEEE 802.11a/b/g/n/ac |
| 2.4GHz/5GHz | Yes | Yes |
| Speed | 450 + 1300 Mbps | 600 + 1300 Mbps |
| Security | WWe, WWP, WWPA, WPS | WWe, WWP, WWPA, WPS |
| USB ports | 2 x USB 2.0 | 1 x USB 2.0, 1 x USB 3.0 |
| LAN ports | 4 x 10/100/1000 Mbps | 4 x 10/100/1000 Mbps |
| RAM/Flash | 128 MB/8 MB | 128 MB/16 MB |
| Antenna | 3 x 5 dBi, RP-SMA | 3 x 4 dBi, RP-SMA |
Pros
• Easy installation and setup
• High-speed throughput
• Affordable
• Dual-band
Cons
• Only USB 2.0 ports
• Subpar user interface
Archer C7 is a robust router that gives off a high-speed internet connection. It is also the first release in this line of Wi-Fi routers from Tp-link. As such, the archer c7 specs have some innovations that make it better than its predecessors.
Firstly, this router comes with the 802.11ac generation of Wi-Fi, one of the latest and fastest versions. This router also supports both IPv4 and IPv6 as well
The C7 router can support speeds up to 1700MBPS wirelessly and is three times faster than an 802.11n standard router. It also supports up to 1300MBPS through the 5GHz bandwidth and up to 450GHz on the 2.4GHz band.
Sure, the 5 GHz bandwidth is useful for streaming HD content, online gaming, and movies. However, you can enjoy a smooth and seamless browsing experience on the lower bandwidth.
This router also comes with six antennas, three of which are external, while the other three are internal. Due to this setup, the router can maintain a high speed to cover a wide area. You can set up your FTP server using this router and facilitate file transfers among your private network.
There's are two USB 2.0 ports that are multifunctional, support printers and other media devices.
With 4 Gigabit LAN Ports and one Gigabit WAN port, users get to enjoy a broad coverage. The Gigabit ports achieve a speed that is ten times greater than those achieved by standard Ethernet connections. Besides, a Wi-Fi On/Off switch is there to help you monitor and control your Wi-Fi better.
This router comes future-ready by being IPv6 compatible and features a Guest Network option through which you can protect your private data and files from the guests using your network. We found the setup and configuration of the network are relatively easy to do.
Again, standards are a significant part of this router, and it supports all devices that support 802.11a,b,g, and n standards. Furthermore, this router is enabled with a Quality of Service option, which lets you control the bandwidth allocated to various devices connected to your network.
As we mentioned above, one of the main downsides of this router is that it lacks USB 3.0 ports.

Also, while the archer c7 range is excellent, we feel the router is underpowered concerning CPU speed compared to the C9 model. That is because it comes with a single-core 720MHz of processing power only.
As such, it's difficult for multiple users to stream at once and has become nearly obsolete with C9's entry into the market.
The Tp-link C7 router delivers one of the fastest throughput speeds we've seen from an affordable router. It's also swift to install and easy to install, and will fit new users.
Pros
• Stylish design
• Good wireless design
• USB 2.0 and 3.0 ports
• Beamforming technology
Cons
• Lacks built-in VPN
Compared to other routers, especially the C7, this is one of the most sophisticated anchor routers out there. Just like those before it, it supports the 802.11ac IEEE standard.
However, the main difference this router has over the C7 is that it is quicker and offers more speeds. Also, the C7 features a 1.7GBPS bandwidth, while this C9 router comes with a 1.9GBPS bandwidth.
As a dual-band router, the tp-link archer c9 speed is further boosted by 1300MBPS facilitated through the 5GHz channel, and the other 600MBPS is enabled through the 2.5GHz channel. Also, it comes with three detachable dual-band antennas, much like that of the C7.
The antennae help boost the wireless connection speed to the next level, and much like it's predecessor before it (C8), this router also comes with Beamforming technology.
While C7 and C8 come with 750MHz and 800MHz processors, this router comes with a 1 GHz processor, making it quicker and faster. The bandwidth is much faster, too, in terms of the signals and connection it can host.
Unlike the C7, this model comes with both USB 3.0 and USB 2.0 ports. With the router's ports, printer, and storage capabilities, sharing and setting up a media server or an FTP server comes easy.
The C9 model comes with Guest Network and Parental Control features as well. Both these features are an excellent addition to the range of services to keep you and other users safe. Also, like the C7, this router supports IPv6 addresses.

It also offers easy setup and features the Tether APP feature like the C8 before it. The navigation option through the software and iOS application are masterstrokes.
From our tp-link archer c9 review, we also noticed an average storage performance and one design issue. It can only stand vertically, and you cannot position the router any other way. Again, the C9 does not come with an inbuilt VPN. Apart from this, we feel it's a fantastic device.
If you're conscious about what you spend but still want quality, the right price, with elegant design, and easy to install, then this will appeal to you. It is merely much quicker and more equipped than the C7.
TP-Link Archer C7 vs. C9: Head to Head Comparison
The main difference between TP-Link Archer C7 and C9 is, C9 provides more expansive coverage as well as exceptional speed, while C7 doesn't quite match up.
Antenna and Networking
The C9 comes equipped with three dual-band detachable antennas, which offer more excellent area coverage. Sure, the C7 also has the same type of antenna settings.
However, the C9 takes things a step further with the beamforming technology incorporated in some other high-end router devices like Netgear Nighthawk and Asus RT-AC68U.
With the beamforming technology, it's possible to locate any connected device and direct or amplify the signal towards it.
As a result, the C9 provides more expansive coverage, targeted and efficient Wi-Fi connection rather than randomly distributing the Wi-Fi all over the place.
Speed and Hardware
Thanks to the hardware of the TP-Link AC1900, the device comes powered by a dual-core Broadcom BCM4709 CPU. As such, the clock speed of the CPU is pegged at 1 GHz. Also, it has 16 MB of flash memory and 128 MB of RAM.
On the other hand, the C7 doesn't quite match the tp-link archer c9 specs here. While the latter also has 128 RAM, the C9 has the same and 16 MB of Flash.
The C9 router also delivers a maximum speed of 1900 Mbps at 600 Mbps on the 2.4 GHz radio frequency band and 1300 Mbps over the 5 GHz radio band. You can also attach any external storage device with the router using the USB 3.0 and 2.0. The C7 has just the 2.0 USB.
Installation
Another feature of the two routers is that they have quick setups and installation processes. As such, you can get things done within minutes with the right configuration. There are also advanced options for both you can modify to suit your needs.
The setup also configures the login details of ISP and creates 5 GHz and 2.4 GHz SSID and passwords. As such, you get to set the region and time zone of either router.
Frequently Asked Questions
1. Who needs a router?
If you're running an Ethernet cable directly into your computer, you might not need a router. However, if you want smartphone or tablet connectivity, a wireless network makes sense for Internet connectivity.
Also, routers like the Tp-link brand help you share and stream media such as video and music. You can slow connect seamlessly to every device in your home. It's only a must-have device for many homes and businesses.
Conclusion
The C9 model is an upgrade on the C7 and even the C8 before it. It's effortless (a no-brainer!) to settle who the clear winner is. That is why we think C9 is much better since it boasts more modern features, excellent speed, and reliability.
They both also give you value for money, and we feel the C7 is very much outdated in terms of specs compared to the C9 and other routers like the tp-link tl-wr940n.
Overall, the C9 is the best and is a perfect fit for running a small business, office, or just having a medium-heavy internet usage.