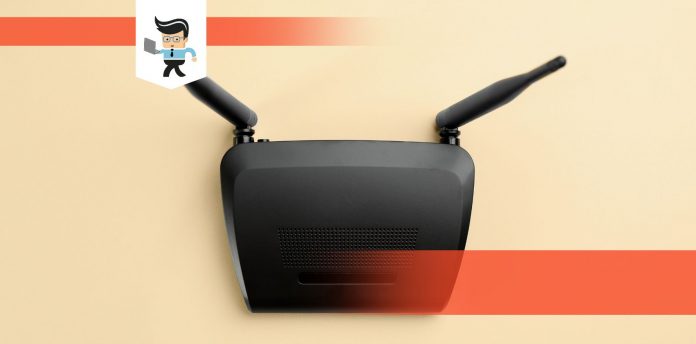 With so many choices on the market, it can be pretty difficult to find routers that will deliver the fastest internet speeds with the most reliable connections. There are a number of factors to keep in mind when comparing products such as the ASUS RT-AC68U and NetGear R7000.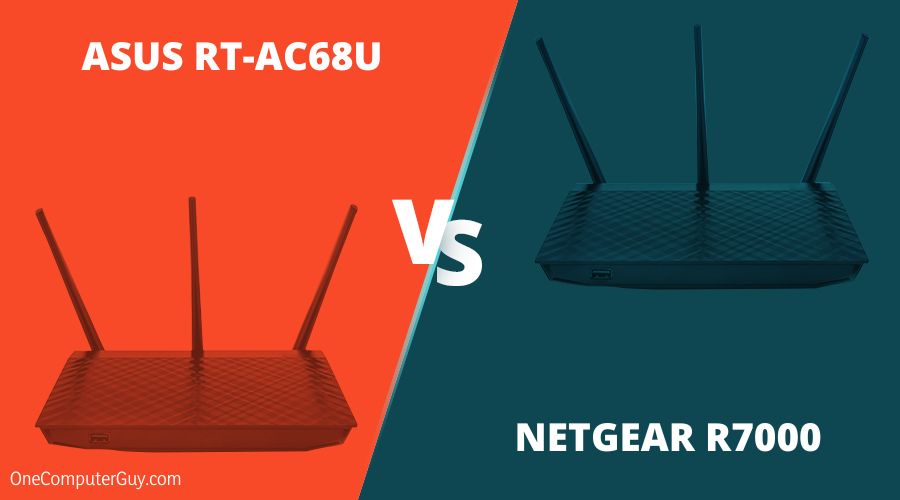 The best way to decide which will best suit your needs is to compare these devices based on these four categories: speed, how far the signal can reach, the number of devices it can handle, and additional features.
Some of these categories will be more important to some than others (it all depends on the user's needs), so you must prioritize the categories which matter the most to you in order to truly find the router that will perfectly fit with your day to day use.
ASUS RT-AC68U vs NetGear R7000
● Both have the same number of Wired Ethernet Ports
● R7000 comes with NetGear Armor Cyber-threat Protection
● NetGear R7000 costs more than AC1900
● The ASUS RT-AC68U has 8 LAN ports, while the R7000 has 4
| | | |
| --- | --- | --- |
| Product | ASUS RT-AC68U | NetGear R7000 |
| Number of Devices Supported | Around 45 devices at once | Around 30 devices at once |
| Data Transfer Rate | 1900 Mb/s | 1300 Mb/s |
| Wireless Connectivity | ✓ | ✓ |
| Approximate Range | +3500 Square Feet | +1800 Square Feet |
| 4×1 GB Ethernet Support | ✓ | ✓ |
| LAN Ports | 8 | 4 |
| Dual-Band Frequency | ✓ | ✓ |
| Parental Controls | ✓ | ✓ |
● Has 5 Ethernet ports and 8 LAN ports
● Can support up to 45 devices
● Provides coverage of up to 3500 square feet
● Supported by a Dual-Band frequency system
When it comes to power and performance, the ASUS RT-AC68U is a huge leap from the Nighthawk products. The ASUS RT-AC68U's range is a significant factor that can tip the balance when comparing these two routers. Also, the additional features this product provides can be decisive when making the final decision, seeing that these features are an incredible addition considering the price on offer.
Number of Devices
The dual-band coverage of the ASUS RT-AC68U is a big step up from the coverage power of the NetGear R7000. The ASUS RT-AC68U coverage distributes a signal that is powerful enough to supply more devices on your network at once with a reliable and high-speed connection.
Up to 45 devices can be connected to this device at once, providing all of them with the possibility of enjoying quality video streaming, online gaming, and of course, fast connectivity with smart devices around the house.
When it comes to USB ports, the RT-AC68U has you covered, providing several of these ports so you can connect printers (and other peripherals) to the network without overcomplicating things. Plus, if the shared storage you have is not enough, you can always expand upon it with these ports.
Direct connectivity is also possible by connecting the devices to the RT-AC68U with just an ethernet cable. Equipped with eight LAN ports and five Ethernet ports, this device has a big advantage when it comes to the number of devices that can be used simultaneously.
Range
The ASUS RT-AC68U comes equipped with the ability to pair with an ASUS Router App, dynamic QoS, the ability to form separate SSIDs for each frequency, and the ASUS AiRadar which can fine-tune the range at which you can use it. The RT-AC68U also comes with a 1 GHz dual-core processor.
Providing a strong signal within a range of up to 3,500 square feet, the ASUS RT-AC68U will be able to provide every connected device around the house with a reliable connection, strong enough to suit your needs.
The RT-AC68U has a very modest design, keeping itself small and compact and not taking too much space. The three antennas can be folded in a few different ways to help get the best coverage possible. It is, however, usually advised that the antennas are as close to the 90-degree position as possible in order to provide the best possible signal to your devices.
– The Speed
The ASUS RT-AC68U specs are something to marvel at, with the ability to reach data transfer speeds of up to 1900 Mb/s. These speeds can, however, increase or decrease depending on how close the device is to the router, so naturally, the closer you are the stronger the connection will be.
The way that the ASUS RT-AC68U uses its speed is by channeling 1300 Mb/s at 5 GHz and 600 Mb/s at 2.4 GHz. With this system, the router can split up the bandwidth appropriately so that each device can make better use of its allotted amount.
When it comes to optimizing the ASUS RT-AC68U speed, it is always better to allocate more bandwidth to the newer devices instead of the older ones because the newer ones are able to utilize it in a much more efficient way than their counterparts. This way, they run a lot faster with more bandwidth than the older devices would.

– Additional Features
The ASUS RT-AC68U comes with the AiMesh system. This system allows the users to create a very flexible Wi-Fi system which can span your entire home. With this system, you can have multiple routers throughout your home, all on the same network, so you don't need to switch depending on where you are in your own home.
The mobile app feature allows you to control some aspects of your router right from your phone as well. Any ASUS RT-AC68U review will tell you how this system has been a huge boon for them.
Parental controls is also very desirable when it comes to routers, and for those who like to have that option, the ASUS RT-AC68U allows you to set parental controls on all devices that are connected to the network. You can also keep an eye on how much the internet is being used by monitoring the internet usage as well as having the option to set timers on how long a specific device can use the internet for.
The ASUS RT-AC68U also comes with the ability to stream your PC games using NVIDIA Shield. This added feature means gaming on this network is faster and easier than ever before.
● NetGear Armor protects connected devices
● Personal cloud storage
● Has 5 Ethernet ports and 4 LAN ports
● Can support up to 30 devices
● Coverage of up to 1800 square feet
● Supported by a Dual-Band style frequency system
When it comes to performance, the NetGear Nighthawk R7000 is undoubtedly one of the better choices within the Nighthawk line. When looking for the less expensive options of these models, the NetGear R7000 specifications should be considered in your comparison. You can find many of the ASUS RT-AC68U additional features in this model as well.
– Number of Devices
When comparing this model's dual-band coverage to the RT-AC68U, you will see that it's just not as powerful. Regardless of the fact that it might have a less powerful output, it will still support a decent number of devices on your network.
Up to 30 devices can be supported by this model at the same time, which is not too far off from what is available on the ASUS RT-AC68U. However, it's still undeniably less powerful.
Even though this model won't handle as many devices on its wireless network, you will still have the option of connecting devices directly to the router via an Ethernet cable! The NetGear Nighthawk R7000 supports four 1-GB ethernet ports.
Just like the AC68U model, the NetGear R7000 also allows for the addition of peripherals to the network, as well as expansion of shared storage by using its 2 available USB ports.
– Range
When it comes to the NetGear R7000's equipment, you will see that both this model and the AC68U are very similar. Just like its competitor, the NetGear R7000 comes with a 1 GHz dual-core processor. However, it also comes with three amplified antennas, a smart connect feature, Dynamic QoS,
Amazon Alexa voice controls, and Beamforming+. Overall, it comes equipped with a lot of the same equipment that the AC68U has, although a bit weaker.
The NetGear R7000 may not have the kind of design that will turn heads, but it will still look modern and sleek enough to not visually clash with its surroundings. It is also worth mentioning that the antennas can't be adjusted in a way that will change the range in any significant manner.
Signal wise, the NetGear R7000 can hold a stable signal of up to 1800 square feet away from its originating location. This means that, generally speaking, it will cover most of your home in a satisfactory manner, but don't expect it to outperform the AC68U.
– The Speed
The NetGear Nighthawk R7000's data transfer speeds can go up to 1300 Mb/s. However, this can vary depending on your distance from the router and number of devices connected to it.
Much like most of the other routers on the market, the NetGear R7000 can be better optimized for speed by allocating the larger amounts of available bandwidth to newer devices.

– Additional Features
Both the NetGear R7000 and the AC68U share a lot of the same additional features, which include a security system which can protect your entire network and its users. This defense system for the NetGear R7000 is called NetGear Armor, which will act as a shield against any attacks to your network.
Each device connected to the NetGear R7000 network can also be controlled by the parental controls already present in the system, with the addition of monitoring and restricting access to certain areas of the web.
The installation process is made very easy with the use of the mobile app that can be downloaded to your smartphone.
There is also the option of personal cloud storage on your network as well as VPN access from your router.
FAQ
Which router is generally more user-friendly for setup?
Both ASUS RT-AC68U and NetGear R7000 are designed to offer a user-friendly experience. However, the ASUS often receives praise for its intuitive ASUSWRT interface, while the NetGear R7000 is lauded for the Nighthawk app which simplifies setup and management.
How do the manufacturers support firmware updates?
Both ASUS and NetGear are known for regularly updating their router firmware to fix bugs, improve performance, and add new features. They offer updates through their respective user interfaces or websites.
What's the general customer feedback on longevity and reliability?
While individual experiences may vary, both routers have been noted for their durability and reliability. ASUS RT-AC68U and NetGear R7000 are considered to be among the more stable routers in their class, according to various user reviews and expert analyses.
Are there any known compatibility issues with certain ISPs or devices?
Both routers are designed to be compatible with a wide range of ISPs and devices. However, it's always recommended to check with specific ISPs or review device compatibility lists to ensure optimal performance and avoid potential issues.
Conclusion
Both the NetGear Nighthawk R7000 and the ASUS RT-AC68U deliver pretty strong capabilities in terms of speed and performance. However, the main difference between the ASUS RT-AC68U and Nighthawk R7000 is their ability to perform in consideration to the number of devices connected on the network at the same time, with ASUS AC68U outperforming the NetGear R7000.
Overall, if you are looking for the best performance, number of possible simultaneous connections to the network, and of course, strength of signal, then the AC68U is the best option. Even though this might be a bit more expensive, if you have the budget for it, this would be the router to choose.
Not only is it a very powerful router, but it definitely outperforms its competitor in every way. With that said, when looking at the Netgear R7000 reviews, you can tell that this router is still a very solid and well-functioning one, even if it does fall short of the ASUS product.
It all really depends on the size of your home and how many devices you are expecting to connect to the network. If you need 45 devices on a single network and have a large home, then the AC68U is the one to choose. If you don't need to connect that many devices to one single network and you live in a smaller home, then the NetGear R7000 will be perfect for you.