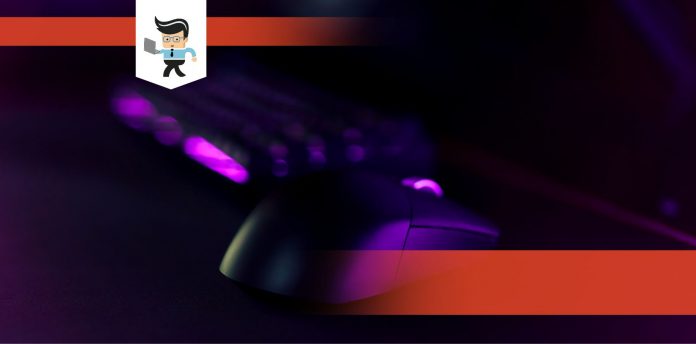 Pitting the Deathadder vs. Basilisk against each other is a tough one considering they're both quality mice. They sport incredible dimensions and other specs to give you a balanced performance.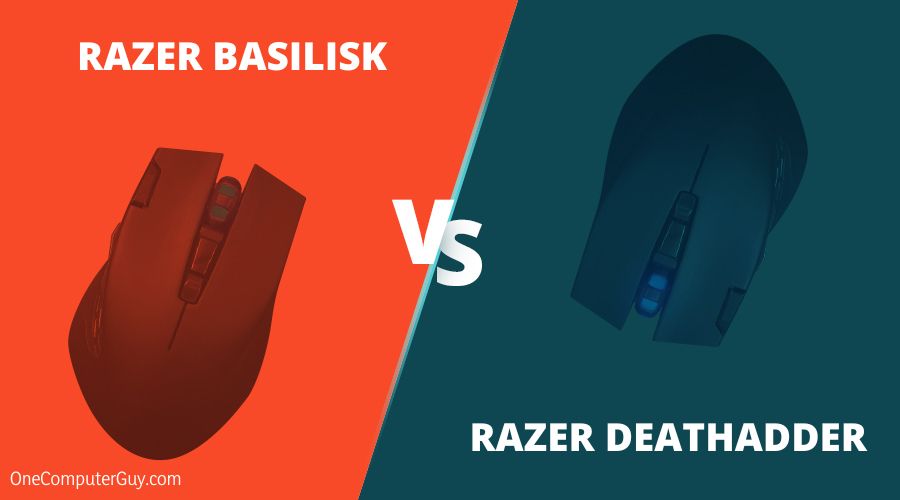 What's more, they feature programmable buttons and provide you with much-needed flexibility and precision for your gaming tasks.
If you find it difficult to decide between the two, we have prepared this article to help you determine what model best fits your style without going through the stress. Read on as we give you the load down on both models.
Key Specifications Table at a Glance
Products
Key Specifications
Razer Basilisk

DPI: 20000
Connection: Wired
Optical Sensor: 5G tech
Buttons: 8 programmable

Razer DeathAdder

DPI: 20000
Connection: Wired
Optical Sensor: 5G tech
Buttons: 7 programmable
Razer Basilisk vs. Razer Deathadder: How They Measure Up
For starters, we can confirm that the Basilisk is slightly heavier than the DeathAdder Elite. Another thing to note is that they have different shapes, even though they are both designed for right-handed use. However, the Basilisk comes with a thumb rest located on the left.
They are suitable for every hand size out there. As such, you don't have to check out every grip type before making a choice, with the only exception being small hands for claw or fingertips.
One thing enthusiasts will love about both mice is the fact that they have very low latency. That bodes well if you're the gamer type. It will help you perform actions faster, too. Also, the Basilisk has one more programmable button than the DeathAdder.
The onboard memory in both also serves to help you maintain your customization settings, which means you don't have to worry about switching PCs.
Take a seat and relax as we take a look at both products and consider their strengths and weaknesses.
Pros
• Programmable and customizable buttons
• Super-fast response
• Nice comfortable grip
• Ergonomic shape
Cons
• It may be uncomfortable for small hands
If you're familiar with the Deathadder Elite, you'll see the V2 as an improvement on it. The Elite has always been one of the best gaming mice out there. However, this V2 is has a more advanced optical sensor, durable left and right mouse buttons, and a smoother scroll wheel.
In this Razer DeathAdder review, we have to mention Razer's "Instinctive Scroll Wheel Tactility." It guarantees results via a speedy response. The wheels will also spin smoothly with just the right tightness.
– Well-shaped Form and Material
For the thumb rests on either side of the mouse, there's less separation between the left and right buttons. What you get is a grippy matte finish on the top of the mouse. It helps your hand from slipping off. When you combine that with the V2's shape, it's ideal and a much more comfortable mouse you can use for a long time.
– Top Quality Design
In terms of looks, the DeathAdder V2 takes after the previous models. We already mentioned how close it is to the Elite model with its looks.
However, apart from the typical razer DeathAdder dimensions, you also get new DPI buttons below the scroll wheel, which makes it quite convenient to make alterations for faster applications.

– Top-Rated Performance
The V2 is one of the most comfortable gaming mice we've ever come across. It's superbly grippy and won't leave your hands even when you're playing complex games. It's that good. Moreover, the scroll wheel takes its performances up a notch. That's because you'll always feel in control no matter what you're doing.
The texture and overall feel make this mouse a great addition to any gaming rig. Also, there's a good, responsive, and crisp click-action. The resistance on this mouse is noticeable but not overbearing.
The best part about this mouse? The speed. The Razer DeathAdder dpi reaches a commanding 20,000 DPI. As such, the sensor is absurdly responsive and accurate. It also offers greater control than most of the competition.
If you are looking to enjoy faster responses and flexibility while gaming, this is just perfect for you.
Pros
• Textured scroll wheel
• Durable finish
• Comfortable and form-fitting
• Flexible wires
Cons
• Seems small
A razer basilisk mouse review shows how similar it is to the Deathadder. It's a mouse you'll love considering the kind of specs it features.
Also, it uses one of the latest optical sensors to give you the best resolutions. You'll have a DPI fit for gaming and scrolling at speeds. As a result, you won't be caught unaware on the battlefront.
– Design
The Basilisk here is predominantly a right-handed mouse with a matte palm rest. You also get a textures scroll wheel and stipple thumb rest. You'll also notice a more angular shape if you look close enough. That helps to give your palm or claw a more targeted grip.
This mouse is also a bit longer and narrower than the Deathadder V2. It also packs a gentler texture which some would argue fits much more petite hands. What we know is that it's a good upgrade and comes with programmable buttons.
You can customize and reassign the buttons to fit your uses. As a gamer, this will help you get ahead, especially when the software lets you switch systems without losing saved settings. All around, the aesthetic appeal is consistent for this supreme product.
– Exceptional Software
On the Basilisk, you get to enjoy 20,000 DPI with support for saving up to five sensitivity levels. In the same vein, the Razer Synapse can also control the Basilisk V2's polling rate. The rate can be set to 125, 500, or 1,000 MHz. Such software also comes in handy for the programmable buttons.
If you're an RGB enthusiast, you have a lot present here. Besides, it can work with the Razer Chroma software. The lighting effect covers the scroll wheel and other parts. Since it uses the Razer Synapse, you can always use it to make changes.

– Performance
We found the V2 more comfortable to use, especially for more extended periods. Perhaps that's because of its slightly shorter form and dimensions. The razer basilisk weight is also considerably lesser than that of the Deathadder here. While it'll look a little bit smaller in your hands, you can get a lot done with it.
If you're not distracted by a wired mouse, the Razer Basilisk feels comfortable to use and delivers a solid performance.
Basilisk vs. DeathAdder: How Do They Compare?
The main difference between Razer Basilisk and Deathadder is, Razer Basilisk has an onboard memory feature, while Deathadder delivers smooth scrolling and fast responses.
We can confirm that the Deathadder and Basilisk reviewed here are amazing gaming mice from Razer. They're also popular and will provide a significant boost to gamers and enthusiasts alike. So how do they compare? Let's make a mini head-to-head comparison of their essential specifications.
– Sensitivity (DPI)
Technically, both Razer Basilisk and Deathadder use a boast 20,000 DPI. This figure comes with a true tracking system and superb Inches Per Second (IPS) for precise gaming. For this reason, we feel both of them are winners here.
The fact is that users always appreciate a gaming mouse with low latency and high accuracy. To that extent, these mice reviewed here will give you quick sensitivity so that you can make fast adjustments.
– Sensor
Both the Razer Basilisk and Deathadder have optical 5G sensor technology enabled. There's one catch, though. With the LED technology, it's challenging for the mice to work on a glass surface.
– Connection
One keen similarity between the two mice? They're both entirely wired and support USB port type. However, the two models will exhibit low-click latency even with the wired connections. That's great and shouldn't stop you from getting either one.
The wires are braided and flexible. That way, they don't get in the way or put you off. They're strong enough not to break or interfere with your actions. Gamers love this fact.
– Onboard Memory
The presence of an onboard memory feature on the Basilisk V2 gives it an edge over this Deathadder. If you're a gamer, you'll find that this feature is useful. With it, it's far easier to switch computers.
Conclusion
Which one of these two mice is the absolute best in this comparison? While we think this is a question of personal choice, we have to point out that both offer similar functionalities to their users. What's more, they exhibit the same DPI, carry the exact technical specifications, and much more.
The latency and polling rate are other factors to consider before settling on them. For differences, we have to mention how their design and ergonomics differ. There's a thumb-rest, DPI toggle clutch, and profile switching button on the Basilisk here.
If you consider the Instinctive Scroll Wheel Tactility feature of the DeathAdder very suitable for your style, then go for it. Otherwise, Basilisk's onboard memory will count in your favor if you are looking to switch between multiple PCs without losing your settings.
In our opinion, DeathAdder is slightly better, as it consistently delivers smooth scrolling and fast responses when put to the test.
On the whole, they're two great gaming mice you can count on, as they both pack the features to help you make the most of your gaming activities and go through a vast range of pages with ease.