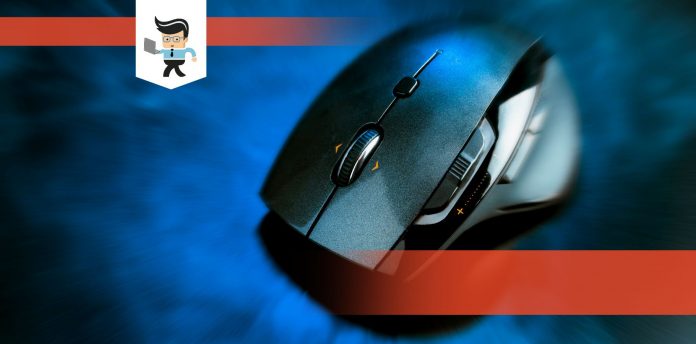 Trackball mice can look strange, but there are plenty that loves them. The Logitech M570 and Logitech MX Ergo are impressive, ergonomic mice.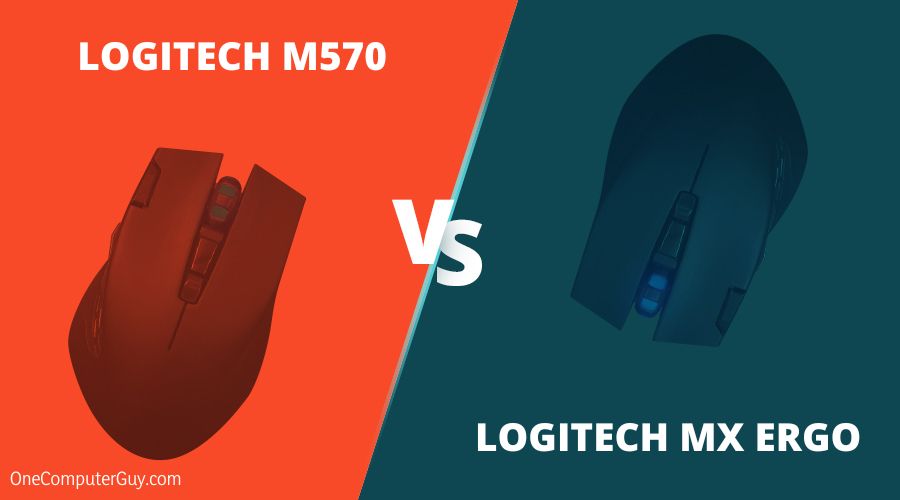 They are jam-packed with excellent features that make them worth getting, with some differences. Here we will compare these features and differences to determine the best trackball mouse.
| | | | | | |
| --- | --- | --- | --- | --- | --- |
| Product | Battery Life | Hand Orientation | Adjustable Hinge | Flow Technology | Rechargeable Batteries |
| Logitech M570 | 18 Months | Right-handed | No | No | No |
| Logitech MX Ergo | 70 Days | Right-handed | Yes | Yes | Yes |
Pros:
● Extremely ergonomic
● Long battery life
● Cheap
Cons:
● No rechargeable batteries
● Unadjustable trackball
The Logitech M570 wireless mouse offers some of the best ergonomics ever, thanks to its design that's perfect for your hand. If you are someone who spends several hours a day in front of your computer, this right mouse for you.
The most notable piece of this mouse is the trackball. No matter what table you're using, you can always comfortably move your cursor with this mouse. The trackball is placed in such a way that it doesn't feel out of place to use. The Logitech M570's trackball is something more mice should implement. The trackball is also easily removed for cleaning.
The Logitech M570's battery is another great highlight. The battery allows for up to 18 months of continuous use from a single AA battery. After the 18th month, you may forget even to change your battery. The M570 solves this by adding an indicator to let you know when it's time to change.
Using Logitech's SetPoint software, users will be able to set up and program their mouse. This software may be required when setting up the mouse. There are a total of four programmable buttons on the M570. This can be assigned to a variety of different macros.

Finally, the Logitech M570 comes with a wireless dongle for connections. This dongle is tiny and pretty low profile. It uses the latest wireless technologies to eliminate common wireless issues. Users will never experience lag or skipping with the Logitech M570.
Pros:
● Flow Technology
● Long battery life
● Adjustable hinge
Cons:
The Logitech MX Ergo is the top of the line mouse for productivity. With its extremely long battery life, Flow Technology, and ergonomic design, this mouse is hard to beat. The Logitech MX Ergo is also super comfortable, so using it all day isn't a pain.
On top of the extreme comfort, users can adjust their mouse to their hands. The Logitech MX Ergo includes an adjustable hinge on the bottom of the mouse. The hinge lets you change the mouse a few degrees to the right. This is great for those who want to find their optimal comfort zone.
A significant feature developed by Logitech is its Flow Technology. This feature makes multitasking simple. Devices with Flow Technology can quickly transfer clipboards and files between computers. The Logitech MX Ergo allows for three devices to be connected simultaneously, and sharing files among the devices is seamless.
The battery life of the MX Ergo is a definite plus. The rechargeable battery can last for up to 70 days. This battery is also quickly recharged with the included micro-USB charger. One minute of charging can last users a whole day.

Finally, the MX Ergo has eight programmable buttons. You can modify these buttons within Logitech's SetPoint dashboard. You can also assign the buttons to various functions and macros to improve productivity. However, the SetPoint may be required during the mouse's initial setup.
Comparison
The main difference between Logitech M570 and MX Ergo is, Logitech MX Ergo comes with an adjustable hinge and can connect over Bluetooth or through the dongle, while Logitech M570 has an eighteen-month battery life and a smaller price tag.
These mice are some of Logitech's best. They are both packed with unique features. But what are their differences? Here we will compare some of the features and how they compare.
– Handling
Both mice are ergonomically built. They are comfortable to use consistently, which makes them great. But how do they stack up?
The Logitech MX Ergo's dimensions are 3.92 x 5.21 x 2.02 inches. These measurements, plus its 5.8-ounce weight, make it somewhat the standard among mice today. From these dimensions, you could probably determine it's a little tall. That is because of the ergonomic build of the mouse.
The mouse itself is an excellent claw shape. This shape can be adjusted using the hinge underneath the body of the mouse. The adjustment only goes up to twenty degrees to the right, but it does make a big difference. It helps prevent strain on the hand when using the mouse for an extended period.
The Logitech M570 dimensions are pretty similar at 3.74 x 5.71 x 1.77 inches. It weighs slightly less at 5-ounces even. Although this mouse is of a similar shape, there's one difference: the Logitech M570 lacks an adjustable hinge. However, the M570 is still a fantastic mouse despite not having said hinge.
Both mice feature the pretty awesome trackball. Both trackballs allow users to control the mouse cursor without having to move the mouse. Because of this, users can use these comfortable mice pretty much anywhere.
The MX Ergo wins this category simply because of the hinge. It is a fantastic feature that improves the handling of the mouse.
– Value
There's no clear winner for this category. Both provide plenty of features for the price.
Even though the M570 is the more affordable of the two, it is still a fantastic mouse. For having an eighteen-month battery life, trackball, and being highly ergonomic, it's a great deal.
It doesn't feature some of the fancy things that the MX Ergo has, but it's cheaper. The Ergo adds some nifty features, though, that make it worth getting. The adjustable hinge, extra programmable buttons, and rechargeable battery make it an excellent investment for a mouse.
The MX Ergo is probably the better choice if you are expecting long term usage. The M570 is a great on-the-go mouse that isn't an integral investment.
– Connection
This is an easy win for the Logitech MX Ergo. It has plenty of connectivity features that give it an edge over the M570.
Flow Technology is probably the best connectivity feature. This feature is perfect for those who use multiple devices simultaneously. With Flow Technology, users can quickly move files or clipboard items between devices. You can save items to the mouse's onboard memory for easy transfer.
A bonus to this is that the MX Ergo can connect over Bluetooth or through the dongle. If you are connecting through Bluetooth, three simultaneous connections are supported. These can be toggled through pretty quickly.
The M570 only features a wireless dongle. No Bluetooth or Flow. It is a budget mouse, so it isn't a big deal, but it pales compared to the MX Ergo.
Conclusion
The Logitech MX Ergo is the obvious choice in this comparison. This mouse is full of excellent features. This comes at a higher price when compared to other office mice. If you are looking for a mouse that will last you a while and increase productivity, the MX Ergo is the best.
While not as good, the M570 is still a solid choice. It has an extremely long battery life and is a solid investment. It even has the same exceptional ergonomics as the MX Ergo, making it a great budget choice.