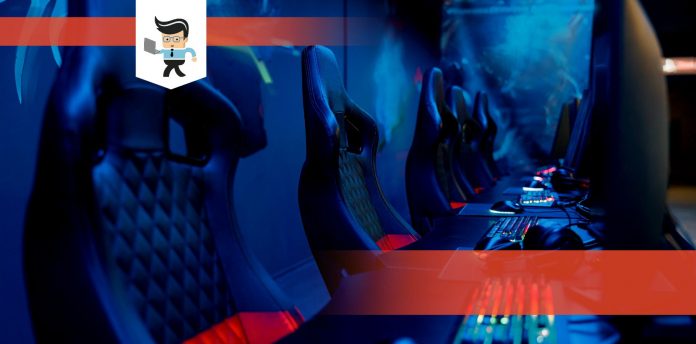 You can't do better than an excellent DXRacer drift series review when you want the chair. It's that simple, especially when you need to know more about it before forking out the expenses.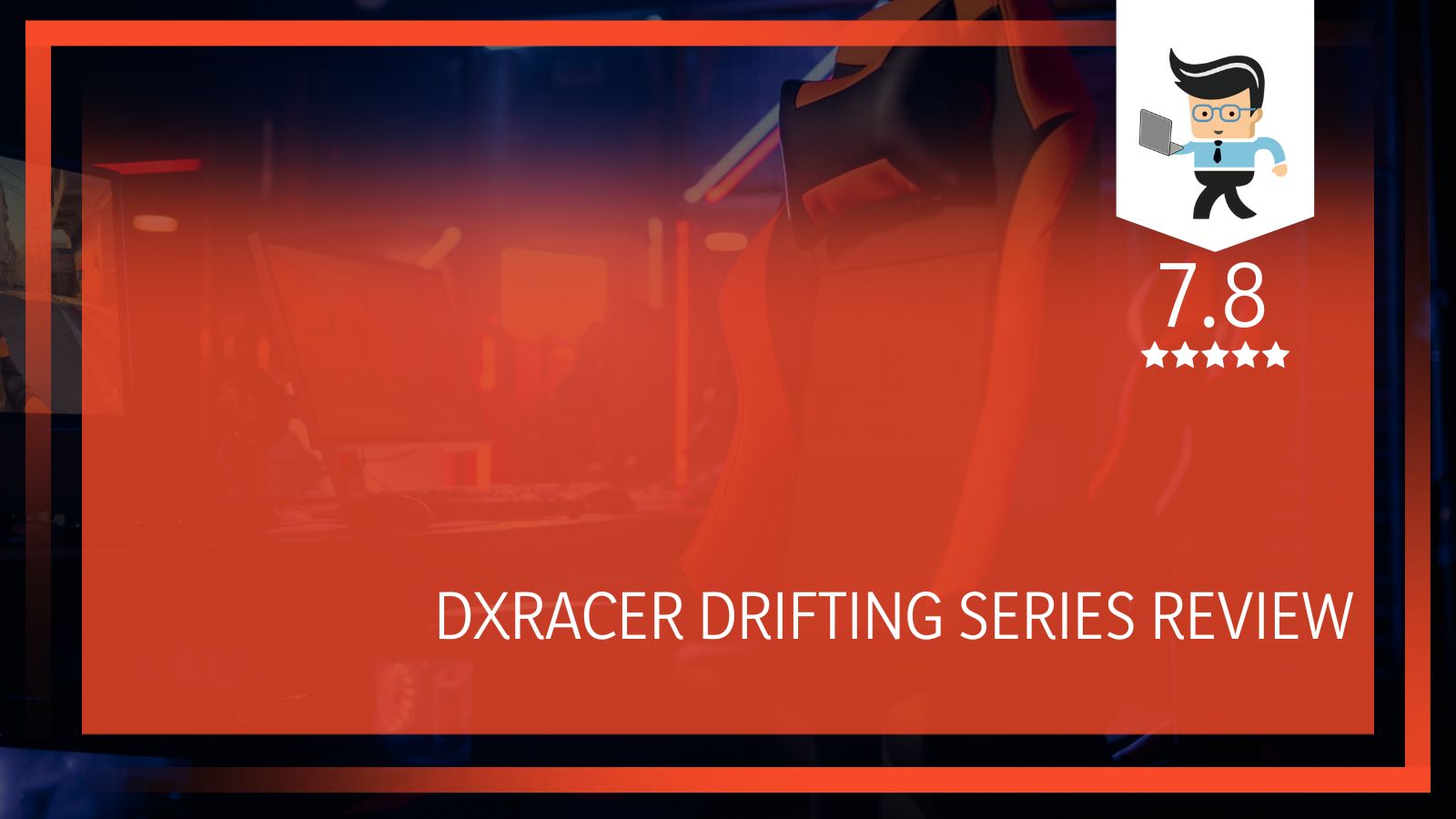 To that extent, you're in the right place to learn more about how it works. Discover whether the ergonomics and other specs are worth getting this chair.
DXRacer Drifting Series Review Top Specifications at a Glance
| | |
| --- | --- |
| Specs | Drift Series |
| Brand | DXRacer |
| Base | Aluminum |
| Frame | Metal |
| Cover | PU |
| Weight capacity | 200 lbs |
| Max Recline | 120-degree |
| Armrests | Adjustable |
| Ergonomics | High-Back |
| Footrest | Yes |
DXRacer Drifting Series Review: Here's What We Have to Say
DXRacer Drifting Series Key Criteria
PROS
Cool and stylish
Comfortable and breathable material
High ergonomic back
Included footrests
CONS
Exclusive to shorter users
Limited recline
With the DXRacer Drifting series, you're guaranteed to steer your way with an extensive armor of features. There's extra padding on this chair that makes it ideal for extended usage. What's more, it provides superior comfort for sessions over 8 hours or more.
You also get a much deeper seat compared to other options in the lineup. Along with that, the higher back will benefit comfort and thrill-seekers. That's because many gaming and office chairs offer lower backs. In line with that, it makes it impossible for users to rest their necks appropriately.
DXRacer put that issue to bed with the range of high back chairs which you can lower to degrees. That way, you can settle on a comfortable position to nap or to get a better advantage while gaming. If you're going to get into overtime, it makes sense to have this chair as a companion.
The armrest is another feature that comes in handy. The fact is it's almost impossible to maintain one position all through any activity. With the different positions, you can take with the armrest, rest assured you're safe from slanting shoulders and kyphosis. Such conditions arise from shoulder and wrist fatigue after prolonged use of the mouse.
The iron base of this DXRacer chair gives off a stable and robust arrangement. What you get is a base you can move around safely. Also, the design of the base forms the background for ultimate convenience and comfort.
The DXRacer series are excellent chairs, thanks to their cool racing design. Gamers and streamers alike find them remarkable to have and use. They also form part of winning gaming rigs with their ability to offer a wide variety of capabilities. You can come across any chair that fits you in the lineup, but this Drift Series stands out.
If you want a chair with unique style, the latest features, and a footrest to boot, you'll like this Drift Series.
DXRacer Drift Gaming Chair: Features and Specifications
– Design and Build
This DXRacer Drifting Series is a little different from other chairs under the DXRacer Racing Series. Firstly, it features a top racing slot, pillows, and a slightly different texture design. The chair also comes with a braided texture along the back and on the seat panel. That's where the executive-style look comes from.
At the top of the headrest, you also have a slight difference. It doesn't have two slits like chairs in the Racing series. Rather than that, you've hit only one horizontal slit.
There's a gas cylinder like on other DXRacer chairs along with 2-inch casters. They both play a role in helping you to adjust the height of this chair. We know how 'small' the chair is and it won't take many persons weighing more than 200 pounds.
If you're of a smaller or average build, you'll like this chair. It's also a high back that allows you properly rest your back and spine. It's all built like a racing car seat. To that end, you can feel yourself drifting while taking pleasure in the latest games.
– Pillows and Headrests
Pillow options on this chair are different from those on the classic Racing Series chairs. To that end, the chair comes with a more "U" shaped pillow, while there's no recline to a complete 180 degrees. The recline remains modest at 120, but we observed that it could go a bit beyond.
Another difference you can see is the sear backrest which comes across as very firm and padded. As such, the support you get is good. It's also similar to something you'd experience on a racing car with a premium seat.
While some people feel the seat on the DXRacer drift gaming chair is too hard, we think it's rather plush. When you sit, it loses a little of its shape, but when you're up, the foam immediately gets back to its original state. That's why it's recommended for long gaming hours because the straight back lets you sit however you want.
It's always nice to be able to sit up straight for work and relax occasionally.
– Armrests
Armrests form part of any fantastic gaming chair. As such, you don't expect this Drift to be without one. What you need are arms to help you keep achieving more excellent balance. The ones here are adjustable and come with a wide pad. That way, your shoulders, elbows, and arms, in general, get enough protection. Good quality arms also enable you to play games and do other activities for long periods.
The Drift Series armrests can also move in different positions, including up and down. That will help you get a great angle to relax and support your arms with. You can turn them or push them as the case may be.
– Comfortability
You probably want a chair because you want a comfortable base to work with. As such, it's no point going for anyone you come across. This Drift Series provides excellent comfort for users. You get paddings made with the best forms and breathable fabric to cover it.
Breathability is a significant factor to consider when getting any chair. It can decide whether you get to spend a little or more time on any gaming chair. That's why this Drift Series' design will keep you cool at all times.
The perforations mean air can pass through without hitches. That way, you don't feel hot after prolonged use. Again, you don't need to get up at intervals because the chair remains cool at all times.
– Footrest
When you have a gaming chair with a footrest, it adds to your desired comfort during a gaming session. Most importantly, it helps to improve your blood circulation and helps you with your posture. It pays to have one of such chairs if you spend a great deal of time seated.
The Drift Series gives you that opportunity because it comes with a footrest you can bank on. You don't have to take all that pressure on your legs. Use the footrest ergonomically provided by the DXRacer Drift Series.
– Extra-High Backrest
Like some chairs in the DXRacer lineup, this one has a high backrest. That way, you get to save your neck and spinal muscles. Moreover, it shows a flexible seat back with adjustments. It merges well with the padding on the seat. As such, you have uniform protection all around the chair.
When you add the strong PU leather to the mix, you get a chair you can use for a long time.
– Performance
Measuring the DXRacer d-series isn't an easy proposition, but we'll go ahead to give you one. When you consider the kind of features it packs and how they help you stay comfortable, it's worth considering. To that end, we feel this chair is a keeper, thanks to the latest innovative designs and capabilities.
We already mentioned how similar the chair is to a racing car seat. There's no hassle sitting in one, especially with the feeling that comes with it. You've got a strong base and frame using a combination of metal and aluminum. That's why it gives off a strong look and sense of comfort. You won't be falling any time soon.
For the time you want to spend on it, you'll find that the chair is worthy of its tag – Drift Series. There are also additional items like lumbar and headrest pillows. They're also adjustable and help you feel more ergonomically supported through all your activities. Besides that, you can always take them out if you feel okay with the chair itself.
People who have a small frame will also enjoy the seat, high back, and other features. They're all available to give your body a comfortable time. The Drift Series also includes a footrest! That's a significant step considering others don't have one. As such, you can put your legs up while on recline or playing some games.
Speaking of recline, you can tilt this one to 120-degrees max. Not bad, but we feel it's a bit limited here. However, it's still a feature present on this gaming chair. It will make you feel better knowing you can nap on your chair rather than get up searching for a bed. Other things like the perfect upholstery stitching enhance the performance of this chair.
Frequently Asked Questions
1. Who's the DXRacer Drift Series Chair for?
Good question! If you weigh about 200 pounds, this chair will suit you to a tee. It's built for those whose height is no more than 5'9″ tall. With such a frame, you'll fit in nicely without making too many adjustments.
That said, the chair is also great for people who love a modern design with well-stitched upholstery. You can't do better than that. Moreover, it features many customizable parts keen users will find interesting. For example, the armrests are firm and move along several directions.
A footrest and perforated fabric and PU covering further add to the effectiveness of this chair. The "small" design of the chair also means it won't take up too much space. That's why it's the perfect fit for your gaming room or office environment.
Conclusion
The DXRacer Drifting Series comes across as a great DXRacer chair. It's has a unique style made for shorter or average-sized gamers and users. While it has some reclining limitations and slightly different pillows, you have the core DXRacer experience. What that means is firm support, excellent materials used, and durability. It's a chair that's balanced out in any way you imagine.
The Drift Series also has a substantial piece of engineering to go along with a fabulous design. Built with modern racing chairs in mind, you will do no wrong choosing them. Pergolas, their combination of metal and aluminum, breathable fabric, armrests, and footrest will convince you.
Overall, the ergonomics on this chair provide the most critical factor – comfort. Whatever the case is, you can make an informed decision with the review we have provided. You can stream and game on this chair for more than eight hours without any pain or discomfort.