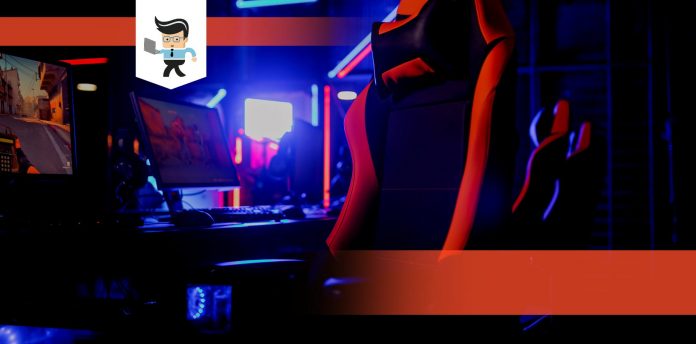 The best gaming chair with a footrest is an incredible piece of furniture designed to improve your gaming experience.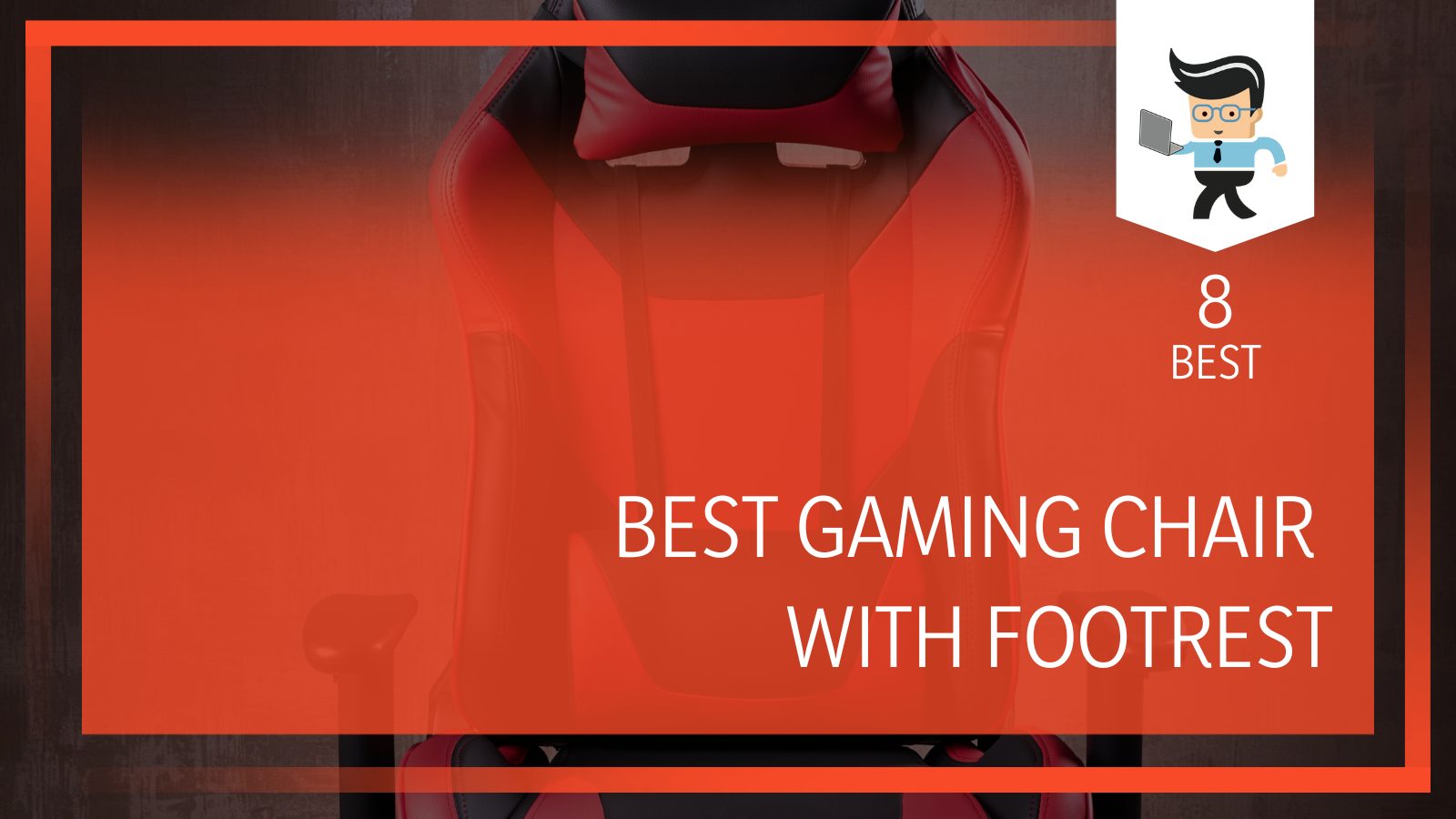 There are variations in the market, but it's easy to settle on what works for you by reviewing our top choices. Read on to learn more!
Best Gaming Chair with Footrest Specs Table
| | | | | | | | | |
| --- | --- | --- | --- | --- | --- | --- | --- | --- |
| Brand | | | | | | | | |
| Max Recline | 160-degrees | 160° | 170° | 135° | 125° | 155° | 180° | 155° |
| Bluetooth | No | No | Yes | No | No | No | No | No |
| Materials | PU leather, high- density foam | PU leather, steel | Metal, leather | Soft PU leather | PU leather, thick foam | Standard PU leather | Prime Retro leather, steel | Heavy nylon, metal |
| Support | Lumbar, Headrest | Lumbar, neck pillow | Lumbar, external pillows | External pillows, cushions | Neck, backrest | Massager lumbar | Lumbar, neck pillow | headrest, lumbar pillow |
| Footrest | Yes | Yes | Yes | Yes | Yes | Yes | Yes | Yes |
| Armrests | Yes | Yes | 3D | Yes | Yes | Yes | Yes | 2D |
| Others | Swivel | Swivel, rotation, USB function | Multi function | | 360 swivel, multi function | Swivel, gas lift | USB, vibration | 360-degree swivel, rotation |
Best Gaming Chairs with Footrest: Our Top Picks
While a PC gaming chair is fit for general use and provides ergonomic support for long periods, it lacks extra ability. A footrest provides that extra level of comfort.
As such, they gave become a fixture for many chairs, including office chairs. They're also optimized for different spaces, with some being within budget and still having excellent capabilities.
While seated in an ergonomic chair, the spine expands, and the muscles are kept active. Your body won't experience any strain because blood flow still happens. A good footrest contributes to this feeling and goes ahead to boost your cognitive performance.
Overall, the chairs we cover in this article will help you sit longer, feel better, and get a lot done.
Pros
• Premium materials
• Adjustable features
• Relaxing tilt and recline
• Wide usage
Cons
• Few top-quality parts
The best place to begin with a review of this Soontrans chair is the premium materials it uses. In line with that, it boasts the latest in ergonomic designs coupled with premium quality PU leather. The foam is just as dense as other top-quality options and promises a comfortable experience. We all know how the best materials for a gaming chair are essential, and that's one thing that makes this racing-style chair standout.
The dimensions of this chair are adequate as well. The wheelbase and overall height combine to give you a comfortable background. Moreover, you can make adjustments to fit your preferred size.

Also, there's a reclining backrest and retractable footrest here. You can lounge on this chair with your feet up thanks to a tilt that reaches up to 160-degrees. For more comfort, users have an additional adjustable headrest pillow and lumbar cushion. Our grouse with this chair is that it lacks enough top-notch features. Sure, it doesn't cost as much, but the brand could've added more capabilities.
If you want a gaming chair that carries a footrest but won't carry a premium cost, this Soontran chair is the best choice.
Pros
• Comfortable components
• Sturdy materials
• Large seat
• Perfect for gaming
Cons
• Quite heavy
A reclining gaming chair with a footrest is one of the best things that can happen to a gamer. With this chair from Yourliteamz, users get to enjoy a chair built for comfort. The reason for this is its 160-degrees max tilt mechanism and footrest.
You also get to enjoy the height-adjustable armrest and chair seat. While sitting, you can make use of the complimentary neck pillow and USB powered lumbar massage pillow.
This Yourliteamz chair is described as perfect for gaming thanks to its large seat area pro gamers can take advantage of. As such, taking a seat on this gaming chair is bound to improve your gaming experiences and still give off a comfy ride.
The dimensions are worth it, coupled with a weight capacity that trumps other chairs. That means with a weight reaching 330lbs; you can comfortably sit here.
The materials here include a high-density foam that provides more comfort, anti-oxidation, and elastic resilience. Add the 1.8mm thick steel frame, and what you get is a sturdy and stable chair. Again, the PU leather is skin-friendly and won't wear down quickly. It also means that you won't get irritated by the material. That's an ideal situation if you play games for long periods.

Overall, this chair has an all-round appeal for different uses, including at home and in the office.
If you need a chair that is perfect for your office, your home, and your gaming station, you'll have a great time on this chair.
3. Gtracing Gaming Chair with Footrest Bluetooth Speakers and 3D Armrests
Pros
• High-quality chair
• 3D adjustable armrests
• Bluetooth and surround speakers
• Smooth tilt and swivel
Cons
• Unsuitable for larger users
• Might squeak
This GTracing chair is somewhat of a budget gaming chair but has cool ergonomic features that stand out. All you have to do is consider the capabilities here and settle for it. To that end, this chair has a high degree of recline.
The tilt will take you back up to 170-degrees without any hassle. What's more, you can benefit from the rocking motion to fittingly relax. You just might nod off while at a reclining angle on this chair.
The included external pillows add to the appeal of this chair. They are attached with straps, and both are height adjustable. The neck pillow, in particular, is shaped perfectly to fit under your neck.
Depending on your posture, you can move it up and down. Also, the armrests on the GTracing chair are 3D. That means they get to move in three directions pivoting inward and outward. Not bad, when you consider how much this chair costs.
The padding inside the chair is more than good enough. At first glance, it doesn't seem strong or comfortable. However, it is very supportive and perfect for individuals with an average build. Such individuals can sit on this chair for long hours without stressing out.
We have to mention here that this GTracing chair is not meant for large and tall users. The cost says it all, too, and the chair padding isn't for large weights. On average, it can take weights, not above 200lbs. If you're above this number, you'll have a great deal of difficulty using it.
In terms of build quality, the GTracing chair is above average. Sure, you'll come across plastic parts in some areas, unlike some high-end chairs. However, let us stress that the critical components of this chair are made of metal. Besides that, the swivel, tilt, and recline functions work smoothly while the balance is excellent, especially with the backrest horizontal to the ground.
Don't be surprised if the chair squares a little, though. That can happen under some circumstances, especially if a slightly larger person decides to use it. Still, this chair is among the quieter and budget-friendly options in the market.
The two Bluetooth speakers and surrounded sound system add more value to the GTracing. It's very beneficial for users who love to take full advantage of their rigs. As such, it's possible to connect the speakers on the chair to your devices.
Connecting your smartphone, tablet, and other Bluetooth-enabled devices will help you enjoy a more immersive gaming experience. On the other hand, you can connect your device, recline the chair, and enjoy the sounds.

The seat height is adjustable, while the high-quality PU leather upholstery is thickly padded. Overall, this GTracing chair is an ideal seat for multiple functions, including working, studying, and gaming. We also think it is the best option among the chairs in this guide.
If you want an extremely comfortable and fun chair to game with, look no further than this GTracing.
4. PC Gaming Chair and Racing Office Chair Ergonomic Desk Chair
Pros
• Easy to assemble
• Strong base and materials
• Comfortable seating
• Headrest and lumbar support
Cons
• Limited weight capacity
It's pretty easy to recommend this gaming racing chair, thanks to the kind of features we found. It is very much unlike regular office chairs because it has a bucket sear for extra comfort, especially if you sit for long hours.
The back is also comfortable, considering you have to rest your spine and protect your posture. That is why it is designed to mold around your back. As such, intense works or engaging games won't wear you out in the short-term.
Then again, there's an ergonomic armrest to help you assume relaxing positions. It's also a chair with a built-in footrest to put your feet up.
The materials here are best described as premium. For starters, there a PU leather with a curved high back and the already mentioned lumbar support. The tilt-lock adjustment is as easy as they come and an even better reclining angle.
You can bank on the five-star base casters with a high-quality steel tube frame design during long gaming sessions. Moreover, you can take advantage of the 360-degree swivel to reach across any direction. Lock in any position when you get the max 155-degree backward movement.
A chair that's easy to put together is an advantage. The estimated assembly time to assemble it is about ten to forty minutes. The comfortable seating will help you in the office or at home.

There is also a vibrator with remote control. If you've been on the chair for a long time, you can use this feature to reduce some fatigue.
Another thing we like is the fact that the PU leather is soft and resistant to oil and water. On the whole, there's a lot to enjoy here. Did we add that it has a weight capacity of 250lbs? That's enough weight gap for many individuals to benefit from
If all you're after is playing your favorite game in comfort, this PC gaming chair has a metal base and ergonomic design to help you.
Pros
• Ergonomic gaming chair
• Multifunction use
• Built for comfortable gaming
Cons
• Short recline
• Not enough capabilities
This Rimiking chair is one of the best-rated ergonomic gaming chairs out there. Sure, it comes with a footrest you can put your feet on. However, there's more to it. It features a high back and frame equipped with an adjustable, removable headrest and lumbar support.
That way, the chair ensures proper alignment and support for your back and neck. It doesn't help to feel weird when gaming or working. As such, the ergonomic parts are there to relieve you of any tired feeling after extended use.
As a comfortable gaming chair, you get top-notch materials to support you. One of them is soft PU leather filled with high-density thick foam, which has good elasticity.
Such foam is difficult to deform, making it the right choice to conquer your game world. It will also fit nicely in a dormitory for studying and office space.
This multifunction pc gaming chair with a footrest is height-adjustable. That way, you can use the lever handle at the bottom of the seat to adjust to your preferences. Then there's the 360-degrees swivel rotation followed up by top-quality multi-direction wheels that won't scratch your floor.
It's all built to allow you free movement in your space. Feeling boxed in isn't ideal for gamers or any other user. The rotations and movement are beneficial in the office, room, and game room.
The best part is the recline feature to give your back a good rest from the stress of long-hour gaming. To that end, you can adjust the chair to a max angle of 125-degree. That figure seems small, but you still get to relax on the chair.

Perhaps the presence of a footrest compensates for having such a limited recline angle. Nevertheless, you can push down to lock in your preferred position. Napping on this chair is akin to being on a bed.
The Rimiking gaming chair is perfect if you want an affordable chair with all the modern chair trappings. Its built provides comfortable gaming experiences.
Pros
• High quality
• Fit for many uses
• Free massager and retractable footrest
• Customizable
Cons
• A rather tricky assembly process
For one, the GTRacing is an ergonomic gaming chair with a footrest and adjustable armrests. Depending on how long your arms are, you can adjust the arms to suit your preferences.
If your desk is on the tall side, you'll have to adjust this chair to fit.
That's all the more beneficial, considering some gaming chairs come with fixed-position armrests. Since GTplayer can change the arms' angle, it means different waist sizes can enter this chair.
The GTplayer features a tall, broad back with ergonomic shoulder rests. Not bad when you note that some chairs go only up to the middle of your back. While this is quite okay, the tall back on the GTRacing chair gives support for your entire back, neck, and head.
That is very useful when you recline the chair to relax. There's also a headrest pillow provided here. Users can strap it to the top of the chair, and it is perfectly positioned for your head.
Spending a lot of in a sedentary position is a modern-day fixture. In line with that, you need more than a comfortable chair. You need a good chair that adapts to your needs and encourages better posture.
The GTracing chair is ideal for that and is made with artificial leather. This leather is easy to clean. That's a tremendous advantage because spending more time seated means your chair is prone to spills from beverages. The base of the chair comes with five feet placed on sturdy wheels. As such, movement is smooth and stress-free.
Adjusting the backrest is a peach of a feature here. Users can recline the chair between 90-degrees to 170-degrees for that ultimate gaming experience and relaxation. All the controls on this chair are on the right side of this chair. That means easy reach for the most basic of users out there. You'll also love the fact that this gaming chair has a metal frame that puts up with weights of up to 330lbs.
If you're asking why this chair is almost perfect, we have to mention that the assembly process is quite tricky. However, this is one of the most affordable gaming office chairs out there. The Assembly process can get awry, especially for first-time users.
It's common to have a few misplaced items and other stuff. Besides, the colors associated with this chair can be too assertive. Take nothing from the style, though, because it can hold its own among the best. The footrest is also questionable.

Overall, the chair is a great multipurpose chair and fit for your office and gaming room. There's a high degree of support to provide a wide range of users.
If you want a luxurious chair and have problems getting one, this GTracing chair is a worthy replacement. You get excellent quality and capabilities for a modest price, including a raft of features you can customize.
Pros
• Enhanced ergonomics
• Adjustable 3D armrests
• Max weight reaching 350lbs
• Max recline at 180-degrees
Cons
• A little noisy when rolling around
• Heavy
There's barely anyone who hasn't heard about the Marvel brand and the Marvel Avengers movie. That's the sole inspiration behind this gaming chair. As a Marvel Universe fan, it makes sense to have this chair behind your office or gaming desk.
It comes with three design options from which you can choose. Different well-known characters also inspire these options in the Marvel stable. You can opt for the Spider-Man gaming chair, the Iron-Man gaming chair, or the Captain America gaming chair.
If you're familiar with their respective colors, you'll quickly identify with the design that comes with each chair. That's because the colors and costume design of each superhero are taken into consideration.
The Marvel Avengers Chair for gaming is a reclining adult gaming chair designed for Marvel Universe fans. It comes with three design options: the Captain America Gaming Chair, the Spider-Man Gaming Chair, and the Iron Man Gaming Chair.
Each design makes use of colors and the design of each superhero's costume. The chair comes covered with PU and Carbon Leather. With the enhanced ergonomics, you can sit down for long periods.
The leather upholstery material is essential. What you don't want is a surface getting hot as you sit. That's why this chair is fitted with cold-cured memory foam. This foam is firm and re-forms immediately you get off the chair. As for the material, it is also breathable, with ventilation coursing through little perforations.
While sitting, your back deserves the best treatment, especially after gaming for long periods. Go ahead and plug in the USB to feel the lumbar cushion's dual vibration. Your body will feel the relaxing impact and have the renewed vigor to continue gaming.
Besides, with reinforced durability, this chair is built to last. A coated steel frame is 0.3mm thick to prevent possible corrosion while giving off more robust support.
Additional support comes by way of the adjustable 3D armrests. We know how things get with your arms trying to lean on something to maintain a steady balance. Well, you can do that with this chair by moving the components to suit the length of your arms.

The 3D stands for three directions of movement. You might want to grab your blanket because of the spacious backrest and 180-degree recline at nap time. It's very comfortable and allows you to stretch your legs while using the lumbar and neck pillows.
Suppose you're all about comfort and ergonomics. This high-density molded foam guarantees all-around comfort. The design and aesthetic appeal add value to this chair.
8. AutoFull Gaming Chair Racing Style Ergonomic High Back Computer Chair
Pros
• Footrest adds support for smaller gamers
• Excellent lumbar support
• Adjustable side-to-side armrest
• Multifunctional uses
Cons
• It can get hot after prolonged use
This chair is similar to some options here. Perhaps that's because it is a gaming chair with leg rest. That's not all there's is to it, though. The footrest here is retractable and offers decent overall support alongside other features.
If you're on the short side, the footrest will give extra support to your legs. Further, the chair is available in different colors depending on what you want.
It's also worthy to note that this chair comes with a 25-degree rocking angle. That means more flexibility even if you've set the seat angle to lock-in your preferred position. Moreover, you can take advantage of the 360-degree swivel to shuffle across surfaces or reach out for items.
Want a quick rest or a better gaming angle that's engaging? Recline the angle to its max degree at 155-degrees.
The AutoFull chair can adjust the headrest, lumbar pillow, and 2D armrests to match your preferences. It's all designed to help you find your most comfortable position and stick to it. Also, this chair is suitable for gaming and working thanks to favorable dimensions.
For materials used, it's safe to say that they're of the highest quality. You have a robust integrated metal frame and heavy-duty nylon base to work with. That combination can withstand up to 400lbs, the largest in our review.

What's more, you get a better touch and feel coupled with an SGS certified 4-level cylinder for more safety.
If you want this chair, you'll find out it is better than you expected, especially if you want one with the best lumbar support and adjustable parts.
Buying a Gaming Chair with Footrest: What You Need to Know
It's not overly challenging to know why you and other users want a gaming chair that has a footrest. It's generally more comfortable to recline your back, put your feet up, and relax. It's also a great option to have, irrespective of what you want it for. That includes office and gaming purposes.
When you're doing your best to find chairs like the ones reviewed here, you need to consider some factors. Not just how a footrest becomes part of the chair, but other components that add up.
– Types of Footrest Chairs
In general, there are three types of footrest gaming chairs to choose from. All of the options written below deliver a zero-gravity effect, with specialized features for different uses.
If you want a chair with an attached footrest, consider the types below:
• High-end footrest options
• These are chairs that usually cost more than the typical gaming chair. For example, the AutoFull reviewed here has two other chairs that have innovative luxury features. Such capabilities help to optimize your experiences, especially if you're a pro gamer.
• Footrest gaming chairs for living rooms
• These models are quite affordable but still have the standard gaming chair features. It's no surprise to find ergonomic specifications here without some other parts like adjustable armrests. If you're in a living room without a desk present, fixed or static armrests are okay.
• Office-style gaming footrest chairs
• You can also refer to them as ergonomic office chairs.
However, the significant difference between living room chairs and these is the adjustable armrests. If you're in front of a desk, you can use this set of gaming chairs comfortably. You can adjust the armrests so that the chair delivers a better PC gaming experience.
– Ergonomics and Adjustability
You need to consider many aspects of the gaming chair you want to buy. A big part of that is considering the ergonomics of the chair.
To that extent, here are some key things to look out for, including the following:
• A height adjustability feature with at least a four-inches customizable gap provides more options.
• Tilt tension and how it controls recline positions and chair rocking.
• Padded and adjustable armrests with enough depth and angle. For more choices.
• Headrest integrated into the design. This a must when looking at a chair with footrests because it helps you recline properly and provides more support.
• S-curved backrest with built-in lumbar support to protect your back, neck, and spine.
• Let the front seat washer be passive to reduce pressure on the back of your thighs.
– The Footrest
The footrest is the final piece here. When you've sure that the chair meets your ergonomic needs coupled with the right specifications, make sure the footrest is up to scratch. Get the style and color options you need to blend with the overall look of the chair.
A footrest chair can be either retractable or fixed. It's essential for better quality. The one you opt for should be retractable, foldable, or at least removable. That way, you're not stuck trying to figure out how to tuck it away when not in use.
If the chair is going into your office, it must help you sit up straight most of the time. Your legs should be at a ninety-degree angle and feet flat on the floor. That way, the footrest does not get in the way even when it's retracted.
Such a footrest should also be adjustable. The right length is significant, so even if it doesn't meet the set dimensions, you can adjust it. That's essentially mostly to sit upright or in a recline mode with your feet on the footrest.
Lastly, it should match your chair's aesthetics and provide equal or more cushioning on a footrest. Just like on the chair, if you have a thinly padded footrest, you quickly wear that out over time.
Besides, it will lose its appeal. The best components, including a footrest, have additional padding at the right spots.
– Additional Features and Materials
For maximum control and comfort, get a chair that has the right seat depth and adjustment option. For example, a chair with three-inch dense foam padding and breathable materials will enhance your performance.
A well-made PU leather with ergonomic contours, raised sides, and little openings will increase ventilation. You'd also want a situation where the chair's frame is made of the best metal and aluminum.
Lumbar support and other external or removable components make up a perfect gaming chair with a footrest.
Frequently Asked Questions
Are gaming chair footrests all detachable?
The answer is no. The fact is some of these chairs come with fixed footrests even if you can loosen them up. That is not as straightforward, though. The chairs are delivered to you, but you'll have to do the assembly yourself.
Footrests are usually attached to the underside of the seat. This attachment should not be tampered with, so you don't break some vital parts.
All the chairs reviewed here have footrests attached to them. However, not all of them can fold under the sear.
On the other hand, some footrests come affixed in a stagnant way. As such, the arms move with the chair in any direction. We think the best option is an adjustable footrest you can set aside when not in use.
Does a footrest tilt with the chair?
No, not at all. Whenever you extend the footrest, it will not be affected by the tilt of the chair's back. For the most part, the footrest on all of these chairs is attached to the seat's underside. As a result, since the seat isn't affected by the chair's back tilt, the footrest will not tilt with it.
The footrest is designed to move only when the seat does. The movement is mostly up and down because of the gas lift adjustable feature. That's a mainstay in some of the chairs here that adjust the height.
Why is a footrest necessary for my gaming chair?
There's a good number of reasons why a footrest is a necessity on your gaming chairs. Some of the reasons have been outlined in the review. The fact is a footrest is a bonus, especially if you need a multipurpose gaming chair.
You can use it at home, the office, or gaming to put your feet up and take a break. Putting your feet up can also mean adjusting to a position that best suits your needs. That's a plus if you consider that many games are engaging and need a lot of concentration.
Further, footrests are ergonomically designed with vital parts to improve your overall experience.
Conclusion
Using a footrest is a no-brainer now. It completes the chair's ergonomic build and ability to provide support. Of the chairs reviewed here, we think the GTracing delivers the best features and capabilities. It's a high-quality chair with 3D adjustable armrests.
What's more, users get to enjoy some connectivity when they hook their devices up to the Bluetooth and surround speakers. That way, it's easy to swap between functions or do everything all at once.
Many other features on the GTracing chair are also customizable to fit a smooth tilt and swivel feature. On the whole, a footrest is designed to provide additional support, comfort, and ease of use.