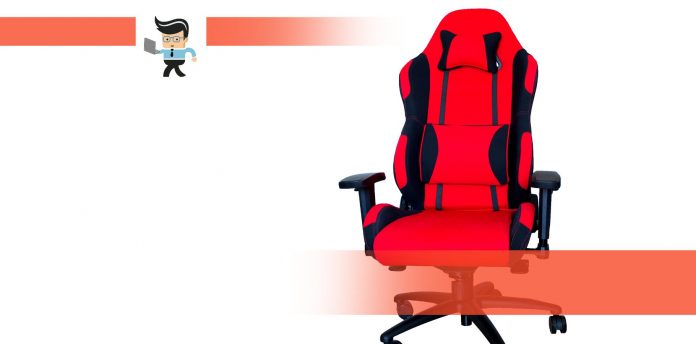 The Homall office gaming chair has earned its place in the heart of many users for all the right reasons. From avid gamers to office workers and home users, everybody seems to enjoy the style, support, and comfort offered by this brand, all at an affordable price point.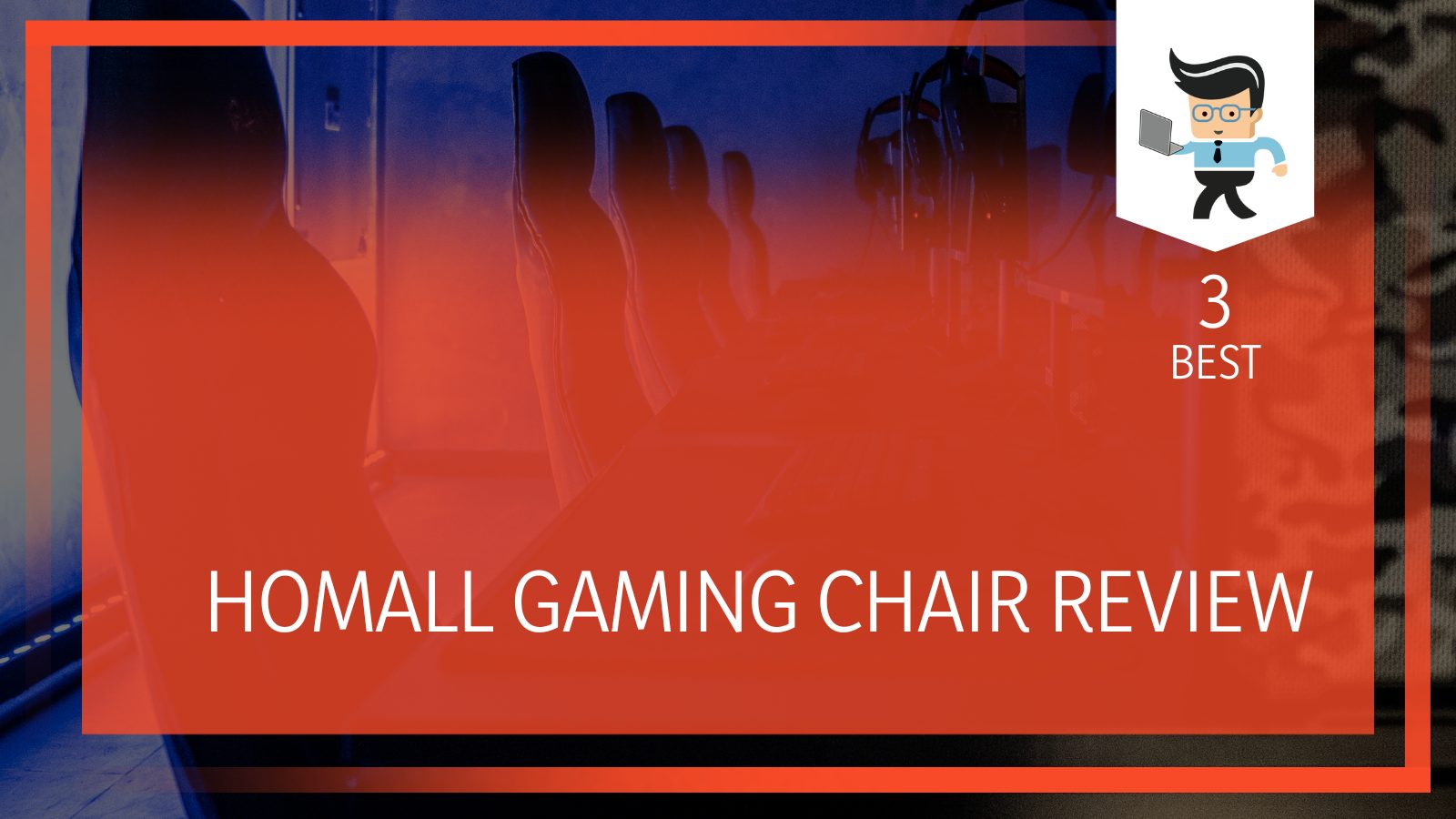 However, you should note that the Homall product line varies according to the needs and demands of some specific users. So if you are looking to get one for yourself or your loved ones, it is important that you check out each model and compare their specifications to determine the right one for you.
In this article, we have taken it upon ourselves to select the best of Homall's product line and highlight their features, specifications, benefits, and drawbacks. Read on!
Homall Gaming Chair Specifications Table
Model(Homall)
Executive

Homall Lumbar Support

Homall S-Racer Gaming Chair With RGB Lighting
Dimensions(Inches)

 

20.2L x 20.5H x 66W
19.8L x 20.5H x 47.8W
19.3L x 18H x 38W
Weight (lbs)

 

57.5
45
47.3
Leather Material

 

Genuine PU
Genuine PU
Genuine PU
Max. Load Capacity

 

330 lbs
300 lbs
300 lbs
Standout Feature

 

Footrest
Lumbar support
RGB LED lighting
Homall Gaming Chair Review: Our Top Picks
Most Homall gaming chairs share some common features and functionalities across the board. However, there are few places where they differ, and these few dissimilarities could be all that matters to some users, no matter how negligible it may seem.
In this regard, we have painstakingly analyzed and reviewed the top three products from the Homall gaming chair line to further explain how the similarities and unique features of each chair.
They are as follows:
Topping our list of the best Homall gaming chair review is the Homall Executive High Back Gaming Chair. Crafted from genuine PU leather material, the chair comes with a thick, padded bucket seat that offers maximum comfort at all times.
It doesn't matter if you are in for intense gaming or you just want to catch up with your favorite media events; the Homall Executive High-Back Gaming Chair will make your experience worthwhile from beginning to the end.
Also, the frame looks and feels sturdy, as it combines heavy-duty steel and high-density foam that will enhance its quality and overall durability.
When it comes to the dimensions, Homall keeps it within the standard range, thus striking a balance in the chair's length, width, and height, respectively. It comes out on top as a true executive gaming chair, measuring 20.2L x 20.5H x 66W inches.
These measurements ultimately constitute the chair's weight, which is approximately 57.5 lbs. As a result, it can withstand a maximum load capacity of 330 lbs, which should be enough for almost all users.
Also, there is an adjustable backrest that is designed to help rest your back and make you feel comfortable. You can go back and forth or lock the chair firmly at an upright position, all within a range of 90 to 180 degrees.
With this function, you can always switch between different modes, including gaming, working, napping, or sleeping, according to your mood.
This will come in handy for all your marathon gaming sessions, as it offers solid support for your entire back area all the way to your shoulders, neck, and head.
In addition, the chair comes with a 360° swivel function that allows you to find the correct and comfortable position for your body's shape while gaming.
We really like this feature alongside the seat height adjustment function, which can be very useful when multitasking.
The Homall Executive High Back Gaming Chair gives you the feel of a standard bed whenever it is at 180 degrees. Thanks to its padded footrest, which boasts of approximately 2.7-inch thickness, you can enjoy the cozy and comfortable feeling of your bed whenever you want it.
Overall, the Homall Executive High Back Gaming Chair works fine and is super comfortable, thanks to its adjustable back and thick footrest. You can lay back or switch modes without any issues.
However, the footrest seems not to go well for people with long legs, which is quite disappointing. Aside from this, it is a decent choice.

The chair is suitable for your home, office, and gaming use.
Pros
Ergonomic design
High-quality PU leather material
Comes with a very thick footrest
Supports 360° swivel function
Cons
Footrest not suitable for people with long legs
Another top ergonomic gaming chair from Homall, the Homall Gaming Chair with Headrest and Lumbar Support (Red), is durable, comfortable, and of great quality.
When it comes to inner design, the chair does live up to our expectations. It features a sturdy steel frame with a thickness level of 1.8mm to guarantee a firm and stable positioning when swiveling or turning.
In addition, its high-density shaping foam provides users with great comfort, elasticity, and convince while napping or gaming.
We also like the chair's anti-collapse sponge foam, which spreads across a space of 3.5 inches. Thanks to the sponge form's strong compression and recovery characteristics, you can always enjoy great comfort and support whenever you use this chair.
In the external design aspects, the chair sure does give a good vibe and features some design patterns that 03are common with premium brands only. The design concept is detailed and well-articulated, as the manufacturer focuses on providing great comfort at its best.
Like most Homall chairs, it comes with a high-quality PU leather that is very skin-friendly and receptive to touch.
It has a standard measurement of 19.8L x 20.5H x 47.8W inches and comes with a 14.5-inch seat depth. The chair also weighs 45 lbs, which is way lesser than the approximate weight of the Homall Executive High-Back Gaming Chair.
However, its sturdy build, configuration, and Class 3 gas lift ensure that the chair can support up to 300 lbs in weight.
The chair's wheels are modeled after the ones that are commonly found on racing cars. Crafted from genuine PU rubber material, these rubber casters can glide and roll across the floor with very minimal noise as you twist, turn, and switch angles when gaming or napping.
What's more, the chair's lumbar cushion will come in handy for anybody looking to get rid of lower back pain or maintain the natural curve of their spine when in a suitable position. You will have no reason to slouch or lean forward at any point, which in turn will help to prevent poor posture or any form of back pain.
The Homall Gaming Chair with Headrest and Lumbar Support also performs well when it comes to versatility and multi-functions. The chair's multi-direction wheels and 360-degree swivel function will help you find the most comfortable position at all times.
The chair boasts of a seat height adjustment function, which can go from 17.3-inch all the way to 21.5-inch. We are sure you will like the chair's recline function, which ranges from 90 degrees to 180 degrees.
You can also rock the chair back and forth by adjusting the knob underneath the seat as you wish. In addition, this Homall Gaming Chair allows you to take advantage of its Tilt Locking mechanism to steadily lock in an angle whenever you are gaming, relaxing, or just sitting.
Overall, the Homall Gaming Chair with Headrest and Lumbar Support is a solid choice for anyone looking to get great value for a gaming chair without jutting their pocket. It will come in handy for your computer games, movies, relaxation activities, and office works.
We like the fact that the chair's padding looks and feels great while the suspension remains solid and steady always. However, the chair's armrests are non-adjustable, which could really put off some users with long arms.

Aside from that, it is a great choice.
Pros
Solid steel frame
High-quality PU leather
Adjustable lumbar support
Adjustable seat height for multiple uses
Cons
Armrests are static and non-adjustable
Colorful, stylish, and rock-solid, the S-Racer is another top-notch executive gaming chair from Homall. Its distinct features set it apart from the other Homall products, and we are sure only a few chairs from other brands can match the Homall S-Racer when it comes to great features and functionalities.
Straight out of the box, the chair is easy to assemble, and the configurations are pretty straightforward. The chair's amazing RGB LED feature is not difficult to notice. It offers unique fashion styles that are noticeable from the very first glance.
Just like the other Homall gaming chairs in this article, the S-Racer comes with many features and functions that will appeal to all gamers and office workers. It is pretty easy to assemble and configure, which is one major thing that appeals to a lot of users. In addition, there is a tilt locking function, which can go from 90 to 150 degrees, depending on the angle that is most comfortable for you.
Starting with the design, the chair is a unique mix of ergonomic build and stylish design that will impress all users. Its sturdy base, which comprises of a strong metal frame and heavy-duty five-star base, will help maintain balance when gaming or working.
The design is super cool, as it focuses on keeping and maintaining the natural shape, posture, and position of your body without sacrificing comfort and convenience.
As common with Homall's chairs, the S-Racer comes with furniture-grade PU leather that offers complete comfort across the board. The chair comes with a full length back support to help to ward off painful stress and strain toward your head, neck, shoulders, and legs.
Whether you are after some sort of relaxation after a long day at work or you want to enjoy your favorite computer games all night long, the Homall S-Racer with RGB backlighting is equal to the task.
You can do whatever you want to do in your chair and enjoy maximum relaxation and comfort while at it. Homall's insistence on quality is evident for all to see, from the PU leather material to the adjustable swivel and headrest.
Words cannot really describe the amazing feeling of the chair's dynamic RGB lighting effects. You have to see it work in the dark to appreciate this lovely chair the more.
Notably, you can choose and switch between four different modes, according to your taste.
They are:
the static lamp mode
the breathing lamp mode
the rolling lamp mode
the stacking lamp mode
You can also enjoy seven unique mono-color in display with a combination of rich and vivid color combinations to further accentuate the lighting effects.
To cap it all, here is a highlight of the major selling points of the Homall S-Racer with RGB LED light feature.
RGB LED Lighting: As we have pointed out earlier, the Homall S-Racer's RGB LED lighting is the most distinctive feature of this gaming chair. This is because it looks amazing from every angle. It goes beyond what we normally see on standard RGB gaming chairs to provide users with awesome lighting effects that are available in different modes of color combinations.
Depending on your mood, you can select a lighting effect that will help build up interest in your home or office works. You can also combine several colors to set up a perfect atmosphere for relaxation and gaming without any feeling of fatigue and discomfort.

Great Functions: The Homall S-Racer comes equipped with many functions to make your tasks easier and keep you in a comfortable position at all times. These functions, which include reclining backrest, adjustable height, and 360 degrees swivel, can make all the difference in your gaming activities and office works.
Unique Mix of Soft Cushion and a Sturdy Base: Homall, once again, shows great commitment toward the user's comfort and safety in the way they paddled the S-Racer's seat and backrest with premium foam that will not leave you sore after a long time.
You can also rest assured that the chair's metal frame is strong enough to withstand your weight and maintain balance while swiveling or turning.
Versatile: The Homall S-Racer comes in handy for a lot of tasks and activities, including seeing your favorite TV shows, video games, long hours of coding and office tasks, napping, and relaxing after a long day.
Pros
Fantastic RGB LED lighting
Super strong color caster wheels
Ergonomic design
360-degree swivel capability and tilt locking function
Cons
Can only work via USB connection and not with a battery
Buying Guide for the Homall Gaming Chair
The truth is, all Homall gaming chairs come with a lot of features and functionalities that will appeal to almost any user, and getting one will give you an overwhelming experience. However, you have to make the first move by selecting the model that is most suitable for your home, office, and gaming needs. That's not easy considering the massive number of gaming chairs that are all over the market today.
Not to worry, this buying guide will give you a heads up on the features you need to know before buying one.
1. Chair Type and Personal Preference
First things first, it's important to consider the type of Xbox One gaming chair you want.
Of course, your preferences play a big role, but you have to choose from the following:
Rockers. A rocker feels like the best of both worlds since you have gaming control over it and a rocking chair rolled into one. Not bad for comfort.
Racing chairs. These chairs are aptly named because they have steering wheels and pedals. As such, users of this Xbox One gaming chair often have realistic experience playing games on them.
Pedestals. These chairs will take you notches off the floor. You can also swivel around as much as you want.
2. Portability
If you're a gamer that moves around a lot to friends' houses or gaming conventions, you'll want a chair that can effectively leave your home without hassles. There are several Xbox One gaming chairs out there that fits the bill.
3. Weight Capacity
Any Xbox One gaming chair has a listed weight rating. Depending on what you want, your chair should accommodate you and perhaps, your family and friends. Always check to see if it measures up to what's best for you.
4. Breathable Fabric
Chairs should breathe. Sounds weird, right? Well, the fact if they don't, things will get pretty hot very quickly. That could mean a lot of discomfort for you, especially when you're settling in to take your opponents by storm. Leathers are particularly long-lasting but tend to give off less air. If you spend a lot of time playing games, ensure your Xbox One gaming chair is breathable.
5. Inputs and Outputs
For a total gaming experience, be on the lookout for a chair with working inputs and output features. Features like headrest speakers and HDMI connectivity will leave you feeling more at home and comfortable.
6. Ergonomics
Ergonomic features, including Lumbar support and some other cool features, will help you remain comfortable. Your Homall gaming chair should prevent you from having back pain and other strains. Since you'd be sitting for long hours, ergonomics is a chief concern.
7. Lumbar Support
This is very important, considering many gamers spend a great deal of time sitting. Back pain is one of the chide complaints among gamers. Ensure your lumbar vertebrae receives adequate support. An ergonomic PS4 gaming chair with comfort features will work.
Frequently Asked Questions
1. Is the Homall Gaming Chair Good For Me?
The Homall gaming chair is suitable for whoever needs it regardless of your age, gender, weight, or height because it is designed with gamers like you in mind. It doesn't matter if you need it for your video games, computing, or media and relaxation purposes; whatever you do, the right gaming chair will come in handy.
The often you use a gaming chair, the more it impacts your posture positively. However, it is important to carefully check out the specifications of each chair, as they can vary in design, sizes, features, and load capacity.
While some gaming chairs are designed to withstand almost anything you throw at them, others can only make do with a limited weight. That is why it is important to check and verify the details of any gaming chair before you make the chase.
For instance, if your weight is on the heavy side, you need to be sure that your gaming chair is able to support your weight without sacrificing convenience and comfort.
The same goes for very tall and short individuals; getting the right gaming chair that can be adjusted to meet your specific demand and requirements is the only way to determine whether a gaming chair is good for you or not.
2. How Does the Homall Gaming Chair Work?
The Homall gaming chair is designed to help you sit, relax, and enjoy your video games without difficulty. It offers a solid form of support for your neck and back while you are sitting in front of your screen.
Usually, they come with taller backrests and support pillows to help keep your body in proper alignment while you are in a sitting position. Most gaming chairs are made with thick foam padding to help ensure even distribution of your body weight when you sit on the chair.
3. Can I use the Homall S-Racer RGB Gaming Chair with a power bank?
Yes, of course. The Homall S-Racer RGB Gaming Chair works well with a power bank, so you are free to connect it with your USB-enabled power bank and power the chair on. However, the chair can only stay on for as long as your power bank battery's capacity would allow it.
This implies that a power bank with a bigger battery capacity could translate into a longer time for the S-Racer RGB gaming chair. In this regard, we suggest getting a power bank with a minimum of 20,000maH or higher.
4. Is the Homall S-Racer RGB Gaming Chair battery-powered or needs to be plugged in?
The Homall S-Racer RGB Gaming Chair does not work with a battery, which implies that it needs to be plugged in via USB every time you want to use it.
Conclusion
To wrap it up, Homall's insistence on quality and great design cuts across the three chairs highlighted in this review. However, your personal preference will be the determinant factor whenever you are ready to get one.
If we are to make a choice, the Homall S-Racer Gaming Chair with RGB Lighting does it for us. Its super comfortable design and beautiful RGB LED lighting feature make it our top pick, as it offers everything we desire in a gaming chair and more.
We also recommend that you check the other chairs as well if you are looking to decide which model works best for you before you make a final decision.