Our TP Link C4000 review showcases a powerful tri-band wireless router sporting extensive coverage and connectivity options. It provides ultra-fast performance and solid throughput despite being connected to multiple devices.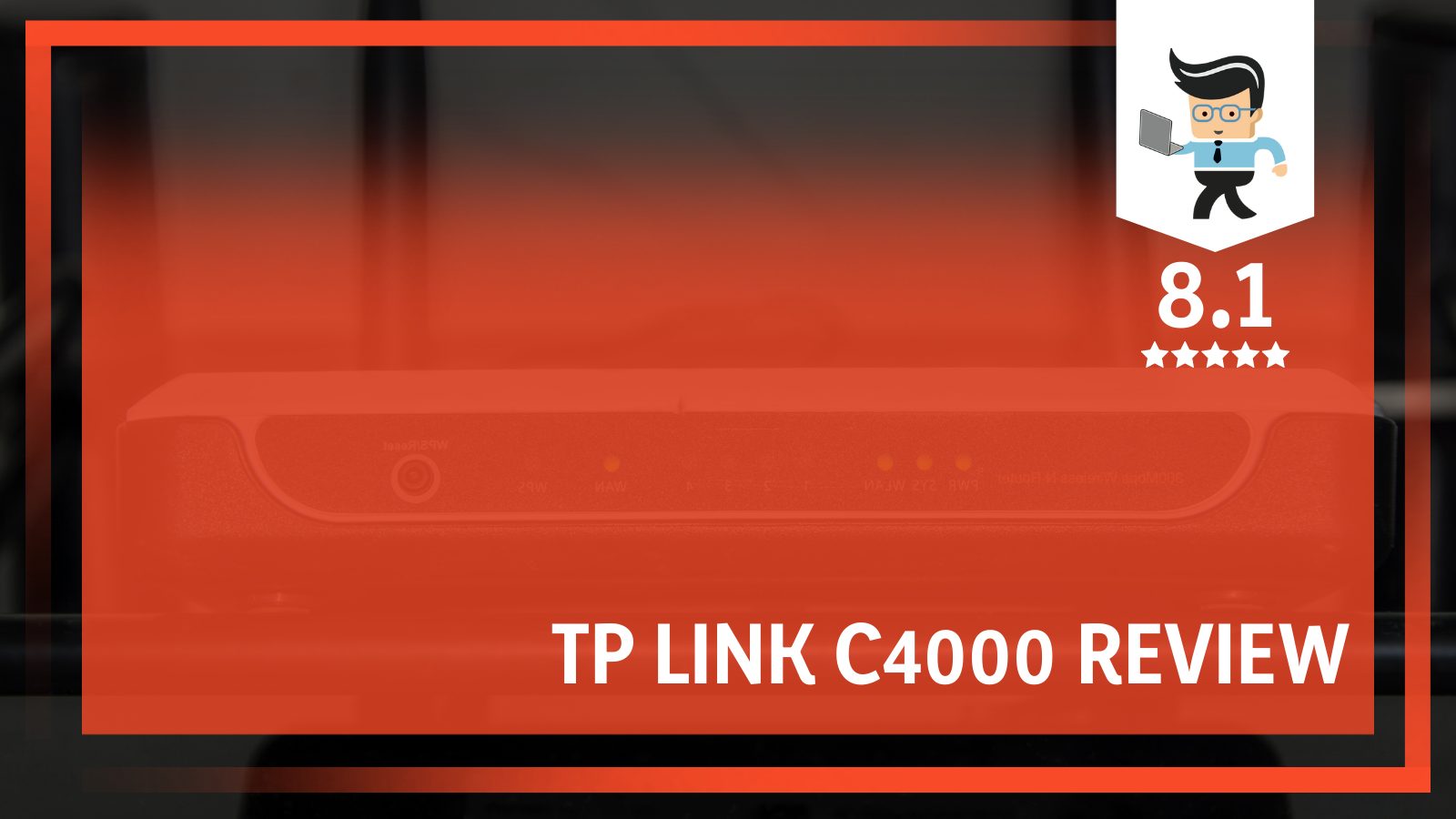 With the network not slowing down, it's possible to play online games without glitches and stream high-quality videos on any platform.
With a brief introduction of this router, there's more to learn about its capabilities; read on to learn more about this device before making a choice. 
| | |
| --- | --- |
| Pros | Cons |
| Fast, ultra-fast reliable Wi-Fi performance  | Middling 5GHz range performance |
| Solid throughput performance | Can be unsightly |
| Beamforming, MU-MIMO, RangeBoost technologies  | |
| Multiple connectivity options  | |
– TP Link C4000 Review: Product Highlights
Using its tri-band capabilities and speed to increase your network's capacity aren't the only positives to expect from the C4000. These are the outstanding features and specifications of this router: 
Design is Rugged Appearance 

Wi-Fi Technology is Tri-band 

Processor is 1.8 GHz Dual-Core CPU

Wi-Fi Speeds are AC4000 (Dual 5GHz – 1625 Mbps; 2.4GHz – 750 Mbps)

Wi-Fi Standards are Wi-Fi 5 (IEEE 802.11n/b/g 2.4 GHz; IEEE 802.11ac/n/a 5 GHz)

Connectivity is 1× USB 3.0 Port; 1× USB 2.0 Port

Buttons are Wi-Fi On/Off; Power On/Off; LED On/Off; WPS and Reset

Antennas are 6 Fixed High-Performance External 

Extras include Beamforming, MU-MIMO 
TP-Link Archer C4000 Wireless AC4000 Router Key Criteria
PROS
Fast, ultra-fast reliable Wi-Fi performance
Solid throughput performance
Beamforming, MU-MIMO, RangeBoost technologies
Multiple connectivity options
CONS
Middling 5GHz range performance
Can be unsightly
A new router is one of the best upgrades you can purchase for your home. The router you buy will determine the network speeds of every device you connect to it. For this reason, you should look at a cutting-edge Wi-Fi 6 (sometimes, 802.11ax) router or the older Wi-Fi 5 (also known as 802.11ac) routers.
Regardless of your choice, you'll have a fast, top quality choice. There's no need to spend dozens of hours sorting through the hundreds of routers available, thanks to the TP-Link Archer C4000 here. 
The TP Link C4000 is a Tri-Band Wireless router, which means that it supports two high-performance 5GHz bands simultaneously.
These bands will help you increase your network's capacity, while the smart Wi-Fi connect feature steers clients, equally to both bands. As a result, there's reduced congestion when multiple devices are connected. The band provides dual 5GHz at 1625 Mbps and 2.4GHz at 750 Mbps. 
When it was first added to the TP-Link family, it came with an increased capacity to accommodate more devices. It operates well within its running temperature and has different ports for more connections, including USB ports. Gigabit ports, and other technology. 
You get different security options as well, which will come in handy to protect your home's network. This includes parental control features and HomeCare network security software to protect your network from malware.
The router is pretty easy to set up as well, and its compatibility with TIME Fibre and Unifi makes it a good choice for large homes and offices. The interface, Wi-Fi coverage, and dynamic features means it is a terrific option to connect all your devices. 
– How Has This Product Evolved?
The Archer C4000 is significantly cooler, warmer to the touch, and has more hardware specifications than its predecessor. You'll also get two high-performance 5GHz bands, enhanced technologies, and more options to connect, but the design of the Archer C4000 is similar to the older Archer C5400 with the antennas.
It also has its share of ventilation holes at the top of the router.

Product Features Breakdown
Here is a breakdown of this product's features.
– Quality Build With Ventilation Holes
When you want solid design and features, the TP Link C4000 is a great place to start. That's because it carries a fairly rugged look similar to the previous Archer C5400 router, with only a few noticeable differences.
The TP-Link Archer C4000 comes in solid black color and six flip-open antennas you can flip down with ease whenever the router is not in use. This way, it looks like a compact black box when the antennas are not fully erect. 
Despite its hard and industrial design and appearance, the C4000 routers are riddled with ventilation holes located at the top to prevent problems like overheating. This way the router's system is cool, regardless of extended use. 
The front panel is very easy to install and you'll find nine LED lights that indicate the levels of power status, Wi-Fi range, Internet connection, and port connections. At the right panel, there are three buttons for adjusting the settings of the router. Make the settings you can work with.  
– Setup Can Be Up and Running in Minutes
One of the often understated features of this router is that it's easy to set up and install. When you want to set up the TP-Link Archer C4000, first log into the router's web interface.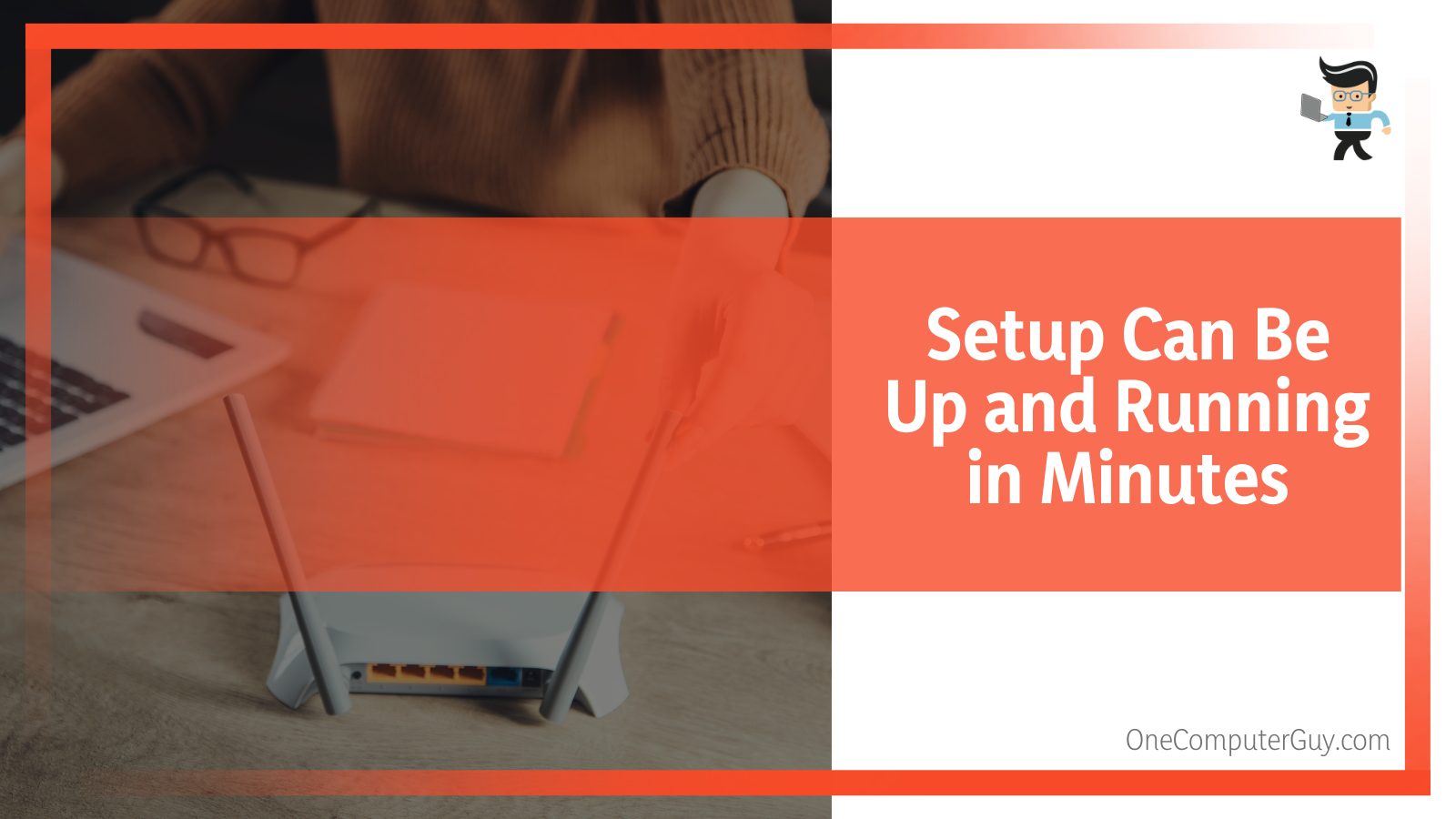 You'll arrive at the Account Management section. Click on the TP-Link ID to access the router's settings. After this, it's possible to change the password for the web management interface. 
On second thought, you can use the Tether app if you want to register the router. It's easy to download the Tether app on your smartphone then go ahead to set up the router in little time. 
– Ultra-Fast Processing
There's a reason why the TP-Link Archer C4000 is considered one of the fastest Wi-Fi routers around. It comes with a quad-core processor for powerful performance. With a 1.8 GHz 64-bit quad-core CPU, expect the router to provide high-speed gaming and streaming connections with minimal lag.
Furthermore, the design includes a built-in smart connect feature which steers clients equally to both 5 GHz bands. As a result, there's a reduction in congestion and boost aggregate speeds when more devices are connected to it.  
– 4000 Mbps Wi-Fi Speed Means Less Buffering
The TP-Link C4000 router is built to reach a Wi-Fi speed of 4000 Mbps. That figure is more than double the speed of a traditional wired network. Thanks to the TP-Link's Archer C4000 tri-band configuration, users can get ready for increased bandwidth. 
In the tri-band feature, there are two high-performance 5GHz bands you can trust to contain multiple devices simultaneously.
That means you can enjoy about 750 Mbps on the 2.4 GHz band and 1625 Mbps on both 5 GHz bands. Furthermore, the 2.4 GHz MAC address on the router enables it to operate as an access point and bridge between wired networks. 
Get used to even less buffering than on previous routers when your network's bandwidth is doubled on the second 5GHz band. 
– Supporting Technology Boosts Speed and Range
The TP Link C4000 has additional support, thanks to the MU-MIMO and RangeBoost technology to give you the best network coverage possible. It also has Broadband Wi-Fi ports so that you can have top-quality wired speeds without buffering. Then there's the Amazon Alexa Compatibility.
It's a skill the C4000 supports and it does so with Broadcom. To use it, you must have a computer and power. Besides, with an Amazon Smart Speaker, you can connect it to your router and enjoy smart connectivity. 
We like the far-reaching range. That's a reality because of the six, adjustable, high-performance antennas and a powered amplifier. Along with the RangeBoost technology, you get a network more sensitive to distant devices. Furthermore, Beamforming helps it focus wireless signals towards connected devices. 
– Connectivity Has Quality Options
First up, you have Gigabit Wired speeds even though it's a wireless router that supports the AC1200 standard, which makes it capable of providing high-speed internet. There are four Gigabit LAN ports and a single WAN port that supports link aggregation, allowing speeds to be doubled. 
The Gigabit Wired speeds are also supported by the router, and it's an ideal feature for busy families who need high-speed internet. With it, there are many features to suit every need. Another connectivity option is the Link Aggregation feature that allows two separate Ethernet ports to form one connection of 2 Gbps.  
– Antennas Mean Quality Connections
Since wireless access points deliver internet connection and provide internet for several devices at the same time, it's vital to have components to boost the network and connection. The TP Link C4000 steps up to the challenge with six antennas for the purpose. They're just the right additions for Wi-Fi, range, direction, and quality signals.
When you're getting a router, consider how well the antennas help with connectivity. On this particular C4000, all the antennas are adjustable and just the right requirement for superior wireless internet connection. 
– Security Protects Your Network
The TP Link C4000 router supports the WPA2-PSK encryption, which is the best security standard for home networks. However, there are other advanced security features, such as firewalls, parental controls, and antivirus are also available. 
The built-in firewall is another innovative way the C4000 uses to block malware. In all, you'll enjoy a secure router that keeps unauthorized users and sites out of the way. If you have kids, you'll want to know what they're looking at and the time they spend online. You can do both with this TP Link router. 
Furthermore, the router has a HomeCare antivirus to protect the network from malicious attacks. The network is mostly secure and you can make quick changes to the settings during or after installation. The adjustable antennas are there to boost connections and extend coverage. Whether you use it in a home or office, it's worth the choice. 
– Performance Is Fast and Reliable
Getting a fast and reliable router isn't an easy proposition in today's market. However, the TP-Link Archer C4000 represents a great choice. On the C4000, you'll get Gigabit Wi-Fi throughout your home, thanks to a powerful dual-band design and dual-band technology.
Also, It comes with the MU-MIMO technology, which allows up to three devices to connect to the same wireless network simultaneously. This way, wait times are limited while there's a maximized Wi-Fi throughput.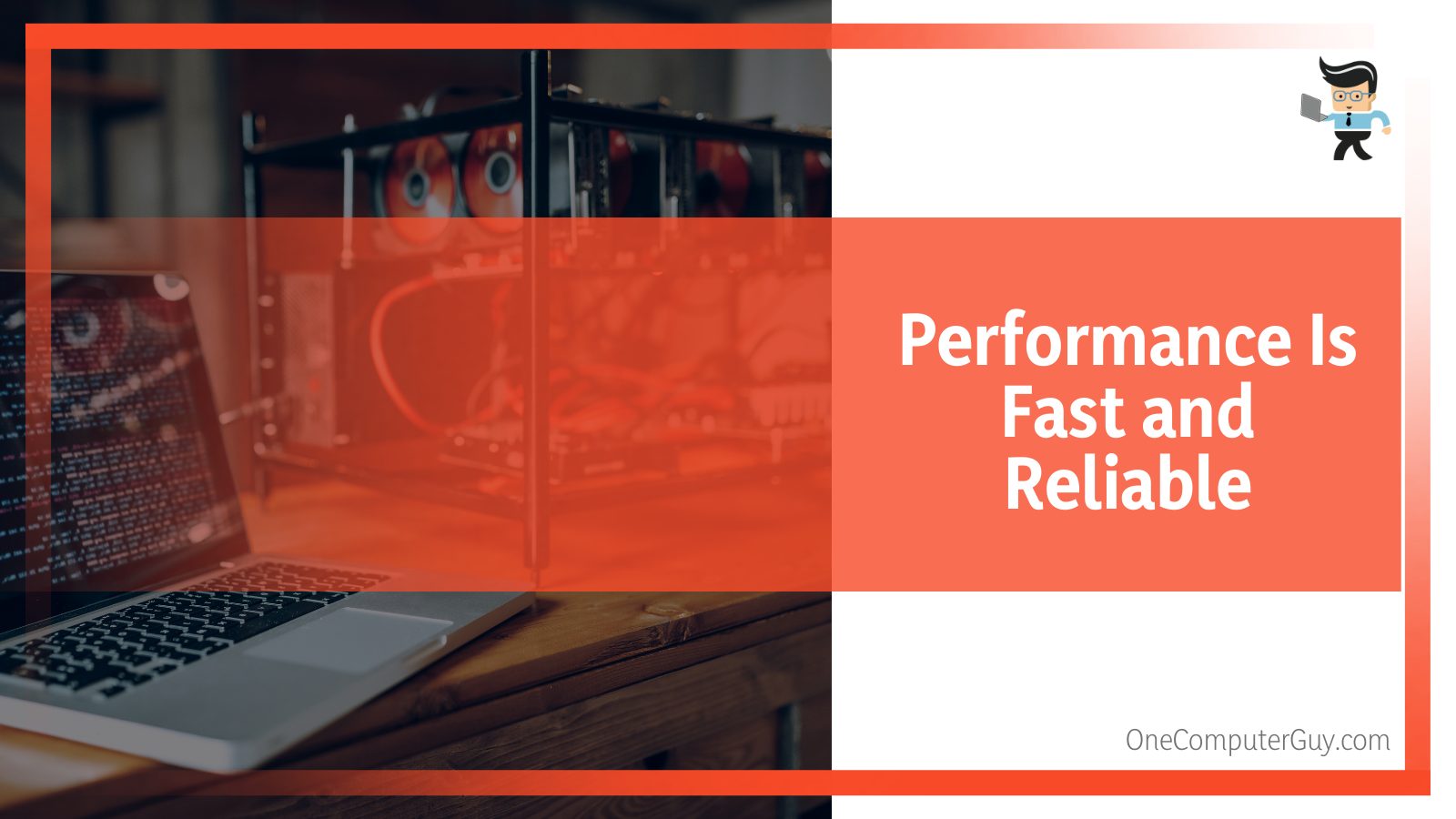 For security, you get HomeCare security and antivirus parental controls. The router also comes with Trend Micro QoS and top-notch 1.8GHz dual-core processor.
With the Tri-Band wireless setup, you will get adequate support from two high-performance 5GHz bands to increase the network capacity. That means access to a maximum speed of 750Mbps on the 2.4GHz band and up to 1625Mbps speed on the 5Ghz frequency. 
The smart connect is another feature that helps decrease congestion and boosts aggregate speed. To boost the router with faster connections, there's a powerful 64-bit dual-core CPU. The processor enables blazing-fast streaming and online gaming and with four Gigabit Ethernet ports, this router can support multiple devices at once. 
The tri-band technology allows a high amount of simultaneous data transfer, regardless of what you're using the router for. If that's business, gaming, or leisure, you'll have a high-speed, reliable connection. Get set to experience a connection that doesn't buffer or lag across any application. 
The unique features of this Tri-Band Wi-Fi router resonate the essence of our TP-Link AC4000 review, as it is completely spectacular in its engineering and execution.
You'll come across a lot of literature about the C4000 Wi-Fi router. That's because it's a great choice for a number of uses.
Based on its features and capabilities, we feel that the router is ideal for application as a multiple-purpose Wi-Fi network. That's because it's good across almost all its parameters. A 1.8 GHz Dual-Core CPU and Wi-Fi Dual 5GHz – 1625 Mbps; 2.4GHz – 750 Mbps speeds means you can play games, stream content, and more. 
– Dynamic Tech Features 
The TP-Link Archer C4000 carries a NitroQAM technology that improves rates on all four bands by 25 percent. It adds to quality airtime and a generally smooth Wi-Fi experience.
Range is another aspect that's excellent on the router. When you've got multiple devices connected to it, the C4000 can detect far-flung and low-powered devices. Also, the Beamforming feature focuses wireless signals to the connected devices. All the features combine well to protect your network from malware while delivering optimum speed and performance. 
When you want a router that provides quality features, security, and compatibility with your devices, the TP Link C4000 should be your first choice. It's a top choice for gamers and regular network users at home. 

Frequently Asked Questions 
– Should I Buy the TP Link C4000 Router?
Yes, from all indications, the C4000 is an excellent router that can handle multiple devices. You'll find the router aesthetically pleasing whether you want it for gaming or streaming. It has a built-in antivirus and malware protection capability, which is why it has an excellent security rating. 
If you have Amazon Alexa and other smart home devices, you can use this router with them. Also, it's compatible with wireless HDTVs and has an intuitive dashboard with easy-to-use software.
The range and coverage stand out because both features are boosted by six powerful antennas. This way, you're able to connect your favorite devices from any location in a standard home. 
If you're technology-inclined, additional features like MU-MIMO, RangeBoost, and NitroQAM technology will appeal to you. Along with them, expect router super-fast speed, reduced lags, and no buffering. 
– How Well Will the C4000 Perform in Online Gaming?
Very well, because the dual-band design boosts the network's capacity and a vast number of applications, including playing online games. Its built-in smart connect feature lowers network congestion and increases aggregate speed, which is good for gaming and large-scale network setups.
The TP Link C4000 router offers a Tri-Band Wireless setup, which means that there are two high-performance 5GHz bands available. 
– How Secure is the TP Link C4000 Router? 
This is very secure because it comes with a HomeCare antivirus to protect the network from malicious attacks and firewalls for advanced security.
The built-in firewall is a great place to start because it's useful for blocking malware. This way, unauthorized sites and users are barred from accessing the network. 
Furthermore, you can activate the parental control feature at any time. Keep your kids safe from dangerous websites and track time spent online. A limited or non-existent security system leaves you, other users, and your devices at risk. Thankfully, that's not the case with this TP-Link router. 
– Is the TP Link C4000 Easy to Set Up? 
Yes; setting up this router is the best part of owning one because simple and straightforward to install and run. Going to the Account Management aspect of the router's web interface is the first step to follow when planning to set up this router.
You can click on the TP-Link ID to access the router's settings, change the password for the interface, and get started. It will only take a couple of minutes to get the router going.
Conclusion
Perhaps you live in a large home and want a powerful gaming router with quality coverage and mesmerizing speeds.
You'll get both and more on the TP Link C4000. It's easy to set up and shares compatibility with many modern devices. If you have many devices like computers, smartphones, pads, consoles, and more, you can connect them to the network without any problem. 
The C4000 has other qualities that make it one of the best wireless routers that your money can buy right now, such as the RangeBoost and Beamforming technologies to provide better coverage.
You can have a smooth and easy time hooked to the network and adequate security to keep the network safe. We'll recommend it for all kinds of users, including gamers and regular users.