Our TP Link AX3200 review takes an in-depth look at a router that provides more than a modest tri-band output and multiple antennae. If you manage to get this rare item, consider yourself lucky thanks to the strong connection you get and a host of features and specifications.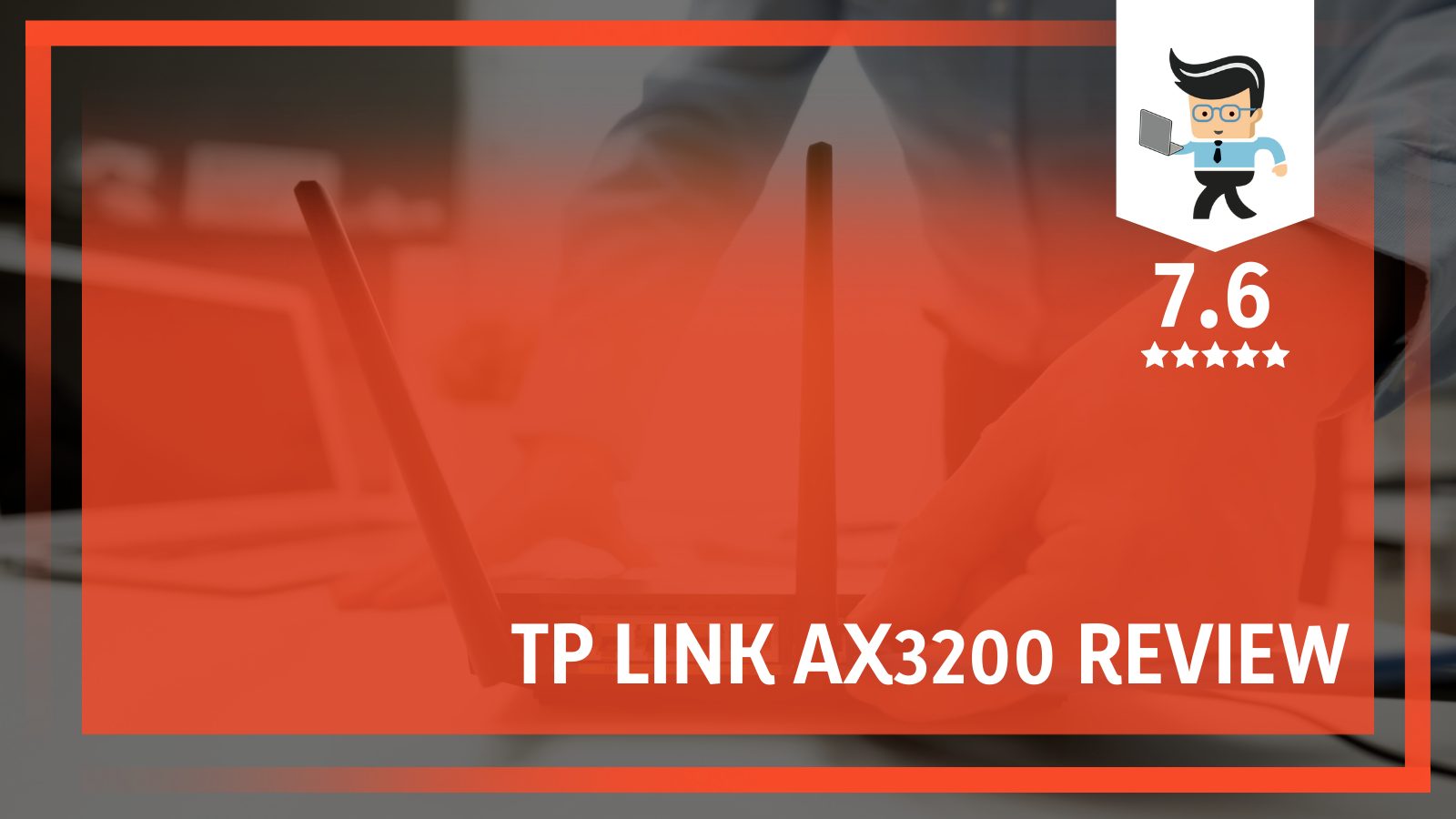 If you do a lot of work or want a router for gaming, you'll be interested in what our review team has to say about this product.
We hope it helps you make an informed decision when shopping for an ideal router and helps you figure out whether it fits the profile of the applications you need it for.  
| | |
| --- | --- |
| Pros | Cons |
| Standard web interface | Lacking a 160MHz channel width  |
| Fast, reliable Wi-Fi performance | Inadequate QoS and Parental Control  |
| Tri-band with 2.5Gbps network port | |
| Good throughput speeds | |
TP Link AX3200 Review: Product Highlights
Perhaps you need a reliable router with the right number of antennae, and just enough firepower to keep your devices hooked. Here are some standout features of the AX3200 you can focus on: 
Wi-Fi Technology: Tri-band Wi-Fi 6 (802.11ax) AX3200

Speed/Overall Specs: 

Setup/Security: Wireless Security WPA / WPA2 / WPA3 

Antenna: Six 

Mesh Ready: OneMesh

Connections: 1x USB 3.0, 1x USB 2.0; 3x LAN, 1x WAN Gigabit Port; 1x 2.5Gbps WAN/LAN Multi-Gig Port 

Total Bandwidth: 5400Mbps 
TP-Link Archer AX3200 Key Criteria
PROS
Standard web interface
Fast, reliable Wi-Fi performance
Tri-band with 2.5Gbps network port
Good throughput speeds
CONS
Lacking a 160MHz channel width
Inadequate QoS and Parental Control
In this day and age, a router comes in handy for a variety of functions and applications. However, you're not just going to pick any one you come across in the market.
A feature-filled option like this AX3200 makes a lot of sense to have, particularly if you want a network to feed multiple devices, so we give it a 7.5 out of 10 when it comes to performance, compatibility, and connectivity.
The TP-Link Archer AX3200 is not an easy router to find even though it has a renewed model. However, if you manage to get one, you'll love the value you get from it, thanks to features found on other TP-Link routers. We also score this product an 8 for security.
It's a tri-band router with reliable performances and not a whole lot more. It has an exceptional Wi-Fi 6 broadcaster for an overall network. Inside, users get a router that's secure, easy to set up for use, and customize. 
– How Has This Product Evolved? 
As an upgrade on the Archer AC3000, the AX3200 delivers the performance level of existing available clients at a healthy cost by adding more ports and flexible choices, including USB, Gigabit, and other ports. It's safe to say that there is a huge improvement.
While the router can be a little thin on power and Wi-Fi specs, our tests show that it's a comparatively modest-performing router. 

Product Features Breakdown
Here are the main features that this router offers.
– Wi-Fi Technology Is Tri-band 
The TP-Link Archer AX3200 is a bit bland for the kind of expectations placed on it as a tri-band Wi-Fi 6 router. In many ways, it does feel like the Walmart-exclusive Archer AX3000. But that's not the case because of its totally different looks, which includes six non-removable antennas. 
The casing comes designed with a thick and hardened plastic to give the internal components some cover. The Archer AX3200 remains a typical router, though. However, part of its design is the color-changing status light at its you can describe as the "nose." 
– Speed and Overall Specifications Is Moderate at Best
The AX3200's total advertised bandwidth maxes out at just 3200 Mbps of all three bands. While that's lower than the existing theoretical 4800 Mbps of a single 4×4 Wi-Fi 6 band, it performs admirably.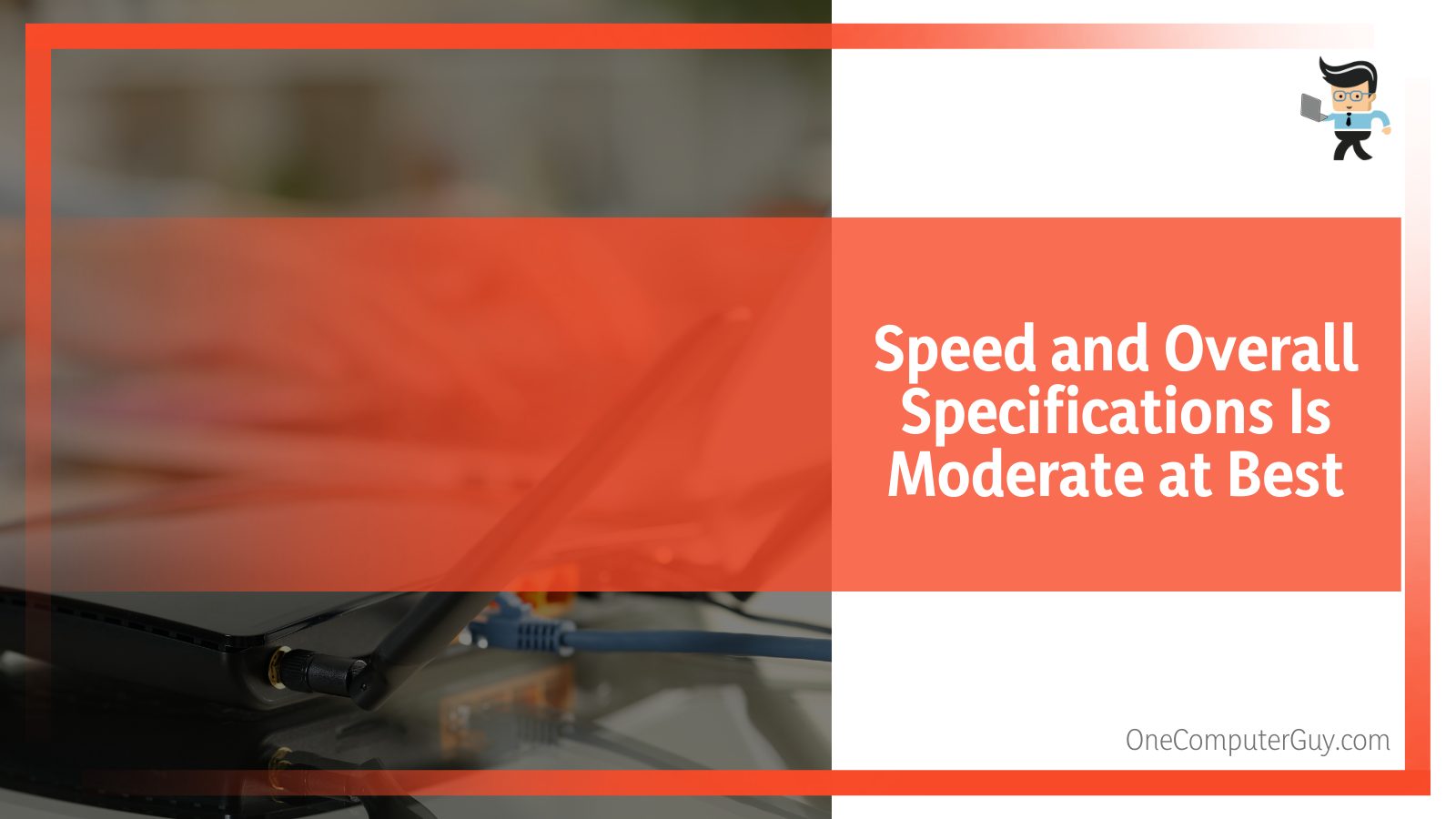 However, when it comes to intense runs and applications, some Wi-Fi 5 routers will deliver better numbers. That's because some of them have a total bandwidth reaching up to 5400 Mbps.
Furthermore, the TP-Link Archer AX3200 has low Wi-Fi 6 specs, with each 5GHz band featuring 2×2 Wi-Fi 6 specs. We also noticed that there's no support for the 160MHz channel width. The channel caps at 1200Mbps at best and the real-world speeds get lower. That's quite odd coming from a tri-band router, especially when many dual-bands perform better than it. 
If you're going to stick to simple tasks, you won't have a problem using the AX3200. 
– Easy To Put Together
There's a simple setup process you can use to get this wireless router going. The TP-Link web interface allows you to set up your preferences. When you hook it up to your PC, you'll find a menu on the left side that gives you different sections to the right part of the web page. 
The router comes with the standard WPA/WPA2/WPA3 wireless security. However, we noticed that there's no Antivirus online protection feature, which is part of TP-Link's Home Care. While this entire section is not available, you'll get Parental Control and QoS, nonetheless, but both are neutered. 
Depending on your schedule and preferences, the Parental Control is a simple keyword blocker that you can program. That means you can block some clients from certain websites based on keywords. For example, keywords like "Facebook," "YouTube," and more can be blocked from accessing the router's service. 
On the flip side, you can turn on the "prioritization" feature for some connected clients. But this can be a hit or miss, and even if it works, there's the possibility that it won't make any difference. A proper QoS feature should let you prioritize some actions based on application types. 
On the settings, the TP-Link Archer AX3200 has some standard settings for you, including ways to set up Dynamic DNS, port-forwarding, IP reservations, etc., with it. If you want, you can also use the VPN option. Besides, there's the TP-Link Tether app to help you temporarily replace the router's interface.
First, you'll need to sign in with a TP-Link ID account and that can cause privacy issues. It is somewhat worth it, though because you'll be able to manage the home network from anywhere in the world. You can do that without having to configure Dynamic DNS.
– Antenna Broadens the Range
You can still enjoy reliable, decent coverage from this router much like on the Archer AX50 or the Asus RT-AX58U wireless router. If you live in a smaller house, the router will perform well, thanks to a close proximity of devices.
But Wi-Fi range largely depends on the environment, so the coverage will differ. After our tests, we discovered that it won't work as fast when accessed from far distances. 
– OneMesh Ready
As we learned, the Archer AX3200 wifi router is the first Wi-Fi 6 mesh router from the TP-Link brand to support TP-Link's OneMesh approach. That came about in 2019. The OneMesh capability is a way for you to scale Wi-Fi coverage by using certain TP-Link extenders.
Since it began, there have been very few viable options for OneMesh, both on the router and for extenders. As a result, it's not much of a stressful process when you consider the alternatives, including Asus's AiMesh, Netgear's Orbi, or Linksys's Velop. 
Because the OneMesh extenders are always little with regard to hardware specifications, there's no need to test this feature on the AX3200. Its impact isn't pronounced across different functions and applications. With the intuitive OneMesh technology, you can create a mesh network without dead zones around your property.
– Multiple Options for External Connections
When you want an immersive and optimized experience from this router, connectivity has to lead the way. Thankfully, you get a plethora of options ranging from USB ports to Gigabit ports on the AX3200.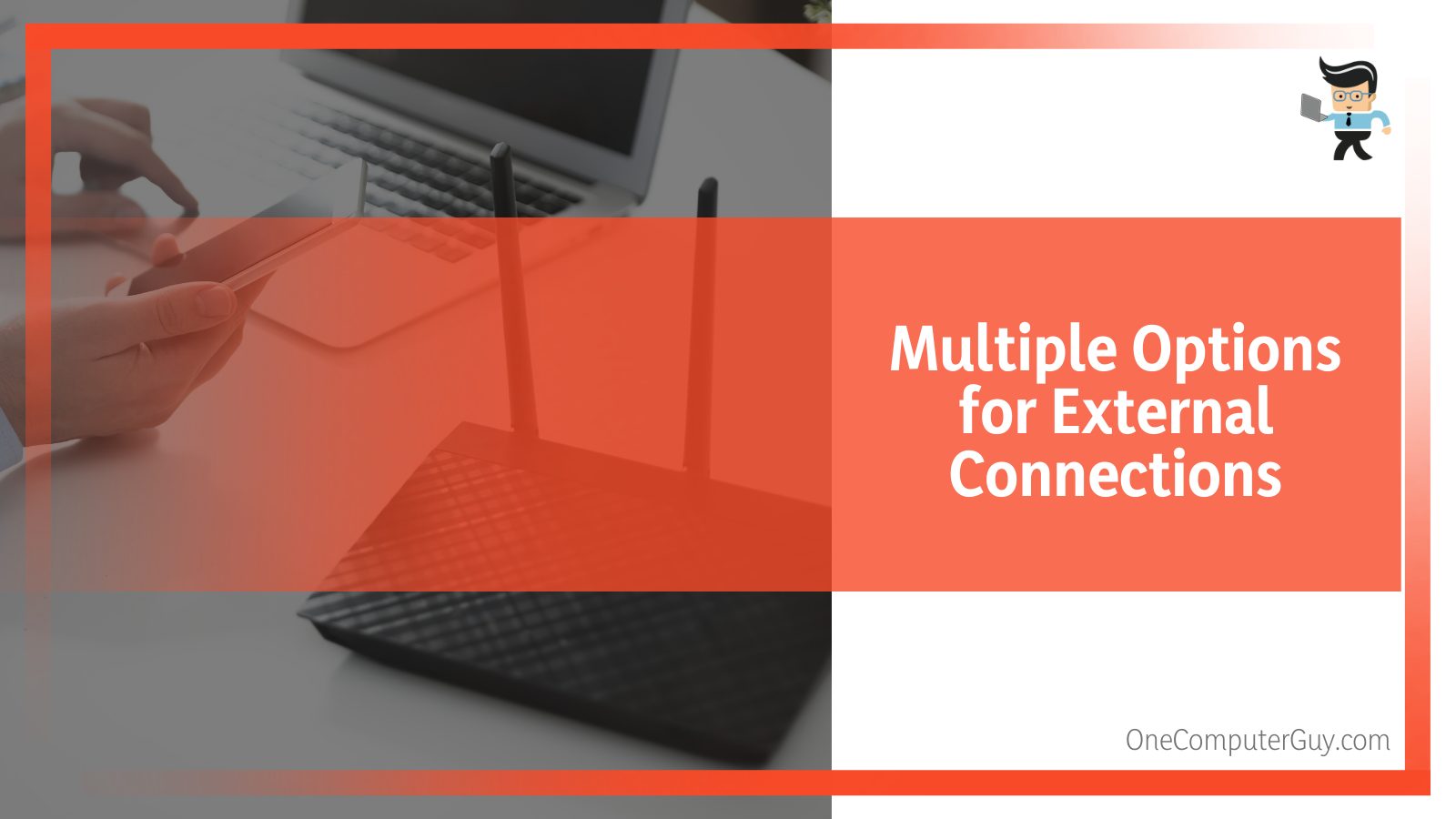 The TP-Link Archer AX3200 uses Beamforming technology and has six antennas (seven, if you count the internal antenna). You can use them to adapt and focus stronger and more reliable Wi-Fi signals to all your devices.
There's a 2.5 Gigabit WAN/LAN Multi-Gig port and 4x Gigabit LAN ports to create fast and reliable wired Ethernet connection. The connection can help you take full advantage of Internet plans up to 2.5 Gbps. 
Users will also have access to 1x USB 3.0 and 1x USB 2.0 ports for further connections. Also, we noticed that the AX3200 is compatible with all previous Wi-Fi generations (802.11a/b/g/n/ac), WiFi-Enabled tools and devices, and all Internet Service Providers. 
– Performs Great for Its Specs
If you had thoughts of this router bringing blistering speed and coverage, that's not the case here.
That's because the tri-band router's NAS performance when hosting an external drive is lacking considering its 2.5Gbps port. When paired with some high-end portable drives, it's possible to achieve some kind of consistency, but that's only with a sub-Gigabit performance.
From a 2.5Gbps wired connection, the router averaged a sustained write speed of less than 40MB/s. It will perform better in reading, but still, it won't go higher than 65MB/s. These numbers remained the same when we used a Gigabit connection.
That shows it can work as a mini NAS server, and it also supports Time Machine backup. However, we'll recommend using a dedicated NAS for proper network storage service. 
– Other Hardware Performance
In continuation with the hardware specs, you can get respectable Wi-Fi throughputs. For example, with the 2.5Gbps network port, the TP-Link Archer AX3200 Wi-Fi router can deliver the top speed of its Wi-Fi band.
In testing, we also noted that a 2×2 Wi-Fi 6 client could connect at 1.2Gbps and will have a sustained speed of more than 850Mbps at a close range of <10 feet (3m) away. Taking it farther away will give you an average of 700Mbps.
The AX3200 performed better with Wi-Fi 5 clients with a negotiated speed of 1.7Gbps and registered almost 870Mbps of sustained throughput at a close range. At 40 feet or 12 meters away, expect 3×3 clients to average almost 770Mbps.
On the 2.4GHz band, the AX3200 performs much like some recent routers, averaging between 100Mbps and 180Mbps.
Those figures are enough to deliver a modest Internet connection in full. On the whole, this router is a great alternative to others in its class. However, it's suitable for short ranges and applications that don't require much speed and strong connections. 

Frequently Asked Questions 
1. Is the Archer AX3200 Router a Top Option for Gamers? 
No; even streaming movies and TV shows could prove a handful for this TP Link router, so we think it's not an option for serious gamers. If you need it for gaming, ensure that the game in question isn't a demanding online game.
That's because this router is suited to basic uses and applications, considering its range, speed, and overall project. Many users need routers that meet their needs and requirements for certain applications. That's why it's important to ask yourself why you need a router, or in this case, why you're buying the Archer AX3200 Wi-Fi router. 
2. How Secure Is the AX3200 Router?
Thankfully, the AX3200 is very secure with different security standards, including the WPA3. The others are WPA and WPA3. With these, you'll get ample support to go ahead with different tasks.  A router should protect sensitive information from your home's network.
When you're buying any router out there, the least requirement for security is the WPA2 support. With the three of them here, you have a secure AX3200 router to keep intruders at bay.
3. Is the Archer AX3200 Compatible with Modern Devices? 
Yes, the AX3200 is compatible with all previous Wi-Fi generations (802.11a/b/g/n/ac) and Wi-Fi-enabled devices. It also combines well with all Internet Service Providers (ISPs), which is a huge plus. The compatibility of this router makes it one of the top products in the market.
Conclusion
The TP Link Archer AX3200 is a quality router that ranks above many others with above-average specs. It's suitable for a household with low-end Wi-Fi needs.
The AX3200 is a tri-band router that carries the similar bandwidth to many others like it, but some dual-band routers work much better. However, with its stripped-down feature set, it can be an excellent choice for those who need a reliable performer and nothing else.
If you're a user that can work with a bland router that performs well, has multiple connectivity options, and has a tri-band connection, go for it.
It's a great budget choice for those in the market for Wi-Fi 6 routers that can as well serve the purpose of a gaming router.